Why did Cabled Treat Hat appeal to me?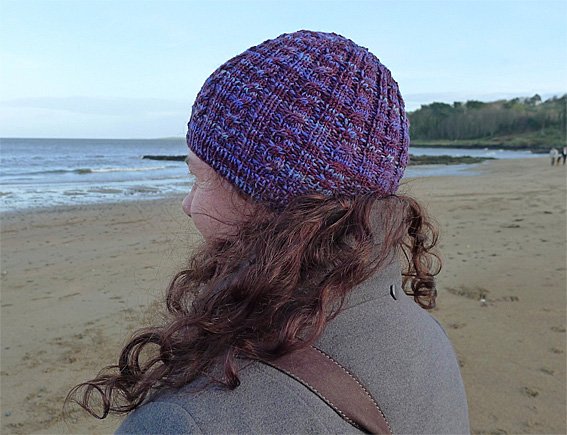 When I read this cute hat pattern, Cabled Treat, designed by Kirstie McLeod, I just knew that it was the perfect choice for my gorgeous skein of Dream in Color Smooshy in the deep purple and blue Wisterious Colourway. Cabled Treat was published in the January 2011 issue of Simply Knitting.
Using Dream in Color Smooshy Yarn
I knew that the cable pattern would not be a prominent feature in my hat because the yarn was a strong deep colour and quite 'busy'. But I wanted a stretchy hat that would be fun to knit. I also felt that the simple cable and rib pattern would add a lovely 3 dimensional texture that would be a lovely combination with the colourful hand dyed sock yarn. The cable pattern shows up reasonably well because it is a basic repeating pattern and isn't too detailed.
It would not have been a good choice of yarn for knitting a pattern like Everdeen Beanie because all of the detailed scallop shell lace pattern would have been lost in the space dyed yarn. I really love buying and knitting with the gorgeous hand dyed yarns that are available from artisan yarn dyers. But it can be difficult choosing a pattern that will look beautiful knitted with the yarn and that will bring out the beauty of the yarn.
Changes I Made to the Pattern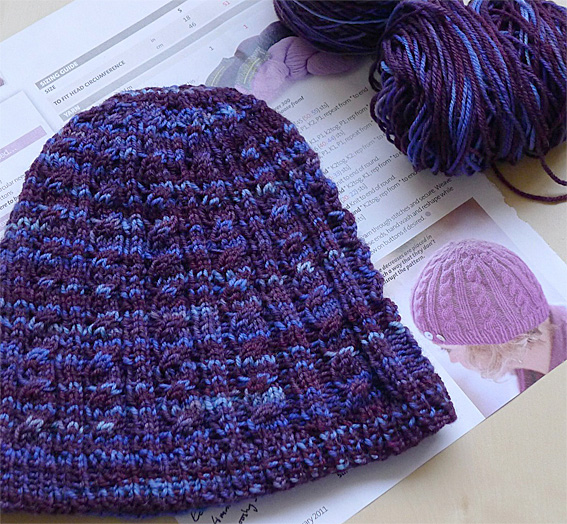 I chose not to add any embellishments.
The pattern was designed for Aran weight yarn so I knew that I would need to make some modifications.
I knitted a tension square to work out how many stitches I would need to cast on to make the hat using 4 ply wool.
 I added an additional repeat to the largest size in the pattern.  I cast on 120 sts using 4mm 40 cm circular needles, changing to 4mm dpn's when I began decreasing the number of stitches at the crown.
Would I Knit Cabled Treat Again?
The hat looked rather small when I had finished knitting it, but the cable pattern is very stretchy and the hat fits well and is comfortable and cosy to wear.  I will knit this hat again, as it is a quick and enjoyable project to knit for yourself or as a gift.