I first came across Chadwick while watching Shawlscapes on Craftsy. I loved Shawlscapes. So much fun to watch. Informative and entertaining with some very very funny moments – yes that headstand! Chadwick is one of Stephen West's beautiful shawl patterns.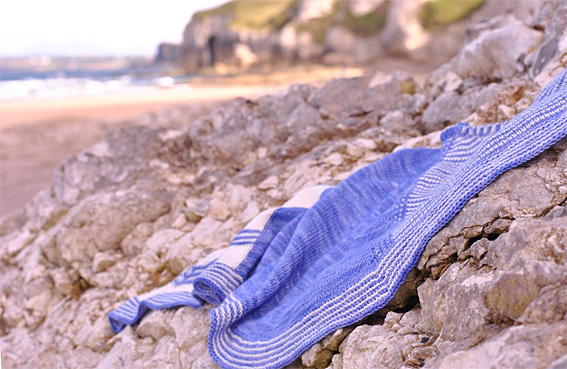 So I did what we all do when initially bitten by the inspiration bug. Opened Ravelry and searched for Chadwick. A few minutes later I was printing out the pattern. Yes, the enablers at Ravelry make buying a new pattern just soooooooo easy!
When I first saw the shawl I imagined it in ivory and bluebell blue. I could just see it finished. I had a lovely ball of Malabrigo Sock Wool in ivory (a present from my sister) and my own newly hand dyed skein of bluebell blue KS Merino 4ply.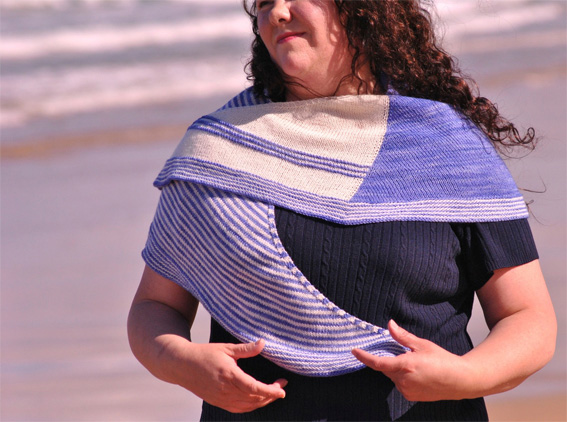 I read the first paragraph of the instructions and merrily started the tab cast on. I'd never tried one of these before and I love trying something new. So much fiddly fun. As I neared the end of Section 1, I noticed the NOTE for the first time. Use a new strand of colour B (the ivory) to work the next section. OOPS. My sister had kindly hand wound the skein of Malabrigo before sending it to me, and the other end of it was in the centre of the ball… I didn't presently have a new strand of colour B. I was using the only working end…
"drat, drat and double drat" Dick Dastardly (from Wacky Races and Dastardly & Muttley)
I muttered to myself in much the same tone as Dick Dastardly. No choice for it but to snip the yarn and divide the ball into two centre pull ones.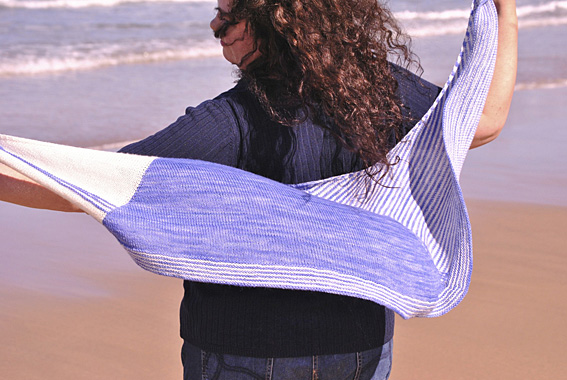 Oh, I know, it's my own fault. Anyone, who has ever sat an exam knows that the first thing you do is to read the whole paper through from start to finish then you start choosing the questions and answering them. It is the same with a knitting pattern. Read it through so you've got an idea of what will be happening as you knit it. But hindsight is a great thing and when I am bitten by the inspiration bug I often just jump in at the deep end.
I see if I have the right type of yarn (in this case) – fingering weight  √
Correct needle size – 3.75mm  X  …(err no, my set of Addi interchangeable needles jump from 3.5mm to 4.0mm and knowing the 4.0mm needles would give to loose a texture, and not wanting to wait days for  3.75mm circular needles to arrive in the post, yep, it was about 11pm at night, I cast on with the 3.5mm needles).
Okay, so I know all of you sensible knitters out there are at this moment are casting on for a swatch to check your tension, YES? Moi? Well, no. What can I say in my defense? Perhaps, I love the excitement of the journey. Not knowing what is coming next. Until, sometimes it bites me! Or, just maybe I don't have enough stress and tension in my life so I have to add it into my knitting projects. Oh, all of you sensible seasoned knitters know what is ahead don't you? Now armed with my two balls of ivory wool and a quick glance through all the other sections of the pattern to see if there were any other added notes, I continued with my knitting. I'd look at the photo of Chadwick in the pattern. I'd look at my shawl. Did my Section 1 look about the same size as his section 1? Nope. I'd knit some extra rows. I knew that the finished measurement I was aiming at was 40.5cm from the cast on edge along the lines of slipped stitches to the cast off edge. So I added more rows here and there as the shawl progressed. Inspired, in part, by Stephen's just try it attitude in Shawlscapes, I happily knitted away. Now and again pausing to ask myself does this look in proportion? Does it look like Stephen West's Chadwick shawl in the photograph? Great… and on I'd go.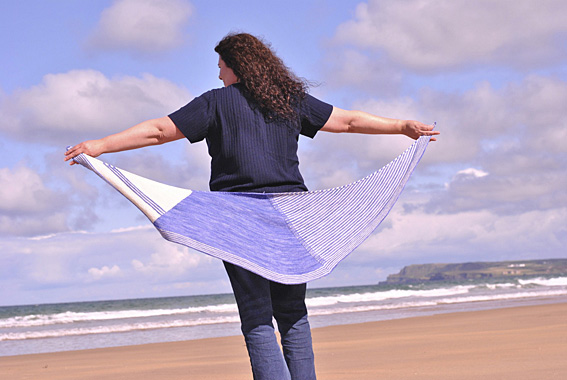 But, a tiny niggling doubt was hovering in the back of my mind… Like one of the pesky little Scottish midges that you swat at with one hand while you're trying to hold the camera and take a photograph of the stunning view with the other hand, one eye on the view, the other eye on the approaching swarm of blood sucking varmints. As I started knitting the garter stitch border I had over 400 stitches on my needles. I wondered how many stitches I should have on my needles at this stage, if I was using the correct size needle and following the pattern exactly.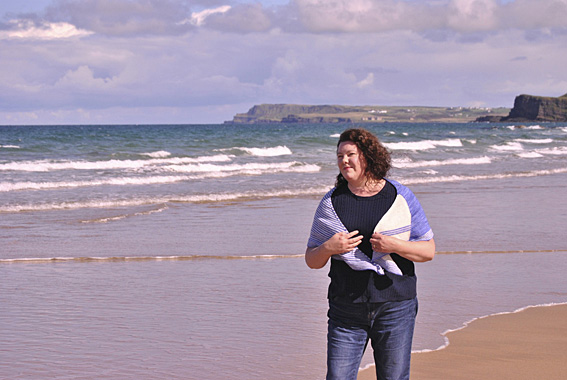 I started knitting the garter stitch stripes. By the 9th stripe I was weighing my bluebell yarn to see if I would, fingers crossed, have enough to finish the shawl. I thought so. It was going to be tight. I was still adding increases in the rows so each stripe needed more yarn than the previous one. Then a horrid thought occurred to me. Does it take more yarn to cast off than to knit? Hmmmm. I suspected this was probably the case and that meant that it was going to be even tighter than I had expected. It was going to be a absolute squeak. Yes, I had to put down my casting off about half way along the edge and go into the kitchen and make a soothing pot of camomile tea!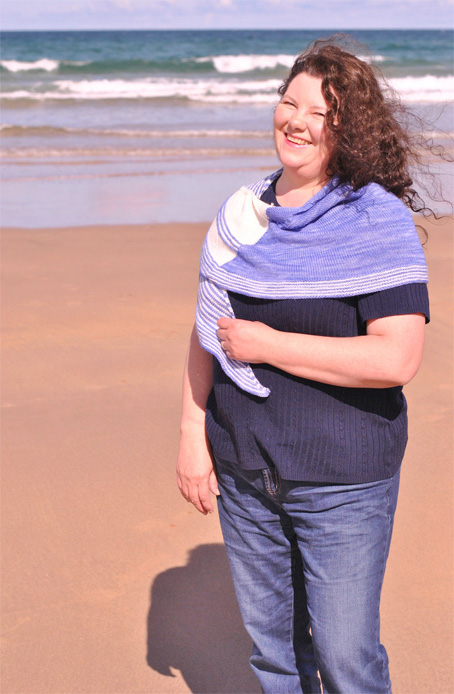 As I neared the end and my yarn got shorter, I was finally able to breathe a sigh of relief. I'd 52 grams of the ivory yarn left and less than a metre of the bluebell colour. If I'd knit one more extra row I would have been scuppered… My Chadwick shawl used almost double the amount of the bluebell coloured yarn than the ivory one. The measurement of my shawl from cast on edge along the slipped stitch lines to the cast off edge is 43.5cm.
It is a great pattern. The finished Chadwick shawl is fabulous and is now wrapped up for my mum's Christmas present. I'd love to hear about the knitting projects to which you have added tension and stress to spice up your life with a little drama.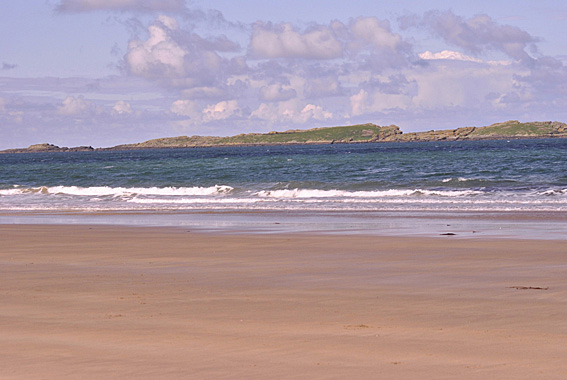 Chadwick Shawl was photographed at White Rocks, Co Antrim, Northern Ireland.