You can knit a scarf from one 50g ball of Crystal Palace Sausalito sock yarn.
I admit that I was sceptical that this was possible before knitting the scarf. But I adore this beautiful airy scarf that looks pretty all the time.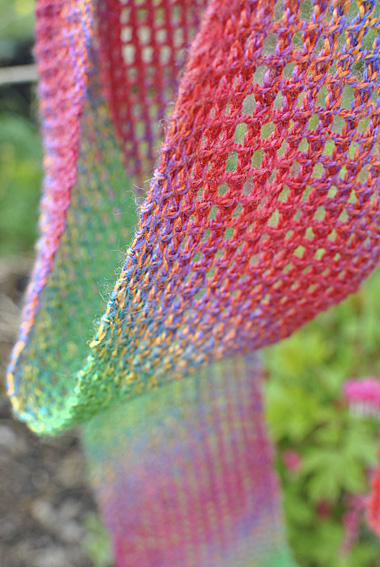 A perfect choice for every season. It is pretty in the Summer worn with a tee shirt, gorgeous in the Spring and Autumn when you can have cooler days and equally perfect in the Winter worn with a sweater.
Yarn Choice
It is so exciting when a beautiful little "oddball" turns up – a ball of yarn that is just a little different from the others in its batch – and this ball was definately one.  Like a little duckling raised in a nest of chicks. It is so cool knowing that your ball of yarn and finished scarf will be unique! As I didn't have a second ball the same, I kept my fingers crossed that one ball would be enough to complete the project.
The Pattern
I chose the elegant 19th-Century Honeycomb Stitch Scarf designed by Diana Foster.
"This scarf was designed for a group call 'Old Stone House Knitters' in Vermont to complement their collection of patterns traditional to New England.  The stitch pattern comes from the Workwoman's Guide by a Lady, 1838."
The pattern was published in Sock Yarn One-Skein Wonders edited by Judith Durant 2010.  My sister Pip gave me this book and the Honeycomb Scarf is the first project I've knit using a pattern featured in it.
This scarf is really special. Its elegant diagonal ends and the colours repeating in diagonal stripes along the length of the scarf look complicated. But they are created by the honeycomb pattern which is really easy to remember.
Blocking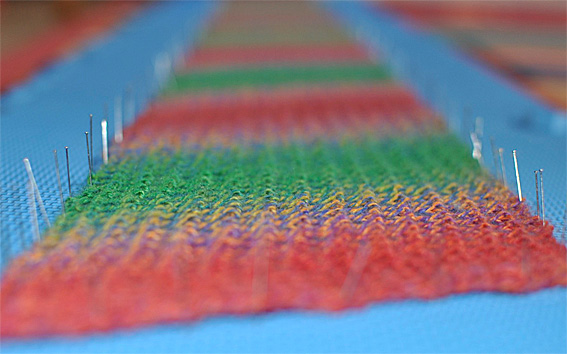 After sewing in the ends, I used nearly 200 pins to block the scarf.  However, once finished, I wasn't happy with the ripple effect along the once straight edges.  So I ordered a set of lace blocking wires. The next scarf (already on my needles) can be blocked using lace wires.
Would I Knit This Pattern Again?
Absolutely. The Sausalito sock yarn is gorgeous to knit with.  Similar colourways to the better known Mini Mochi but with a little more twist.  This easy pattern was quick to knit and created a very elegant and easy to wear scarf which is perfect for the warmer months.  I know I will definitely be knitting this pattern again in the other colours from this pretty range. It a perfect choice to knit as a gift for someone you care about.