The Burren, Co Clare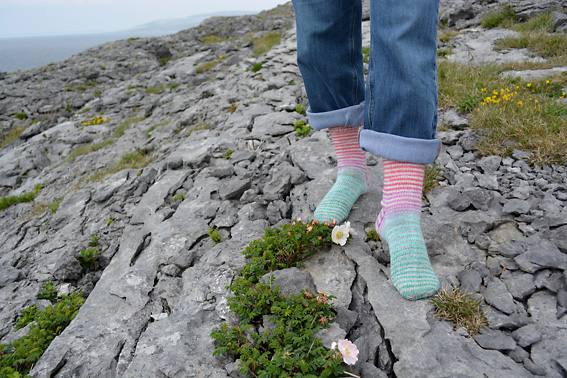 On our drive from the Gap of Dunloe, Co Kerry to Connemara, Co Galway we decided to take a little longer and drive along the coast of the Burren, Co Clare. I visited the Burren about 10 years ago, but Neil had never been to the Burren. We passed a few pull in spots with coaches and hoards of people until we came to a small single car pull in spot beneath a steep slope.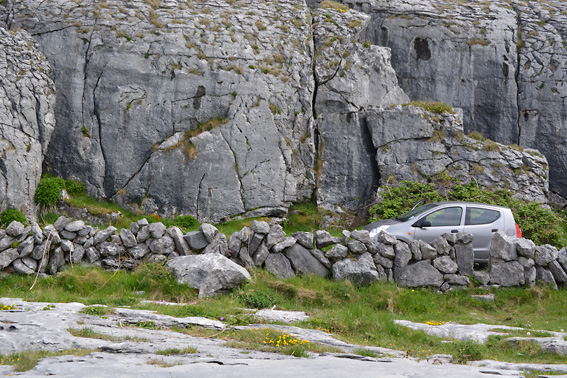 We crossed the road and stepped through the stile in the stone wall. I've always loved the ethereal quality of the natural limestone pavement with deep cracks that at the end of May are filled with blossom. Wild roses, ivy, wild thyme and gentians, to name but a few!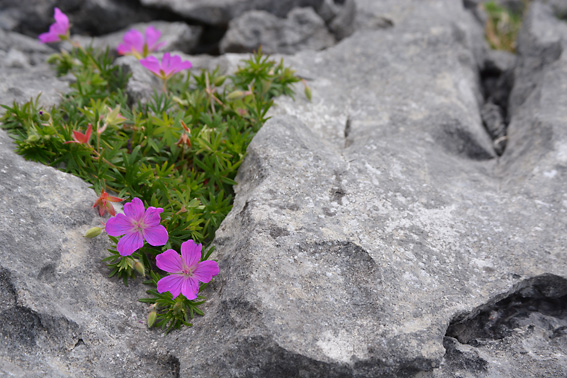 I had finished knitting my Knit Circus Socks which I'd cast on and been knitting when we started our drive from Belfast to Co Kerry, via Co Offaly. We photographed them, unblocked, which is something that I seldom do, but I really hadn't had a chance to block these socks while we were staying in Kerry.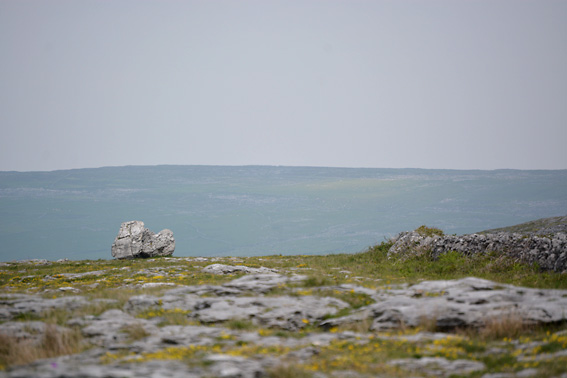 It was so quiet and peaceful. We sat on a wider rock and ate a sandwich and enjoyed a glass of water. On the hazy horizon the Aran Islands were just visible.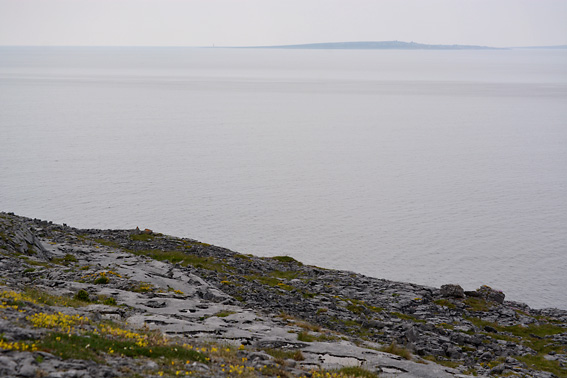 We spent longer than we had intended enjoying wandering around on the rocks on the Burren, looking at the ocean below, but it turned out to be a wise choice as the remnants of a marathon was in evidence as we arrived in Ballyvaughan. I showed Neil where I'd stayed with my mum, when we had visited the Burren together. There wasn't time to stop for a walk on the beach near that cottage as we still had a long drive to Letterfrack situated on the edge of the Connemara National Park.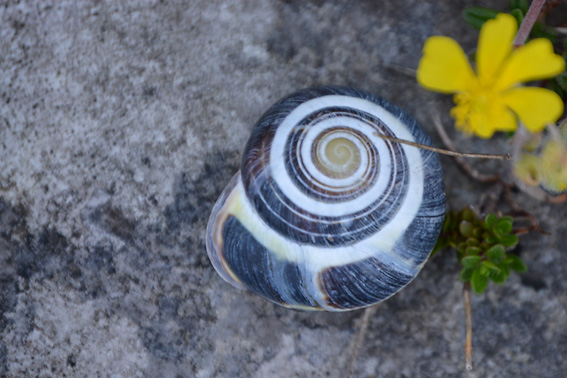 I called these my Knit Circus Socks as the two matching cakes of yarn were hand dyed by Jaala Spiro's team at Knit Circus. This is the Greatest of Ease base (80% superwash merino, 20% nylon) in the Gradient Stripes Twister Stripes colour. I've read a lot about this wonderful indie dyer and her amazing self striping yarn and thoroughly enjoyed knitting with this yarn. I haven't washed and worn these socks yet as they were one of my holiday knitting projects!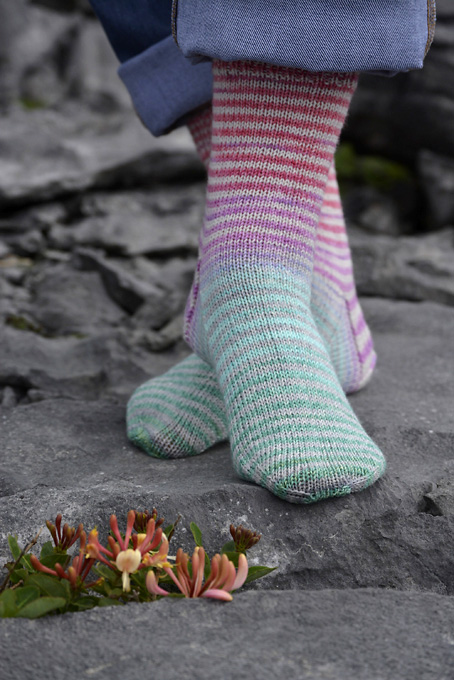 Knit Circus Socks
Yarn
Needles
3.25 mm double pointed needle (dpn) for casting on
2.75 mm (set of 5) dpns for knitting socks
tapestry needle for finishing

Tension
I knit my socks to fit a UK shoe size 5/6 using a tension of 30 sts/42 rounds = 10×10 cm (4″x4″) which works out at 7.5 sts/10.5 rounds = 2.5×2.5cm (1″x1″) when knitting stocking stitch (stockinette stitch) in the round. The circumference of my foot is 21.5cm (8.5″). You don't want your socks to be too loose when you've finished knitting them, so I like a little bit of negative ease. At this point I'm going to talk in inches… sometimes it is just easier… so, 8.5 (foot circumference) x 7.5 (tension) = 63.75 stitches. I like my socks to have about 5% negative ease. So, 63.75 ÷ 100 x 95 = 60.56 stitches. I round this down to 60 stitches for knitting my socks.
Abbreviations
double pointed needle(s) – dpn(s); stitch(es) – st(s); knit – k; purl – p; knit two stitches together – k2tog; yarn over – yo; slip slip knit – ssk; purl two stitches together – p2tog;

Cuff
Cast on 60 sts using 3.25 mm dpn using the long tail cast on or a different stretchy cast on.
Join into the round as you knit the first round using 2.75 mm dpns, 15 sts on each needle.
Knit 20 rounds using k1, p1 ribbing.

Leg
Knit the next 46 rounds to complete the leg. If you want your socks to be a bit longer, you could add additional rounds at this point. I finished the leg at the Centre Back then knit across the  stitches on needle 1 using needle 4. There are 30 stitches on needle 4 which are used for knitting the heel flap.

Heel
Heel Flap
After finishing the leg you'll be working the heel flap over half of the total number of stitches, working in rows rather than rounds.
Row 1: *sl 1, p1; rep from * to end.
Row 2: sl 1, knit to end.
Repeat rows 1 and 2 fifteen times more. A total of 32 rows.

Dutch or Square Heel Turn
Set up: p20, p2tog, turn
Row 1: sl 1, k10, ssk, turn
Row 2: sl 1, p10, p2tog, turn
Repeat rows 1 and 2 until 12 stitches are left, ending with row 1.

Gusset
Continue knitting, without turning, as you will now be knitting in rounds again.
Pick up and knit 18 stitches along the edge of the heel flap. (Needle 1)
Knit across the 30 instep stitches. (Needles 2 and 3)
Pick up and knit 18 stitches along the edge of the heel flap. Then knit across the first 6 stitches of the heel. (Needle 4)
This is the starting point for the following rounds.
Before you start the next round, slip the next 6 heel stitches onto needle 1. Needles 1 and 4 should have 24 stitches on each. Needles 2 and 3 should have 15 stitches on each.
Next round: K6, k18 tbl, k30, k18 tbl, k6
Next: knit

Gusset Shaping
Round 1: Needle 1: k to last 3 sts, k2tog, k1; Needles 2 and 3: k; Needle 4: k1, ssk, k to end of needle.
Round 2: K
Repeat rounds 1 and 2 until there are 15 stitches on each needle. (60 stitches)

Foot
Knit 42 rounds or the number of rounds that you need for your foot.

Classic Toe
Round 1: Needles 1 and 3: k to last 3 sts, k2tog, k1; Needles 2 and 4: k1, ssk, k to end of needle.
Round 2: k
Repeat rounds 1 and 2 until there are 7 sts on each needle. (28 stitches).
Then repeat round 1 until there are 4 sts on each needle. (16 stitches).
Making sure that the toe stitches align with the heel, slip the stitches from needle 4 onto needle 1 and the stitches from needle 3 onto needle 2. 8 stitches on each needle.

Finishing the Knit Circus Socks
Weave in all loose ends. I normally wash and block my socks when I'm finished, but didn't this time as I was on holiday!
The Burren was the perfect place to photograph the Knit Circus Socks. The colours in the socks and the subtle grey stripes looked wonderful against the pale grey limestone rocks.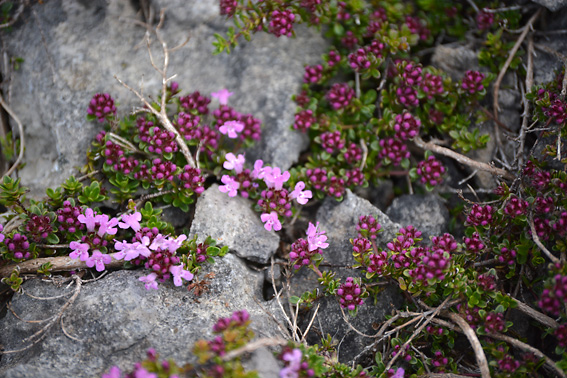 Have fun knitting your own colourful, gorgeous and comfortable pair of socks.
I really enjoyed knitting with this pretty yarn. The yarn feels very soft and I think the finished socks will be a pleasure to wear.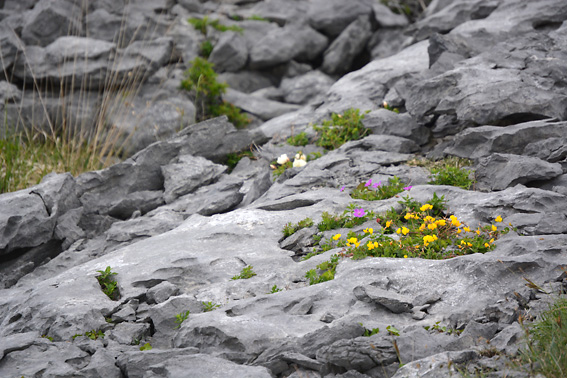 At the moment I am following two Instagram hashtags: #operationsockdrawer and #boxosoxkal. I wear my hand knit socks all the time and lots of the older pairs are starting to look a bit faded. So at the beginning of the year, I decided that I would wear the more worn pairs a lot this year and keep the new socks that I knit this year for wearing next year!
My socks do get a little bit faded looking because I wash them in the wool cycle in my washing machine and hang them on the line to dry, rather than hand washing them all. But for every pair that wears out, there is always a new pair coming off the needles ready to take its place! I'm knitting squirrel over on Instagram!