Just before Christmas when I was at my local Knit and Natter Group in the Library, we were talking about which needle crafts we enjoyed. I said that I love knitting and I used to make a lot of patchwork but had never really come to grips with crochet. The skill just never quite clicked even though I had been shown enough to be able to crochet the ears on  a pair of mouse slippers for the Sasha Dolls. That was as far as my attempts with crochet had ever gone even though I really wanted a Granny Square Crocheted Blanket. Someone in the group said crochet is really easy, I'll show you… several of us gathered around to watch and try.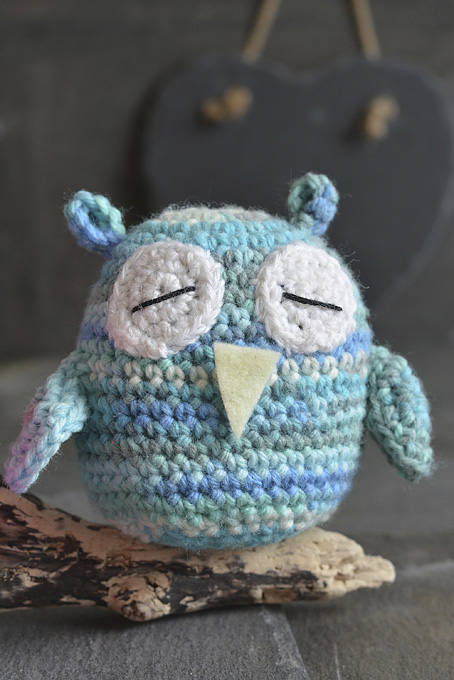 The following day when I was shopping I came across "the Cool Girl's Guide to Crochet" by Nicki Trench. Her instructions are clearly written and accompanied by instructional photographs and crochet has finally clicked for me. I stopped worrying about whether I was holding the hook and tensioning the yarn correctly. I just made a slip knot and started a chain, then I followed the instructions to practice single crochet, double crochet, treble, half treble, double treble, making chain spaces and clusters.
I decided I was ready to try making a granny square and selected the one featured in the Flower Throw in the book. I made several squares and suddenly, just when I was really inspired and feeling like I was getting somewhere with crochet, it was time to pack for going to visit family for Christmas. I had to unravel some of the squares because they were going a bit skewed at the corners. Not quite sure why because I was counting carefully before starting the corner. Found they were better if I started the corner one chain before I thought a should.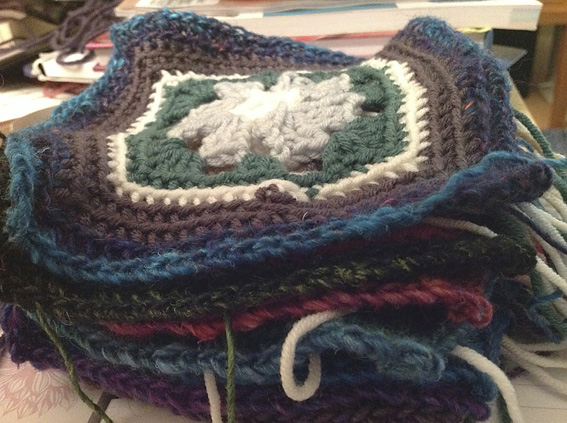 On a day trip in Tunbridge Wells I bought a few balls of yarn and a 4mm bamboo crochet hook as I didn't want to completely forget what I had been learning over my 3 week holiday. Crochet seemed to be the order of the day, because Santa also left yarn and crochet hooks for my nieces.
I began to crochet a granny square from memory as I didn't want to forget what I had been learning… this continued into simple borders and playing with different stitches and clusters of stitches until I had crocheted two blankets for my nieces build-a-bear kangaroo and bunny.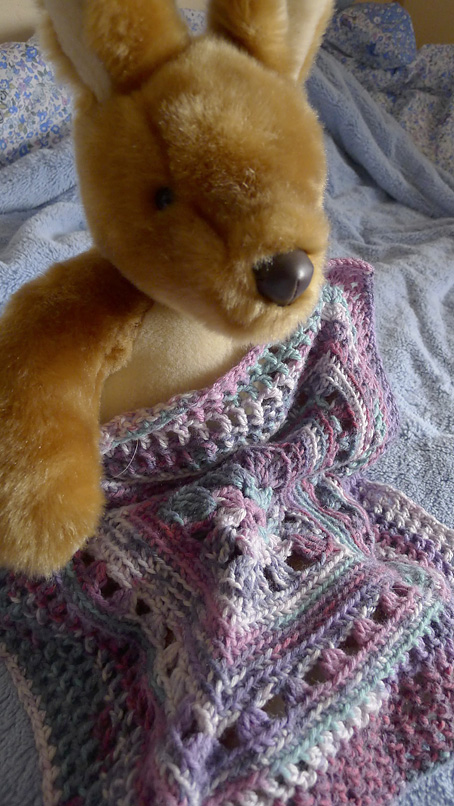 Encouraged by my niece Maya who found the owl pattern Mr Murasaki on the web, I spent New Year's Eve crocheting him. We had a bit of an owl theme going on at Christmas as I received a wonderful hand knit pink owl made for me by Maya for my Christmas present. She was only 8 at the time and learned to knit during the summer. I gave my owl a matching beak to his pink knitted friend although it hasn't been sewn in position yet as I am still deciding on the size it should be! So my owl looks a little different to the Mr Murasaki in the pattern.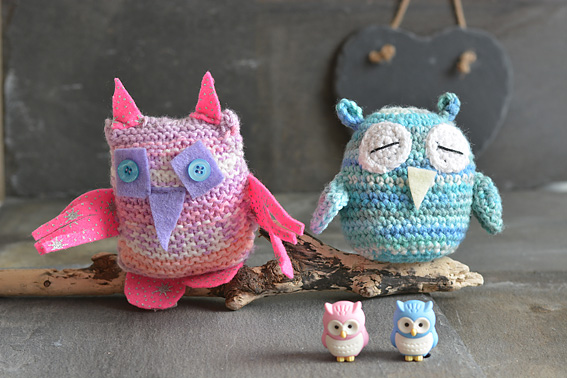 Mr Murasaki designed by Lee Mei Li of AmiguruMEI was a great project for learning how to add increasing and decreasing to crochet for shaping. It was fun making this cute owl although mine was made using the yarn and crochet hook that I had rather than the ones specified in the pattern.
We also had a family learn to crochet class when we visited my Aunt, where I, who had only just learned how, passed on my limited skills and newly acquired crochet knowledge. It was so much fun. Most of our practice pieces were made using 4 mm crochet hooks and Sirdar Snuggly Crofter Baby Fair Isle Effect DK in a selection of different colours.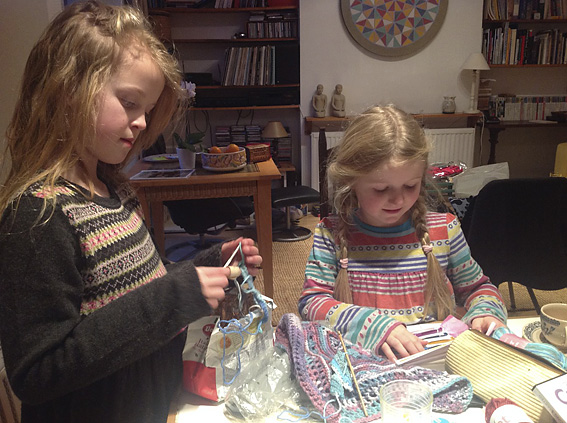 I've no idea why crochet suddenly makes sense for me after so long. But I think it helped being shown how to do the basics and then backing this up by using a well written book on learning to crochet. It was however essential for me that the book was by a British author as the crochet terminology is slightly different in the UK and US and in the past I have found this to be very confusing from a beginners point of view.
I would recommend "The Cool Girl's Guide to Crochet" by Nicki Trench, who even explains clearly how to read a crochet pattern. I found her instructions and reading through a few of the patterns featured in the book to be very helpful as I'd always found crochet patterns to be difficult to follow when I've looked at them in the past. Please be aware that the crochet section in Nicki Trench's book "Easy Knitting and Crochet" is identical to the "Cool Girl's Guide to Crochet".
Isn't it amazing that we are never too old or too young to start learning a new skill. It is an awesome experience learning to crochet and really worth persevering. I finally got the hang of how to crochet although I am by no means skilled yet but it is an enormous amount of fun and opens doors to so many lovely ways of adding embellishment to a piece of knitting. I've often admired beautiful shawls and scarves that combine knitting and crochet.