If you are going to spend hours of your precious time knitting a pair of socks you will want to choose a soft but durable yarn to knit them. Helping you to have a finished pair of hand knit socks that are comfortable, easy to wash, and will give you years of wear. Read on to find out why sock yarn is worthwhile using.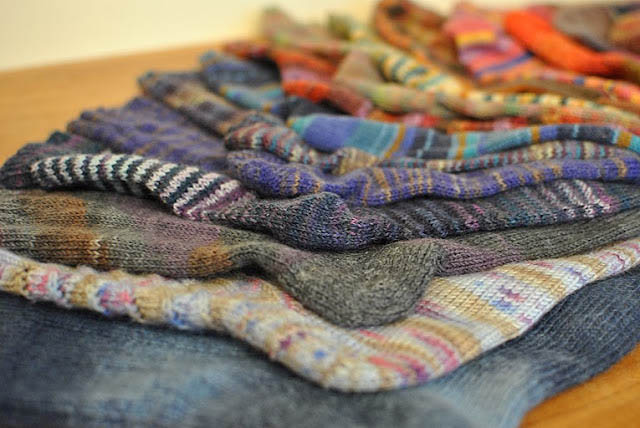 Sock yarns are are wonderfully versatile and can be used for knitting many other types of project. They are the perfect choice for knitting shawls, scarves, cowls, mittens, gloves and hats as well as socks.
About Sock Yarn
You may be unsure where sock yarn fits into the yarn "family". Looking at Knitting Squirrel's Yarn Weights Comparison Chart can help. In the UK sock yarn is considered to be a 'fine' yarn, in the same class as our 4 ply weight and baby yarns. International numbering system 2. In the US sock yarn is more often classified with the fingering weight yarns.
Socks are usually knit using needles between 2.25mm and 2.75mm. But as sock yarns are often used for other projects such as shawls you often be using the needle specified for the pattern.
There is a wonderfully colourful selection of sock yarn available and many commercial brands are instantly recognisable: Opal, Zauberball, Sausalito, Jawoll Magic, Regia Designer Line, Trekking XXL, to name but a few. There is also a dynamic selection of hand dyed yarns available from indie dyers.
Although these yarns have a very individual 'look' they all have something in common.
Socks
Socks are worn on a daily basis.
They have to be able to cope with abrasive wear and tear.
They need to be washed frequently.
Most people do not have time to handwash all their socks.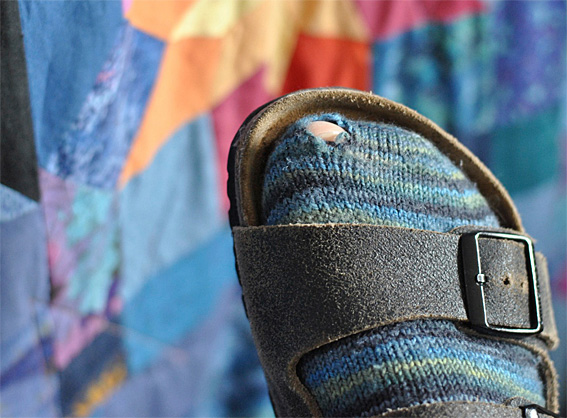 The sock above shows the wear and tear on a favourite pair of pure wool socks hand knit using a gorgeous skein of Indie dyed wool. Wool on its own is wonderfully soft and comfortable but doesn't have the durability of sock yarn. For this reason commercial sock yarn producers usually use a blend of 75% wool to 25% nylon. The wool may be a named variety like merino but usually it is just a blended wool.
Wool
Wool has amazing properties. Wool fibres absorb 30% of their weight of water without feeling wet to the touch and retain their feeling of warmth s0 is wonderful at drawing moisture away from your skin. An important attribute for your hand knit socks. I have found that my feet still feel reasonably warm even after accidentally stepping back into a rock pool while photographing a knitted hat at the beach. Wools ability to have a moisture level in the fibre keeps it from conducting static electricity.
Wool fibres have scales along their length and when wool fibres are agitated with water and heat, the scales interlock with each other and the wool felts. This is sad when it happens to a pure wool pair of hand knit socks and even careful hand washing doesn't seem to prevent it over time.
Superwash Wool
As socks need to be washed frequently, it is preferable that they don't shrink and felt.
Most wool used in sock yarn has been processed to turn it into 'superwash' wool. To do this the scales on the surface of the fibre are removed or chemically treated to prevent the wool from felting during the washing process. The process gives the wool a lustrous appearance as the fibres have a smoother surface.
Superwash wool is machine washable.
A problem with the 'superwash' process is that the elasticity of the wool fibre can be affected.
Adding Nylon
One of the pleasures of knitting with wool is its ability to stretch and then recover to its original shape.  As this elasticity is affected by the superwash process, adding nylon really helps.  Nylon is even more stretchy than wool, it is very strong and able to withstand great tension before breaking.
This helps ensure you hand knit socks are easy to put on and then they snugly fit to the shape of your foot.
Nylon is very strong whether wet or dry and it is fungal resistant which are also useful attributes for a sock.
Blending Superwash Wool and Nylon
The nylon is normally added to the wool before the fibre is spun into yarn to ensure that the nylon is even mixed through the sock yarn.
The standard blend for durability and comfort seems to be 75% superwash wool and 25% nylon.
This blending gives hand knit socks made using sock yarn the ability to be washed in the washing machine without felting and shrinking. The 25% nylon adds strength and durability while the 75% superwash wool means the socks are comfortable, cosy and soft to wear.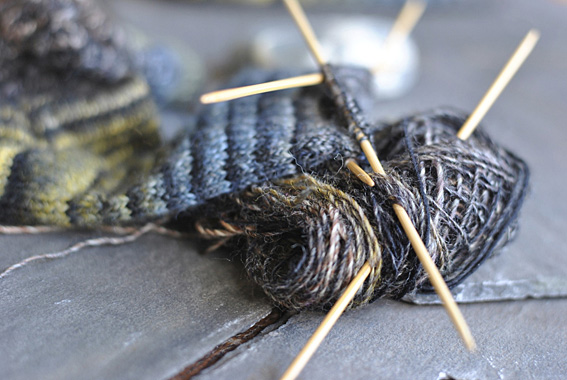 When you have spent your precious time knitting a beautiful pair of socks either for yourself, a friend or family member, you will want the socks to last as long as possible and look gorgeous no matter how the socks are washed.  Although, it should be noted that sock yarns should be washed according to the directions on their ball band and they should not be put into the tumble dryer.