"Could you please tell me the best way to match the yarn for the second sock so you have a lovely matching pair?"
This is a question I am asked quite regularly.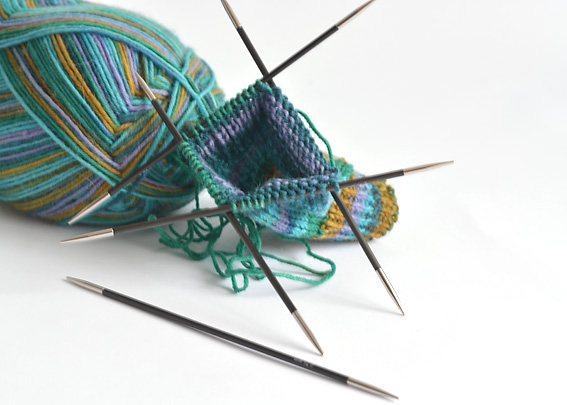 I am busy knitting fingerless mitts for my niece as part of her Christmas present. I'm using Regia Design Line Kaffe Fassett in colour 3773 and 2.75mm KnitPro Karbonz double pointed needles (which I really love using).
I was ready to find the right point in the yarn to make sure that these fingerless mitts will match and decided to take a couple of photos to show you what I do.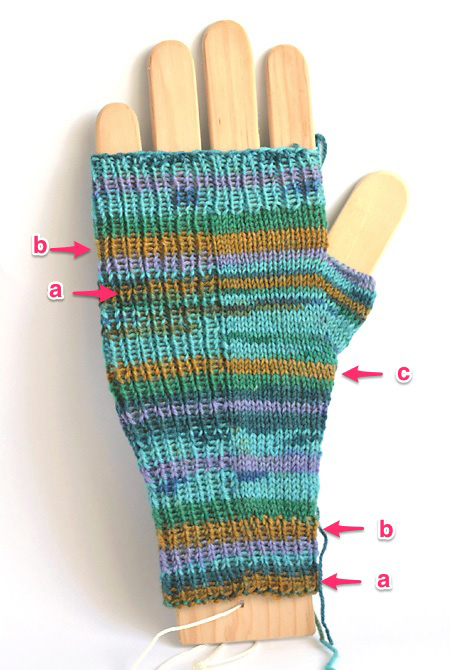 The photo above shows the first fingerless mitt. I'm using my Valentine Mitts pattern. This is the left fingerless mitt.
a shows the first stripe of the mustard that I knit in the rib section on the left fingerless mitten. I made the slip knot for casting on at the start of this mustard stripe. At this point I didn't know where it would show up again in the colour repeat in the yarn. b shows the second time that this mustard tone appears in the colour striping repeat. c shows the third time that the mustard stripe appeared in the colour striping repeat.
When I cast off the rib cuff after knitting the hand section of the fingerless mitt, I looked at the finished mitt to see where I had finished knitting in the colour repeat of the yarn. I had finished on a turquoise stripe that appears between mustard stripes b and  c .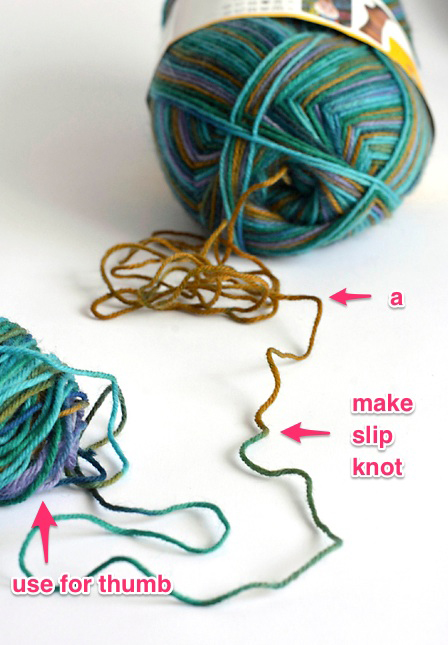 This meant that when I started unwinding the yarn to find the correct place to make the slip knot for casting on for the second fingerless mitt I knew that I was going to meet the mustard stripe c and I would be continuing past this to find the beginning of stripe a which would be the point at which I'd be making the slip knot for starting the long tail cast on for the second (right) fingerless mitt.
I carefully keep the yarn that I have unwound from the ball as I will use this for knitting the ribbed thumb on the left fingerless mitt. This way I will have matching thumbs on the mitts as well because when I finish the second (right) fingerless mitt I will have the same colour repeat as in this unwound ball coming off the main ball of yarn.
I've shown how to knit matching fingerless mitts and socks using the fingerless mitts that I am knitting at present. I use exactly the same process for knitting a matching pair of socks.
If you have any questions about this process please contact me.