Knitting the Drachenfels Shawl designed by Melanie Berg of Mairlynd has been on my must cast on list for many months. I enjoyed every moment of knitting this beautiful shawl pattern.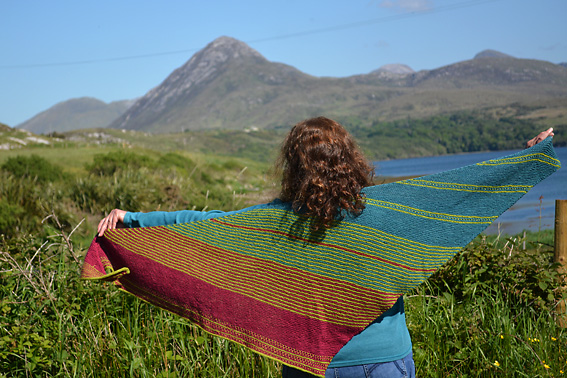 I knew that I wanted to use my own hand dyed 4ply Blue faced Leicester sock yarn for the shawl. It is such a gorgeous lustrous yarn and takes the dye amazingly well.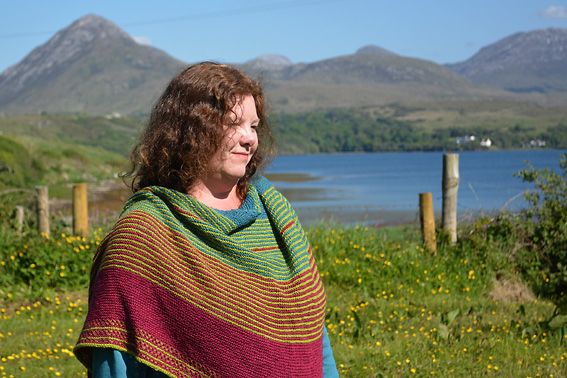 How often do hear that you should always knit swatches not just to check tension but also to see how your colour choices are going to work together?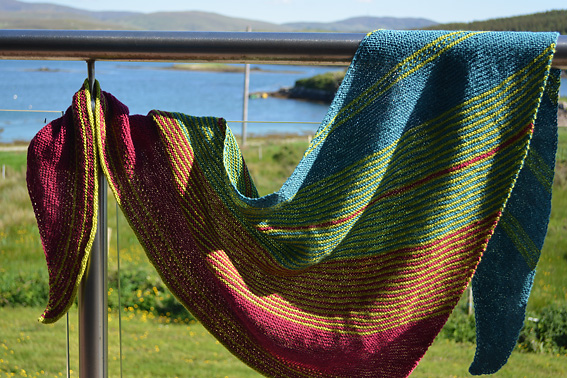 I was in a rush, and didn't get round to swatching as often tension isn't essential to check for a shawl. But I should have checked how my colour choices would work together. My first choice of spring green, silver grey and navy didn't work… the spring green didn't show up against the silver grey… as they were too similar in tone to each other. So back to the drawing board. At this point, I should have swatched but I didn't. I cast on again, spring green with teal and navy was my new choice. Perfect, I thought! Famous last words! But of course, I had progressed through the shawl with the spring green and teal to the point where I'd to knit the first garter stitch stripe of navy. Darn. The navy didn't show up against the teal. Again, too similar in tone to each other. I was really disappointed. It looked like there would be plenty of contrast when I had held a strand of teal across the navy and vice versa.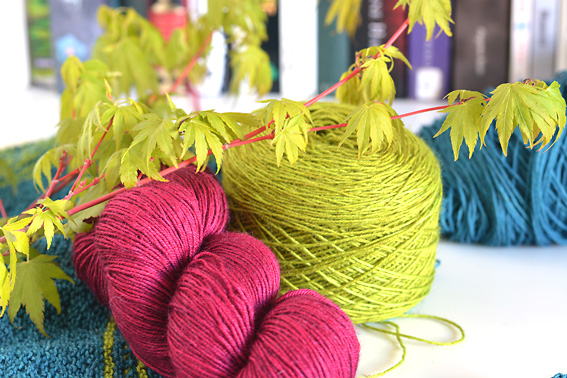 So, there I was, sitting in my mum's conservatory telling her that the navy didn't work. When suddenly, mum got up and walked out of the room. I heard the front door open and then close. She returned holding a sprig of the lovely Acer from her front garden. It has beautiful red stems with bright spring green leaves, daintily edged with the red. The leaf green colour was exactly the same colour as my spring green yarn. I decided to use a deep red as the contrasting main colour.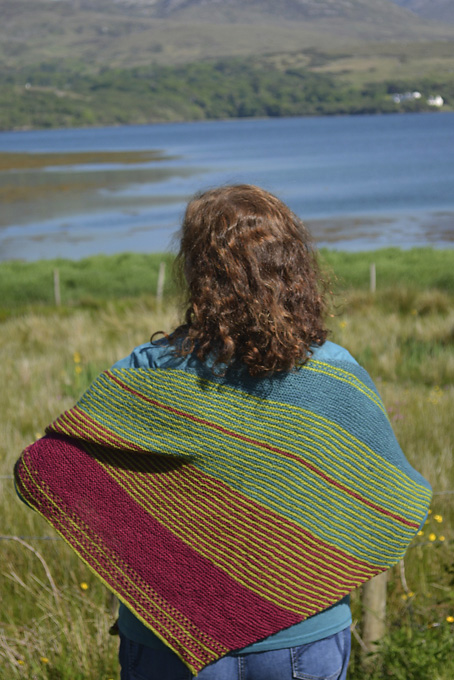 I knit the contrast garter stitch stripe with the lovely shade of red and continued with the shawl.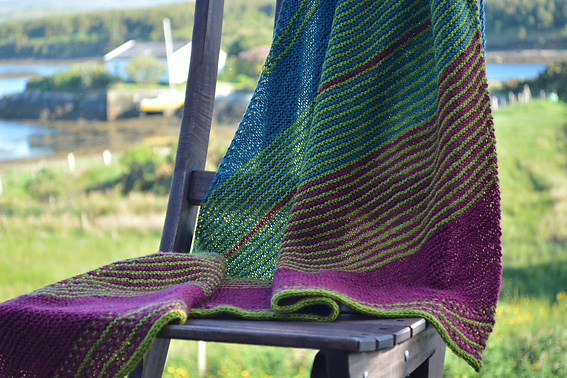 It wasn't until I had finished knitting all of the section of spring green and teal then worked through half of the stripes of spring green and red. At which point I realised with horror that the spring green looked like a completely different colour of green set against the teal to the hue it looked like set against the red. I hadn't expected this to happen as I knew I'd chosen an attractive triadic colour scheme.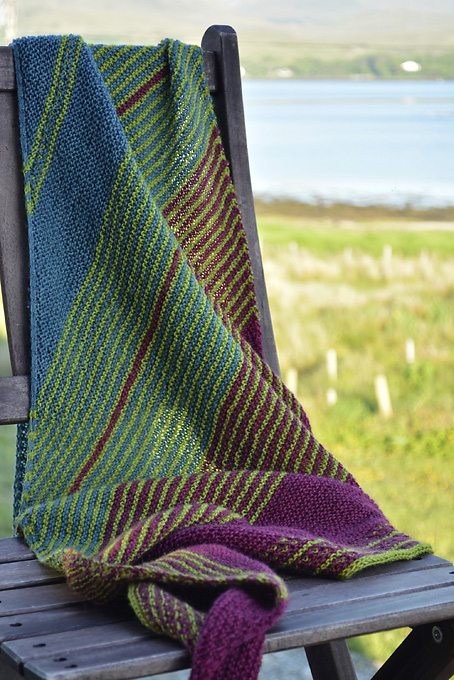 With a different pattern where the 3 yarn colours were more evenly dispersed between one another this most likely wouldn't have been quite such a problem. The difference in how the spring green looks is caused because it is set against a cool teal colour where the green takes on a cooler hue. In comparison to the spring green set against the deep red where the green now takes on a warmer slightly yellow hue. If I'd thought about the possibility of this happening, I'd have inserted a striped section where the red and teal were together. This would have helped with the colour transition. Serves me right for not taking the time to knit a few swatches to try out the colours together!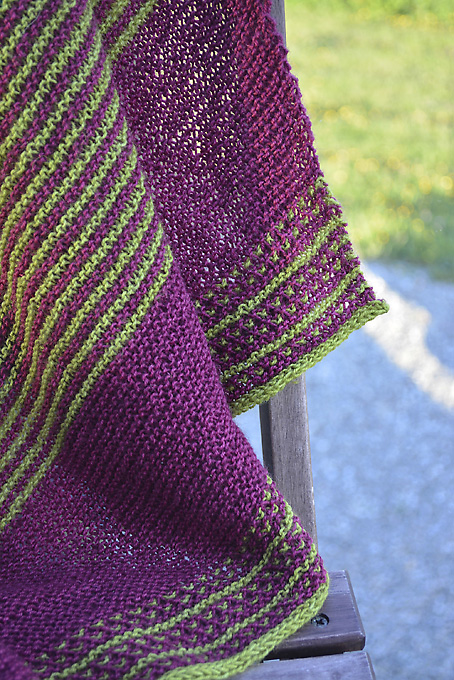 I wasn't completely content with the colour combination. Probably because I'd really wanted to have the navy blue in the shawl. It is strange how you can be just so set on using a particular colour.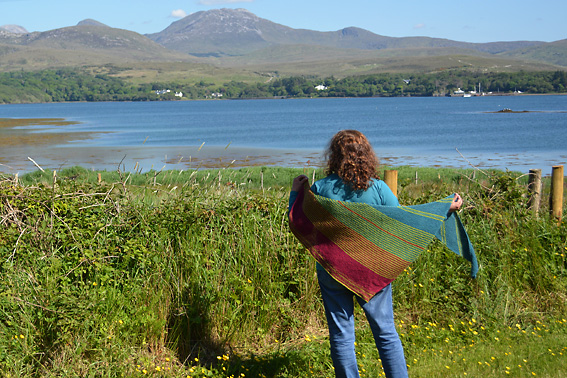 When my sister Pip saw the finished Drachenfels Shawl she really loved it. When she draped it around her shoulders the shawl just came to life. It is funny, how a colour combination can look amazing on one person and not quite so perfect on another! So this lovely shawl, is going to Pip for Christmas, and I have my first Christmas present finished. For once, I am ahead of myself with Holiday knitting. That has never before happened to me!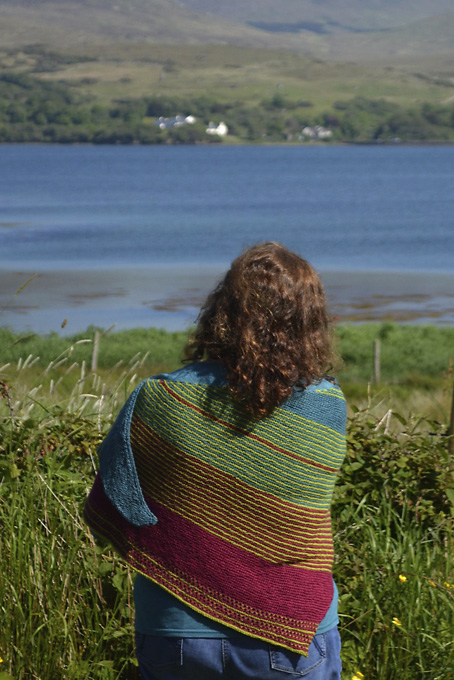 The "cottage" we stayed in at Dawros, near Letterfrack in Connemara was beautiful. It was in the most amazing setting. Looking out of the patio doors we looked out across Dawros Bay and an idyllic traditional fisherman's cottage. The cottage had an upstairs lounge with patio doors opening onto a small balcony that overlooked this beautiful view.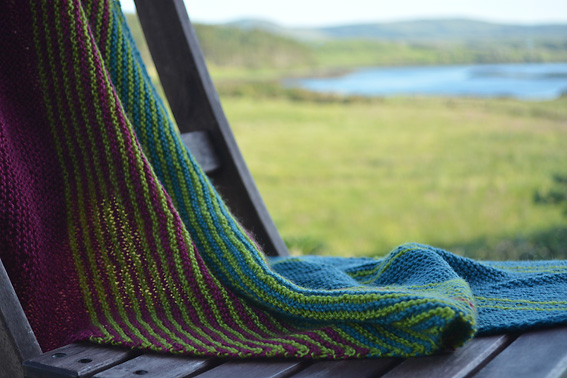 We decided to photograph Drachenfels Shawl in the garden and on the balcony. The finished shawl is beautiful and I really enjoyed knitting the pattern. It is well written and the shawl came out just as I hoped and a great size. I think I will probably knit this shawl again at some time in the future when I decide on a new colour combination!