I loved the stylish look of the Beachcomber Wristwarmers when I saw them in The Knitter and decided it would be a great choice for reviewing on the blog. I tweaked the pattern so that I could use some of my 4 ply sock yarn for knitting these lovely fingerless mittens.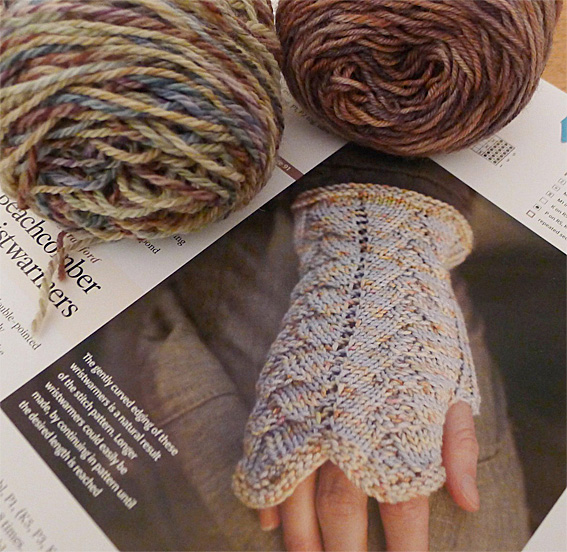 The Beachcomber Wristwarmers designed by Amanda Crawford were featured in The Knitter Issue 3. They had been knit using DK weight cotton yarn. She had designed a beautiful messenger bag and wristwarmers inspired by the colours and patterns found while wandering along beachcombing. She combined the sandy colours with a pale blue for the wristwarmers.
Yarn Choice
The designer used luxury Cotton DK yarn for the wristwarmers and matching bag. I wanted to knit the wristwarmers using sock weight 4 ply wool instead which of course causes a few modifications to the pattern.  Two row stripes of Araucania Ranco Multi in Shade 308 and hand dyed Zenith Campagne in tweedy tones of brown, teal, sky blue, zesty lime green, sage, mint azure and lilac looked lovely. The yarns combined beautifully with colour tones that blended attractively rather than contrasting. I used 3.75mm dpns.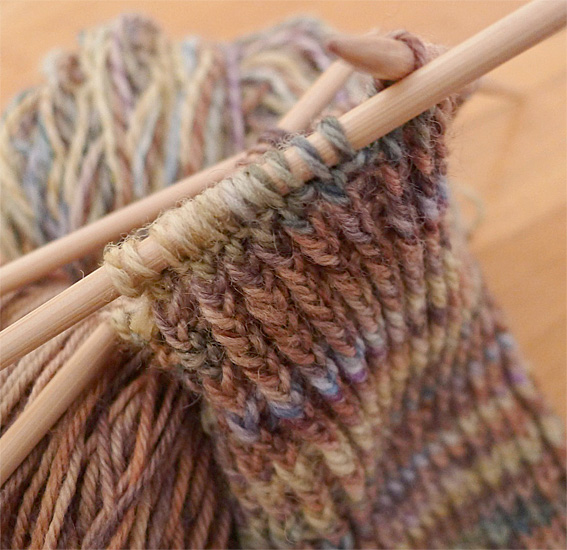 Changes to the Pattern
As the palm and thumb are worked in Fisherman Rib I knew that these would be very stretchy.  The decorative stitch pattern on the top of the wristwarmer was edged with shell shaping across the top the fingers.  The wristwarmers are worked from the fingers to the cuff.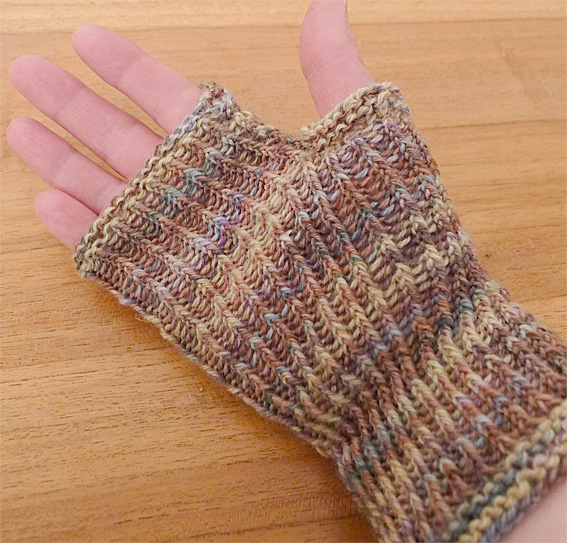 I made four main changes to the pattern:
Modification 1:  I worked 3 repeats of the stitch pattern instead of 2 (as in the Beachcomber design), before casting on stitches for the thumb opening.
Modification 2:  I cast on 4 extra stitches for the thumb.
Modification 3:  After casting on for the thumb, I worked 7 more repeats of the pattern to the cuff… which flares out atractively.
Modification 4:  After the wristwarmer was finished , I picked up and knit 22 sts around the cast on edge of the thumb opening. Then I worked another 3 rounds in garter stitch, (when knitting in the round purl a round, knit a round, purl a round), decreasing by 2 sts in the 3rd round. Then I cast off.  I preferred this as it meant that the thumb matched the other edgings on the mitten.
The softly scalloped edge over the fingers looks beautiful.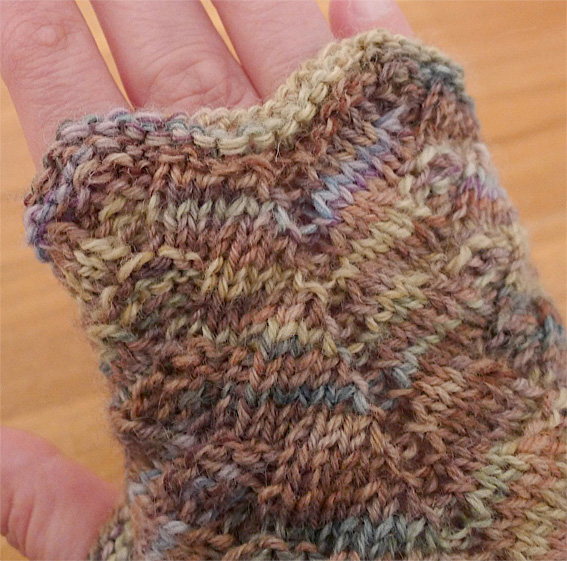 Would I Knit this Pattern Again?
Of course. This is a beautiful and very stylish pattern.  The fingerless mittens look cute on. Once I'd finished the Beachcomber Wristwarmers, a matching cowl became a necessity.  Matching sets always look great.