The gorgeous book "Buachaille – At home in the Highlands" by Kate Davies was part of my Christmas present from Neil. This book is an absolute delight. I love the patterns. The photography mainly taken by her husband Tom Barr is utterly inspiring. As though the lovely choice of accessories knitting patterns isn't enough, you'll find a selection of traditional Scottish recipes, and enjoy an amazing walk through the highlands (without leaving the comfort of your armchair)!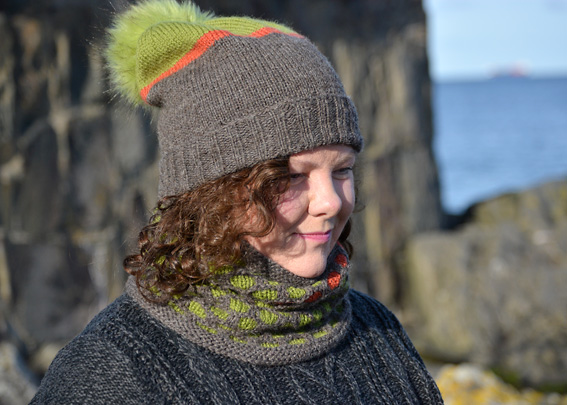 The patterns in the book are designed for her new range of Scottish Wool – Buachaille, which is a DK weight yarn. I had to wait for a little while to order the yarn, mainly because it kept selling out almost as quickly as she updated her online shop every Sunday, but when it did arrive I loved it. It is a slightly rustic feeling wool but once it was hand washed and blocked it felt considerably softer and developed a slight bloom.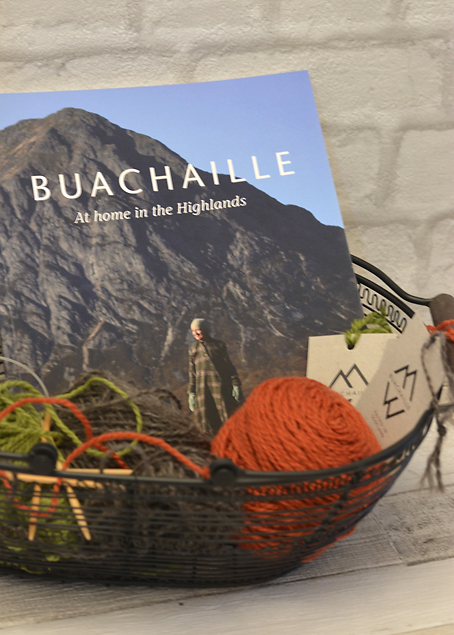 This is the second time that I have knit the Cochal Cowl as I made a gorgeous version using the Opal Winter Moon 8ply Sock Yarn (a DK weight sock yarn) while I was waiting for my order of Buachaille to arrive. You can read about the first version here.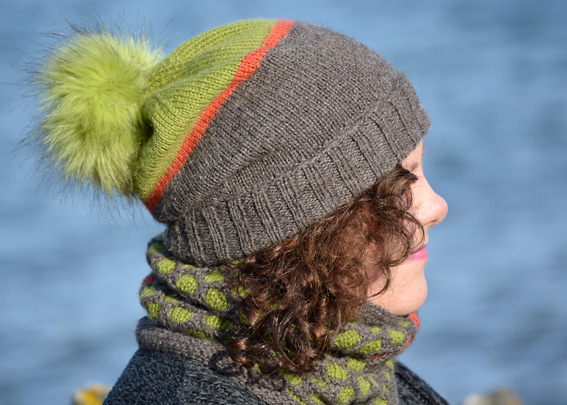 Once my order arrived, I was quickly casting on the Cochal Cowl exactly as it was shown in the book. I did the longer version with the cute stripe in the Highland Coo colour peeping through. My choice of colours for Cochal Cowl was exactly as shown in her pattern – Squall for the main colour, Yaffle for the main contrast colour and Highland Coo for that extra zing!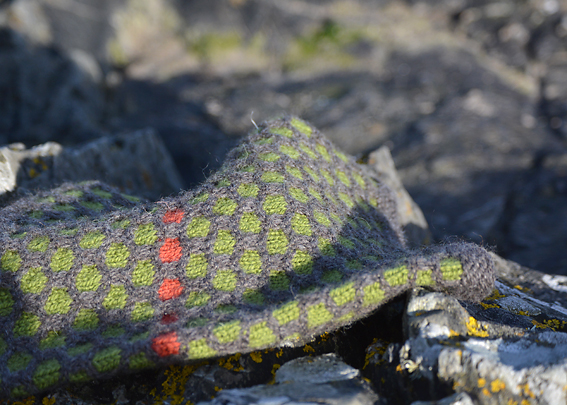 I made absolutely no changes to the pattern, which is clearly written, with detailed instructions that are easily followed. The pattern is perfect for a knitter of any level!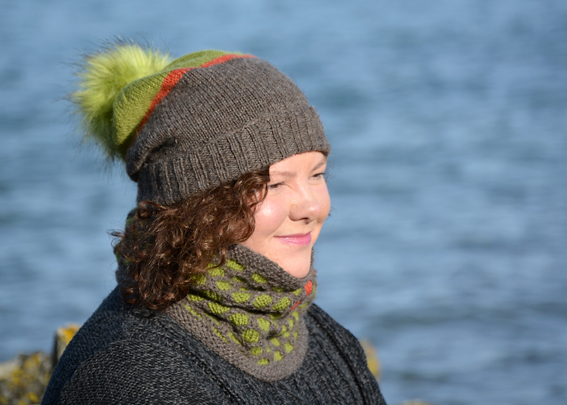 When I'd finished my Cochal Cowl, I decided that I'd like a colour block hat to wear with the cowl. It is the same as the pattern I designed for the Wintermoon Hat but in blocks of colour.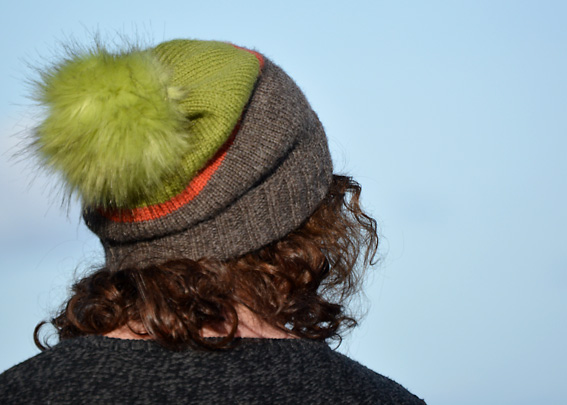 Buachaille Colour Block Hat
I used the Buachaille Scottish Wool in Squall, Yaffle and Highland Coo that I had left over from knitting my Cochal Cowl. I did order an additional skein of Squall. I'm sure you've all noticed how much I love using up my left over yarn!
3.5mm 40cm/16″ bamboo circular needle
4mm 40cm/16″ bamboo circular needle
A set of 4mm bamboo double pointed needles
3 stitch markers
Tapestry Needle
Large faux fur pom pom
My tension knitting in the round measured on stocking stitch after blocking using 4mm bamboo circular needle is 23 sts x 30 rows = 10cm x 10cm (4″ x 4″)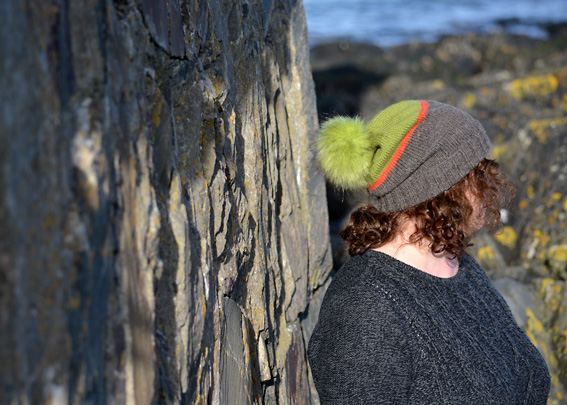 Brim
Using Squall for the first colour block cast on 108 stitches using 3.5mm circular needle.
K2, p2 rib for 21 rounds (6.5cm/2.5″)
Knit 1 round. This is to create a fold line for the brim.
Continue with the k2, p2 rib for 18 rounds.
Body of Hat
Change to 4mm circular needle.
Knit 28 rounds using Squall.
Knit 4 rounds using Highland Coo.
Knit 12 rounds using Yaffle.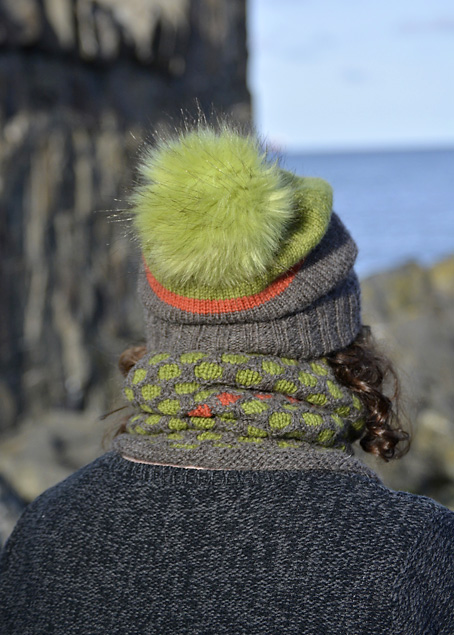 Crown Shaping
Continue using Yaffle to knit the crown.
I changed to the 4mm double pointed needles when I started the shaping for the crown of the hat. I divided the stitches equally over 3 needles and knit with the fourth.
Round 1: (k16, k2tog, place marker, k16, k2tog) 3 times.
Round 2 and all even rounds: k
Round 3: (k15, k2tog, slip marker, k15, k2tog) 3 times
Round 5: (k14, k2tog, slip marker, k14, k2tog) 3 times
Round 7: (k13, k2tog, slip marker, k13, k2tog) 3 times
Round 9: (k12, k2tog, slip marker, k12, k2tog) 3 times
Round 11: (k11, k2tog, slip marker, k11, k2tog) 3 times
Round 13: (k10, k2tog, slip marker, k10, k2tog) 3 times
Round 15: (k9, k2tog, slip marker, k9, k2tog) 3 times
Round 17: (k8, k2tog, slip marker, k8, k2tog) 3 times
Round 19: (k7, k2tog, slip marker, k7, k2tog) 3 times
Round 21: (k6, k2tog, slip marker, k6, k2tog) 3 times
Round 23: (k5, k2tog, slip marker, k5, k2tog) 3 times
Round 25: (k4, k2tog, slip marker, k4, k2tog) 3 times
Round 27: (k3, k2tog, slip marker, k3, k2tog) 3 times (24 stitches)
Round 29: Remove stitch markers during this round. (k2tog) repeat to end (12 stitches)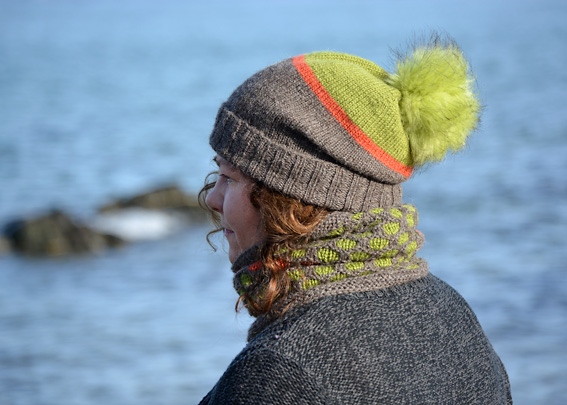 To Finish: Using the tapestry needle gather the 12 stitches tightly, then sew in the end securely.  Sew in the end at the brim. I washed and blocked my hat over a partially blown up balloon. I just gently pull the hat over the balloon so that the top of the crown is smoothed over the top of the balloon and set the balloon on top of a small pyrex bowl so that the ribbing on the brim isn't stretched out of shape. My balloon has gone a bit squishy now as I've used the same balloon for blocking the last 6 hats.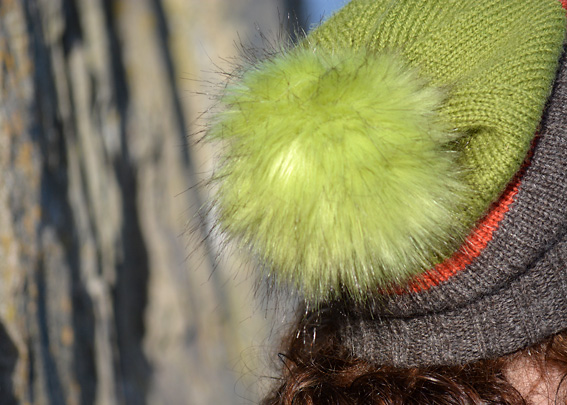 I sewed a large green coloured faux fur pom pom onto the top of my hat. This pom pom is the perfect match in colour to the Buachaille Yaffle and the black tips pick up the grey Squall. I bought my hand made pom poms from an excellent seller I found on Etsy – AchillesOriginalArt. I couldn't have been more pleased with the service or the pom poms that I chose. The order arrived very quickly from Prague in the Czech Republic.