I was looking for a warm cable hat to knit using Cashmerino Aran, for wearing on cooler days. Cecile by Katya Frankel seemed like a cute choice.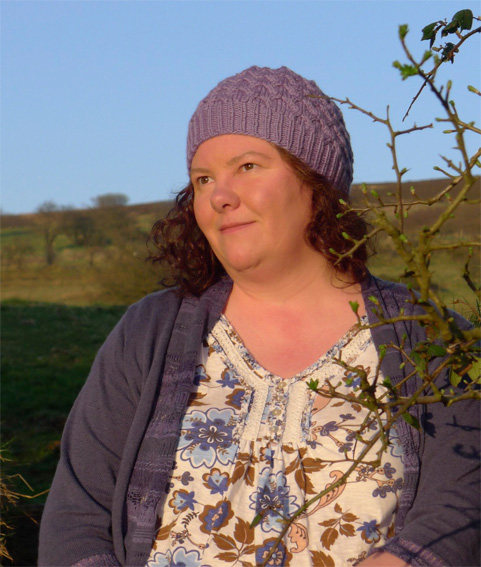 The gorgeous Debbie Bliss Cashmerino Aran (colour 050) is the perfect choice for knitting this lovely cable pattern. Cashmerino Aran, feels soft and is a lovely yarn knit. The yarn has enough body to give excellent definition to this lovely cable pattern.
Problems Encountered
Normally patterns have written instructions but Cecile was published with only charted instructions. Using 4 mm needles 86 stitches were cast on and 5 cm of rib worked for the brim.  After looking carefully at the chart before beginning I had an uneasy feeling. The first repeat of the charted pattern when I had finished knitting did not look like the cable pattern on the hat in the photo. Muttering to myself, I frogged the hat.
Solution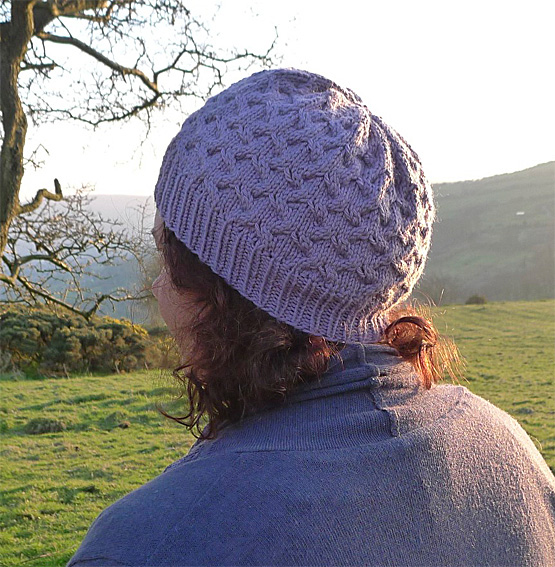 When in doubt refer to a reference book. The Harmony Guide to Aran and Fairisle Knitting showed the correct cable chart and written instructions (cable pattern 8.28).  The pattern repeats over 12 stitches and 8 rounds.  I increased to 144 sts on the first round after the ribbing to set up for the cable pattern.
Cable Pattern
Abbreviations:
C4B:  slip next 2 sts onto cable needle and hold at back of work, k next 2 sts from left hand needle, then k sts from cable needle.
C4F:  slip next 2 sts onto cable needle and hold at front of work, k next 2 sts from left hand needle, then k sts from cable needle.
Written Cable Pattern:
Round 1:  k
Round 2:  k
Round 3:  *C4B, k4, C4F; rep from* to end.
Round 4:  k
Round 5:  k
Round 6:  k
Round 7:  *k2, C4F, C4B, k2; rep from* to end.
Round 8:  k
Work these 8 rounds 3 more times (4 repeats in total) then repeat the first 6 rounds once more before starting the shaping for the crown. Cecile had one less repeat of the cable pattern but I preferred the hat to be a little longer so it would keep my ears warm.
Would I knit Cecile Cable Hat Again?
I would knit my version of this pretty cable hat again. The brim fits snugly. The shaping for the crown moves elegantly from the cabling pattern.  The written instructions for the crown are excellent. And it wasn't necessary to block the hat which saves time. I am sure the magazine probably published errata for this pattern, but as I don't buy the magazine every month, I missed this notification. It would help though if patterns published in magazines could have written instructions as well as charts.  It helps with spotting any errors.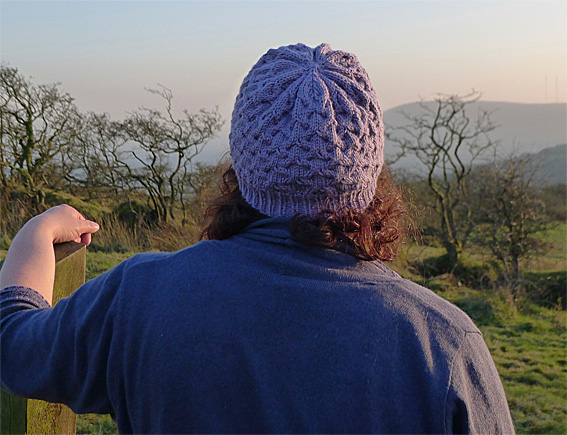 The hat has been worn several times and is very comfortable. It would be great knit in a darker colour for a warm winter hat. The cable hat knit up quickly in aran weight yarn and I will knit my version again.