I've a very exciting holiday coming up this year. My mum and I are going on a road trip together around the Southern part of Ireland. It will be the first holiday that we have had together and I'm really looking forward to it. We have the cottages booked for a week in County Kerry and a week in Connemara.
I always love to have a few projects that I can photograph when I am on holiday. As I only have a few months before we go I decided that I'd like to crochet a throw for the trip.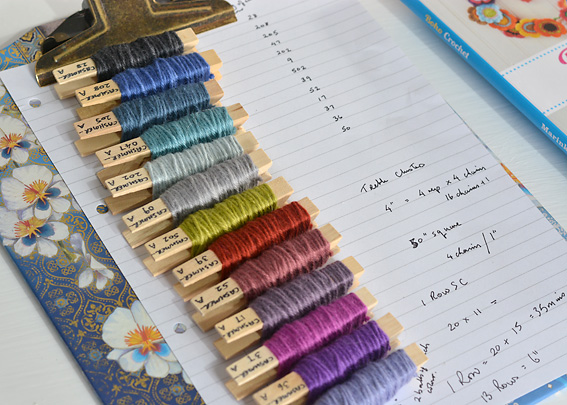 I haven't done any crochet for a long time, well not since I turned my granny square blanket project into a granny square scarf… So I opened my three books on Crochet for some inspiration. I have the DK The Complete Step by Step Guide to Crochet, The Cool Girl's Guide to Crochet by Nicki Trench and Boho Crochet by Marinke Slump. I'm really still a bit of a beginner when it comes to Crochet.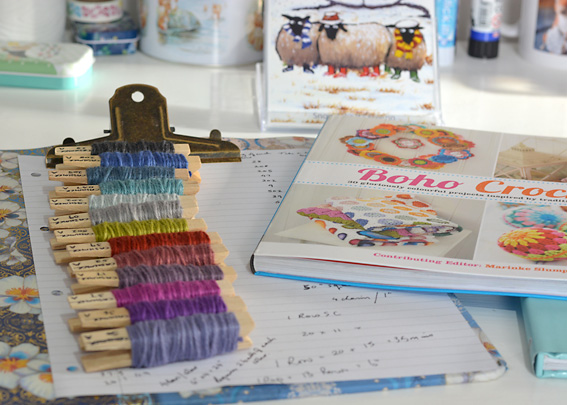 Having looked through the books for ideas, I decided that I wanted to do something relatively straight forward and fancied stripes. I really love stripes. I considered rippling stripes like Lucy at Attic 24 has done for a couple of her gorgeous crocheted blankets. But I settled on straight stripes of treble clusters (shells).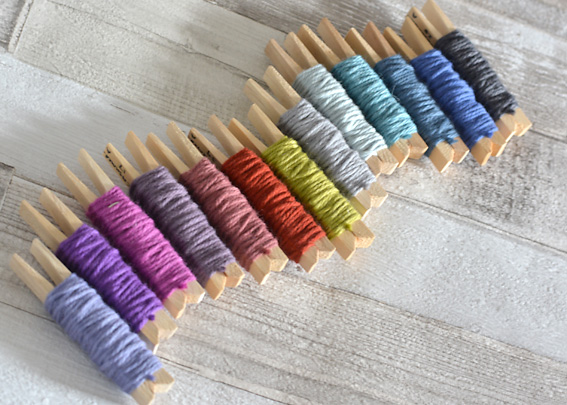 I chose 13 colours of Debbie Bliss Cashmerino Aran: colours 050, 036, 037, 017, 052, 039, 502, 009, 202, 047, 205, 208 and 028. I started by working a swatch to work out the tension. I'm not particularly sure about crochet tension to be completely honest. But I know I want a throw that is approximately 127 cm (50") square without borders. I worked the swatch using a 4mm bamboo crochet hook and it came out that 10cm (4") was four 3 treble shells worked over 16 chain stitches. The shells are created by working 3 trebles into the same space, then 1 chain, repeat across the row.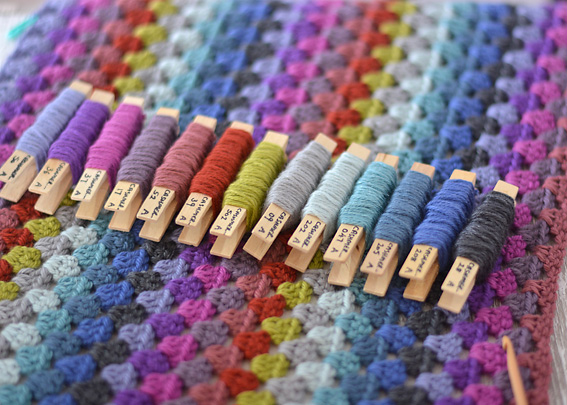 I decided to have the colours repeat evenly rather than a random colour repeat for my crochet throw. The gorgeous colours of Debbie Bliss Cashmerino Aran that I have used are available in my Yarn Shop here.
I worked one row of each colour for my swatch which measured 14.6 cm (5 3/4"). Next I made a foundation chain of 220 stitches plus 1 chain, placing a marker every 20th chain stitch. I worked one row of single crochet. (I'm not sure if the row of single crochet was a good idea, but I thought I needed a foundation row to work the initial row of 3 treble shells into. After that, I worked the shells into the gap.
I weighed my ball of yarn, then worked the first row of treble crochet and then weighed my ball of yarn again. I did this for the first 5 rows and then worked out the average amount of yarn needed to crochet one row. This came out at approximately 12g which means that I should get 4 rows out of one 50g ball of Cashmerino Aran. One colour repeat is 13 rows and measures 14.6 cm (5 3/4"), so 4 repeats should be 58.5 cm (23") approximately half the length of the throw. So I reckon, I will need 2 x 50g balls of each colour. Although, I may decide that the blanket would look nicer longer which will mean 3 balls of each colour.  I'll decide on the border when I've finished the throw.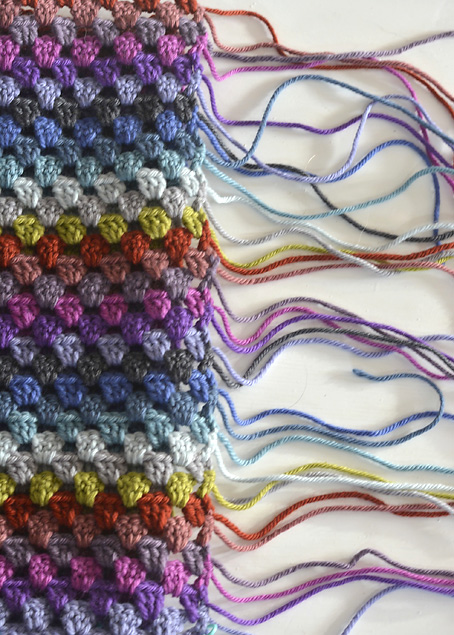 At this point I've completed the first two colour repeats and love how the throw is turning out. I absolutely adore the colours. They are muted rich jewel tones. The throw feels wonderfully soft too. I should stop soon and sew in all of the ends. I know I really shouldn't leave this all to the end as it would be a tedious job to do them all at the same time.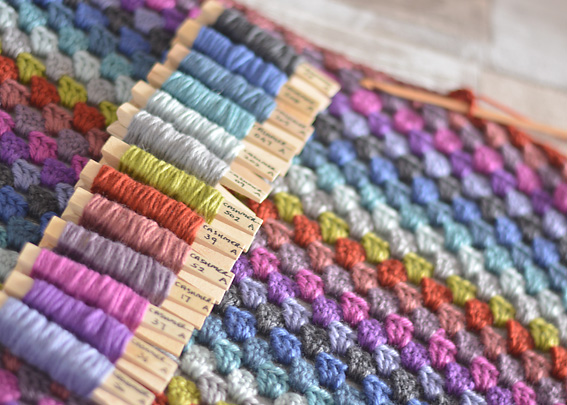 I'm adoring working on this project. It is progressing wonderfully quickly in comparison to knitting the leftover sock yarn mitred squares blanket… This really is a nice change. I can hardly wait to see how it will look when it is finished. So exciting!