Circle Socks pattern designed by Anne Campbell is a really cute free sock pattern. Love the finished socks. Although, it took me a long time to actually have the pair.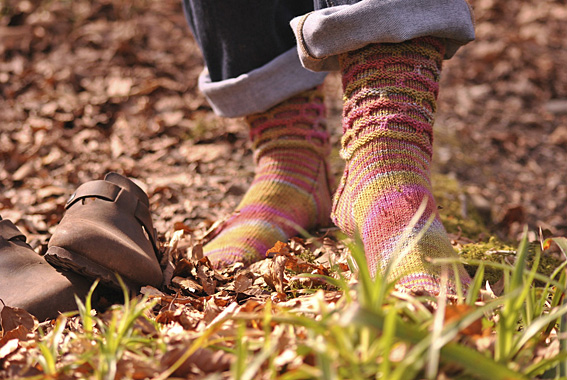 I am embarrassed to admit that I started these beautiful socks at least a year ago. I knit the first sock. I admired the lovely texture and tried it on. Then it went into a box labelled, Circle Socks, WIP (Work in Progress), where it languished unfinished on top of the bookcase in my Studio, as I got swept away on a different wave of motivation, inspired by a new pattern or yarn.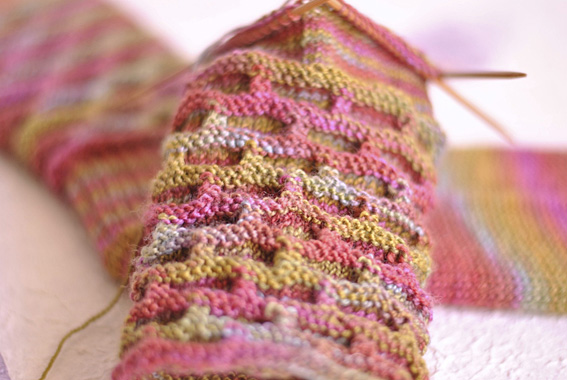 Until, finally, the day came when I opened my sock drawer, and looked at my socks. Some that had looked beautiful when they were first knit, had faded, others had developed holes, yet more had felted/shrunk over time to the point where I really cannot pull them on without cutting off the circulation to my feet (not a good idea). But there is a problem, it takes a bit of time to knit a pair of socks and time as usual is limited.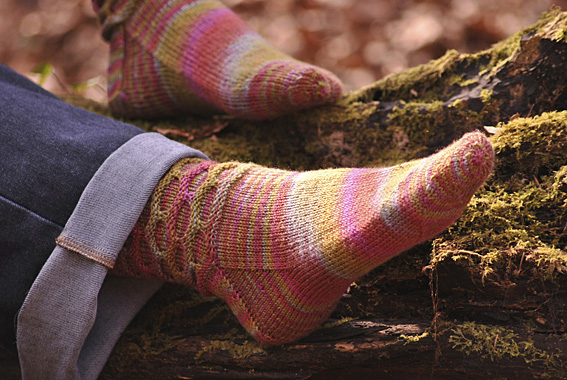 I wanted 6 pairs of new socks to replenish my sock drawer. Then it struck me, how many socks I wanted to knit, at least 12 socks, hmm… as I pondered this dilemma, I thought of all of my socks suffering from Single Sock Syndrome. I pulled out the boxes, and felt moved to action. After all, there is a wonderful thing and seldom mentioned bonus attached to Single Sock Syndrome – I only need to knit one sock to have a pair! How wonderful is that?
The Circle Sock was the first of these single socks that I decided to turn into a pair.
I used a gorgeous 4 ply sock wool that I bought from Flamboyance Yarns a couple of years ago. This is a 100% wool so I will have to remember to hand wash these socks. The yarn is wonderful to knit with and I love the way it looks so different in the textural section of the leg, as I turned the heel, and the broader swirl of the foot. I love the textural slip stitch of the leg. It is so cute.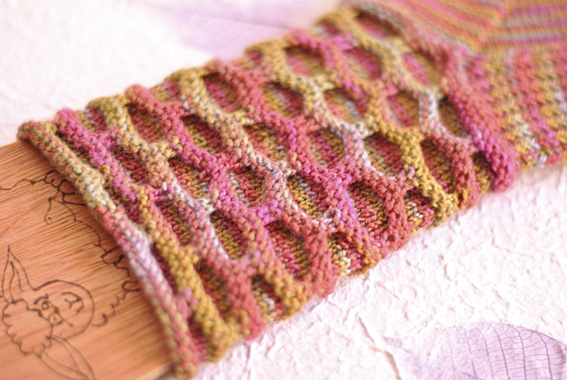 I made a couple of changes to the sock. I cast on using 2.75 mm double pointed needles. I did 4 1/2 repeats of the pattern for the leg instead of the full 5. Next time, I would probably do the 5 or even 5 1/2 repeats of the slip stitch pattern.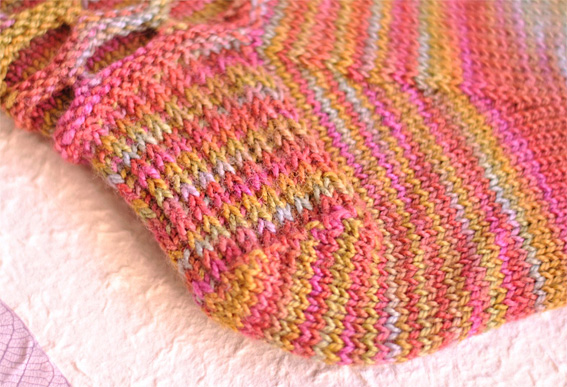 When I did the heel, I used my usual slip stitch heel rather than the Eye of Partridge. I've no idea why I decided to do this when I knit the first sock, but I felt the second sock should be the same as the first one. Other than this small change I continued with the pattern for turning the heel and knitting the gusset. I knit 36 rounds for the foot. Then as I approached the toe, I decided to make another change. I decided on a Spiral Toe.
Spiral Toe
Make sure the stitches are evenly spread over the 4 double pointed needles, with 16 sts on each needle.
Abbreviations: sl1  – slip 1 stitch; k  – knit; psso  – pass slip stitch over the knitted stitch; dpn  – double pointed needle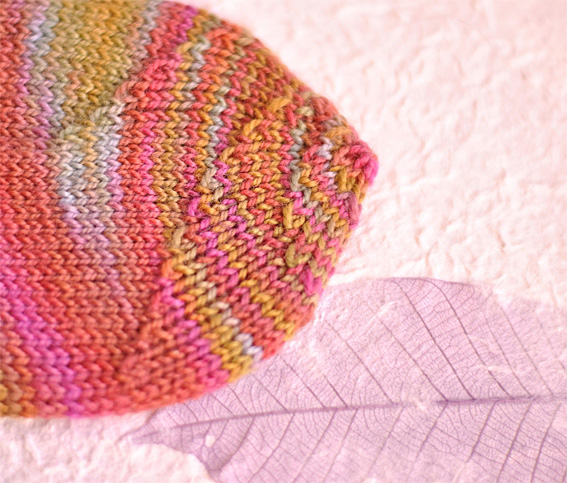 Round 1: *sl1, k1, psso, knit to next dpn, then repeat from * on each of the other 3 dpns.
Round 2: k
Round 3: *k1, sl1, k1, psso, knit to next dpn, then repeat from * on each of the other 3 dpns.
Round 4: k
Round 5: *k2, sl1, k1, psso, knit to next dpn, then repeat from * on each of the other 3 dpns.
Repeat this spiralling pattern until 8 stitches remain, then cut the yarn, gather the remaining stitches with the yarn and weave in the yarn ends.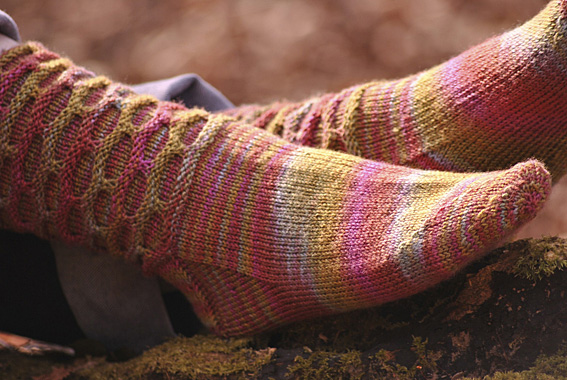 I love the finished Circle Socks and will definitely knit them again, next time, I shall follow the pattern more fully instead of going off on a tangent, as it seems unfair to review a sock pattern when I have made so many tweaks and changes. The other change will that I shall use a sock yarn that doesn't need to be hand washed, as I long ago realised, that handwashing socks every day doesn't really work for me.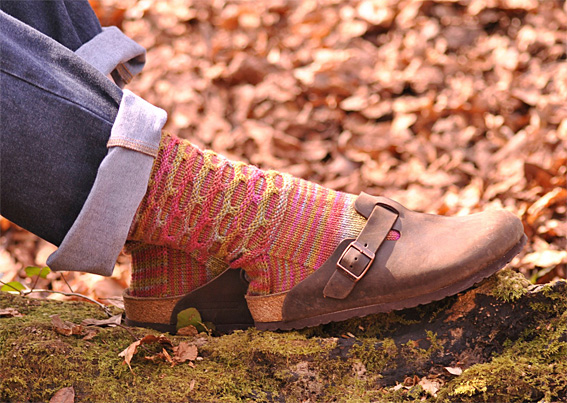 When I had finished knitting the pair of Circle Socks, I was interested to check how much of the 100g skein of yarn I had used. It took 86g of sock yarn to knit this pair of socks.