The Color Affection Shawl has been on my wish list for a very long time. It's so much fun casting on a project that I really want to knit. I love everything about beginning a new project, from choosing the yarn, to swatching and casting on.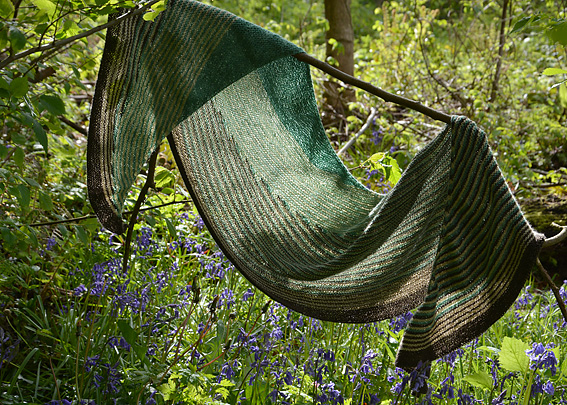 I chose 3 skeins of hand dyed Merino Cashmere Nylon in a gorgeous verdigris green for the main colour, a pale ecru for the first contrast colour and a deep brown as the second contrast colour.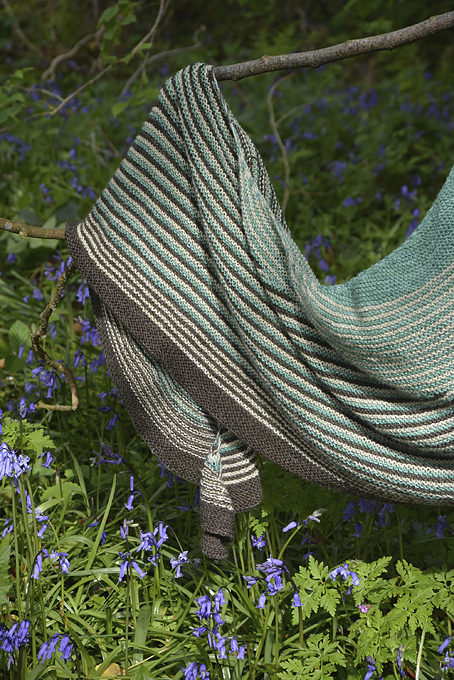 The important thing with the colour choices for this shawl was to choose three colours that were a strong contrast to each other but that look gorgeous together as I wanted the stripes to be clearly defined.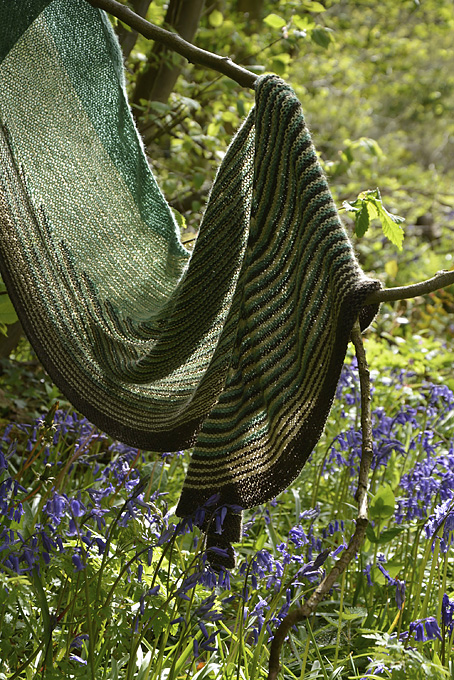 I decided to knit the fingering weight version. I worked my swatch several times but just couldn't get the stated tension without going up to a needle size where I really disliked how loosely the fabric was knitting up. So I settled on a gauge of 20 stitches over 10 cm and knit the shawl using 5mm needles.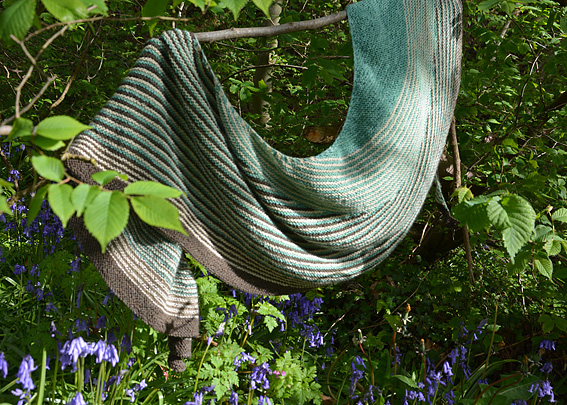 I read many contrasting accounts as to whether a yarn over should be placed on the edge seam to create a longer stretchier edge. But, I decided to knit the pattern as it was written.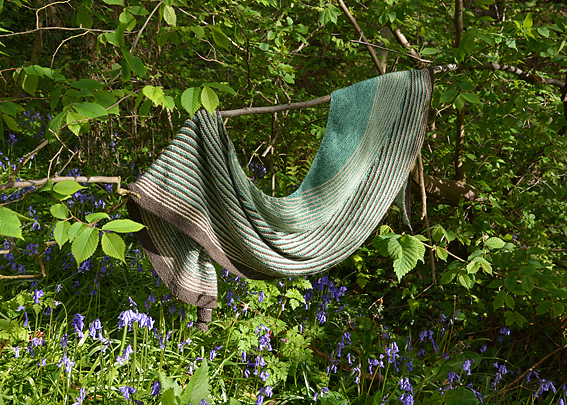 All was proceeding well, I had finished the green section at the top. Then I added the ecru and I worked the first section of green and ecru stripes. Which also progressed well.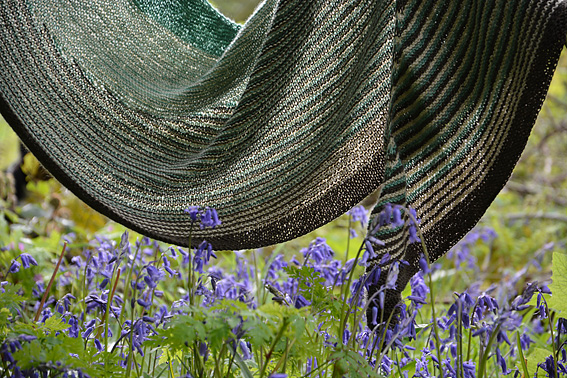 Then I started the short rows at which point I misread the pattern as to how many stitches I should knit past the wrapped stitch. It was silly of me to start a new section when it was late at night and I was tired. I had 3/4 of the short rows completed when I realised my error.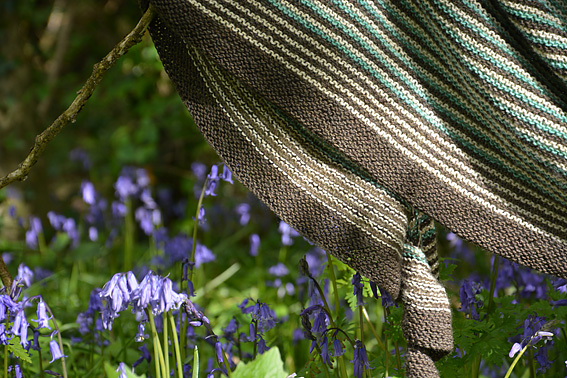 I couldn't face ripping them all out and decided no one would know if I didn't tell them… a bit of artistic license… but I knew, with a sinking heart, that I wasn't going to have enough of the green yarn. So I continued my short rows with a different count of stitches past the wrapped stitch. I finished the short rows using the ecru and dark brown stripes. I finished the border with the dark brown and then knit the edging until I had just enough dark brown yarn to cast off.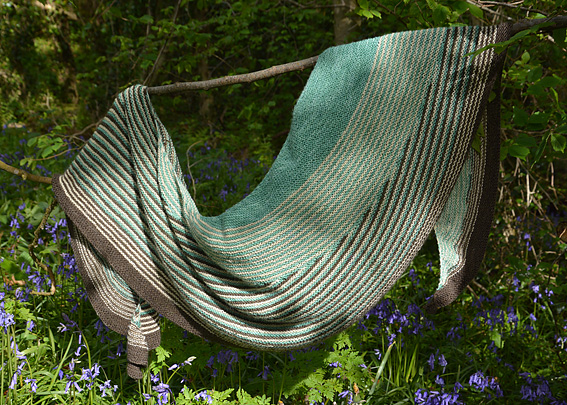 The completed shawl is quite shallow in depth but very wide. I like the long crescent shape and love how the ends curl in such a lovely and attractive way. It is an elegant shape. I've a feeling that my mistake with the short rows caused me to have a wider shawl than was intended. And I find this to be too wide for wearing comfortably.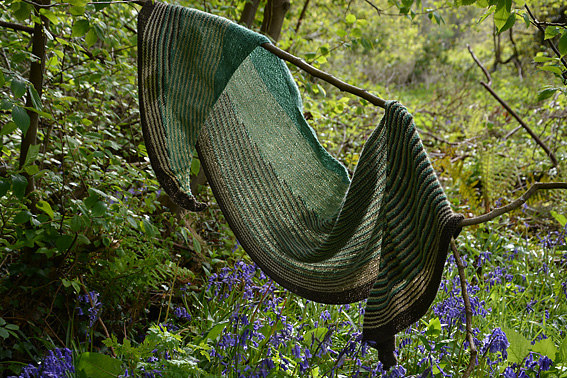 I am rather late coming to the Color Affection Shawl party… At this point in time the Color Affection is in 13,468 projects and in 10,609 queues on Ravelry.com.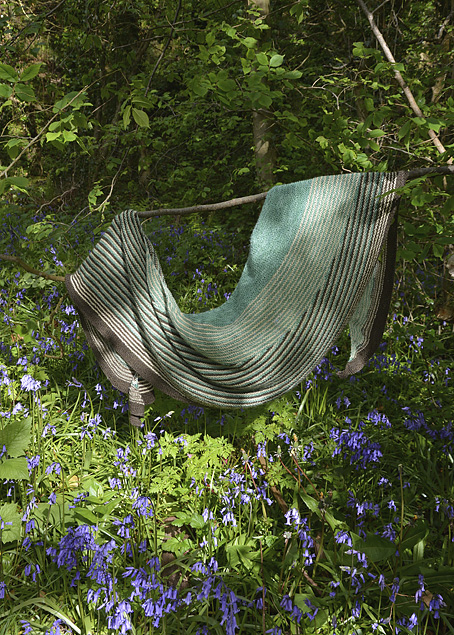 I'd read a few different posts about other people's experiences knitting the shawl. I was a little taken aback to see how many knit their first, weren't completely pleased, found themselves knitting a second version and even a third version.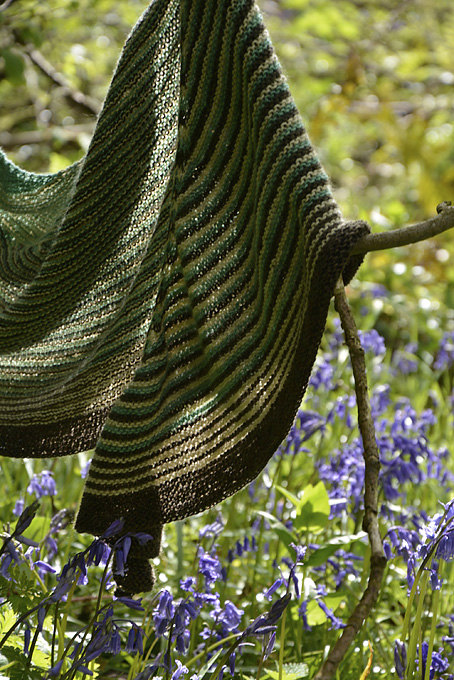 Although, I enjoyed knitting the Color Affection shawl, I don't think I want to knit a second as I am not sure that I like how the shape of this shawl looks on me. I've tried wearing it a couple of times but it's not really me. I prefer a smaller shawl that can be worn more like a scarf than a large shawl.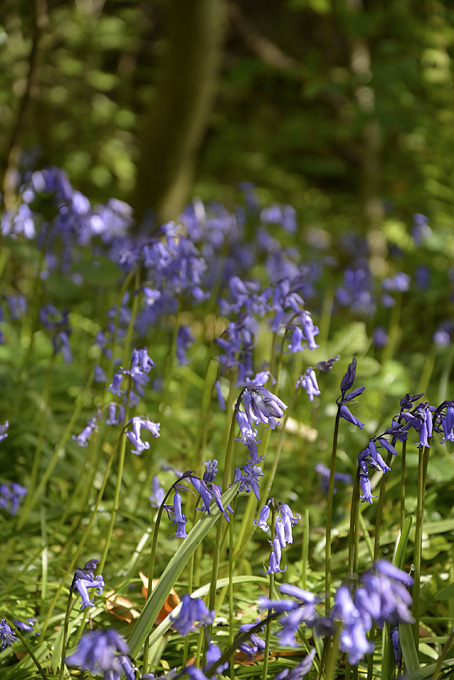 I'm tempted to use this beautiful hand dyed Merino Cashmere Nylon yarn for knitting the Drachenfels Shawl designed by Melanie Berg which is very high on my to knit wish list.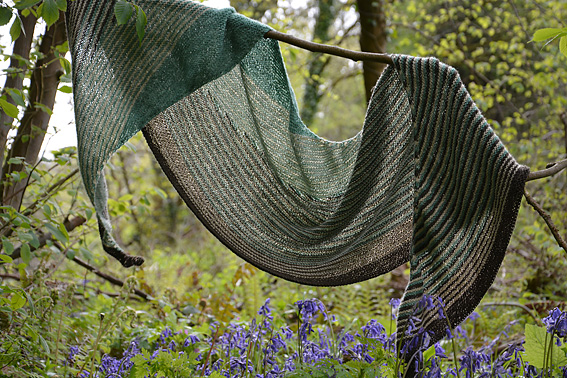 It is a couple of years since we have walked through the bluebells. Spring for the last few years has been unseasonably cold and wet in Belfast. When it is cold and wet, the nettles grow more quickly than the bluebells and often hide the bluebells before they are fully out.  When we were kids, we often went up to the bluebell walk with a picnic for my sisters birthday in early May. There really is nowhere more beautiful than the Cavehill when the bluebells are out. We had such a wonderful walk wandering along one of the old overgrown paths through the woodland. We sat on our coats and enjoyed a flask of tea and a biscuit surrounded by a sea of bluebells.