Having finished the Beachcomber Wristwarmers I just knew I needed a gorgeous cowl that would match them. This inspired me to design the 'Beachcomber' cowl.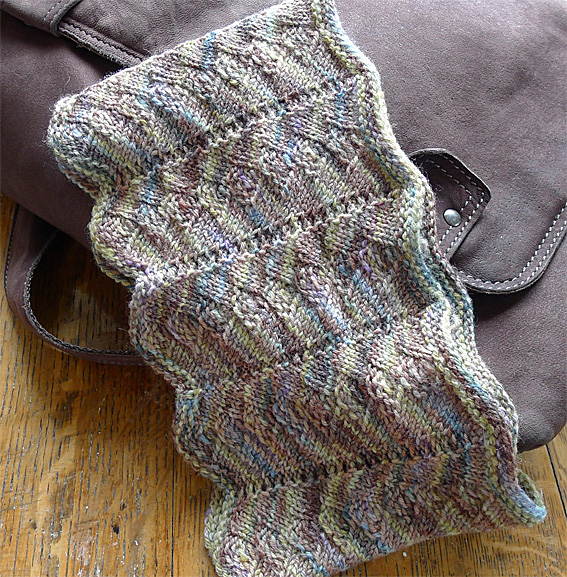 Inspiration
"The stitch I chose reminded me of the patterns in the sand left behind by the sea when the tide goes out." Amanda Crawford

Yarn Choice
The designer used luxury Cotton DK yarn for the wristwarmers and her matching bag. I wanted to knit the cowl using sock weight 4 ply wool in the same 2 row stripes used for the Wristwarmers.  Two row stripes of Araucania Ranco Multi in Shade 308 (Yarn B) and hand dyed Zenith Campagne (Yarn A) in tweedy tones of brown, teal, sky blue, zesty lime green, sage, mint azure and lilac looked lovely. The yarns combined beautifully with colour tones that blended attractively rather than contrasting.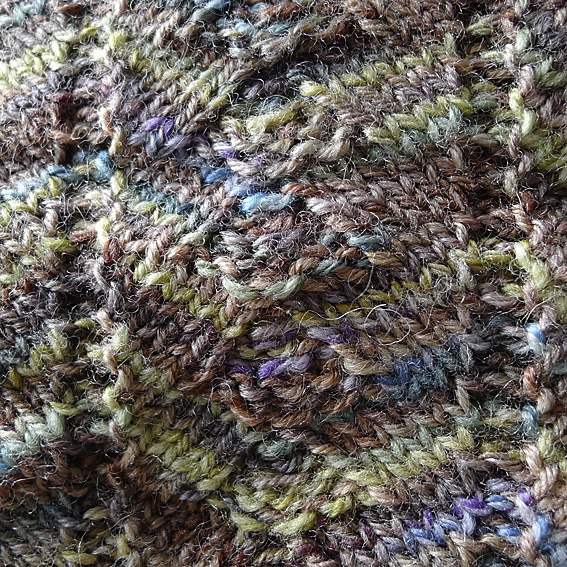 The Cowl
Cast on 140 sts on 3.75mm 40 cm bamboo circular needle using Yarn A… Joined into the round and worked 3 rounds in garter stitch starting with a purl round.
Stitch Pattern:
Round 1 (Yarn B):  (p1, m1, k3, p2, p3tog, p2, k3, m1) 10 times
Round 2:  (p1, k4, p5, k4) 10 times
Round 3 (Yarn A):  (p1, m1, k4, p1, p3tog, p1, k4, m1) 10 times
Round 4:  (p1, k5, p3, k5) 10 times
Round 5 (Yarn B):  (p1, m1, k5, p3tog, k5, m1) 10 times
Round 6:  (p1, k6, p1, k6) 10 times
Repeat these 6 rows 7 times more, keeping correct stripes (8 repeats in total).
Then work 3 rounds in garter stitch and cast off reasonably loosely.
Finally, wash and block… After blocking the edges have such a pretty scalloped edge.