The new book "Solefull Socks – Knitting from the Ground Up" by Betty Salpekar arrived by post in the middle of last week and I happily opened it to start reading about this new method for sock knitting.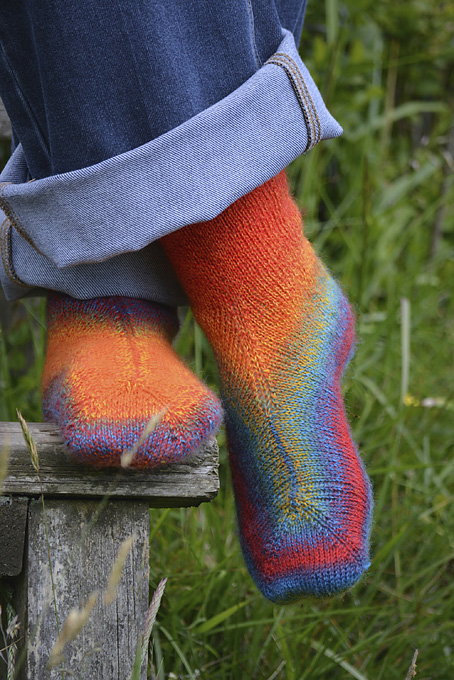 Solefull Socks have been popping up everywhere recently, 2 patterns in my digital copy of Interweave Knits Summer 2014 – Lobelia and Forester Socks, and Carry on Solefully in Knitty.com Issue 48 | first fall 2014.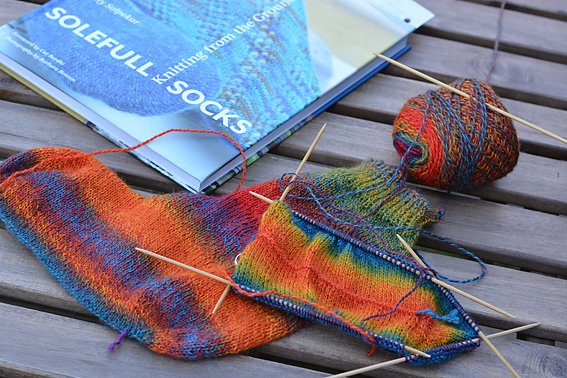 I decided to knit what seemed to be the simplest design "Let the Yarn Shine" as I like a smooth feeling sock. I find it more comfortable to wear. So I got ready to cast on my Crazy Little Fox Solefull Socks.
"I call them "solefull" because you knit the sole in full first, before any of the rest of the sock. Then you just keep knitting up in the round from the perimeter of the sole." – Betty Salpekar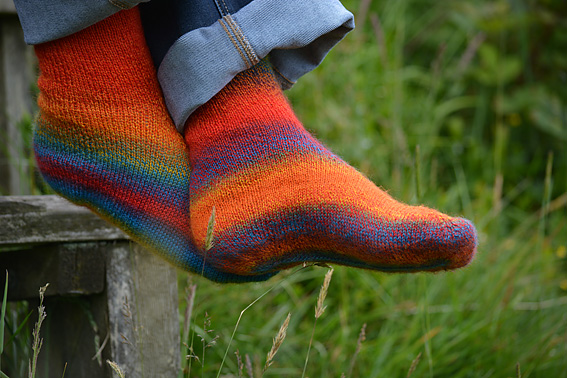 It is interesting how socks wear out in different ways on different people. Nobody is the same, we all walk slightly differently, and weigh different amounts and have different shaped feet. For me the place that my socks all wear out first is on the toe where my big toe must rub against the inside of my shoes. For Betty Salpekar it was a different problem that caused her to start investigating a different way of knitting socks.
"… my socks would develop holes only at the bottom of the heel and under the ball of the foot… the back of the heel and the top of the toe, both places where the precious reinforcement yarn had been used, hardly showed any wear." Betty Salpekar
The designer suggests knitting a thin mohair/silk blend yarn such as kidsilk haze along with the sock yarn on the whole sole to give a more padded feeling sole to your sock. I thought this was a great idea, until I read that my sock was going to have to start off with 50 pairs of stitches (100 stitches total) using Judy's Magic Cast On – Bottom Needle First Variation. Oh dear, I thought to myself. I tend to knit all my socks cuff down rather than toe up. So Judy's Magic Cast On is not a method I am au fait with, although I had read that it is very easy but I did decide not to try to cast on using two yarns at the same time.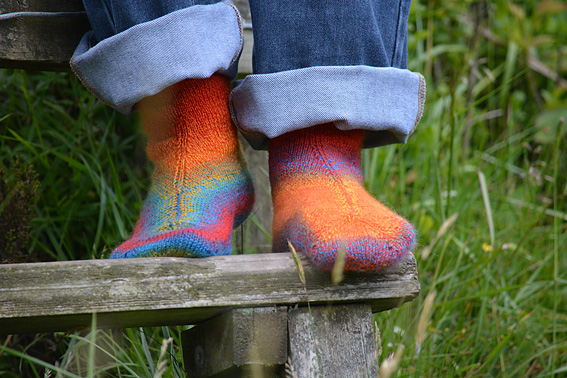 I gathered together 3 circular needles in 2.5mm, a set of 2.5 mm bamboo double pointed needles, a tapestry needle, stitch markers and my yarn. I had some Crazy Zauberball in the colour Little Fox 1702 that had been gifted to me by my sister. She had started knitting something then frogged it and after the frogged yarn got tangled, popped all of it into a padded envelope and sent it to me. After it was successfully untangled, it ended up in my stash awaiting a project. I noticed that the socks I was intending to knit "Let the Yarn Shine" had been made using this yarn.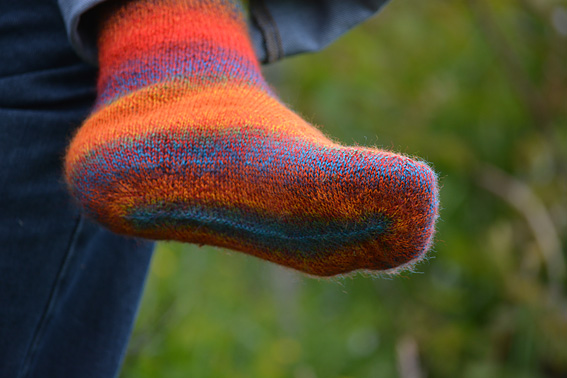 At the back of the Solefull Soles book is a link to a website with detailed instructions on this Magic Cast On variation. So here I was, with my two short 2.5 mm circular needles clutched in my hand, holding yarn over the forefinger and thumb of my left hand and trying to tension the yarn by clutching it with the other fingers of my left hand and trying to scroll down the website page to see how to do it and look at the pictures to see how mine should look at each stage… What can I say, chaos ensued.
I diligently cast on (thinking I was doing it right), knit my first couple of rounds, tricky in itself, and then noticed I had a ridge down the middle of my sole. Not so good. So I frogged and started again. On the 4th attempt, rather than losing my cool, I gave up and accepted I was going to have a ridge down the centre of my sole. Maybe, I thought, I'll have more success on the second sock? No such luck, I have a matching pair of ridges down the soles of my socks. Perhaps some kind person will please tell me where I went wrong with this?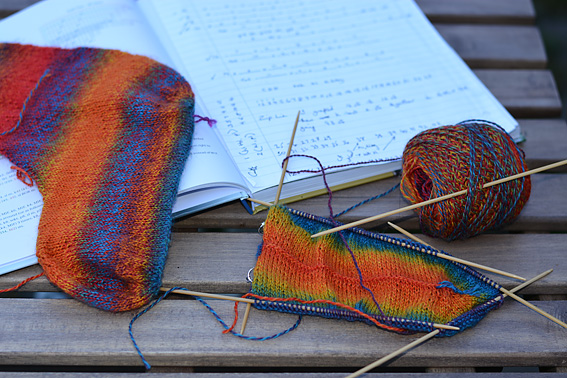 I knit the medium size sock. I tied a yarn loop at the heel (start of round) point so that I would remember where I was when knitting the sock. I wrote lots of little notes to keep myself on track and make sure that both socks would be the same.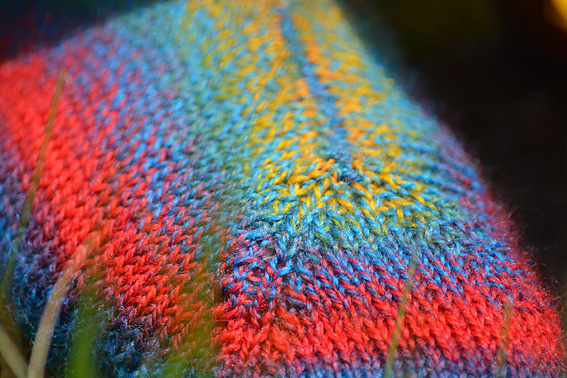 Rather than having the CDD I used SSK, k1, k2tog and instead of the Zip Line on the top of the foot, I grafted the stitches together.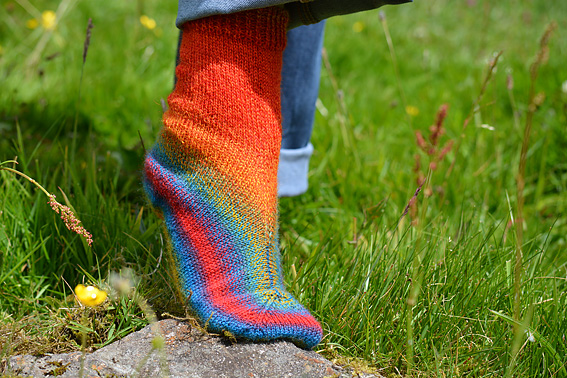 I also knew that 69 stitches for my leg was going to be too loose, so I did a little bit of decreasing above the heel at the back of my ankle so that I'd have 65 stitches for the leg. I did a k2tog decrease at the centre back of the leg before I started the 14 rounds of half twist ribbing. Then I cast off loosely using a larger sized needle.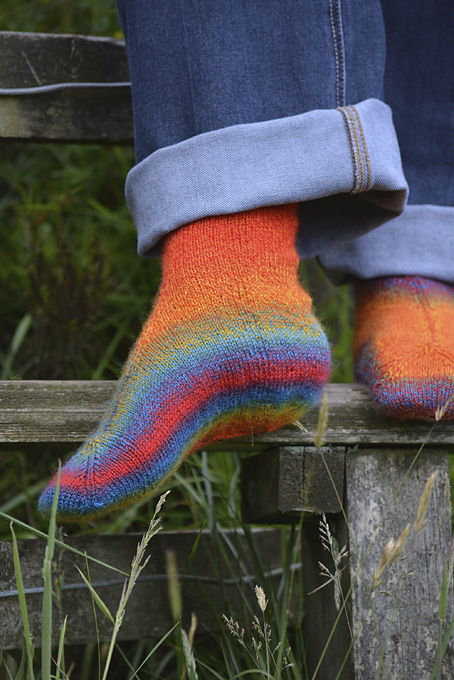 The finished socks are very cute on, although, I think I prefer a bit more structure for my heel as I found the heel area had a tendency to sag on me. But that is a personal choice. It was interesting and fun trying such a different method of knitting socks although I am still frustrated by my cast on debacle and I am aware of the ridge line when wearing the socks. So my experience was not a complete success but that isn't a reflection on the pattern which was clearly written.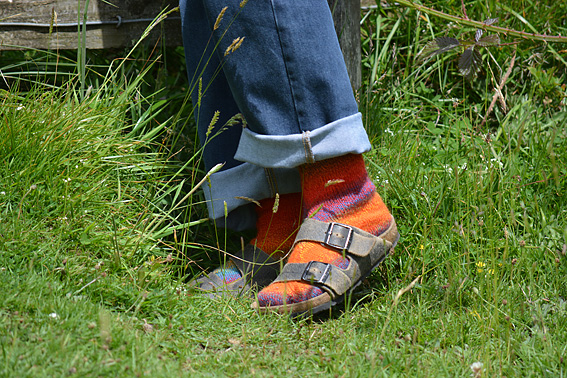 Other yarns that I think would be great for knitting Solefull Socks are Zauberball and Jawoll Magic.