My creative process is the same for most of the projects that I choose to work on to a greater or lesser degree.
For example, I  decided to revisit the creative process used in designing my Amethyst Dreams Collection for Sasha Doll Style (made in 2010). I wanted to show my design process from my initial inspiration to the completed collection.

My Inspiration Box
The first step taken in beginning my Sasha Outfit Collections always started at least 2 years before I would begin my design process. I'd start with a plastic box, for storing everything that inspired me, for the project. This would usually evolve into more than one box over time.
I'm a very visual person and I'd begin by going though my Colour Files and pulling out images within the chosen analogous colour scheme moving through tones of green, blues, purples and fuchsia. I'm often inspired by imagery from the natural world.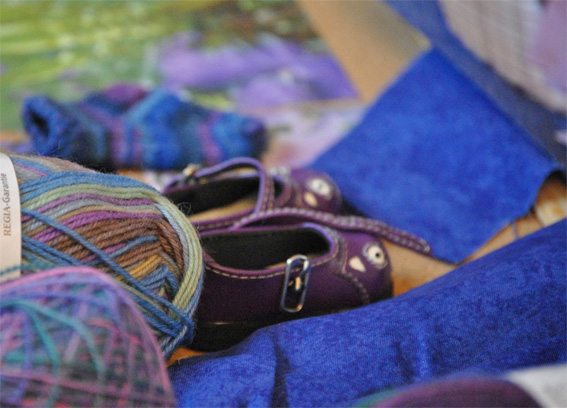 Along with the colourful images I place other items that 'work' with my 'Amethyst' colour scheme. Small fabric swatches from my  fabric stash. Sock weight, 4 ply and lace weight yarns. Shoes. Even small Sasha sized toys. At this point I'd also place notes of which knitting and sewing patterns I'm thinking of using. I'll add little doodles and sketches. Pictures from catalogues. Notes to self. Spools of thread that match the fabric swatches. Buttons. This is my collection phase. Nothing is out of limits when I am filling my inspiration box. As you can see in the background of one of my photographs I always had lots of inspiration boxes being filled with ideas for other projects at the same time.
The Moodboard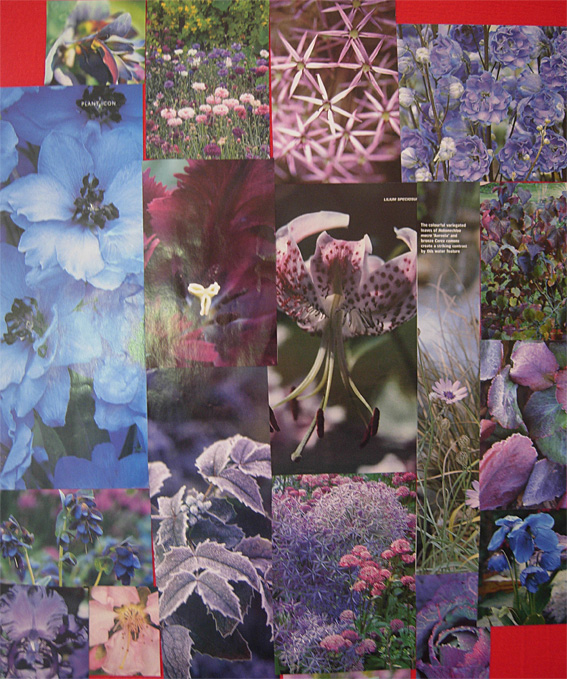 When I was nearing the time to start my designing the new Sasha outfit collection I'd create a moodboard for the colours and images. Once the moodboard was on the studio wall I'd start contemplating it, while I was finishing the collection I was working on. I liked to know what the collection was going to be called as I worked on it. For this collection names like Starry Nights, Purple Daze and Amethyst Dreams came to mind. Moving away from the generic name Purple No 2, helped inspire me and start the ideas process.
I used a 'sticky' board for creating my moodboard wall.
Generating Ideas
The fun began when I opened the box and started going through my huge collection of wools, yarns, fabrics, buttons, threads and accessories. Choosing colours that would work within my chosen colour theme on my moodboard.
Of course a process like this is a very personal thing. For me the process of creating ideas began with samples of fabric, imagery and creating knitted swatches.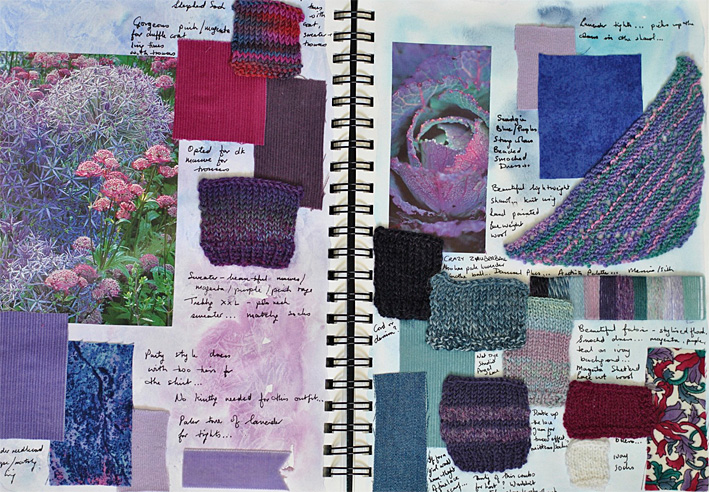 I'd begin trying out different combinations of yarn, fabrics and imagery. I'd try different patterns that I'd thought of or sketched  in my 'notes to self'. I'd have fun with new colour combinations. Always noting the knitting needle size, ideas for the outfits I'm planning, styles of hat, scarves, bags, mittens, socks, sweaters, dresses and cardigans. At this stage I'm not thinking is this outfit for Sasha, Gregor or baby. I'm not tying myself down to anything. Just gathering ideas and pulling them together.
Creating these pages helps focus my mind. Visualizing how the outfits would look when they are finished always helps.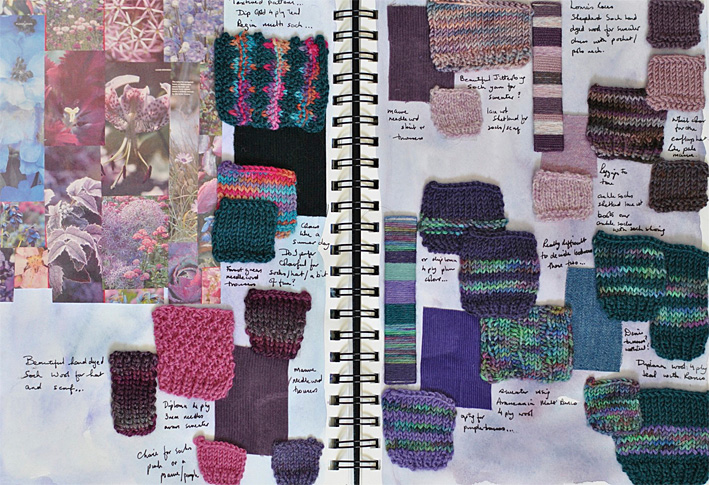 Of course some combinations will be used and some will not. At this stage I'm just pulling together ideas. This process can take many weeks working on the outfits. Looking at main yarns and choosing beautiful contrasting colours that work well in developing the 'look' and 'style' I'm after. I'm already visualizing how the outfits will look in my mind and in doodles. The more I work on the swatching and sampling stage the more ideas appear and need to be jotted down in my notebook.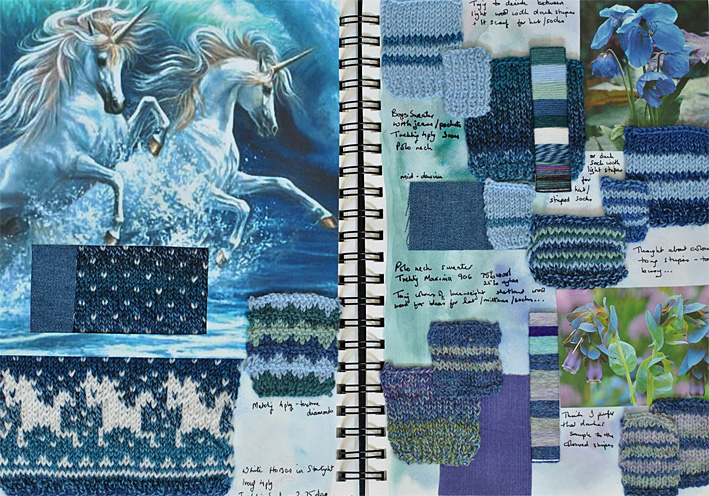 I'm constantly thinking all the time about different weights of fabric and yarn, different textures, how the colours will work together as a collection. As my family will attest to, the collection starts to take over my life. In my notebook, I consider how I want the collection to evolve.
My Workspace in 2010
I no longer work in this lovely space as it has been reclaimed as a dining room!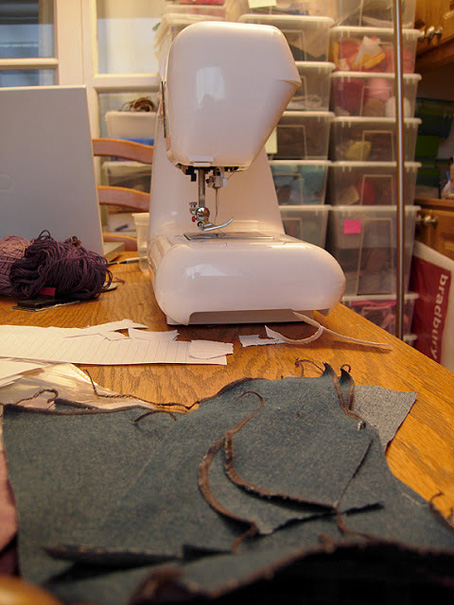 I don't usually take photographs of my workspace. This is because I am not the tidiest creative person on the planet. I try, but when I get into the making stage bits just seem to pile up on the surfaces around me. The boxes in the background of the photograph contain the source materials for future collections that were being collected at the time. The final sewn pieces for Amethyst Dreams  are under construction. Cut out. Being sewn.
Collection Development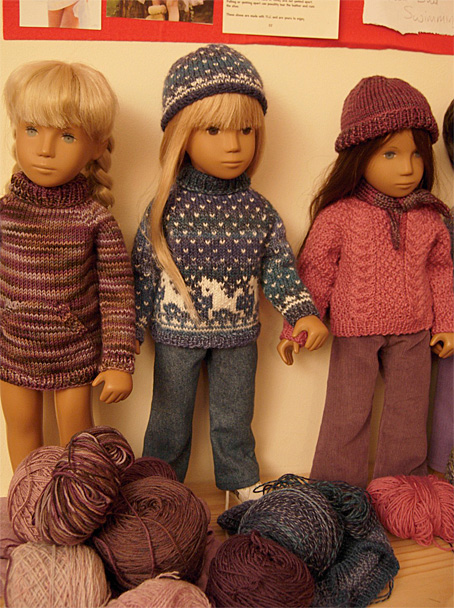 Next I start choosing who my Sasha models will be for each of the outfits. By now, the collection is taking shape not just in my imagination, or on the page of my notebook, but also on the Sasha dolls and Gregor's who are lining up on my shelf wearing beautiful outfits at different stages of development.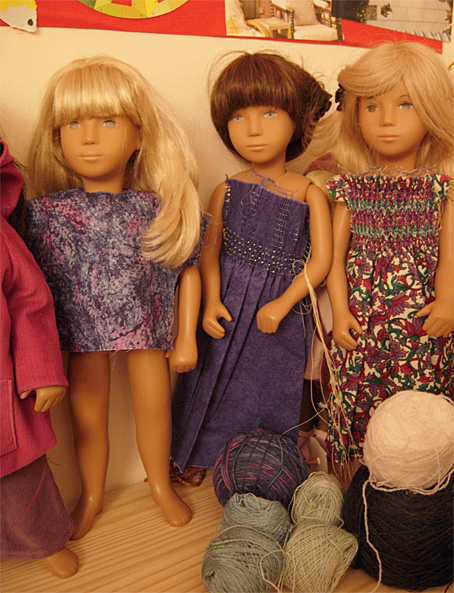 In my mind's eye I can see what the new collection will look like when it is finished. The outfits all evolve at the same time. Often, I  do not complete some of the ideas; usually because there are too many outfits for the collection. As the number of outfits under construction grows and I begin designing the socks and accessories to go with the outfits I have to start choosing the best yarns for the outfit. Sometimes the contrast yarns used in the swatching process don't seem to be quite right at this stage and I will choose a different one.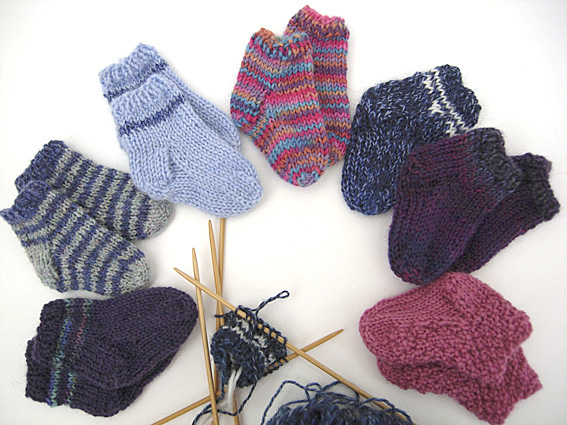 One of the last parts of the design process is knitting all the little pairs of socks to go with the outfits. These are perfect little miniature socks. I like adding elements from the outfit to the socks. Often these have already been planned during the swatching process.
The outfits have come a long way from the time when I was at the point of generating ideas.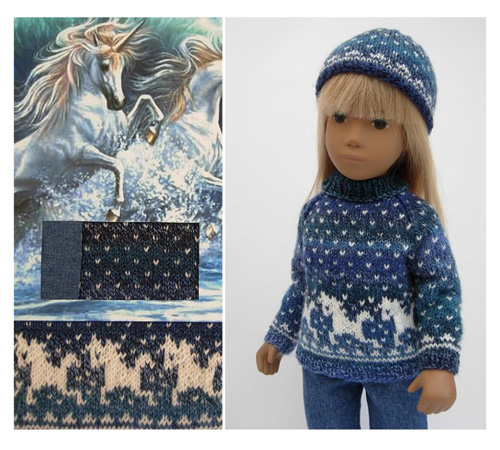 When this stage of knitting little socks, hats, bags and scarves is complete and all the knitwear has been blocked, I choose the footwear that enhances the outfits.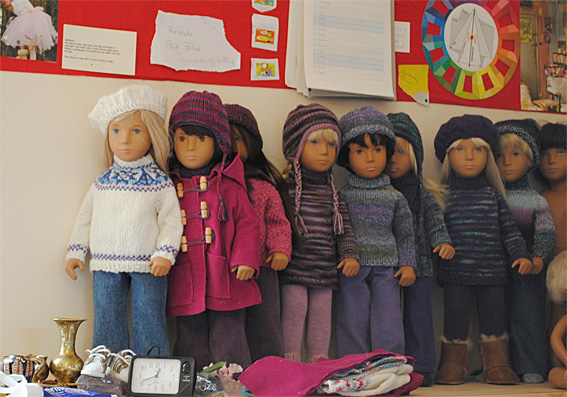 The models dressed in their outfits standing on the shelf awaiting photography.
Photography
I'm now ready to start the photographic process. I like to take my photographs in natural light although my lamps do contain natural daylight bulbs for the winter when the light can sometimes just not brighten up sufficiently. I do however, prefer to take my photographs in the morning with no direct sunlight.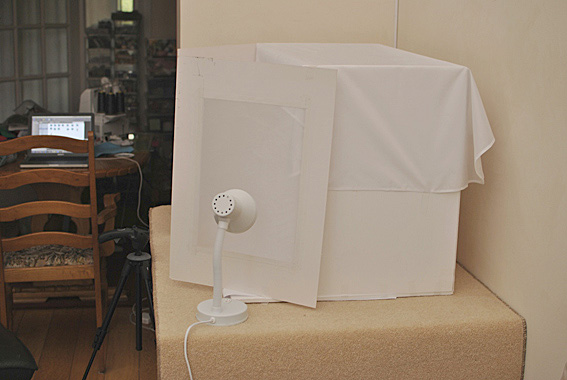 As each outfit is photographed it is taken off the model and carefully placed in a bag, labelled and placed in the box until it is sold.
The Amethyst Dreams Collection was made using some of my favourite colours and it was difficult to decide when to stop making outfits and start the photography.
At the end, I had 12 knitwear outfits. I did begin some additional outfits which I decided not to complete at that time. I found this collection to be so inspiring that I could have continued working on it forever. So a halt, sadly, had to be called. The final outfits were beautiful.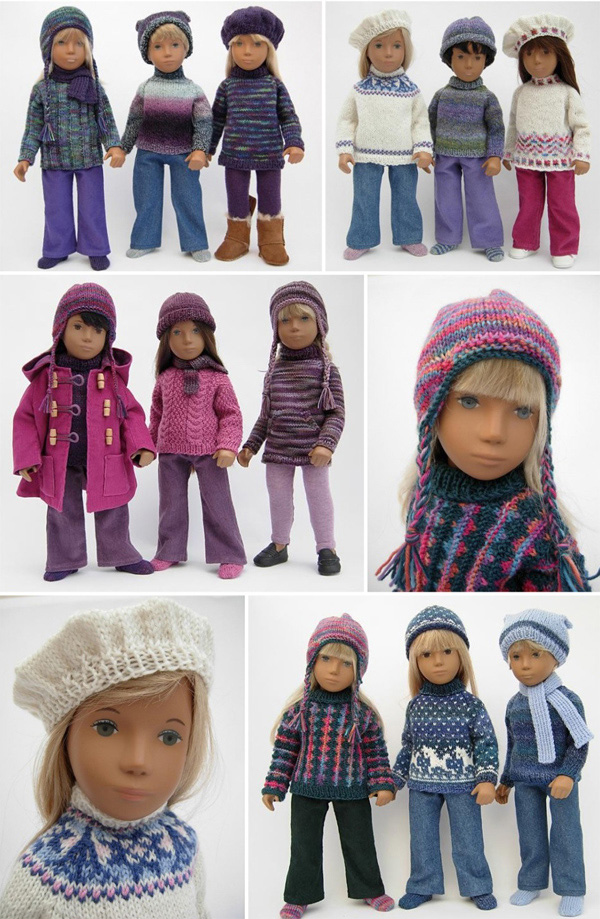 I loved the colours I used in these outfits. Adored my choice of knitting patterns, textures, beautiful sock yarns, luxury fibres and amazing colour combinations. This was a wonderful collection of outfits to work on and I really enjoyed the whole process.
Amethyst Dreams was one of my favourite clothing collections that I created for Sasha Doll Style.
The collection was the culmination of months of work, thought and design. It is always difficult, when so much time and energy has gone into the design and making of a collection, to reach the stage of moving on to the next one. This is why I always started the moodboard process for the next collection when I was finishing up the collection I was working on.
If you are interested in seeing more of the miniature knitwear outfits that I have made over the years for the Sasha Doll please visit Sasha Doll Style.