A group of knitters, who meet in Izzy Chambers' knitting shop in Sea Harbour, Massachusetts, set about solving the murder of their friend Angie, after the local police write it off as an accident, in Death by Cashmere by Sally Goldenbaum.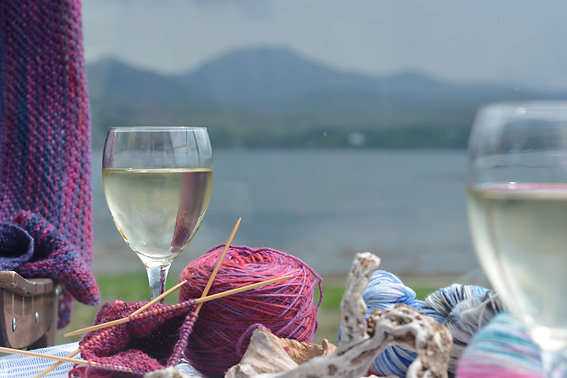 Nell Endicott is thrilled when her 31 year old niece Izzy Chambers decides to move to Sea Harbour and set up a yarn shop beside the sea.  Izzy gave up her career as a defence attorney in Boston, aged thirty, and has carved out a success in something she really loves.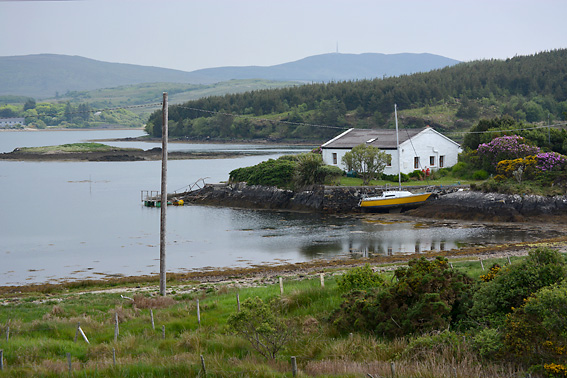 Izzy has a real enthusiasm for her craft and a talent at choosing fine hand dyed yarns and skeins of wool and cotton.  Her window displays attract shoppers young and old into her cosy knitting shop. Izzy has created a special area overlooking the harbour at the rear of the shop and this is where her friends in the knitting club meet each Thursday to catch up on the week's events.  Nell's husband Ben created a window seat in this back room and Izzy has decorated it with some of her favourite things including an old leather chair, paintings by local artists and bookcases of dog-eared knitting books.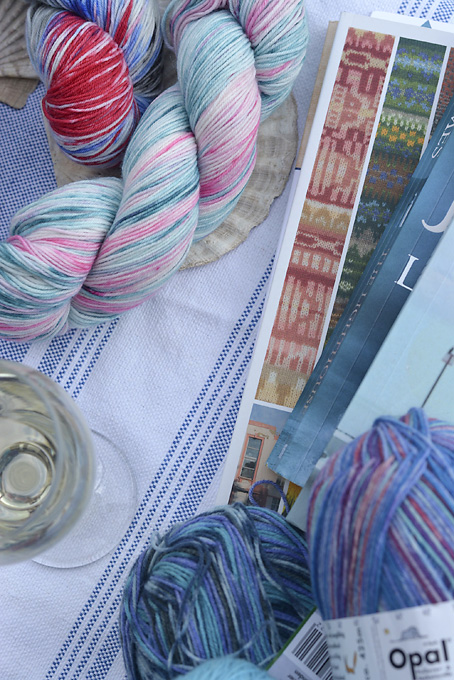 As well as Nell and Izzy, the Seaside Knitters includes Birdie Favazza, an outspoken wealthy widow of almost eighty, and Cass Halloran, a local lobster fisherwoman of around Izzy's age.  Cass is distressed to find that her lobster catches are being stolen each night threatening her very livelihood.  But that is nothing to how the knitters feel when one morning their friend Angie Archer's lifeless body is pulled up with Cass' lobster pots.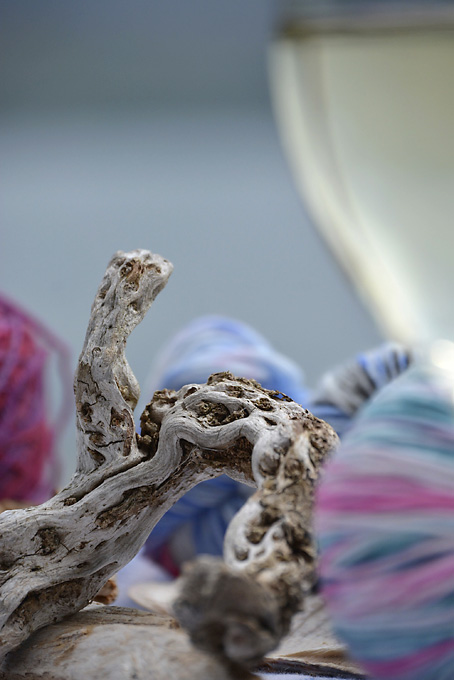 Angie rented the flat above Izzy's shop and Izzy and Nell had been pleased with the choice.  Not all agreed with them due to Angie's rambunctious past, but Nell and Izzy were sure that Angie had mellowed and she had turned out to be a steady, if noisy, tenant.  Angie had been on a date with Cass's brother Pete, but left him to meet someone else.  The police interview Cass' brother, Pete, for the murder before all too swiftly declaring that Angie's death was an accident.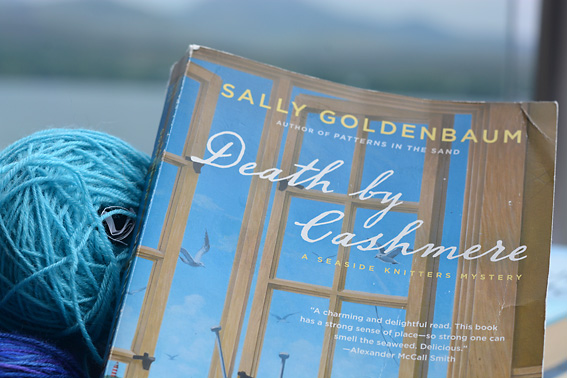 The group of knitting feel concerned that the police have not taken the death seriously enough.  Soon the questions start to add up, like who took Izzy's saffron cashmere sweater that Angie was wearing the night she died.  Angie had come to the resort to research a local history and land deeds project.  This had brought her in contact with a number of unusual characters including  dotty old Angus McPherron, local registrar Sal Scaglia, childhood sweetheart Tony Framingham, local night-watchman George Gideon all of whom come under suspicion.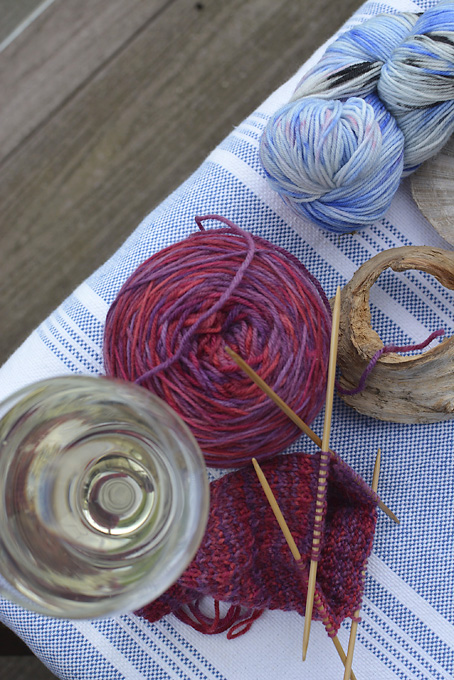 The threat of more violence pervades the community as the friends start to feel unnerved by the behaviour of a number of Angie's acquaintances.  They soon decide that it is up to them to uncover the killer.  Otherwise their peaceful existence in Sea Harbour may never be restored.
There is a healthy dose of knitting in this mystery.  Sally Goldenbaum's characters are at different levels with their knitting and the author is not afraid to include paragraphs on the difficulties and successes of their various knitting projects.  There is also a good dose of seaside food and drink in this book.  This adds to the realism of the book and also brings a sense of place to the setting for the story.  I am not in a knitting club, so I am not sure about how much food and drink that people have whilst at these events, but I don't think that I would risk impairing my yarn with messy fingers or spilling coffee of wine on my garment.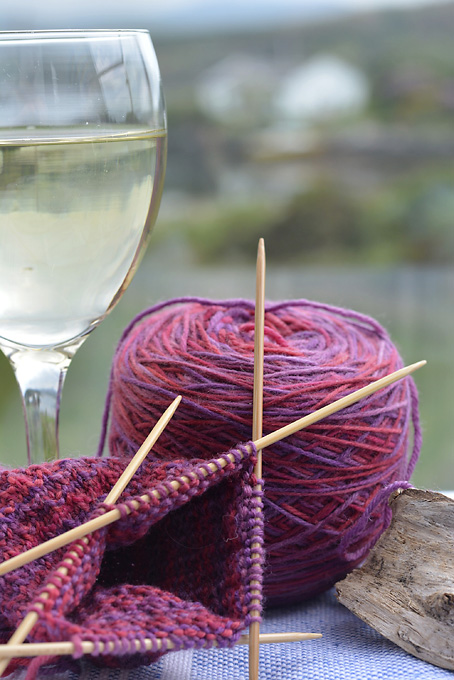 The tale has favourite hang-outs for the knitting club members which creates a beautifully friendly atmosphere to the seaside resort; a place where everyone knows everyone else. A community that you wish you could go and visit or even move to! This also creates a natural way for the characters to run into eachother whilst developing the plot at the same time. And like with any good mystery I found myself suspecting different people at various points in the narrative.  However, by the end of the book the reveal is not a huge surprise.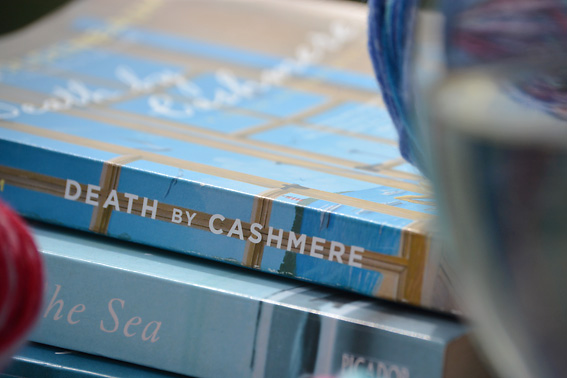 There are not too many exciting scenes in this book; think Murder She Wrote rather than CSI .  The characterisation of Sally Goldenbaum is her strength.  The characters do become real to the reader, in part to the details of their lives that she includes in the story.  The story has plenty of dialogue and as such I found it easy to get sucked into the mystery.  As you can probably tell I enjoy these easy paced tales as I am not one for too much gory murder scenes.  There is also not a lot of romance in this story either though; any romance mostly takes place off stage, but maybe the rest of the series will include more of this for the main characters.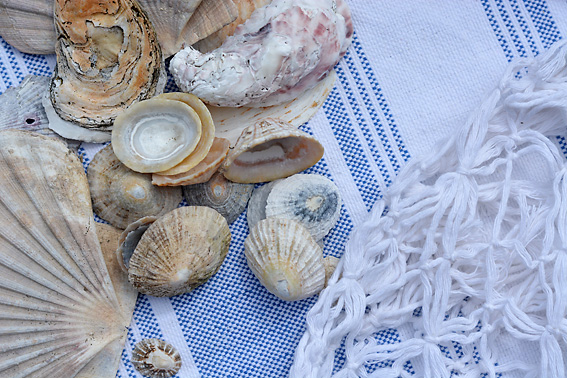 The lacy summer sea silk scarf that Nell knits in the story is included in the back of the book.    The light summer shawl/fine hand dyed yarns shown in the photographs is the Antarktis Shawl which I knit using  hand dyed Merino 4ply sock yarn.  A seaside town, a knitting group and a murder mystery are such a good combination that I am going to move onto the next book in this series straight away.