Hedgehog Fibres is an Irish artisan yarn dyeing company based in Cork, Ireland. The owner Beata Jezek created her own line of beautiful yarns in the gorgeous colours, ranging form rich and dark to vibrant, that she wanted to knit with, wear and live with.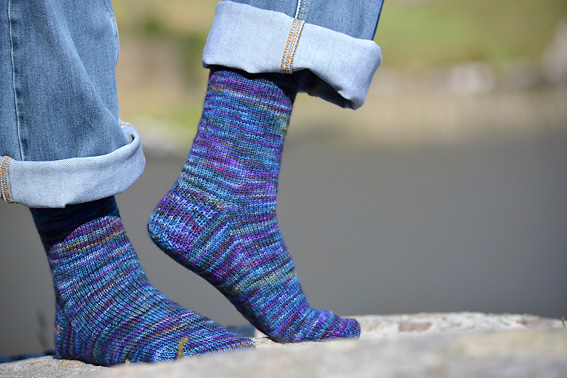 I wanted a skein of the Dragonfly Socks yarn as a reminder of a wonderful walk that Neil and I had in Brittany in 2009. We walked through the woods for hours and then we sat for a couple of hours by a quiet pool near a waterfall surrounded by trees. We watched the dragonflies flitting around just above the water and as we sat, they landed on our arms and knees while we just sat quietly watching their beautiful iridescent colours. This was an extraordinary and magical experience that has stayed with me all these years on…One of my presents from Neil last Xmas was this gorgeous skein of Hedgehog Twist Sock in the Dragonfly colour which had long been on my wish list! 
According to the Hedgehog Fibres website:
"High Twist will ensure durability and marvellous stitch definition. Soft, yet durable and machine washable. Best of both worlds. Colours shift beautifully from one to another. Randomly dyed to prevent striping or pooling, as much as possible. Our yarns create variegated effect that looks good in plain stockinette or advanced stitch motifs."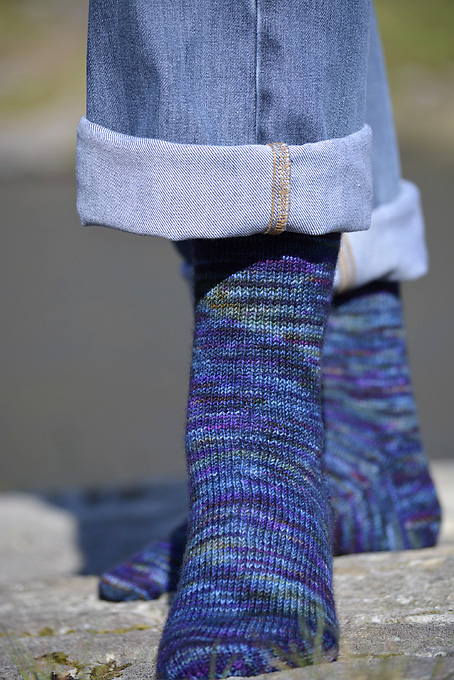 We photographed these beautiful socks while on holiday in Co Kerry, Ireland in May. We were staying on the Gap of Dunloe and got up very early in the morning while the dew was still on the ground. The Gap of Dunloe could get very busy from 9am with the walkers and the horse and traps carrying visitors into the Gap of Dunloe.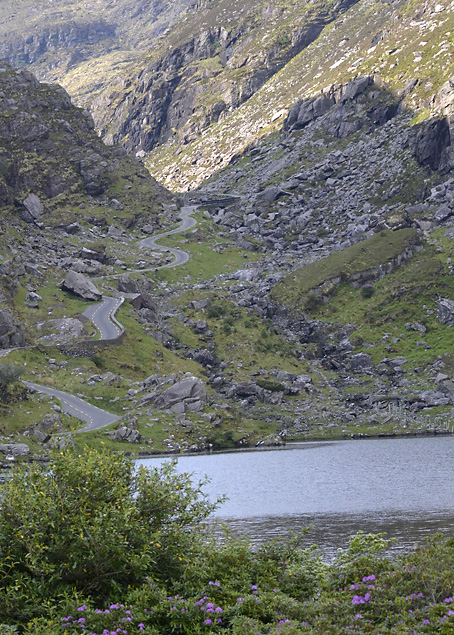 I used my Basic Sock Pattern in the 5-6 shoe size to knit these beautiful socks.  They are going to be part of my mum's present for Christmas this year.
Needles:
3.25 mm (US 3) double pointed needle (dpn) for casting on
2.75 mm (US 2) (set of 5) dpns for knitting socks
tapestry needle for sewing in ends.
Sock Yarn:
1 x 100g ball of Hedgehog Fibres Twist Sock Yarn – Dragonfly. This gorgeous yarn has a wonderful sheen. The yarn is 80% BFL and 20% Nylon.
Cuff:
Cast on 60 sts using 3.25 mm double pointed needle using the long tail cast on or your favourite stretchy cast on.
Join into the round as you rib the first round using 2.75 mm double pointed needles 15  sts on each needle.
Work knit 1, purl 1 ribbing for 14 rounds.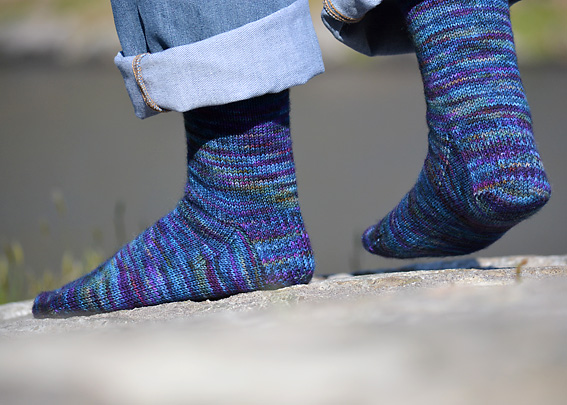 Leg:
Knit 55 rounds.
Length of leg from the start of the cuff 16.25cm/6.5″. Or as many rounds as your desired length from the top of cuff to top of heel.
Heel:
On completion of the leg section knit 15 sts onto needle 4 so you now have 30 sts on this needle. You'll be working the heel flap over these stitches (half of the total number of stitches), working in rows rather than rounds. Start the heel flap on a purl row.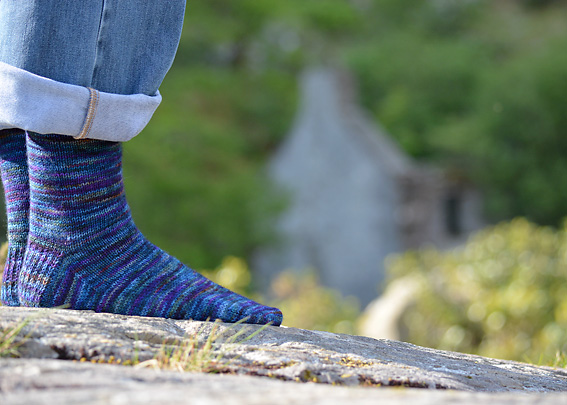 Heel Flap:
Row 1: *sl 1, p1; rep from * to end or row, turn
Row 2: k
Repeat rows 1 and 2 for 30 rows.
Turn Heel:
Row 1: purl across 17 sts then p2tog, p1, turn.
Row 2: sl 1, k5, ssk, k1, turn.
Row 3: sl 1, p to 1 st before the 'gap', p2tog (combines 1 st before the 'gap' and 1 st after the gap), p1, turn.
Row 4: sl 1, k to 1 st before the gap, ssk, k1, turn.
Repeat rows 3 & 4 until all heel stitches have been worked and 18 sts remain.
Gusset:
Pick up and knit 15 sts along the edge of the heel flap. Knit across the instep stitches (top of foot) 30 sts. Pick up and knit 15 sts along the edge of the heel flap. Then knit across 9 sts from turning the heel. The centre back is now the starting point for the following rounds.
Before you start the next round, slip the other half of the heel stitches onto needle 1.
On next round k9 sts, then ktbl of next 15 sts, k30 sts, ktbl of next 15 sts, k9 sts. This prevents any small holes or gaps showing along the edge of the heel flap.
Next round: knit.
Now you are ready to start the gusset shaping.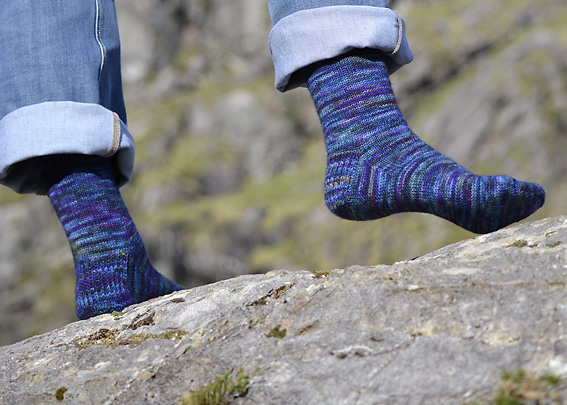 Gusset Shaping:
Round 1: Needle 1: k to last 3 sts, k2tog, k1; Needles 2 and 3: k; Needle 4: k1, ssk, k to end of needle.
Round 2: K
Repeat rounds 1 and 2 until there are 15 sts on each needle. Total number of stitches 60.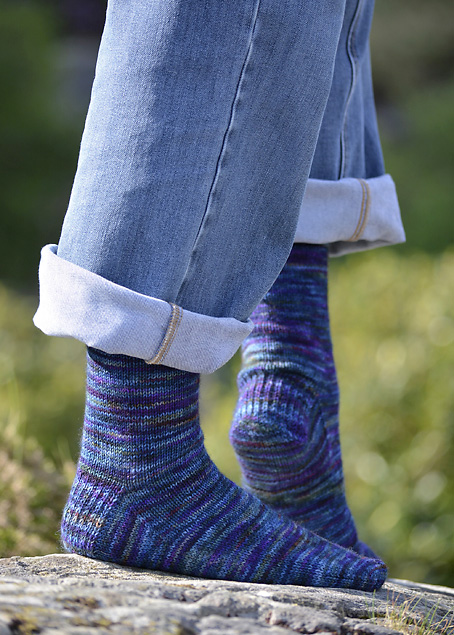 Foot:
I always try on my socks when I have knit about half of the rounds needed for the foot. Then it helps me to know how many more rounds I need to knit. I normally knit until I reach the knuckle on the big toe. If you're knitting the sock for someone else:
Knit 43 rounds.
Length of foot from the heel is 19cm/7.5″.
Classic Toe:
The length of the Classic Toe for each size is 5cm, 2″.
Round 1: Needles 1 and 3: k to last 3 sts, k2tog, k1; Needles 2 and 4: k1, ssk, k to end of needle.
Round 2: k
Repeat rounds 1 and 2 until you have 28 sts left.
Then repeat round 1 until there are 16 sts remaining.
Making sure that the toe stitches align horizontally with the heel, slip the stitches from needle 4 onto needle 1 and the stitches from needle 3 onto needle 2.
Graft the toe stitches using Kitchener Stitch.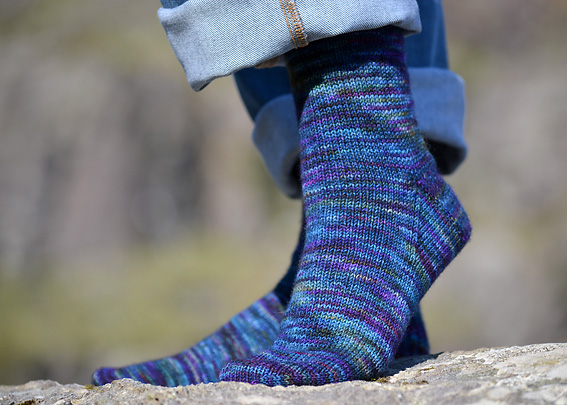 Finishing:
Weave in all loose ends. I hope you will love wearing your new socks. I hand washed and blocked the medium sized socks on sock blockers. The smaller sized socks were hand washed and then patted into shape and allowed to dry lying on a flat surface.
Once you've knit a pair of socks using your size you can tweak the socks that I have made to knit socks that will fit you comfortably and well.
Dragonfly Socks were knit using the Basic Sock Pattern in 6 Sizes which means you can easily knit socks in the size that you want which is incredibly helpful when you are knitting socks as gift for someone else.