I was delighted when I came across the Easy Lace Scarf using Mini Mochi pattern designed by Melanie Lewis on The Crystal Palace website, as it was exactly what I was looking for.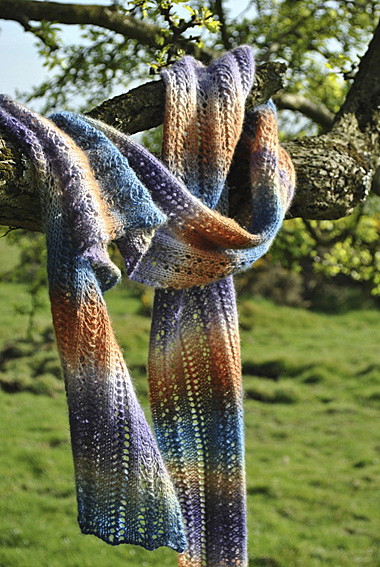 I used Mini Mochi and the specified 4.5mm needles (US 7) to knit the Easy Lace Scarf. The instructions were clearly written.
Knitting "On The Go"
I was looking for a lace scarf pattern that would be easy to knit as an "on the go" knitting project.
A project that could easily be carried with me and worked on while on days out, chatting with friends. Generally in places where I am not wanting to concentrate on reading the pattern, but want to be able to relax and enjoy the process of knitting.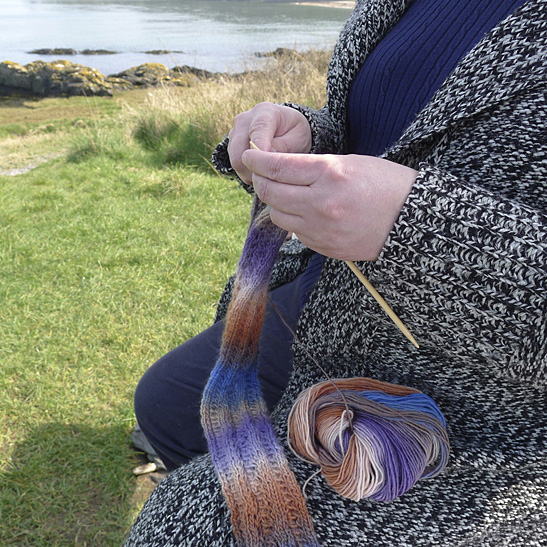 Difficulties Encountered
My first problem was that the chart wouldn't print out for me, so I opted to use the written instructions instead. I could have taken the time to draw out the chart but I was in a rush and then just got used to working from the instructions.
My second issue was with the stated finished size and the required materials. I think it would have been helpful to say that the stated finished size was 8 inches x 60 inches before blocking is obtained using 2 balls of mini mochi. After I had finished my first ball of yarn, I had a scarf that measured 84 cm/33 inches in length.  This wasn't going to be long enough. After I finished my second ball of yarn, the scarf measured 160 cm/62 inches long before blocking. The scarf in the photo shown in the pattern looks like it will be long enough using 1 ball of yarn, but actually, I am not convinced that it will be. This would be a problem if you didn't have a second ball of yarn in the same colourway and dyelot.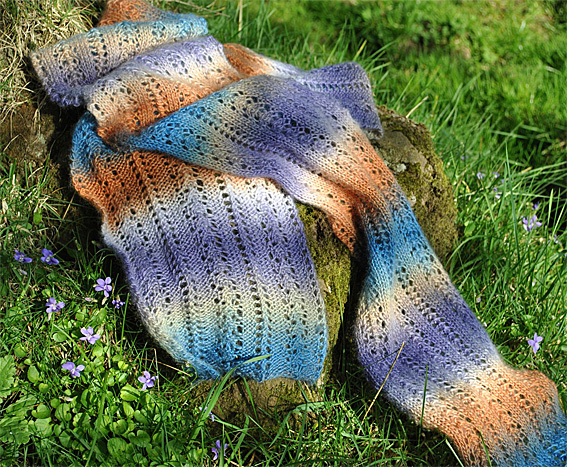 The third problem wasn't to do with the pattern. It was to do with the long colour repeat of the yarn.  I didn't want to be losing a long length of yarn so it meant that I didn't get as nice a join between the two balls as I would have liked to have. I ended up with quite a sharp change in colour at my join. This was a choice that I had to make, required length or perfection.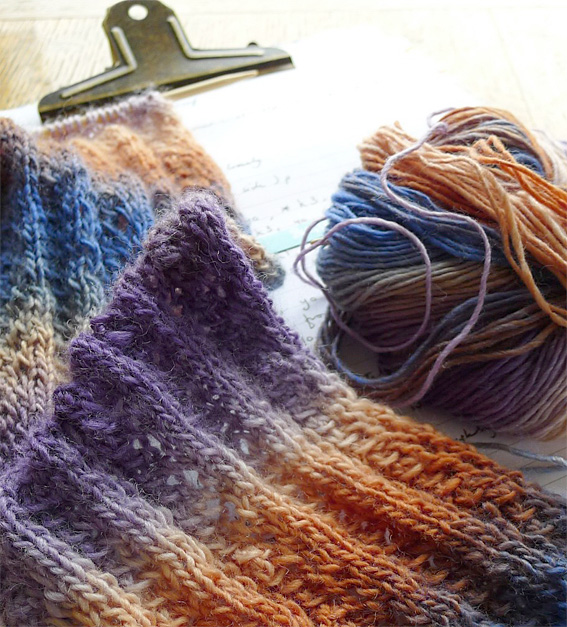 And The Yarn
Mini Mochi is a gorgeous self striping yarn. I particularly love how soft the single ply sock yarn feels both as a ball and after it has been knit. It is made up of 80% merino wool and 20% nylon. The yarn has a subtle halo after it has been knit. I used colourway 118 Blueberry Pancakes. Crystal Palace really know how to name their colourways. I couldn't resist either the yummy name or the lovely shades of blue, lilac, sand and terracotta.
Blocking
I used my set of lace blocking wires to block this scarf. First it was gently washed in sudsy water, rinsed and the excess moisture removed by rolling it inside a towel.
I succeeded in having straight edges on the scarf and the ends have a pretty scalloped finish created by the lace pattern.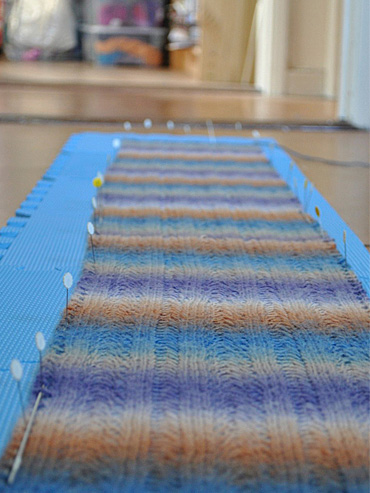 Would I knit the Mini Mochi Easy Lace Scarf Again?
The finished scarf was even more beautiful that I had hoped for. I enjoyed knitting it. I would definitely knit the scarf again, although I'm not sure when. The problem being, that I have too many scarf patterns and ideas for scarf patterns that I want to knit. Finding the time to make them all, at least once, is the real challenge.
An Elegant Scarf
The Easy Lace Scarf is a very elegant scarf and a dream to wear.