One of my Scottish friends, on hearing that I was visiting a yarn fest in Edinburgh said "well I suppose they have festivals for all sorts these days."
Well, yes they do. Especially Edinburgh, which seems to be a bit of a festival Mecca. But the Edinburgh Yarn Festival (EYF) is not just any old festival, as far as Nicolette and I are concerned.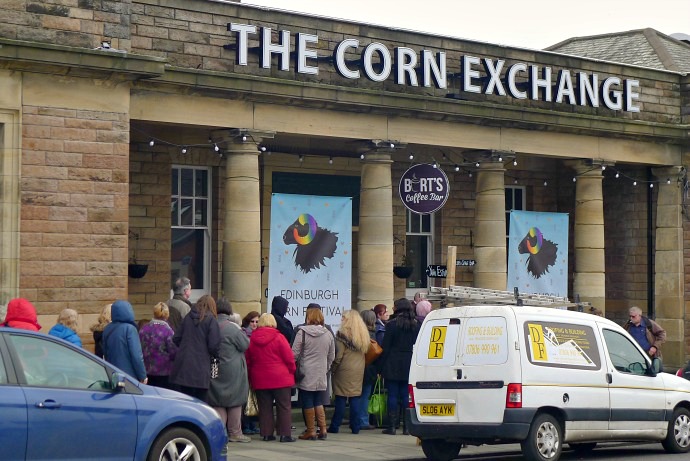 Although this is only the fourth EYF, it is already a huge event by most standards. There are about 100 contributors, with only the top talent given space for their displays. From Kate Davies, Brooklyn Tweed, Eden Cottage Yarns, John Arbon Textiles, The Threshing Barn, Ysolda – the list goes on. Not to mention Blacker Yarns, KnitBritish, Knitmastery and The Teapot Trust in the side rooms. Then there are the classes too…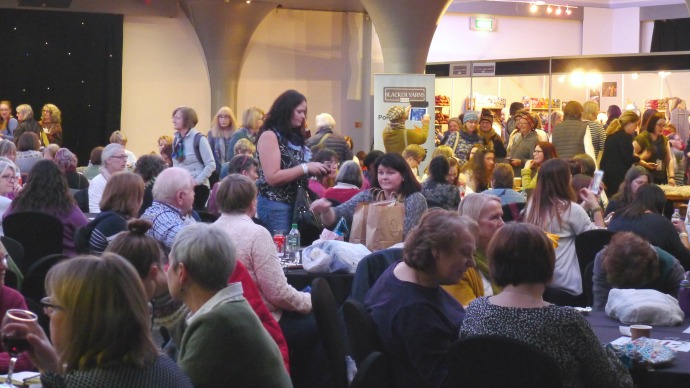 Baron Coffee Room
When I arrived at the Corn Exchange on Friday, the place was so full, there were hardly any seats in the Baron Room. But the soup, sandwiches and coffee were well worth the wait. I'm so glad Nicolette had the foresight to buy my ticket online, as the queue for tickets was horrendous – and the Corn Exchange staff were only able to let very small batches of people in at a time.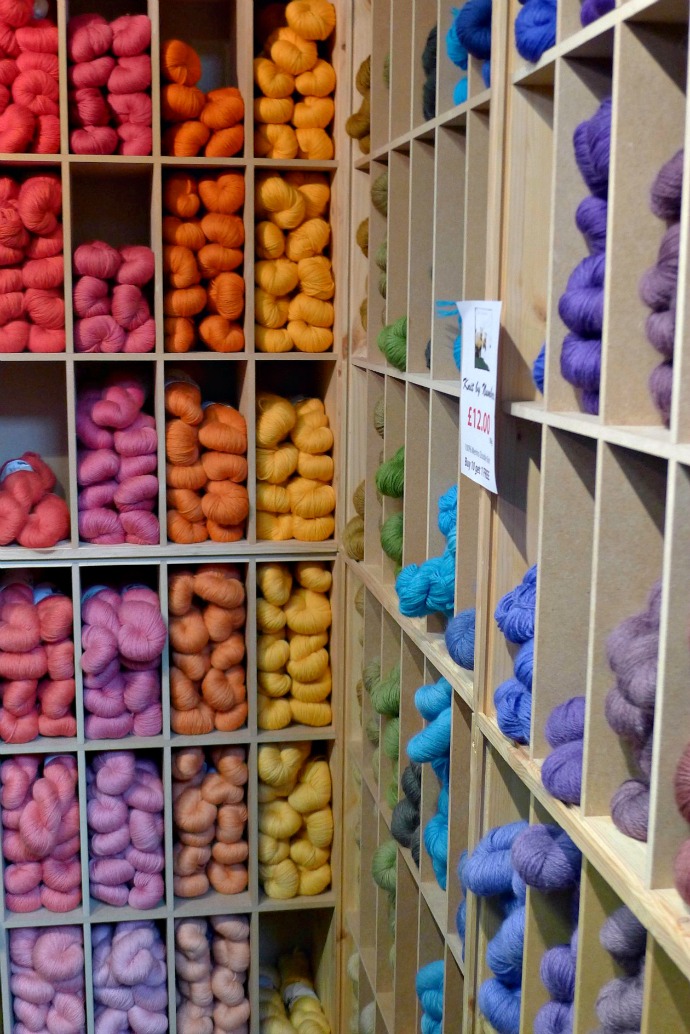 John Arbon Colour By Numbers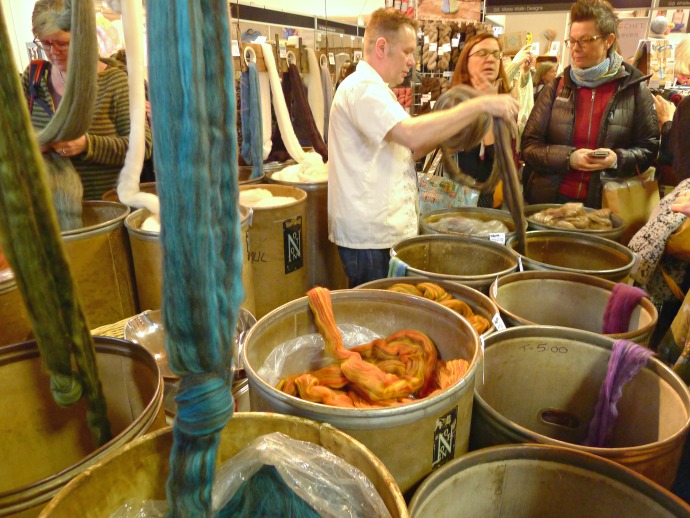 John Arbon Rovings
Everyone there seemed to be out for a good time.
I got lots of nice comments about my Baable hat, knitted by Nicolette. I know her colour sense is wonderful, so it was a good choice to help me break the ice.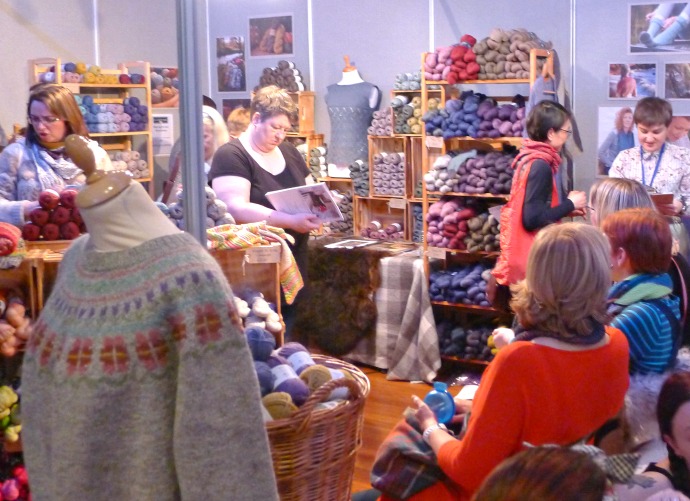 Blacker Yarns
Everyone that I met was so friendly – with a smile, thumbs up, comment or chat. Any knowledge of knitting and the knitting community is somewhat limited, but I still felt at home with the others at the event.
I wasn't the only man either. There were plenty of men on stalls and visitors, I even think I spotted one with a brown baable hat. There was even a child wearing a baable hat!!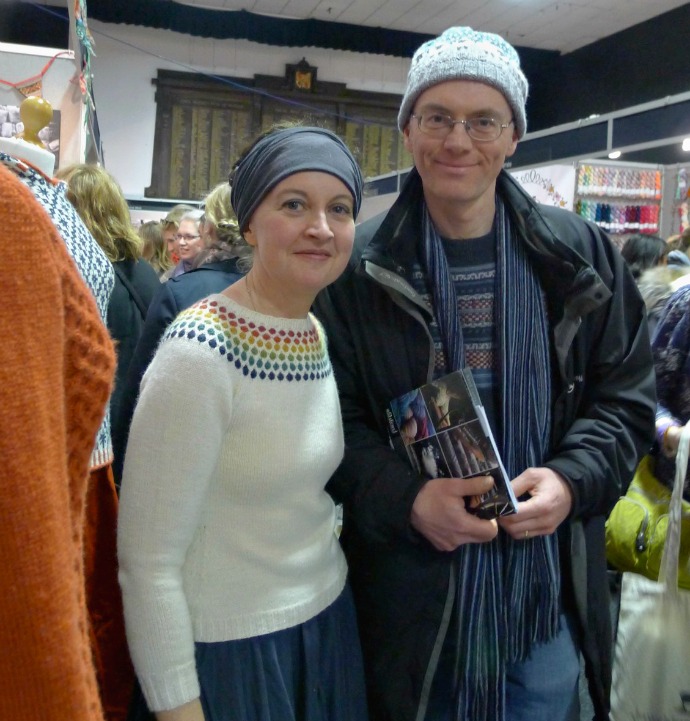 Kate Davies and I
I was so pleased to get my photograph taken with Kate Davies. She is such a talent and a real heroine of Nicolette (who has all of her books and find the designs and photographs by Kate's husband Tom very inspirational). I hope I didn't appear too star struck when I spoke to her!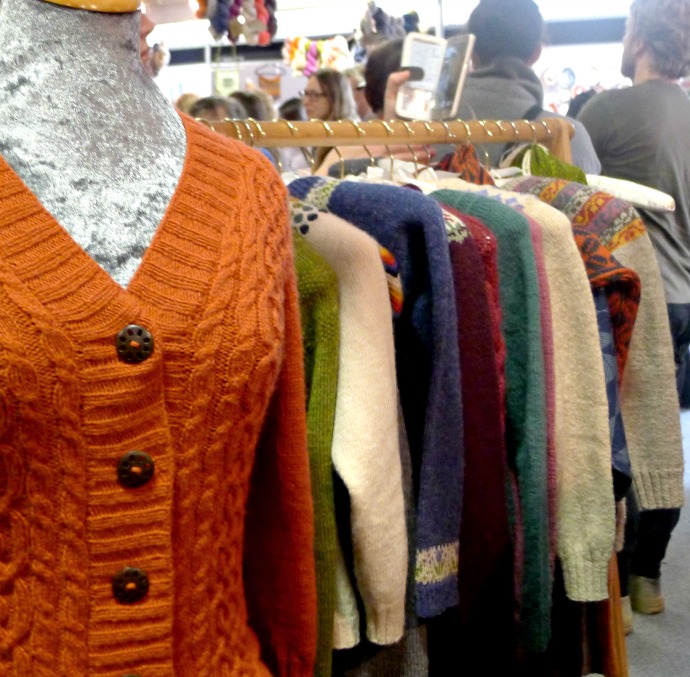 Kate Davies Knitwear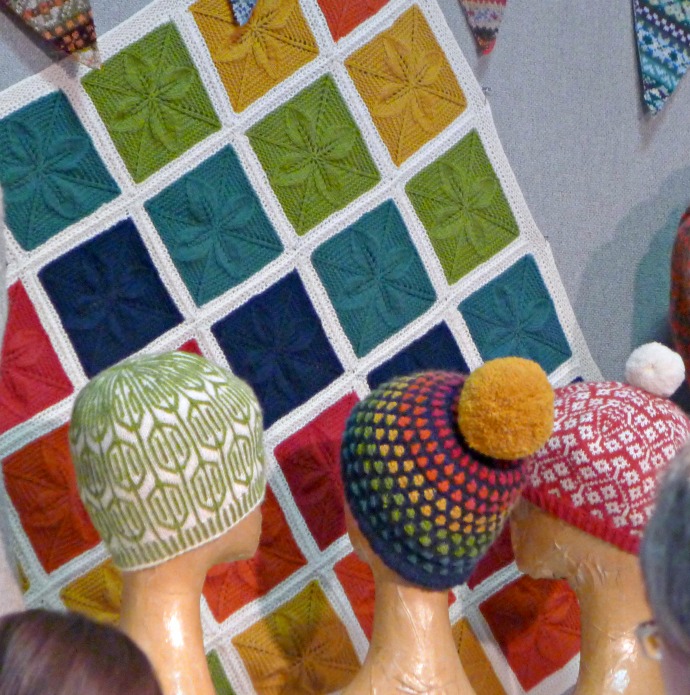 Kate Davies Designs
I had a lot of fun looking at all the stalls in the market place, before I decided to make my purchases of a couple of nice hand dyed yarns to take back to Nicolette.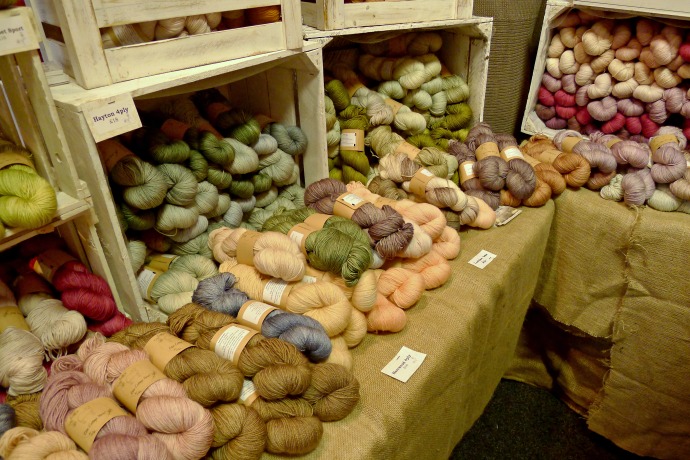 Eden Cottage Yarns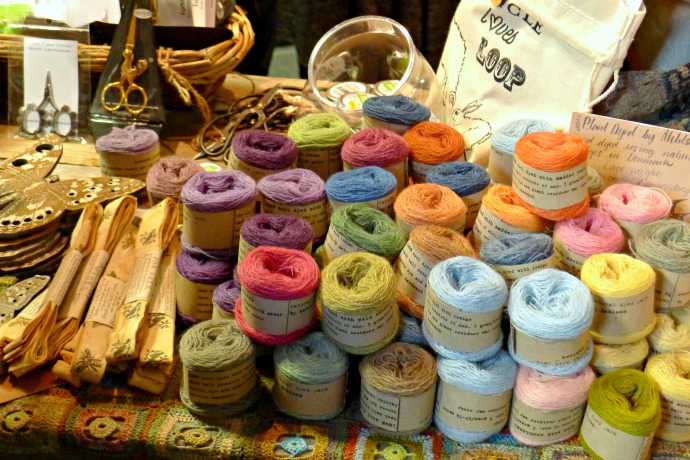 Loop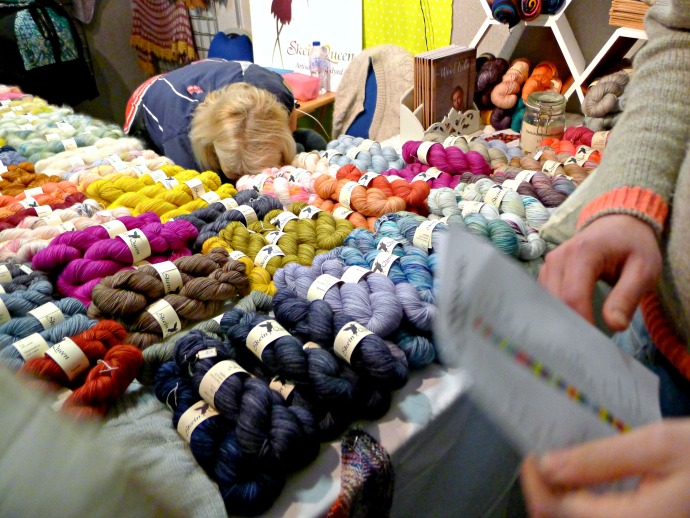 Skein Queen Yarns
I texted Nicolette to let her know some of the yarns being shown on the stalls.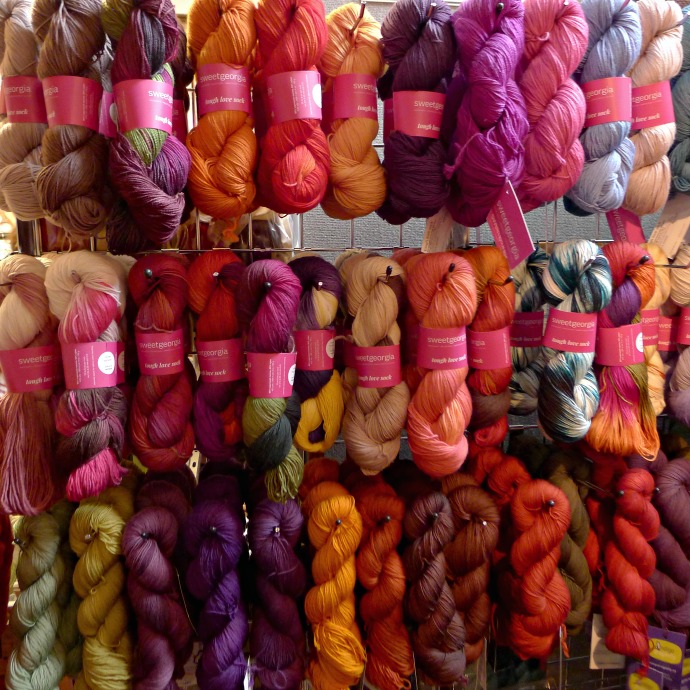 Sweet Georgia Yarns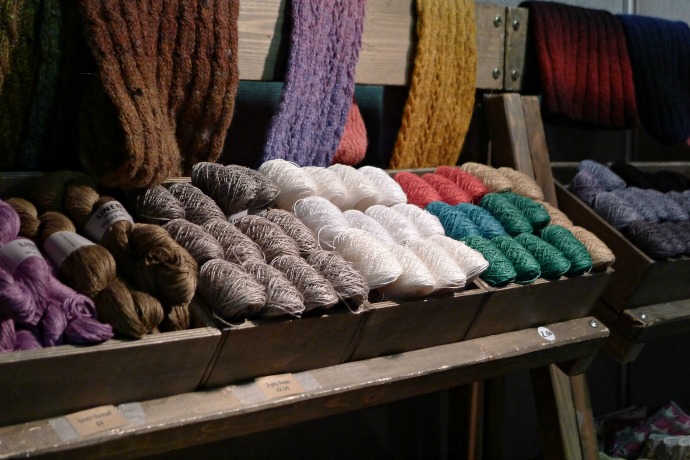 Fine balls of yarn on display in wooden troughs
I decided on Elen Sock, from Triskelion Yarn – a BFL in colourway Wade. I was really impressed with the colours of yarns in the Triskelion stall and indigo blue is one of Nicolette's favourites.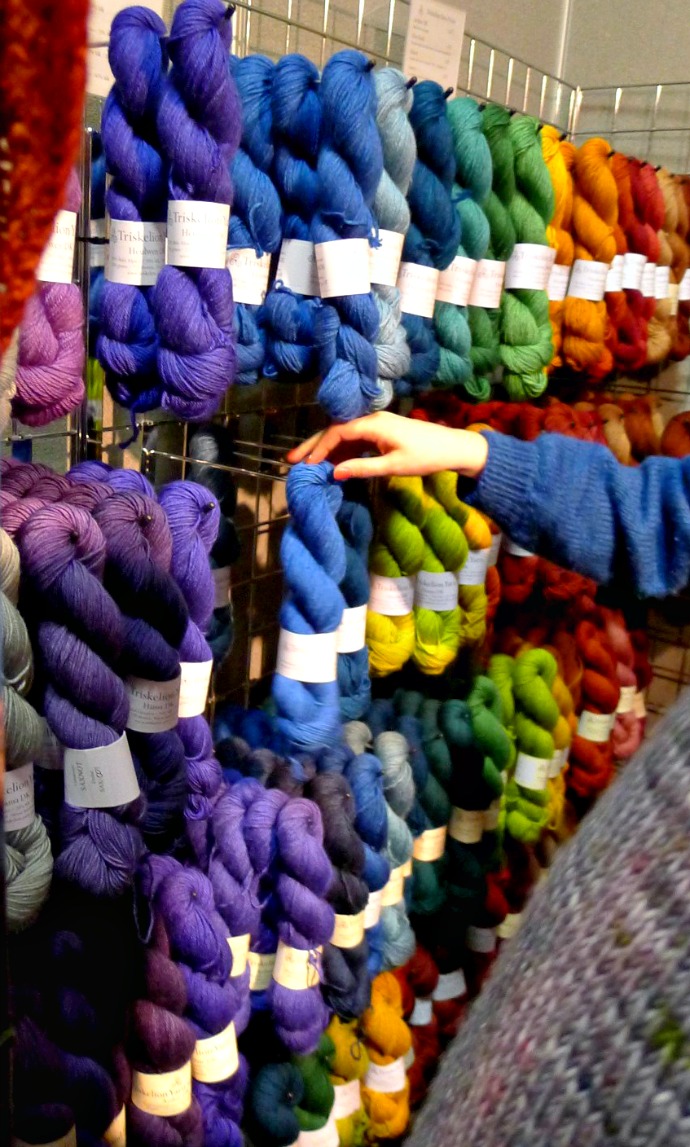 Triskelion Yarn
The other yarn that I bought was a DK yarn from Easyknits.co.uk, called Dusted Dreams. This one is a Superwash Merino called Blueberry Pie. It has a beautiful sprinkling of colours and such an appropriate name. Sometimes the names are part of what sells a yarn. At first the name of the vendor put me off, but when I saw and felt the range of yarns I knew that I had to make one of my purchases there.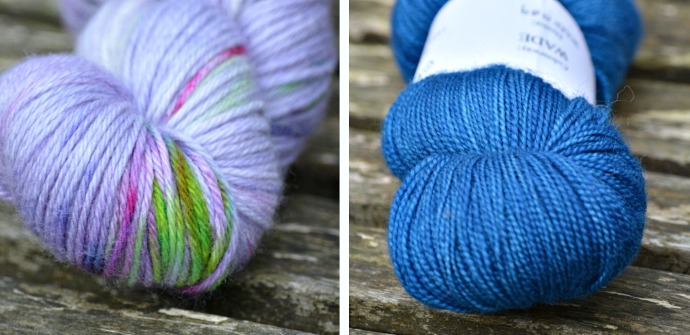 The two skeins of yarn I bought for Nicolette on Day 1
On the bus on the way home, Nicolette phoned me to see how the day had gone and squealed with delight in response to an earlier text about there being skeins of Hedgehog Fibres yarn. I quickly replied that I hadn't actually bought any… but that I would definitely go back the next day. Decision made – I was going back for another go tomorrow!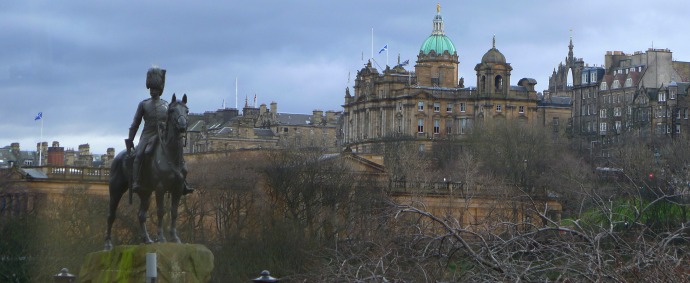 This post about the Edinburgh Yarn Festival 2017 was written by Neil and posted by Nicolette.