After arriving at the festival bit late on the Friday (due partly to our plane from Belfast needing to be replaced due to "technical difficulties") I decided to get there early on Saturday morning.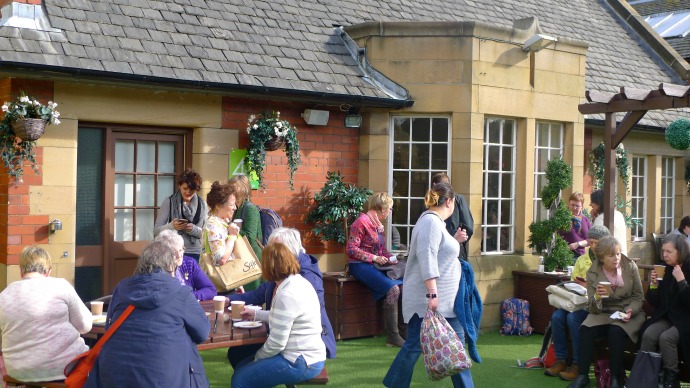 Outdoor Seating Area
I had a lovely chat with a lady from Montreal as we waited for the doors to open at 10am. I told her my mission to buy a skein of Hedgehog Fibres yarn for, my wife, Nicolette and my concern to get the right colourway. She justifiably commented that I couldn't go wrong with Hedgehog Fibres. But, she added, it had been so busy on Friday that some ranges were close to selling out by the end – I think Jamieson & Smith were one mentioned.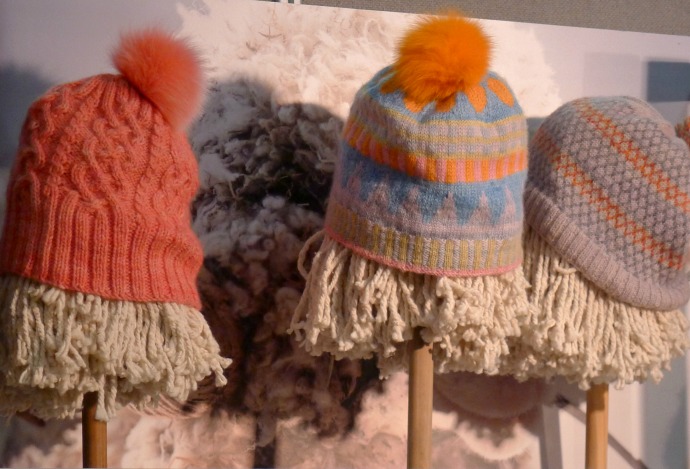 Colourful Hats with Pompoms
Luckily I found my way to a stall with a great range of Hedgehog Fibres in both Sock Yarn and DK ranges. The lovely lady on the stall was very patient with me as I hummed and hawed. In the end, I plumped for Monet a popular colour in sockyarn weight (90% superwash Merino 10% nylon) and a Merino DK in colourway Lupi, described as 100% springy twist Merino wool.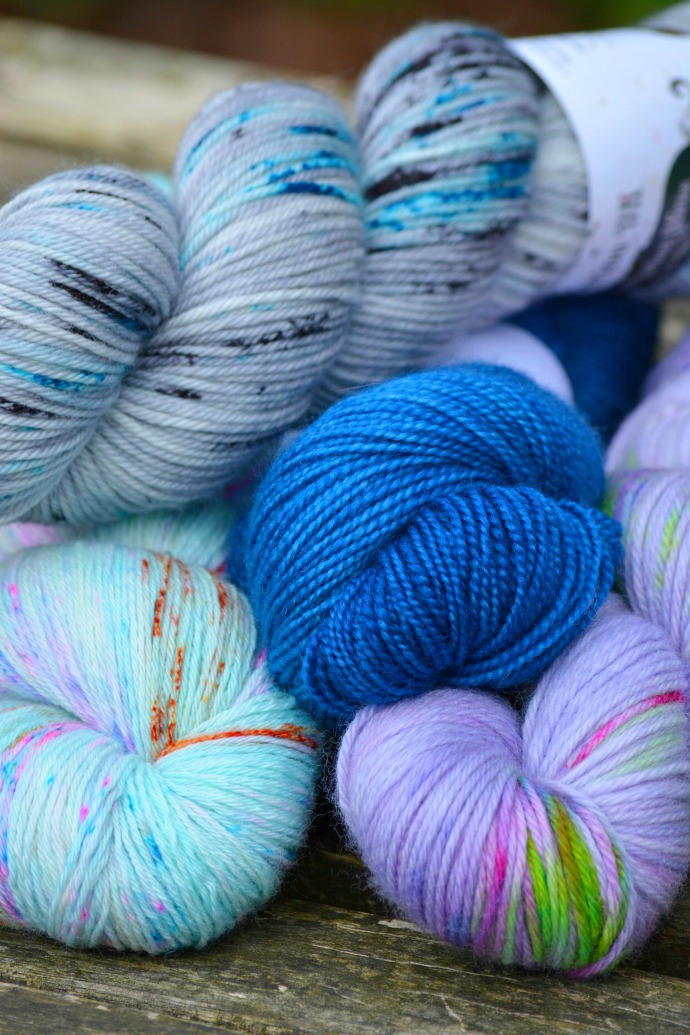 Yarn Purchases at EYF 2017 for Nicolette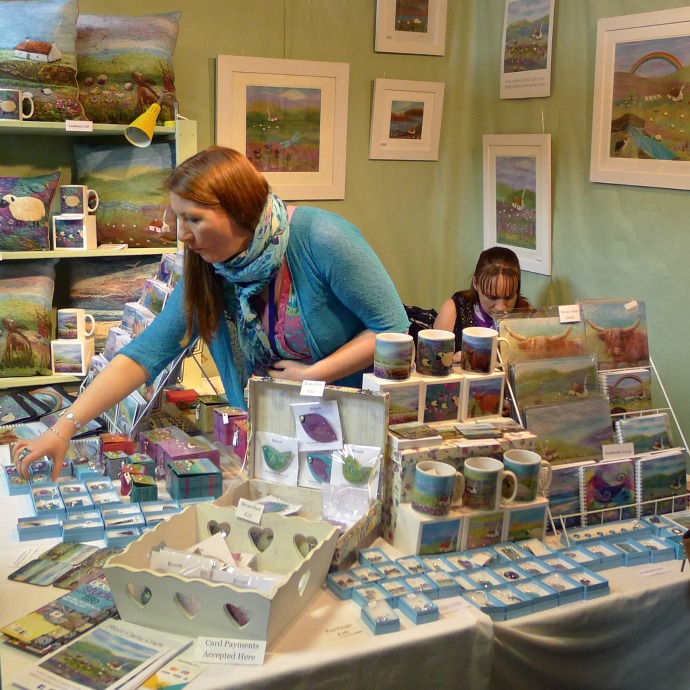 Aileen Clarke Crafts Stall
I also bought a beautiful Celtic hat pattern from Lucy Hague Designs.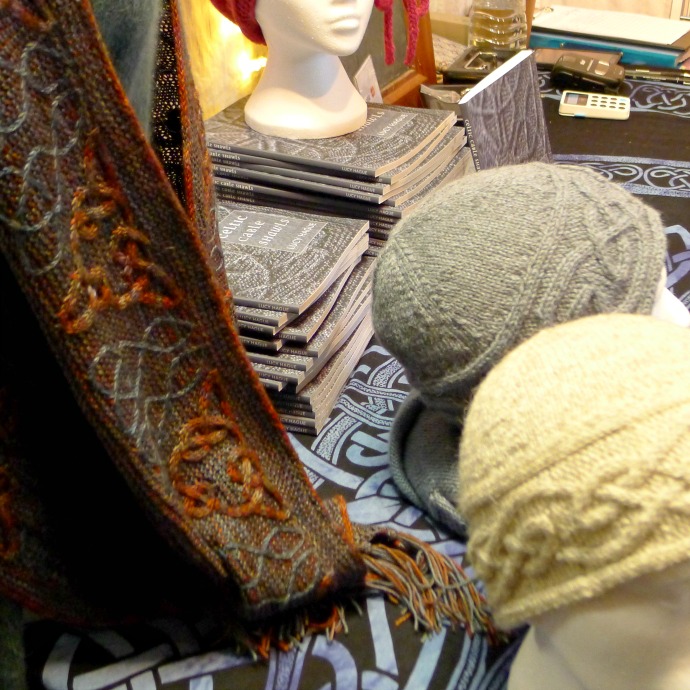 Lucy Hague Designs Celtic Hats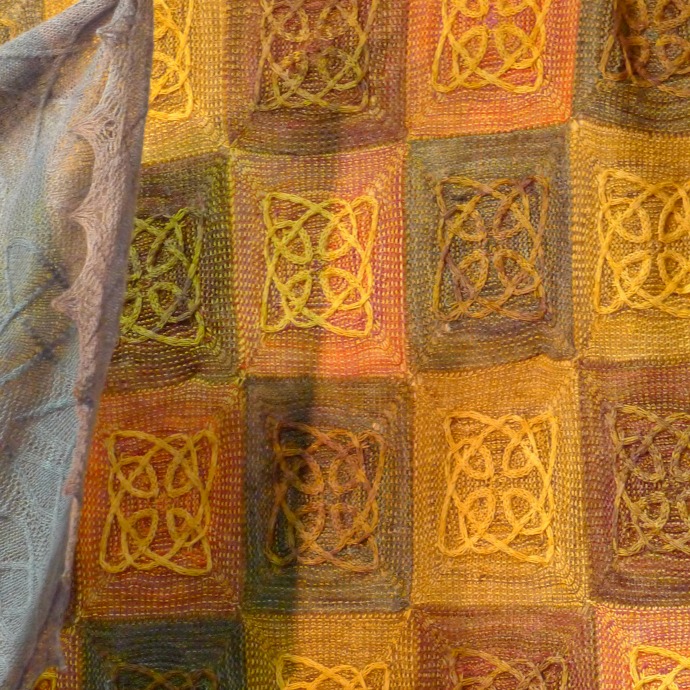 Lucy Hague Celtic Knots
Being that bit earlier, I was able to chat to some of the stallholders. The Corn Exchange hall was not heaving with bodies just yet.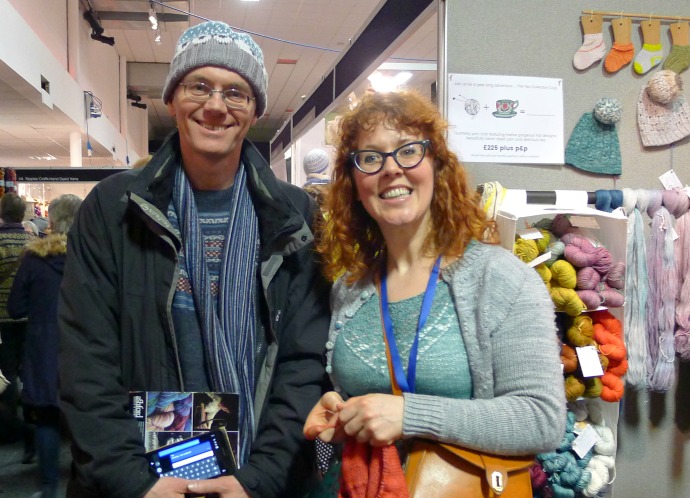 With Jess of Ginger Twist Studio
I noted some intriguing discussions going on in the three classroom areas. Not that I would have understood the techniques being discussed, but I'm sure that Nicolette would have picked up a few tips from the likes of Woolly Wormhead, Karie Westermann and Kate Atherley.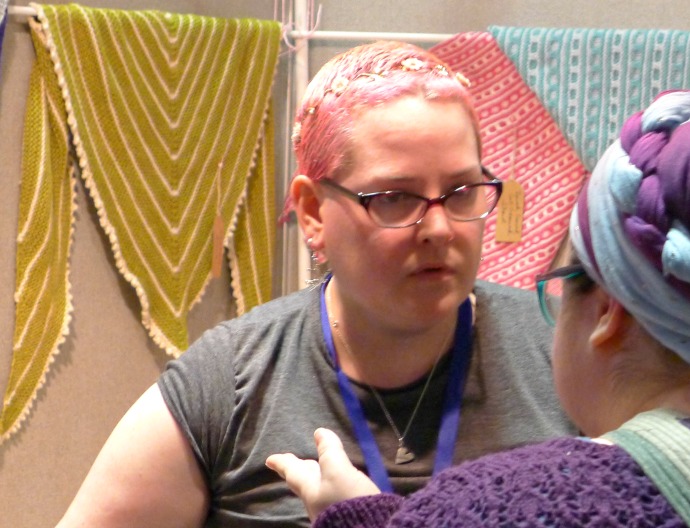 CC Almon Geeky Girls Knit Podcast
I was very pleased though to get to speak to Gudrun Johnston on the Shetland Wool Week stall and to get one of her patterns for Nicolette. It cost me exactly nothing!! How cool.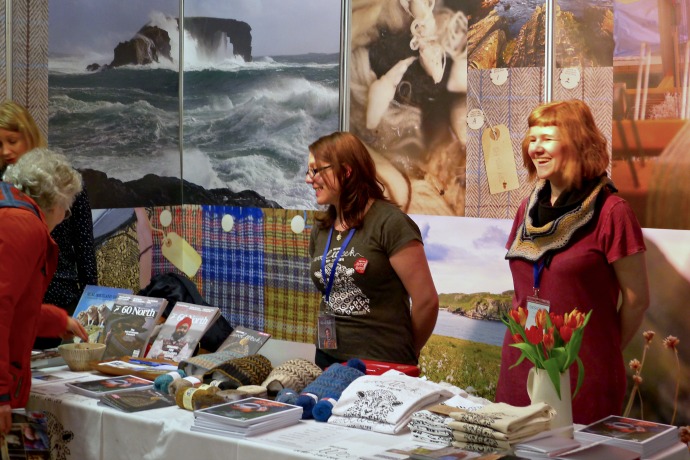 Shetland Wool Week with Gudrun Johnston
I had a really nice discussion with the ladies on the Knitting & Crochet Guild stall (I'm afraid I don't remember their names). They had a small corner stall, but such a wonderful display. They were so interesting and knowledgeable. I loved the knitted sweaters on the stall, which dated from the 1930's but looked so modern they could have been designed today.
Chatting Visitors to EYF 2017 in Coffee Shop
I had a lovely coffee break and a natter with two ladies from Germany, discussing our purchases and proposed projects. They were so relaxed and easy to talk to – like all of the people I met over the two days. I would like to see their planned shawls when completed.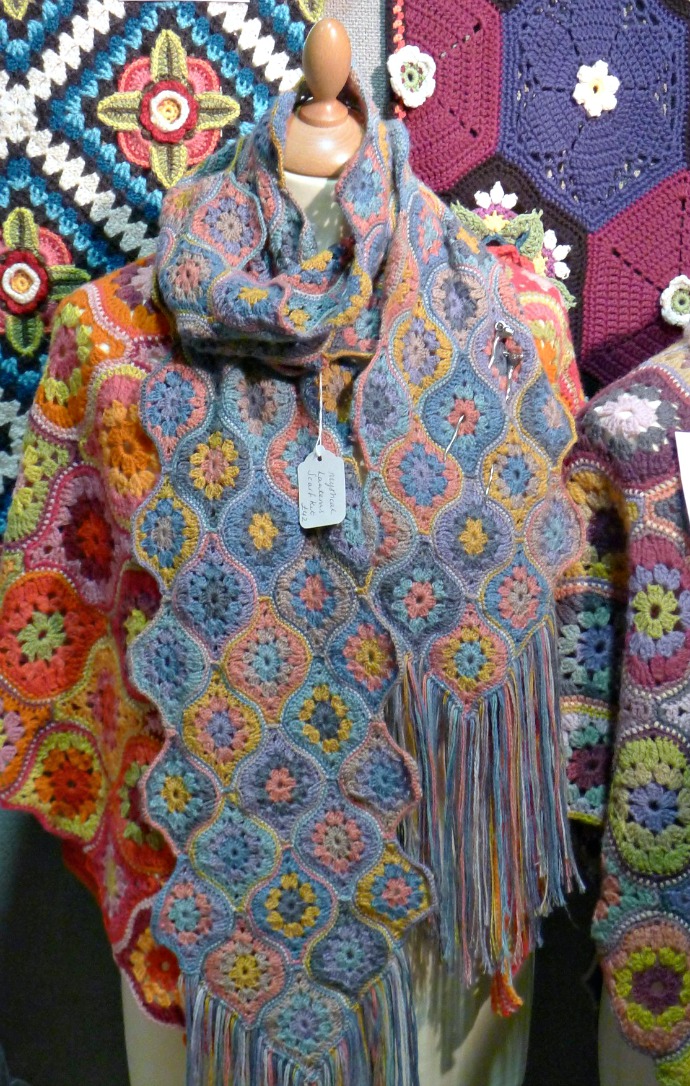 Colourful Crochet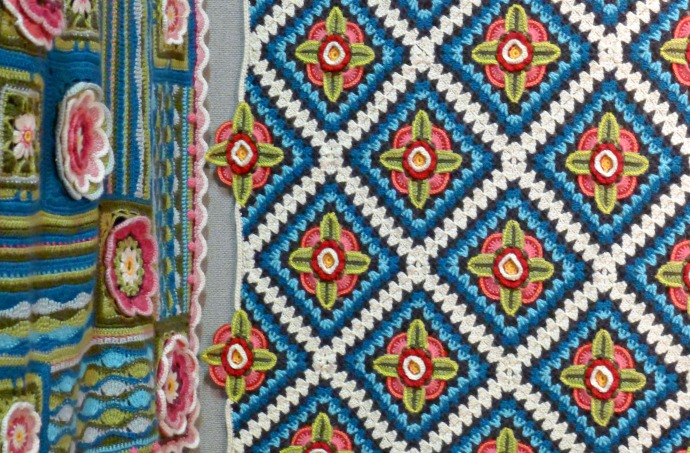 Janie Crow's Beautiful Crochet
I'm not sure how Mica and Jo managed to organise such a packed festival. All I can say is well done for organising such a successful and fun event.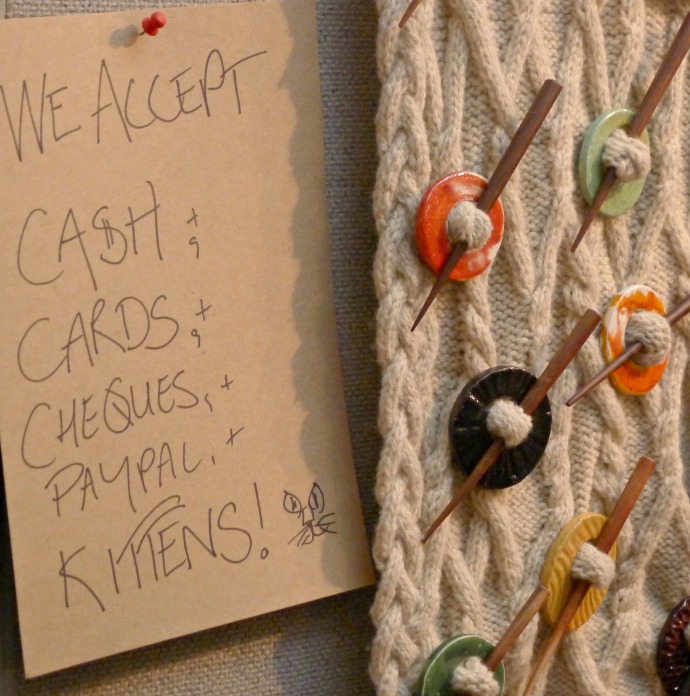 We Accept Cash
Edinburgh is a beautiful city – such wonderful architecture, parks and museums. But the people were the thing that stood out for me. It is a city that seems to be at ease with itself. It just seems to be a place where people of all ages, creeds and abilities enjoy life and take pleasure in the creative arts.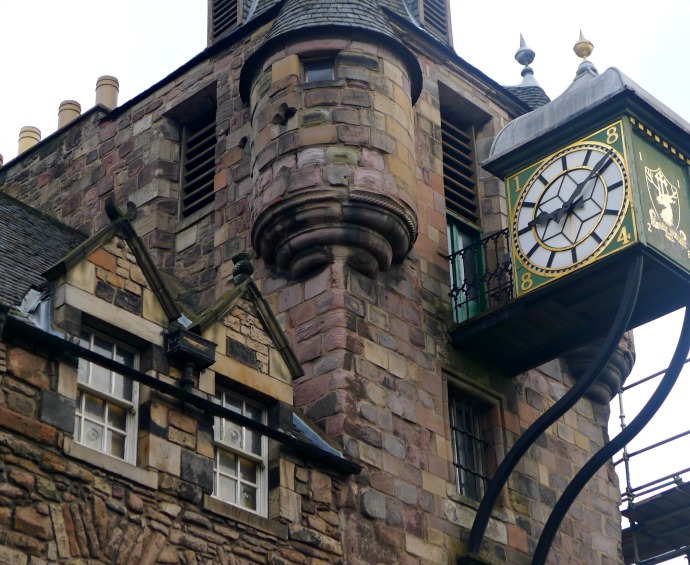 Old Clock on Edinburgh Building
The last time I visited Edinburgh (apart from just passing through) was over thirty years ago. I remembered the castle and the Royal Mile, but did not remember how many ups and downs there were. There are a lot of steps. And most of the roads and paths (in the centre at least) have some sort of slope to them.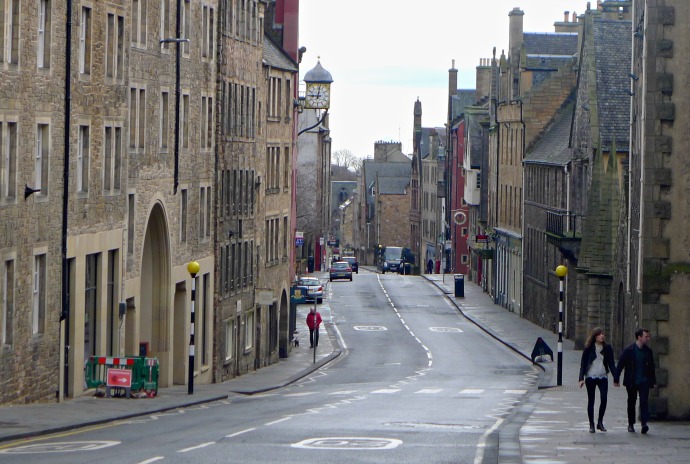 Edinburgh Street
It is a city that I hope to go back to. This time, hopefully Nicolette and I can go together. And if we do, we will go for a full week in March, to allow for a time for full enjoyment of the EYF and more sightseeing around Edinburgh.