When I first saw photographs of a garment knitted using the Entrelac technique, I remember thinking, "wow, that is amazing." My next thought was, "how do I do that" quickly followed by "I suppose, it is really really difficult to do."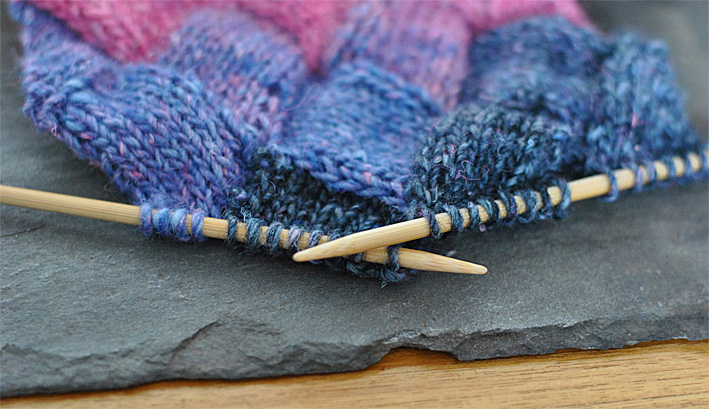 Entrelac was a technique that I'd wanted to try for a long time. And as I was to find out, it's much easier than it looks while successfully achieving the "wow" factor when you are wearing the finished scarf.
The Entrelac Scarf Pattern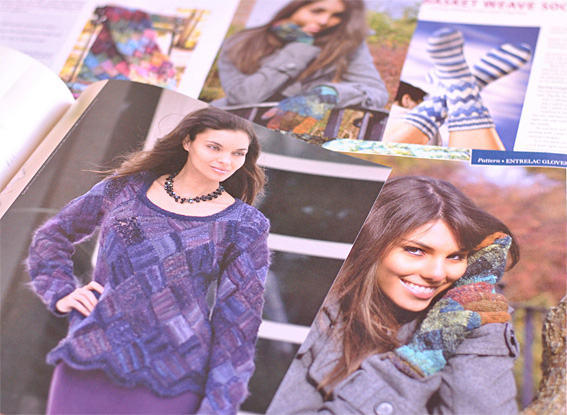 Entrelac is amazingly versatile and can be used for knitting anything you can imagine from felted bags to hats, gloves, cowls and sweaters as well as scarves. I've even seen a pattern which includes turning the heel using entrelac. Initially I was going to knit the Entrelac Gloves published in Yarn Forward magazine but decided it was a bit tricky for a first entrelac project. Then I came across the Entrelac Scarf pattern written by Allison LoCicero and published on her blog Freckles and Purls. It's a wonderful pattern to follow with very clearly written instructions. If you need further help with knitting the scarf Very Pink Knits has an informative video on Youtube called Learn to Knit an Entrelac Scarf. In which she gives helpful advice about knitting this pattern.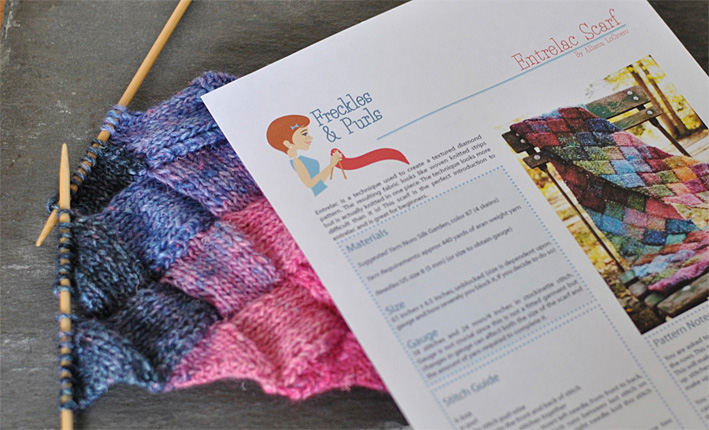 One of the joys of Entrelac is that although the finished scarf looks complex, the skills required to knit the pattern are basic enough for an advanced beginner to tackle. The knitted fabric looks like interlacing diamonds but Entrelac is actually made up of triangles and rectangles, knit on the bias, using knits, purls, picked up stitches, increases, decreases and short rows.
Your non-knitting friends will never work out how the scarf has been knitted. Which is pretty cool!
Choosing Yarn
I substituted a different Noro yarn to the specified Silk Garden. I chose Silk Garden Lite a lovely mix of 45% silk, 45% kid mohair and 10% lamb's wool instead. I needed 3 balls instead of the specified 4 balls, which with the cost of Noro yarns, made the scarf more affordable.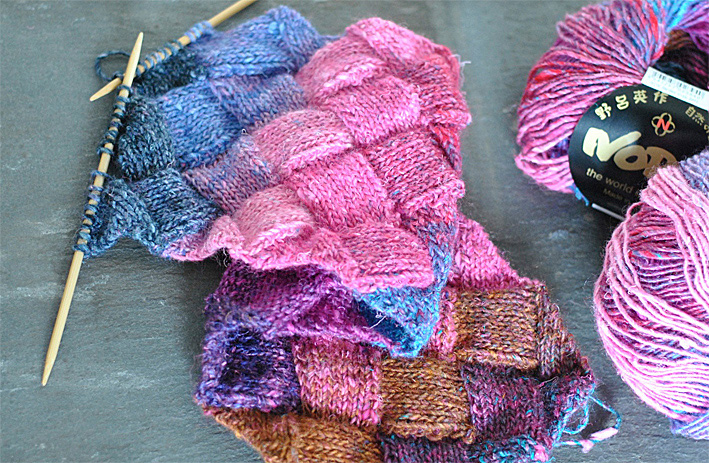 I love the colours and rustic texture of Noro knitting yarns. I chose Colour 2077 a lovely combination of pinks, magenta, purple, turquoise, teal, ochre, navy, grey and lilac. This colour scheme reminds me of one of my favourite summer flowers – sweetpea. I love how a small bunch can perfume a whole room.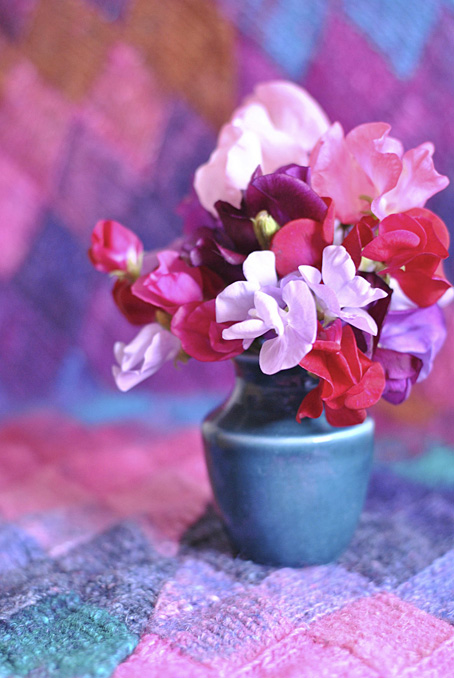 I used 4.5mm needles as these are the  larger specified needle size for Silk Garden Lite. I didn't worry about the gauge overly, as it is a scarf and I didn't mind if the finished scarf was a bit narrower.
What I Love
There are so many things I really love about this scarf.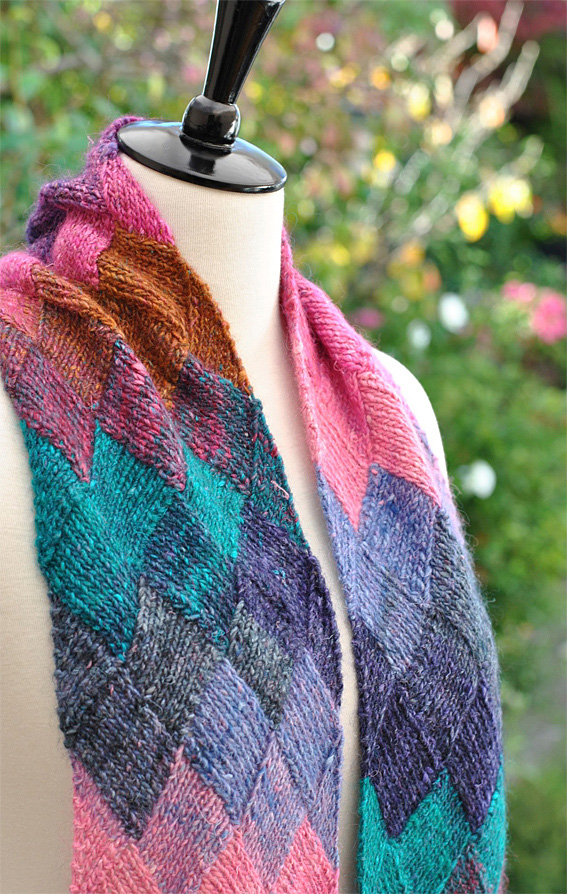 I love how the colours merged into each other as the knitting progressed.
I love the 'bloom' of the yarn after its first handwash.
I love how the knitted fabric drapes when I wear the scarf.
I love how soft and warm the scarf is around my neck.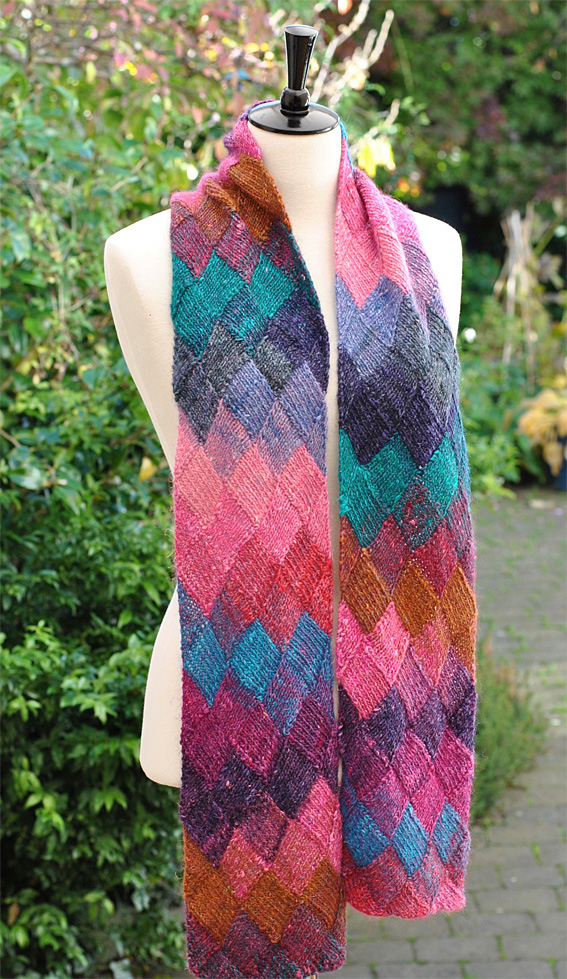 I just love how fabulous this scarf is and it has become one of my favourites that I wear very often.
Finishing
After I finished knitting the entrelac scarf I hand washed it. Then patted it into shape and allowed the scarf to dry flat. This caused some flattening of the texture of the entrelac pattern, but I liked the smoothness more.
My finished scarf is 16cm wide by 188cm long (6 1/4″ wide by 74″ long). It is slightly narrower and about 33cm (13″) longer than stated in the pattern.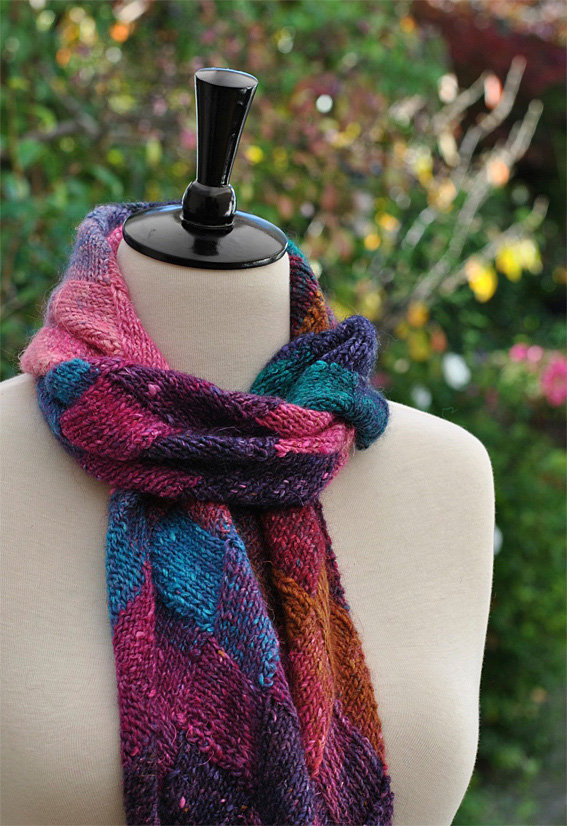 It's a versatile length and there are many different ways of wearing the scarf.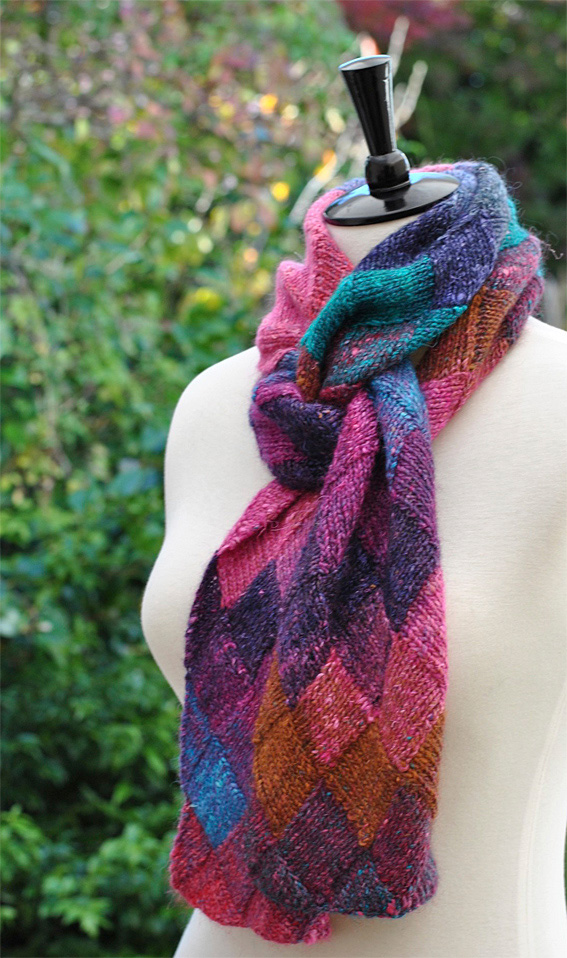 In summary, if you want to try knitting a garment using entrelac, this entrelac scarf pattern is a wonderful place to start. The finished scarf is stylish. The colour and texture of the yarn is vibrant. The scarf is soft and warm to wear. And I always receive positive comments when I'm wearing it. What can I say, I always get a little glow of happiness when someone appreciates my knitting.
Interesting Entrelac Links