Have you ever considered whether you are a process or product knitter?
A couple of years ago, there was a lot of discussion on knitting blogs about product versus process knitting. Product knitters are the type of people who enjoy knitting so that they can enjoy the finished object. While a process knitter enjoys the process of the knitting more than actually having the finished object.
There isn't really a question about this for me… I am a process knitter. Yes I really love having the finished object. I love seeing it completed and all the ends sewn in, blocked and sitting neatly, ready to be worn.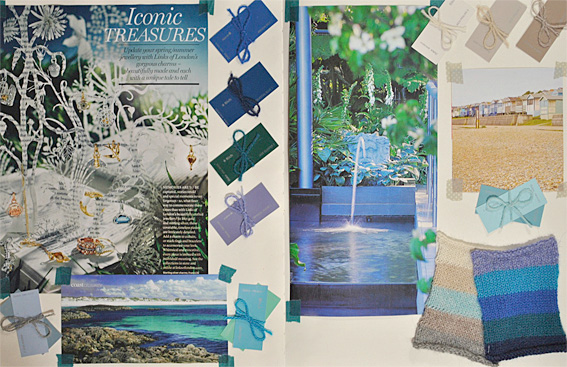 But ohhhhhh… the real joy comes from starting something new. A new knitting project to sink my teeth into. You know, that moment, as you open the bag of new yarns, in lots of yummy colours, and you lay them out on the table. Your mind starts whizzing at all the different things that could be made from this. (Yep, I suspect the more sensible product knitter may actually have bought their yarn with an actual knitting pattern in mind. But that isn't really me.)
The yarns are set out on my desk in front of me. My Colour Folders are opened and I'm already rooting through them looking for images that combine the same colours as my yarn colour choices. I'm also looking for images that have an unexpected colour in the mix. Normally, I also have a pile of favourite magazines beside me: Country Living, Red, The Simple Things, Gardener's World, Sunday Newspaper Magazines, catalogues etc… all of these are great sources of strong imagery. I also snip the colour blocks out of decorator's paint colour strips.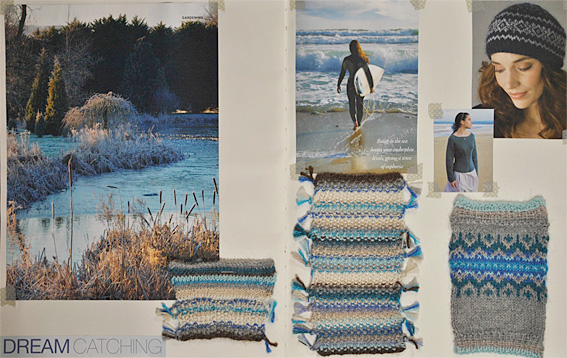 I'm usually interested in a colour story rather than the actual content of the image. As you can see in the moodboards above I have frosty winter gardens with surfing, knitting, ocean, beach huts, a jewellery advert… I never throw out a magazine until I have gone through it 5 or 6 times and have images that came from magazines that I bought a very long time ago in my folders. The 10 colours I used are from the wonderful Artesano Alpaca 4 ply range. Once I have all my inspiration collected, I start doodling in my notebook and drawing out fair isle patterns first roughly on squared paper and then the ones that I like will be worked out in Intwined Studio software on my laptop.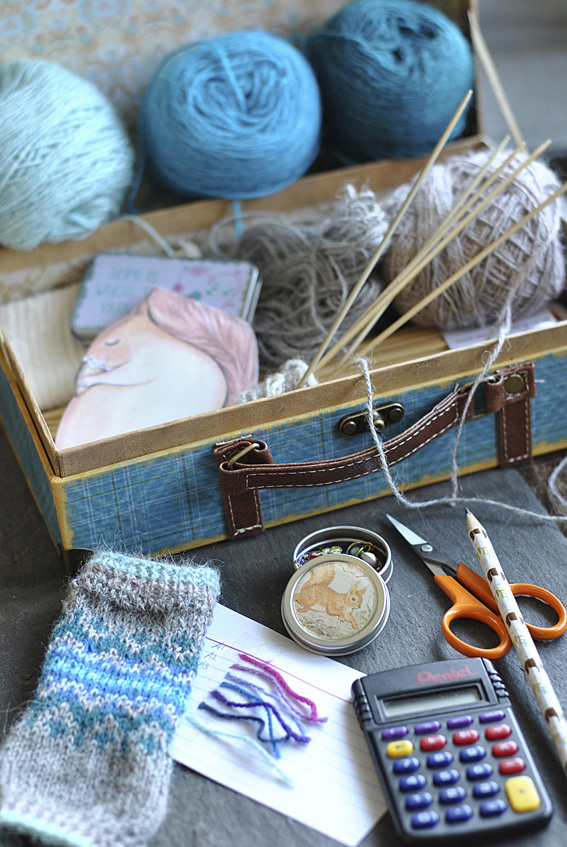 Once I've decided which patterns I like best, I start swatching. I can become a bit carried away when I am swatching. I love swatching. Seeing how the different ideas translate into stitches and coloured yarns. The patterns change from being flat on paper to the textural alchemy of knitted fabric. Isn't it amazing what can be created from using a few bamboo needles and colourful alpaca yarn. Almost like magic. I feel that way every time I start a new project whether it has been designed by/for myself or has been created by a knitting designer.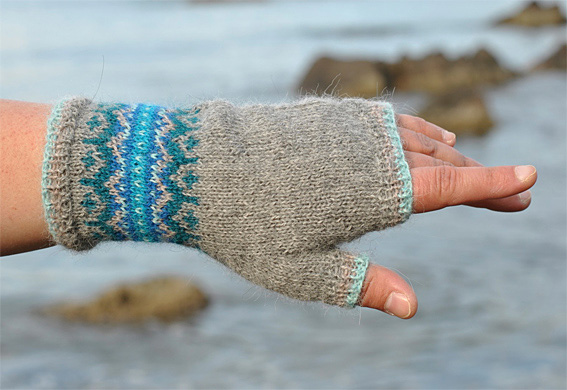 But for me, it's not just the knitting, it's the whole process, choosing the colours, choosing the yarns, knitting swatches, creating my moodboard, designing the pattern, and then knitting it. And this is why I am a process knitter rather than a product knitter…
I absolutely loved the finished fingerless mittens and really enjoyed designing and knitting them. But I was also perfectly happy to give them to my sister when she admired them. The finished fingerless glove was photographed at Crawfordsburn Country Park, Co Down, Northern Ireland.