There is nothing as lovely as Winter Pansies. So pretty and now planted in our window boxes so we can enjoy their cheerful faces  over the next few months.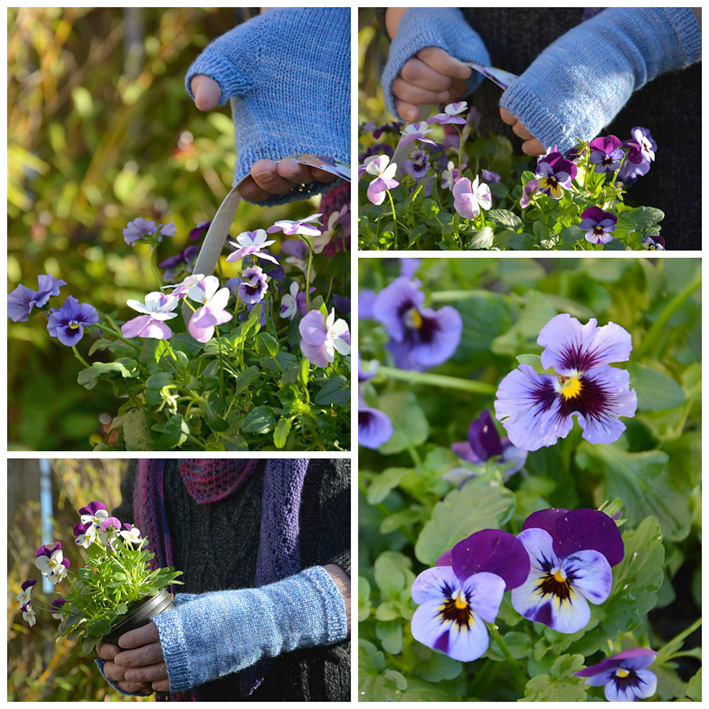 These fingerless mittens were knit using my basic fingerless mitts pattern with a few tweaks. I wanted the mitts to be a bit longer at my wrist and slightly shorter on the hand section. I also narrowed the hand section slightly before knitting the cuff at the fingers.
I used 2.75 mm dpns and my KS Merino 4 ply hand dyed yarn in a gorgeous semi solid bluebell colour. Several layers and tones of lilac and blue create a richness and depth to the colour. The KS Merino 4ply is a superwash sock yarn which is perfect for fingerless mitts as they can be easily washed along with the hand knit socks.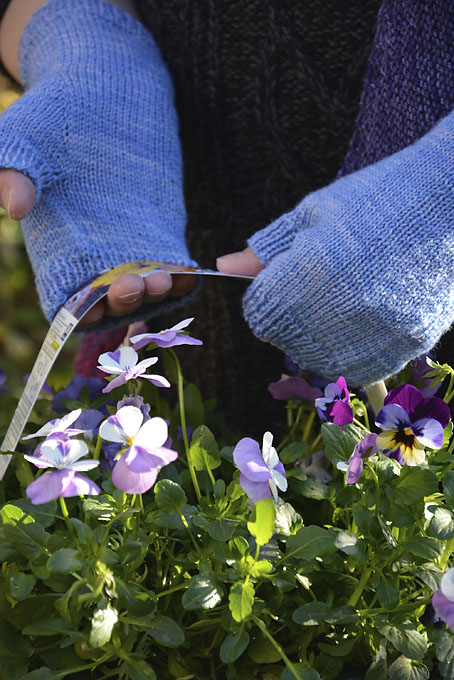 The Pattern
Knit 2 the same for the pair – there is no difference between right and left hands in this basic fingerless mitten pattern.
Abbreviations:
dpns    –    double pointed needles (I prefer bamboo needles)
k1        –    knit 1 stitch
p1        –    purl 1 stitch
st st     –    stocking stitch = knit all stitches when working in the round
m1      –    make 1 stitch
k         –    knit
sts       –    stitches
Materials:
1 ball of sock yarn or 4 ply yarn (approx 40g)
set of 2.75mm dpns
stitch marker
sewing needle
Using 2.75mm dpns and 4 ply sock yarn cast on 53 sts loosely. I use a slightly larger sized needle, usually 3.25mm, to cast on and then change to the 2.75mm needles before starting the rib. When joining the knitting into a round on first round knit the first and last stitch together. This gives a smoother finish to the cuff.
Cuff
On first round of k1,p1 rib join into a round (13 sts on each dpn needle).
Work 9 rounds of rib for the cuff.
Then knit 25 rounds of stocking stitch or the length you would like for the wrist section.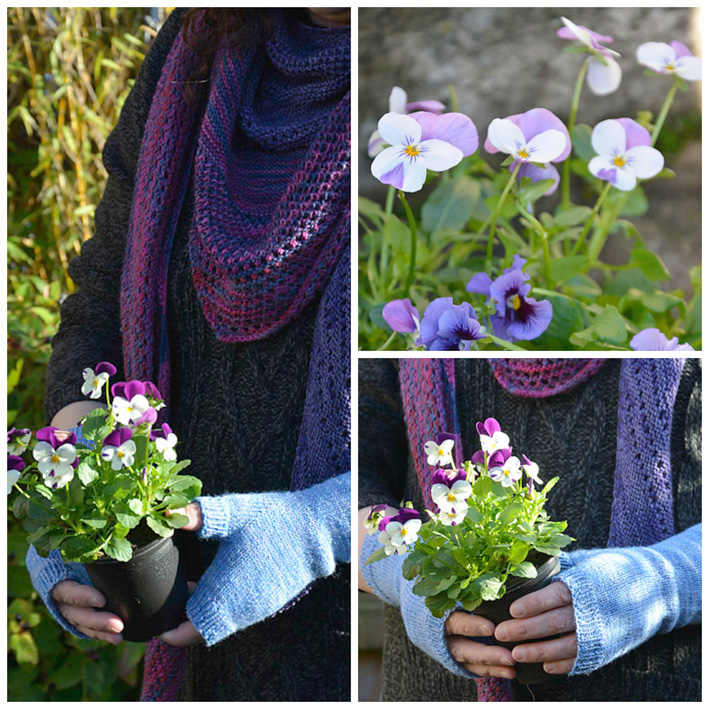 Shaping for Thumb
Next round:  m1, place marker, k to end of round
Round 1:  k to the marker, slip marker, k to end of round
Round 2:  m1, k to marker, m1, k to end of round
Repeat rounds 1 and 2 until there are 21 sts between the marker and the start of the round.  These are the thumb sts.
Then k 5 rounds slipping the marker each time you reach it.
Hand
Next:  place the 21 thumb sts onto a piece of wast yarn and remove the marker.
Cast on 2 sts (the easiest way is to make loops onto the needle you have just finished knitting with). The 2 new sts will be part of the thumb.  K to the end of the round.  (54 sts)
Next:  k 14 rounds.
On first round of ribbing, k2tog, (p1, k1) 12 times, p1, k2tog, (p1, k1) 12 times, p1 (52 sts).
Work 7 rounds of k1, p1 rib.
Cast off in rib.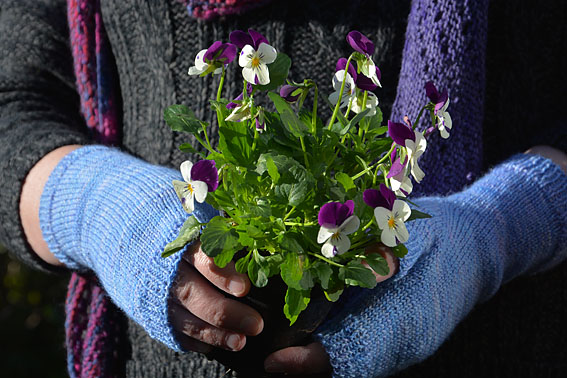 Thumb
Slip the 21 sts that are on the waste yarn on to 2 dpns.
Starting in the centre of the 2 cast on sts pick up and k3 sts then k5 sts from the needle – you have 8 sts on needle 1.
k10 sts onto needle 2.
k6 sts onto needle 3 and then pick up and k2 sts – you then have 8 sts on needle 3.  (26 sts for the thumb)
k 1 rounds in st st
Then work 7 rounds of k1, p1, rib
Cast off in rib.
Finishing
Sew in any loose ends. If you have any little gaps where you have joined the yarn for the thumb you can close these up as you do this.
I washed my fingerless mitts and allowed them to dry flat.
Happy Knitting!
Enjoy wearing your new fingerless mitts as the weather starts to get colder.