Although Kelly Flynn is a relatively new knitter, she is keen to join her friends with a charity knitting project, in Fleece Navidad by Maggie Sefton. Kelly also must solve the unexpected death of one of her knitting companions, in the sixth of the Knitting Mystery series.
Caffeine addict, Kelly Flynn lives adjacent to the House of Lambspun in Fort Connor, Colorado knitting shop. This Christmas, Kelly and her fellow knitters are working on charity knitting projects. The local librarian, Juliet Renfrow, is organising the season's good will venture to create knitted gifts and all of the regulars are helping out.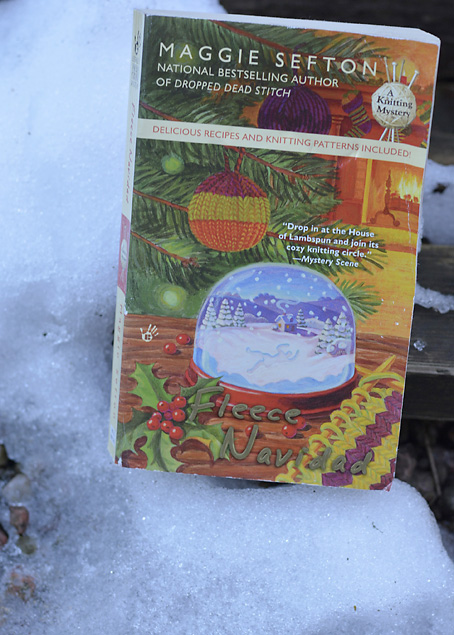 Juliet Renfrow is a quiet "little brown wren" of a woman who is known for her stunning handmade capes. Her creations have been in great demand in the lead up to Christmas. But Juliet also has another reason to be happy; she is in love! Juliet's beau is Jeremy Cunningham, a retired university professor. The couple are the perfect match and are so sweet together.
Unfortunately, it soon becomes apparent that Jeremy has been seeing another woman. This other woman is Claudia Miller who arrived in Fort Connor from Florida a couple of months ago. Recently widowed, Claudia is determined to hook husband number four! Hot on Claudia's heels is Sheila Miller, Claudia's step daughter. Sheila is soon spreading vicious rumours about how Claudia killed Shelia's father and stole a car to get away from Florida!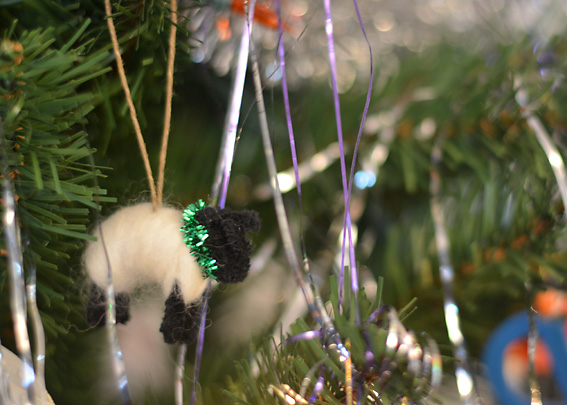 The House of Lambspun knitters are soon shocked to hear that their quiet Juliet has been killed in a hit and run incident! She is found lying on the pavement by the police, early one morning.
Before long, suspicions from the police and the community are focused on Claudia. The knitters in the House of Lambspun are split, however. Half of them are certain that Claudia murdered Juliet but the others vehemently proclaim her innocence. As the police close in on Claudia, Kelly must start her own line of investigation. If she can solve the mystery, not only could she clear Claudia's name but she might also prevent the knitting group from imploding through in fighting!
There are numerous knitting projects on the go for the holiday season. The House of Lambspun knitters create lots of hats, gloves and mittens to be sold at Mimi's shop. Kelly creates a blue-green hat on circular needles. And although she is quite a slow knitter (by comparison with some of the others) she is determined to do her bit for the homeless, as well as finishing her long term project; an alpaca scarf for boyfriend Steve.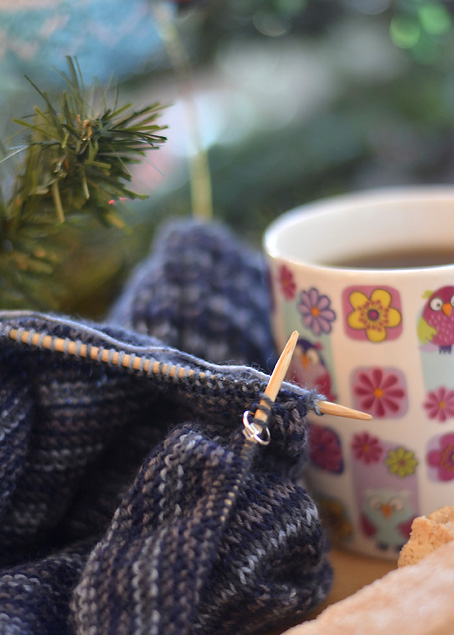 There are lots of winter knitting patterns and recipes to try out at the end of the book. I may try the ribbed hat and will definitely give the gingersnap cookies a go. They sound scrummy!
The knitted garment in the photos attached to this blog is a woolly hat which I knit using the Sockhead Slouch Hat pattern. I wrote about the project here. The lovely Regia Snowflake yarn is available here.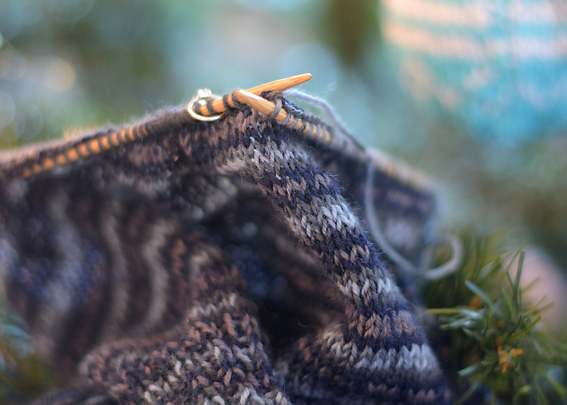 There are not many new characters introduced in Fleece Navidad. It is generally the same cast that we have learned to love in the previous five books. One of the strongest facets of this knitting murder mystery series is the development of the characters and the dynamics of the friends. I always like the camaraderie amongst the knitters in Maggie Sefton's books. The group are closer than some families that I know, despite the bickering in this tale!
There are a number of romances on the go (as we are used to in this series). I have enjoyed the development of Kelly and Steve's relationship which seems to have become long term now. There is a new romance too which starts up between two regular characters. I look forward to seeing how all of the relationships develop in future books.
One of the most enjoyable story lines is a sequence which sees Kelly and Jennifer directing a group of unruly local teenagers in a Christmas nativity! The kids have no interest when the girls take over the coaching. I also liked the addition of an adorable "celebrity" lamb into the setup!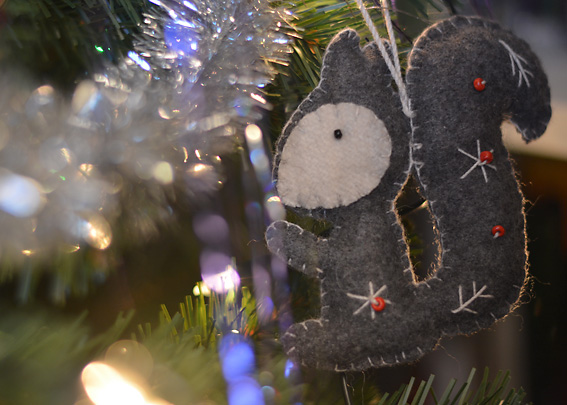 I enjoyed this book better than Dyer Consequences.
I thought that the inclusion of the list of characters at the start of the book was a bonus. It was a handy aid for me as it had been a while since I had read the last book in the series.
That said Fleece Navidad takes a while to get going. There is not much action in the first 100 pages, except for a cringe worthy scene where Marty is once again "teased" about his overeating.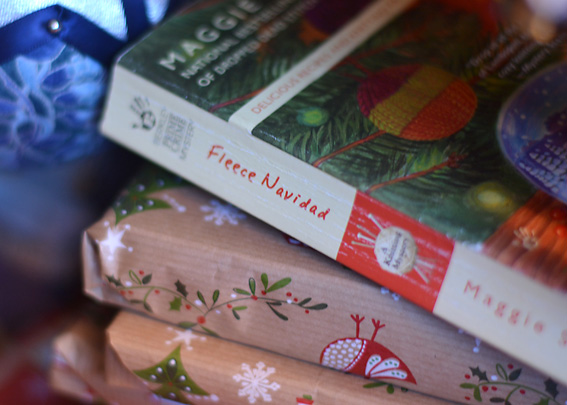 Although there are a number of plot lines developed in this story, the main murder mystery is a bit of a letdown. The interest is not so much in who-dun-it as in how to Kelly solves the crime. In that way it is more of a Columbo than a Miss Marple.
I would like to see some of the romances go a bit further. Not one of them has got engaged yet (except Juliet and Jeremy shortly before Juliet is run over). Dare I hope for a marriage in the next book?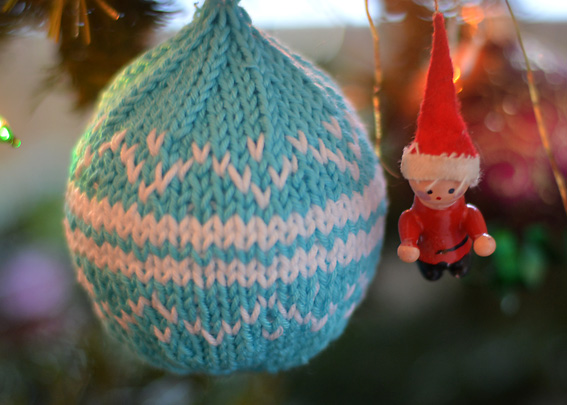 This story is a fun read for the holiday season. You don't have to be a knitter to read it; in fact there is only one lengthy knitting section where Kelly changes from circular needles to DPNs. It is a good read to get you into the mood for the Christmas season. If you want a knitting mystery with interesting characters then Fleece Navidad is a good choice.