The Green Rainbow Socks are the fifth post in the Rainbow Socks Collection Series which started with 'What is the Perfect basic Sock Pattern'.
The inspiration for this series came to me soon after I'd noticed how scruffy my hand knit socks were looking. I needed new hand knit socks to replenish the drawer. Like most sock knitters I have a particular sock pattern in my head, that I knit frequently, but I began wondering if another heel/toe combination would fit my foot more snugly.
The Green Rainbow socks have an eye of partridge heel flap which is turned, followed by gusset shaping, a paired decrease toe and the cuff is a knit 1 purl 1 rib.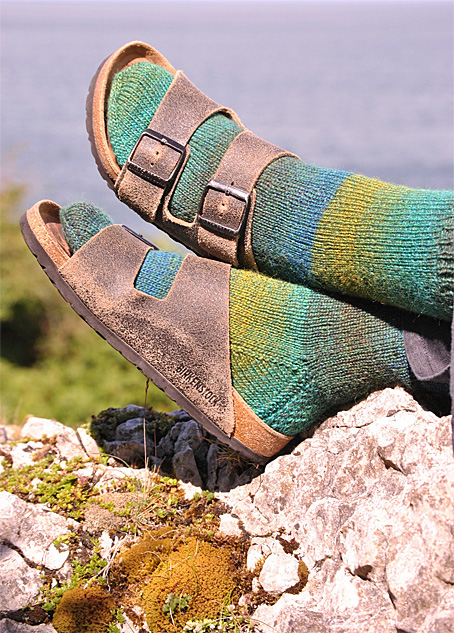 Design Choices
This sock is the closest out of the Rainbow Sock Collection to the basic sock pattern that I habitually cast on when I need a new pair. This is mainly because I have knit the pattern so often that I don't need to refer to notes. It makes for wonderful automatic knitting while chatting with friends.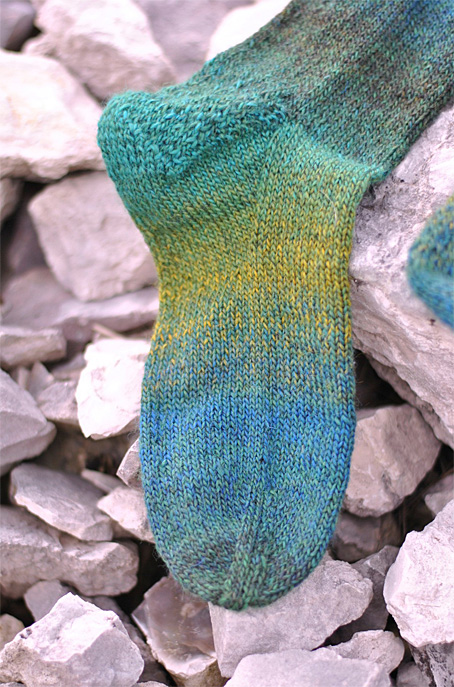 I've often noticed sock knitters using a different slip stitch pattern on the their heel flap. I rather like the vertical ridges that my normal slip stitch heel has but decided to try the Eye of Partridge pattern instead. It was the only change I made to the pattern. I've always liked the heel flap, the slip stitch pattern gives a nice padded fabric that wears well, as well as padding my heel nicely from the heel of the shoe. Some knitters don't like the extra bulk though.
I used a Regia Hand Dye Effect 4 ply sock yarn in shades of green from my yarn stash.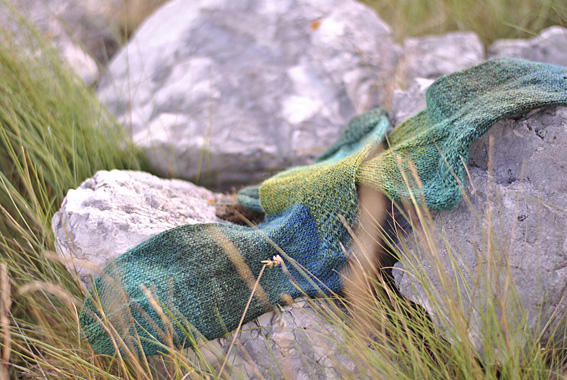 Green Rainbow Sock Pattern
Please note that the Green Rainbow Sock Pattern is a one size free pattern. The sock is easy to try on after the gusset shaping while knitting the foot to help you decide when to start the toe.
Yarn
Regia Hand Dye Effect sock yarn
Needles
3.5mm double pointed needles (dpn) for casting on
2.75mm set of five double pointed needles (dpns) for knitting socks.
Tension
The tension for this sock is 21 rows and 15 stitches / 5cm (2 inch) square in stocking stitch (stockinette). 7.5 stitches / 2.5cm (1 inch). This yarn is a loosely spun sock yarn that knits into a very soft warm sock.
Abbreviations
double pointed needle(s) – dpn(s); stitch(es) – st(s); knit – k; purl – p; knit 2 stitches together – k2tog; slip, slip, knit – ssk;
Cuff
Cast on 60 sts using 3.5mm dpn.
Evenly divide sts onto four 2.75mm dpns. Take care not to twist the sts when knitting the first round. 15 sts on each needle.
Work k1, p1, rib for 16 rounds.

Leg
Knit in stocking stitch (knit all rounds) until the leg measures 16.5cm/6 1/2″ in length from the cast on edge.
Heel
I have knit many slip stitch heel flap socks in the past, but for the Green Socks I decided I would try the Eye of Partridge Heel.
Eye of Partridge Pattern
The heel flap will be knit flat on the stitches held on needles 3 and 4, I usually slip all the stitches onto one needle for knitting the heel flap. I find it easier.
Row 1 (ws): k3, p to last 3 sts, k3
Row 2 (rs): k3, sl 1, k1 to last 3 sts, k3
Row 3 (ws): k3, p to last 3 sts, k3
Row 4 (rs): k4, sl 1, k1 to last 4 sts, sl 1, k3
Work seven repeats of the Eye of Partride Pattern, then work the first 2 rows again. A total of 30 rows for the heel flap.

Turn the Heel
Row 1:  P17, p2tog, p1, turn.
Row 2:  Sl 1, k5, ssk, k1, turn.
Row 3:  sl 1, p6 (1 stitch remains before the "gap"), p2tog (combines the stitch before the gap and the stitch after the gap), p1, turn.
Row 4:  sl 1, k7(1 stitch remains before the "gap"), ssk, k1, turn.
Row 5:  sl 1, p8, p2tog, p1, turn.
Row 6:  sl 1, k9, ssk, k1, turn.
Row 7:  sl 1, p10, p2tog, p1, turn.
Row 8:  sl 1, k11, ssk, k1, turn.
Row 9:  sl 1, p12, p2tog, p1, turn.
Row 10:  sl 1, k13, ssk, k1, turn.
Row 11:  sl 1, p14, p2tog, p1, turn
Row 12:  k16, ssk, k1
Gusset
Pick up and knit 16 stitches along the edge of the heel flap.
Knit across the instep stitches on needles 1 and 2.
Pick up and knit 16 stitches along the edge of the heel flap. Then knit across 9 of the stitches from the heel.
This is now the starting point for the next round.
You should have 25 stitches on needle 1, 15 stitches on needle 2 & needle 3, and 25 stitches on needle 4. You will probably need to slip the 9 stitches from the heel onto needle 1 before you start the gusset.
Gusset Shaping
Round 1: Needles 1 & 3 – k to last 3 sts, k2tog, k1; Needles 2 & 4 – k1, ssk, k to end of needle.
Round 2: k
Repeat Rounds 1 and 2 until there are 15 sts on each needle.
Foot
Basic Paired Decrease Toe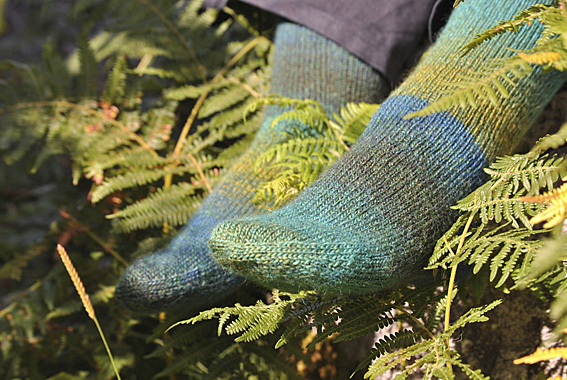 Round 1: work decrease round
Rounds 2, 3 & 4: knit
Round 5: work decrease round
Round 6 & 7: knit
Repeat rounds 5-7 once more
Round 11: work decrease round
Round 12: knit
Repeat rounds 11 & 12 two more times.
Work the decrease round for all remaining rounds. Until there are 2 stitches remaining on each needle.
Graft the toe stitches.
Finishing
Weave in any loose ends. Wash and block the socks if you wish. To be honest, I only do this, when I am going to be photographing the socks for the blog or I am knitting them as a gift for someone. Otherwise, they usually go straight into my sock drawer.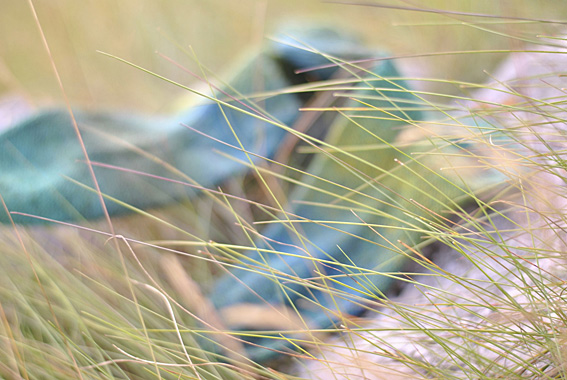 The Green Rainbow Socks are very comfortable. The heel fits neatly although, I still think I prefer my usual slip stitch heel. The eye of Partridge slip stitch pattern does look nice but the other one is so quick and easy to knit.
Related Rainbow Sock Collection Links
The Green Rainbow Socks were photographed high up the hill above Fallowvee, overlooking Red Bay, Co Antrim, Northern Ireland. We had a curious onlooker nearby taking an interest in what we were doing in a snoozy sort of way.