Are you looking for a great striped sock pattern for using left over sock yarn?
After finishing Mitt Envy I had plenty of the lovely clear blue silk sock yarn left and flicked through my sock pattern books looking for inspiration.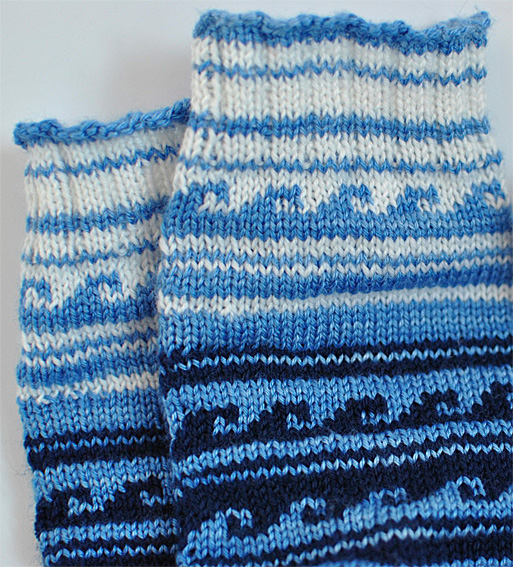 I saw Hot Waves designed by Lynn Hershberger published in Joy of Sox by Linda Kopp and knew that it would be beautiful in a cool colourway instead of the warm colours in the book. The pattern is a lovely combination of stripes and fair isle.
What Drew Me to This Pattern?
I liked how the pattern looked and wanted to do a stranded colourwork pair of socks for my sister Pip using the Silk Sock yarn.  I wasn't sure if there was enough of it left over to knit the socks completely using the Silk Sock, but the yarn was much too beautiful to end up remaining in my stash. Also, I felt that as the yarn had been given to Pip as part of a Yarn Swap, I should make the best use of it as I could, for her.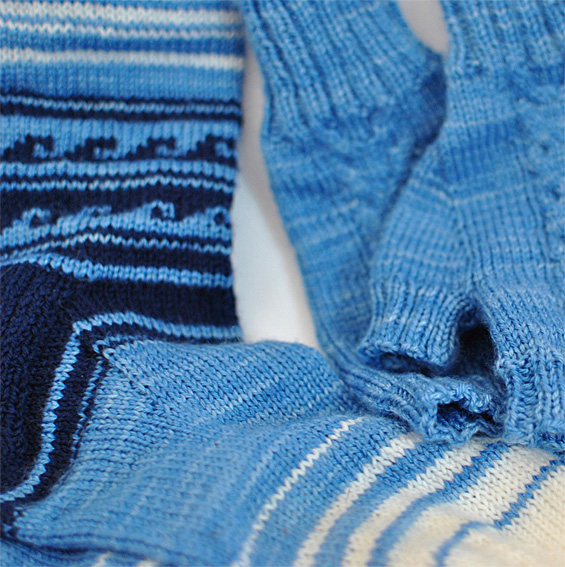 I loved the different widths of the stripes that didn't overpower the wave motif.  My inspiration for the colour scheme was the ocean, the dark navy contrasting with the ivory white 'horses' on the blue waves…
Changes I Made to the Pattern
The main change was in the colour choice.
I also decided to use the comfortable slip stitch heel rather than the striped afterthought heel. It makes the wave pattern in the stripes have more emphasis.
After working the heel, rather than a sudden change to the clear blue for the foot, I chose to knit a couple of navy stripes in a mirror image of the stripes used below the last wave pattern.   I really liked the balance that these gave to the sock, drawing the navy onto the foot.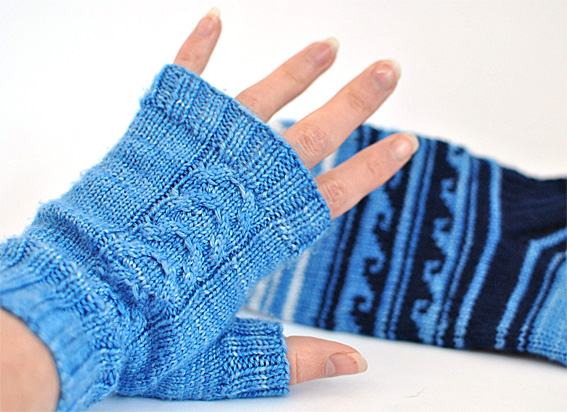 And The Yarn
The main colour was the lovely clear blue Silk Sock Belle Epoque.  A lovely hand dyed 50% silk, 50% merino wool sock yarn.  I wanted to create a strong contrast in the cool colour scheme so that the wave pattern and stripes would really stand out against each other.  I also needed colours that would enhance the beautiful silk/merino sock yarn.
I achieved this by choosing my Wollmeise superwash merino sock yarn in a dark navy (as the dark contrast colour) and an ivory Patons Diploma 4 ply, in a wool/acrylic blend from my stash (as the pale contrast colour).
Would I Knit Hot Waves Again?
Definitely.  It was fun knitting the sock and it looked very elegant when it was finished. I would love to knit the sock in a couple of different colour schemes.