The How to Knit Your First Sock series covers knitting a sock in 4 step by step articles.
How to Knit Your First Sock – Part 1: will cover the anatomy of a sock, knitting the cuff and the leg section.
Part 2: will explain knitting the heel flap and turning the heel
Part 3: shows how to set up for the gusset and gusset shaping.
Part 4: looks at knitting the foot, toe shaping and finishing.
How to Knit Your First Sock is aimed at someone who would love to knit socks but has never tried before. However, I assumed that you are not knitting a sock as your very first knitting project and know how to increase, decrease, slip a stitch, knit and purl. There really isn't much else to knitting a sock, other than keeping track of the number of stitches on your needles.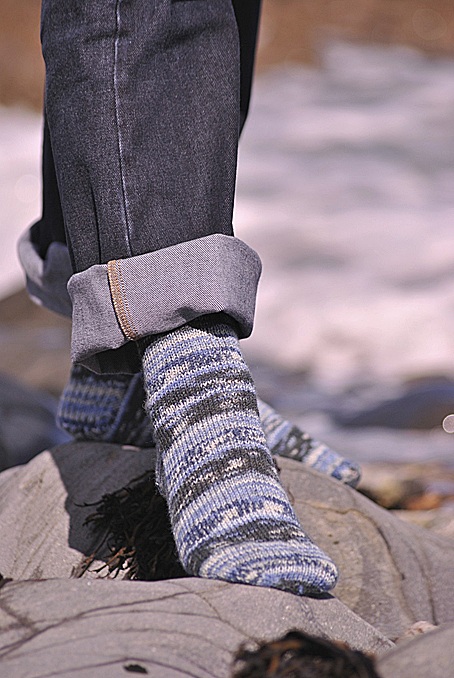 There are so many beautiful sock yarns available and the finished socks are so comfortable, once you have knit your first pair, you will be bitten by the sock knitting bug, just as I have been. I hope you have fun knitting your first pair of socks…
Anatomy of a Sock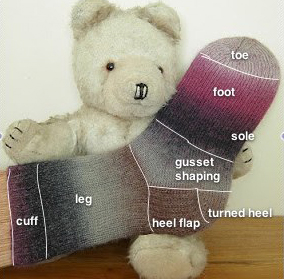 At its most basic a sock is a tube of knitted fabric which is open at the top and closed at the toe. But for the sock to be really comfortable it is better if it has some shaping to accommodate the heel and the remove excess bulk at the toe.
A sock can be knit from the cuff to the toe or from the toe to the cuff.
This step by step series features knitting the sock from cuff to toe. A useful reason for knitting your sock from cuff to toe is when you get a hole in the toe it is easy to unravel a few rows of the toe and knit a new one.
The main parts of a sock:
Cuff – elastic section helps hold the sock up.
Leg – the length can vary to choice.
Heel Flap – slip stitch strengthens this.
Turned Heel – shaping for the heel.
Gusset Shaping – shaping for the insole.
Foot – the length can vary to suit your own foot.
Toe – shaping for toe.
Materials
You don't need a lot of materials to knit an adult sized pair of socks and I have often found that 100g of sock yarn is enough for a pair of socks and a pair of fingerless mittens. I am going to discuss the reasons why I choose particular options for successful sock knitting.
100g of 4 ply self patterning sock yarn. I have used 100% wool for knitting socks but if you don't have time to hand wash your socks and have a tendency to pop them into a mesh bag and wash them on the cool wool wash in the washing machine, you will find that sock yarn which has 75% wool and 25% nylon works best. This fibre combination wears well and is slow to pill, the colours last don't fade as quickly and the yarn doesn't felt during washing.
2.75mm set of 5 double pointed needles (dpns). For sock knitting you will find that bamboo dpns are ideal.  They are flexible and can ease joint pain. Bamboo and wood are slightly 'sticky' which helps prevent the stitches slipping off the needle.
3.25mm needle. If you use a larger sized needle to cast on the stitches loosely it helps prevent the cuff edge from being too tight.
2.25mm set of 5 double pointed needles (dpns). For knitting the toe.  These are optional but you may have a set in your needle collection.
Tapestry needle. For sewing in loose ends.
Abbreviations
k  – knit
p  – purl
ssk  – slip 2 stitches knitwise, one at a time, to right needle, then insert left needle from left to right into front loops and knit 2 stitches together – 1 stitch decreased
p2tog  – purl 2 stitches together – 1 stitch decreased
sl 1  – slip 1 stitch purlwise
st  – stitch
st st  – stocking stitch/stockinette stitch
Cuff
Using the 4 ply sock yarn and the 3.25mm needle cast on (loosely) 60 stitches.
Change to the 2.75mm dpns.
Next, work the first row of k1, p1 rib. Divide over 4 needles as you work this row. 15 sts on each needle.
Join into a round being careful not to twist the stitches. The loose tail is a useful way of knowing that you are at the back of the sock.
Work 14 rounds of k1, p1 rib.
This will give a ribbed cuff which measures 3.5cm/1 3/8 inches. As this is your sock you can add additional depth to the cuff at this point. Just keep a note of how many rows you rib so that you can do the same for the second sock.
There are other rib options that work beautifully for the cuff. K2, p2 rib is wonderfully elastic. An elegant solution is k3, p2.
Sock Leg
In this sock the pattern is being created by the choice of the self patterning sock yarn.  This is Opal Fairies and Elves colour 5523. Lovely colours of charcoal and denim blue. As the yarn creates the pattern the leg is knitted in stocking stitch. When working in circular knitting, stocking stitch is achieved by knitting all stitches on all rounds.
To continue the lesson:
Knit 42 rounds
Length of sock from the cast on edge after completing these rows is 13.5cm/5 1/4 inches.
This number of rounds can be changed depending upon the length that you would prefer your sock to be. If you added a textural pattern to the leg you would end on a complete repeat of the pattern as this would make it easier to remember where you would be starting the pattern repeat again after the heel section.
How to Knit Your First Sock Links