When my new sock pattern book 'Around the World in Knitted Socks' by Stephanie Van Der Linden arrived in the post, I sat down with a cup of earl grey tea and browsed through its pages. This book contains so many gorgeous sock patterns that it is difficult to choose which to knit first. When I saw Hub of Fashion (a sideways knit sock pattern) I set aside other projects and cast on immediately.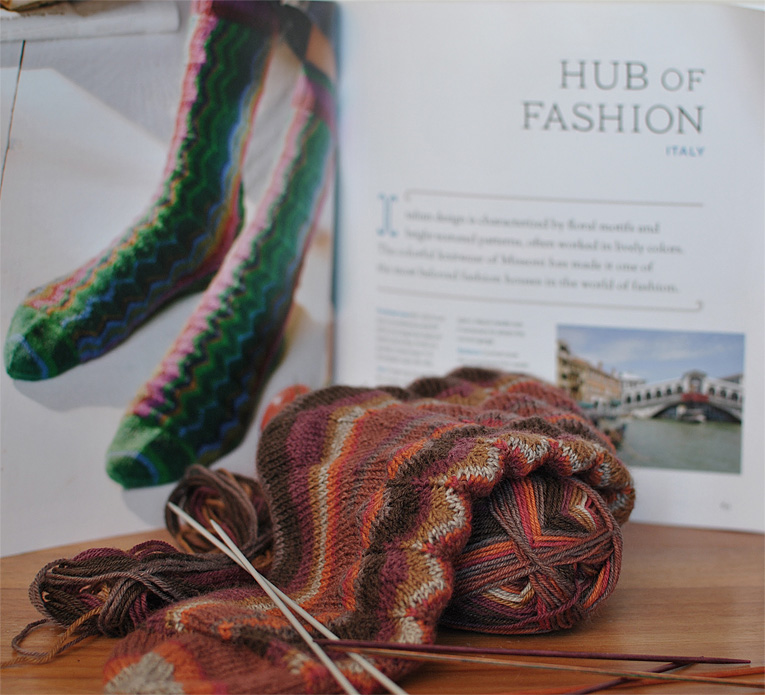 I had wanted to try knitting a sideways sock for a long time as I had wondered about the how comfortably a sideways sock heel would fit. This yarn is designed by Kaffe Fassett for the Regia Design Line. I used colour 4352 Landscape Canyon.
Knitting a Sock Sideways
This was the first time in years that I have used metal knitting needles at all. These socks are knit using size 2.25mm and my hands and wrists became very painful surprisingly quickly. This problem is why I have been knitting using bamboo or birch wood needles for all of my projects.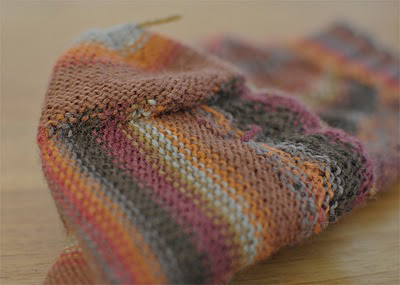 Toe Join to Sideways Sock
Hub of Fashion is a very well written pattern with clear instructions. A very clever way of creating the stitches for knitting the toe and cuff while knitting the rest of the sock  gives a lovely smooth join which is really important for comfort at the toe.
The sock is knit using a very pretty zigzag pattern.  The shaping for the heel and the short row gusset is amazing.  The designer has a fabulous way of working the turn and slip stitch for the short row gusset that prevents the little hole appearing.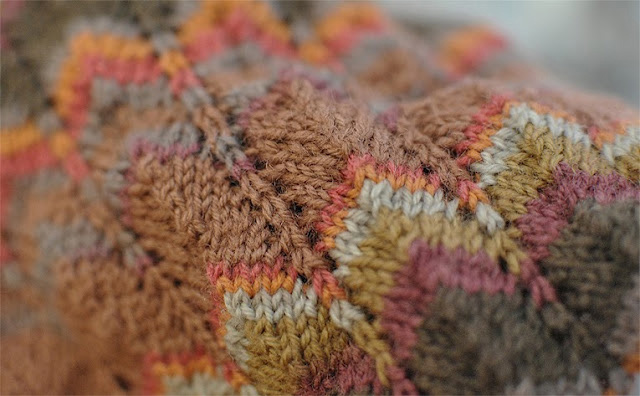 I am not very proficient with a crochet hook and couldn't get the crochet chain method to work for my provisional cast on. You are casting on quite a lot of stitches so need to be confident with the provisional cast on method you use. After getting rather frustrated with my attempts, I cast on with scrap yarn and worked a couple of rows in it before starting the actual sock and later carefully unpicked this. This method worked well for me.
It really is a necessity to love doing kitchener stitch if doing this sock as I grafted 111 stitches on one needle to 111 stitches on the other needle which was a bit of a marathon exercise.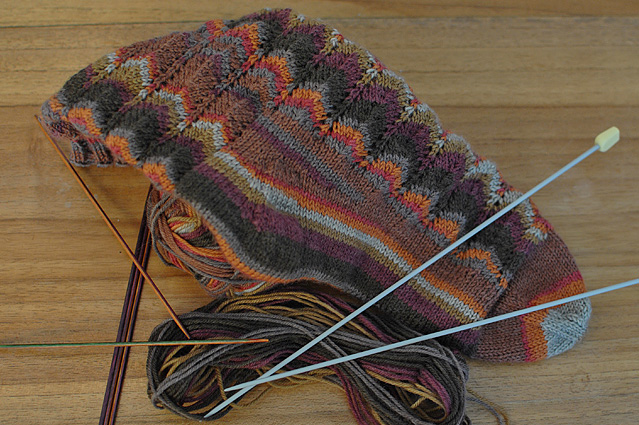 A feature of a sideways knitted sock is that the leg part of the sock isn't as fitted as I like and tends to slip down into a slouchy sock shape. This may be a style feature you have been looking for.
The heel isn't as deep at the back as I am used to wearing and I wonder if the first row of patterning above the heel is going to be comfortable when I am walking.
Would I Knit The Hub of Fashion Sock Pattern Again?
This sock is great but I haven't cast on for the second sock because my hands were so sore during the knitting of this project due to the metal needles. I have been wondering if I could use a circular needle to knit the second but I know the tension would probably not be the same.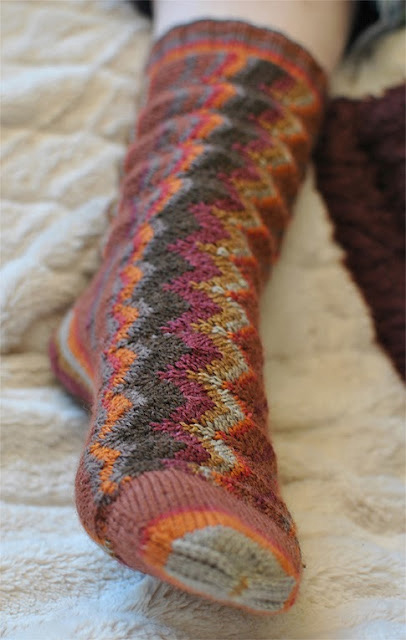 Around the World in Knitted Socks is an excellent sock pattern book with many other patterns that I am looking forward to knitting.