When I'm looking for a pattern to knit, my first port of call is often to pick up a big pile of knitting magazines and go through them, pulling out patterns that appeal to me. I do this periodically, and file any patterns that I may wish to knit and recycling the rest! As I was going through them, I came across Joyride sweater in an old copy of Knit Now magazine.
My New Year Resolution for 2017 was to knit a sweater for myself. But I wanted to choose the right pattern, as this was my first sweater for myself, so I didn't want it to be too complicated a project.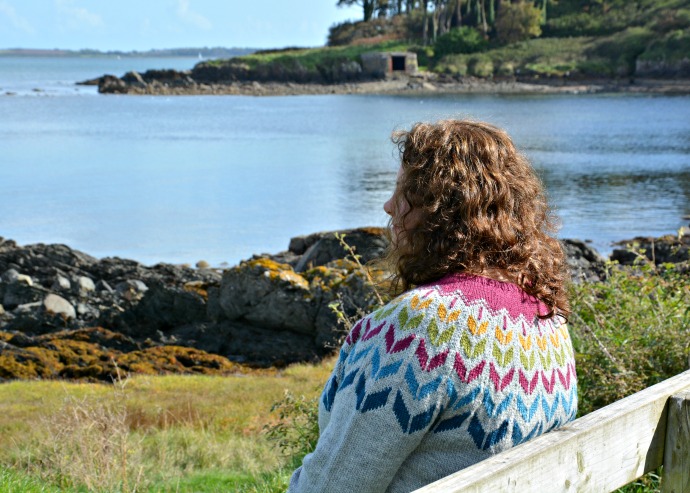 This pattern is available for free on Ravelry and is designed by the Drops Design team. I set the pattern aside as a possibility… Then I looked at the sizes and yarn required.
In the last few months of 2016, I was feeling tired and found myself without my usual knitting mojo. I pushed myself to finish all my Christmas gift knitting obligations, and then put down my knitting needles. I didn't knit anything over Christmas or into the New Year. An absolute drought for me. Hence, I was trawling through my old magazines looking for inspiration.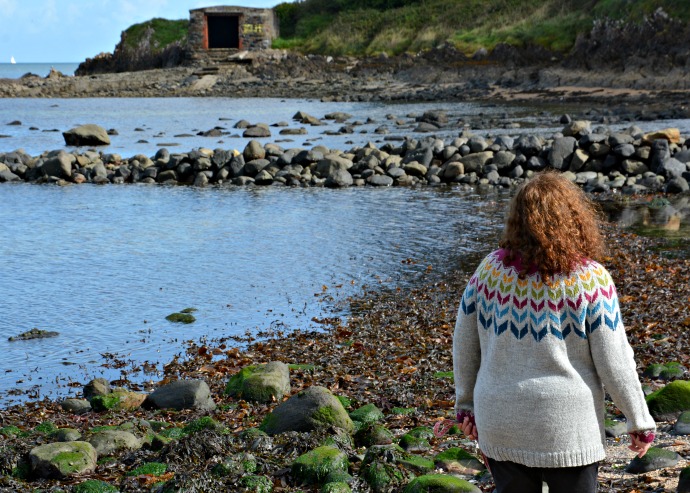 I'm not really a garment knitter. I've knit many Sasha doll sized sweaters but haven't knit a sweater for myself since I was in my early 20's. Back then, I just bought yarn, cast on, and had some fun!
So I wondered what was stopping me?
I'd always think it was mainly cost. Not so much in monetary terms but in time. What if I spent all that time knitting a sweater and it didn't fit me or look flattering?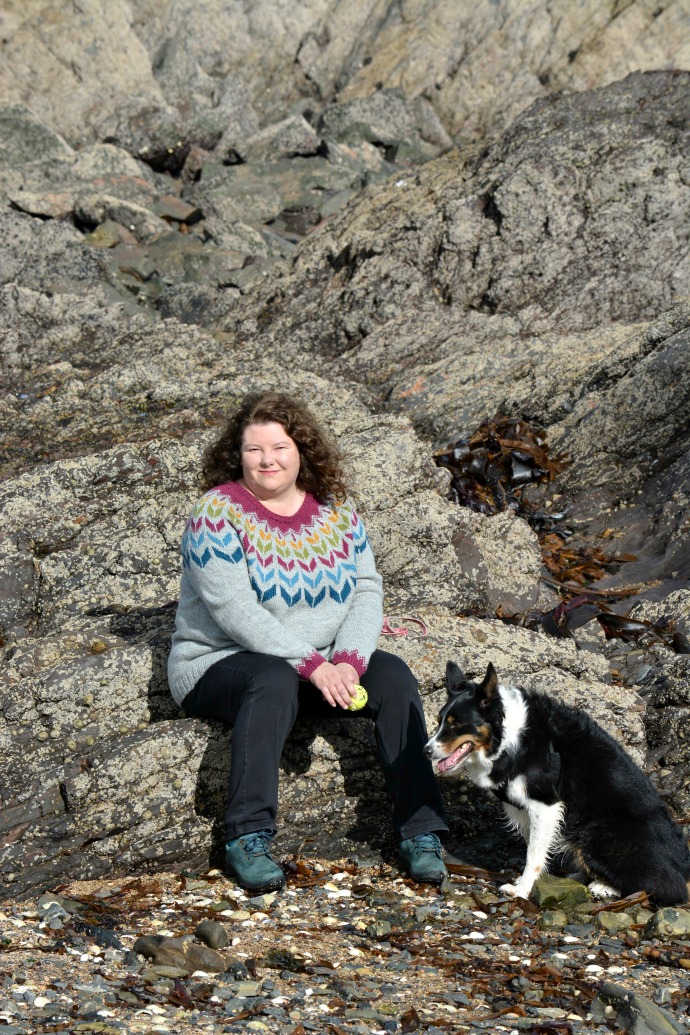 I'm not a slender person at the best of times, not that I don't try to shed some of the extra pounds that have accrued over the years, but really, a sweater project that requires 22 balls of premium yarn, as a first sweater project, has too much invested in it, if I mess things up. At least that was what I'd tell myself.
The style of the sweater was also a big issue for me. A skinny fitted sweater is not a good look on me. I prefer to camouflage any bulges. For me, knitting a sweater, is not going to be a particularly quick project. Lots of patterns don't go up to the size I want to knit, as I prefer a bit of positive ease rather than negative ease, which can be immensely frustrating.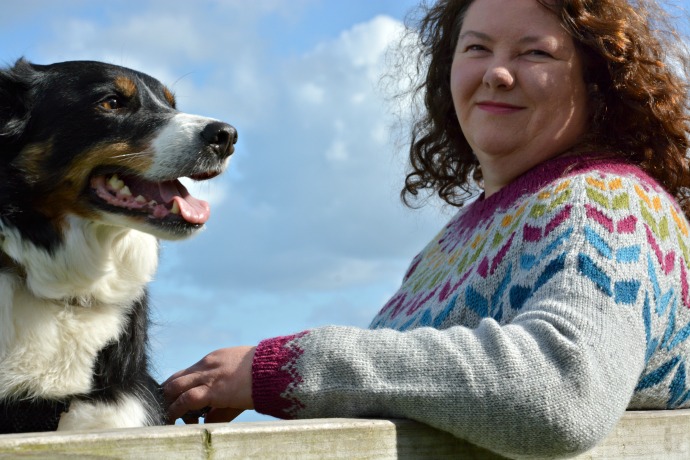 I read through the Joyride sweater pattern (like Dumbledore, I also love reading knitting patterns!) and decided that I'd knit the sweater in the specified yarn. Choosing to knit Joyride sweater was a reasonably priced option as the Drops Karisma that I bought from Purple Sheep Yarns (who specialise in Drops yarns) didn't break the piggy bank!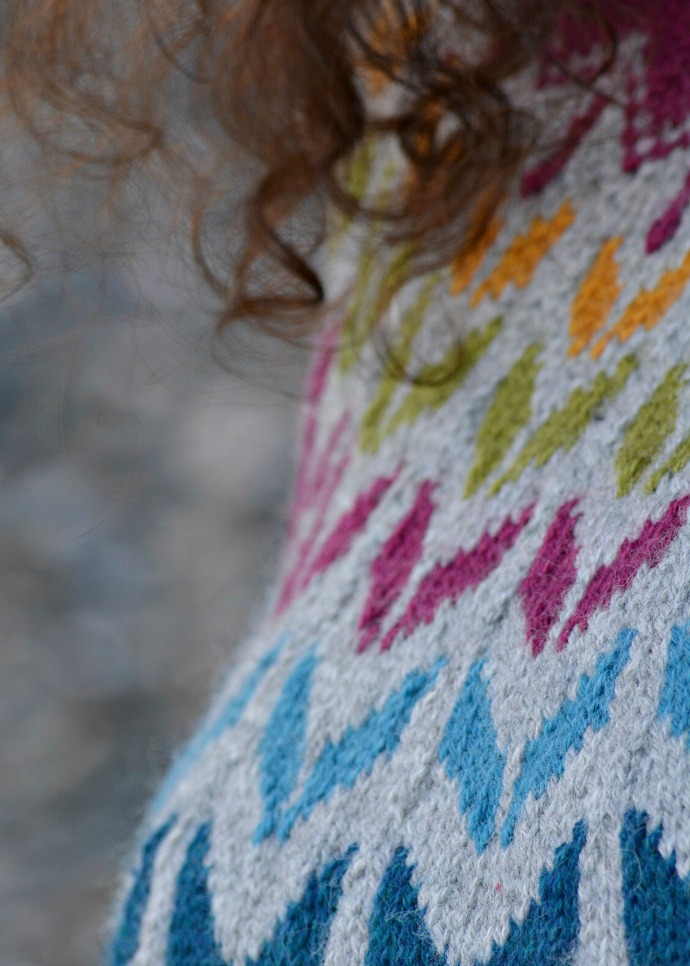 I wasn't sure about the colours '11 Orange' and '62 Dark Mustard', so I bought a couple of different colours to give me some choice. In the end the main change I made was to swap the orange for '45 Light Olive'. I also used a slightly darker shade of grey than the one that was specified. I chose '44 Light Grey Mix' as my main colour. The other colours used are '39 Dark Old Rose', '73 Petrol Mix' and '60 Blue Turquoise'. I did consider switching one of the blue shades for a dark purple but decided not to.
I knit a swatch and actually obtained the correct tension using the suggested 4mm needle size in stocking stitch. Since then, I've realised how lucky I was to have this happen for my first sweater project!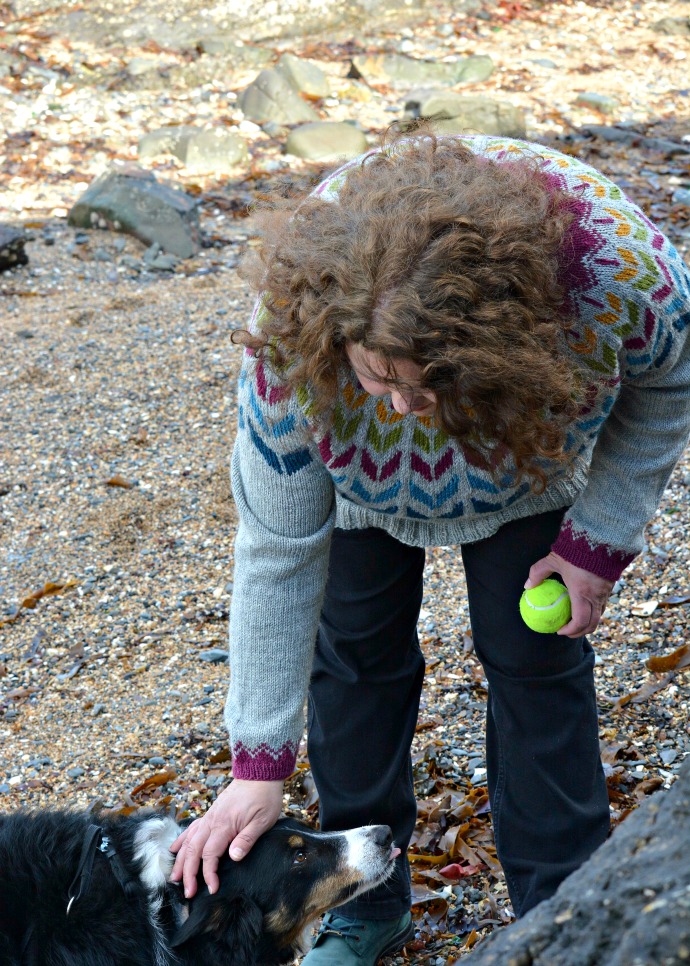 Taking a deep breath I cast on and knit the garter stitch edge, then continued on for 2 balls of yarn in stocking stitch… I became concerned about how the edge flipped up and wouldn't lie flat. I had a look on Ravelry and noticed that some other projects had the same issue. Maybe this problem would have gone away with blocking, but I didn't really want to finish a sweater and find that I didn't wear it because the lower edge flipped up. I'm not sure why this happened and if anyone can suggest what I could have done to prevent this I'd be really interested to know.
So I frogged…
I cast on again and decided to knit the rib using k1, p1 rib using the smaller needles. I wanted to retain the look of the sweater so I thought I'd knit about 2.5cm/1″ of rib initially. So it wouldn't be obvious. But I changed that to 5cm/2″ instead. Then I switched to the larger needles. I was loving how the gorgeous grey wool was knitting up and am glad that I chose this shade instead of the paler pearl grey. For me it feels like a sensible choice as it won't show marks so easily. I used Karbonz interchangeable needles.
For some reason, I thought it would be a good idea to knit the sweater longer than specified in the pattern. At the time, I think I pictured myself wearing the jumper with leggings. Experienced sweater knitters will laugh when I say that I panicked around this point and decided I wouldn't have enough grey yarn, and ordered some additional balls of the grey…
I knit the sleeves…
Then the project was left lingering in a bag for several months as I wasn't able to knit for a while.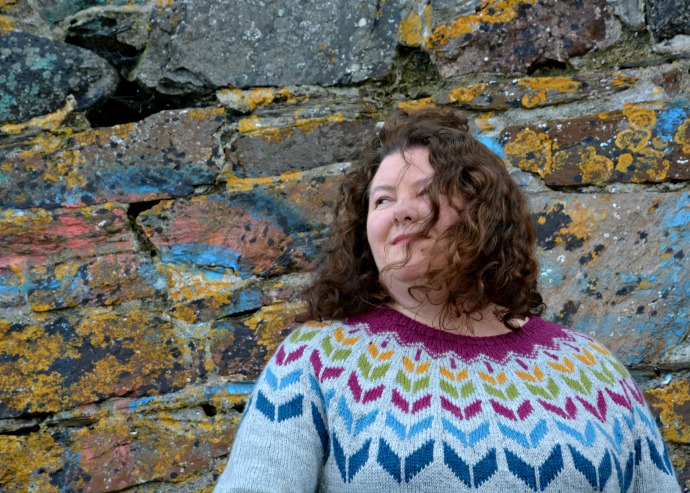 I finally returned to Joyride sweater towards the end of July. My nieces and my mum had fun helping me choose the colours to use for the stranded yoke and the order in which to knit them.
The great thing was, that when I came back to Joyride, I only had the exciting element to knit – the yoke.
Then I tried the sweater on. Oh. My. Goodness. So disappointing. It looked terrible. At this stage I wasn't quite sure what I didn't like about it.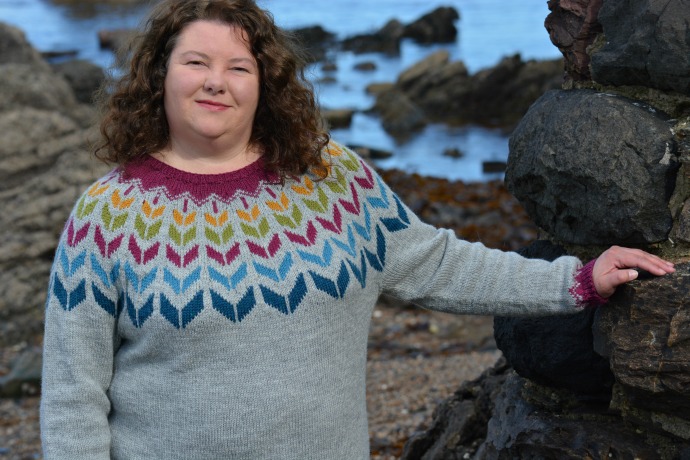 I'd definitely knit the body too long. I came to this realisation when I was out and noticed a chap wearing a sweater and thought to myself, that sweater is too long. If it was a bit shorter it would be much more flattering on him. It is odd how sometimes, it is when you see a garment on someone else, you realise what the problem is with your own project.
The next day, I carefully measured 15cm/6″ from the lower edge of my sweater and picked up the stitches on that round. Then I snipped the bottom of my sweater off a couple of rounds below the circular needle. Having cleaned up the edge, I started knitting the 5cm/2″ of rib. I didn't go down a needle size as I didn't want the rib to pull in at the bottom of the sweater.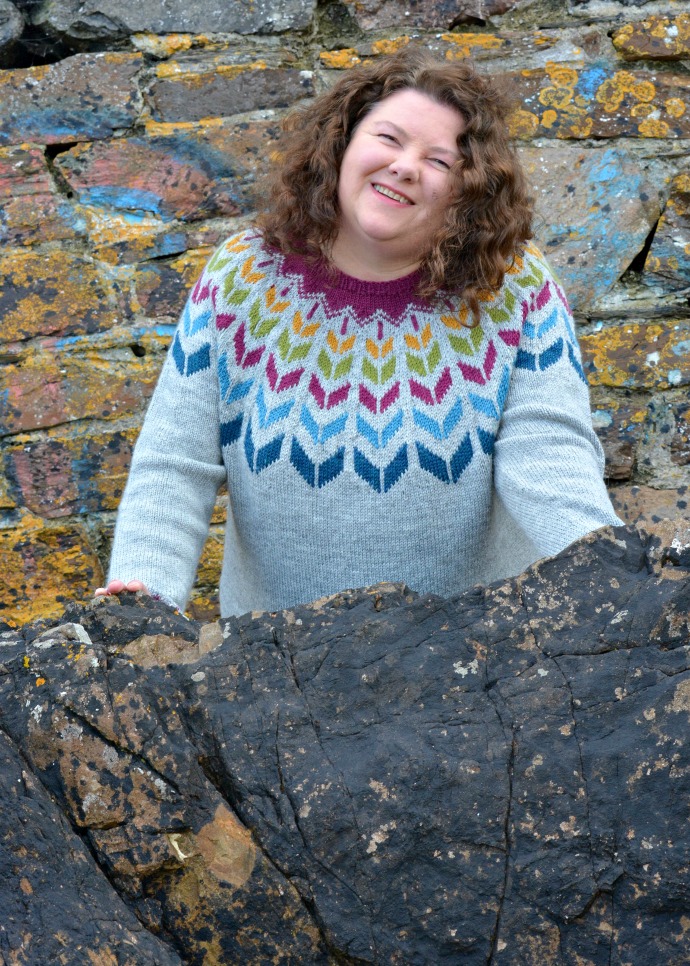 It was completely worthwhile in the end! The pattern was very well written and easy to follow. The majority of problems encountered were because of my inexperience with knitting garments. I'd definitely knit this sweater again in a darker colour. I think it would be amazing with a charcoal grey for the main colour.
I love this sweater. It is a very warm jumper for the colder winter months.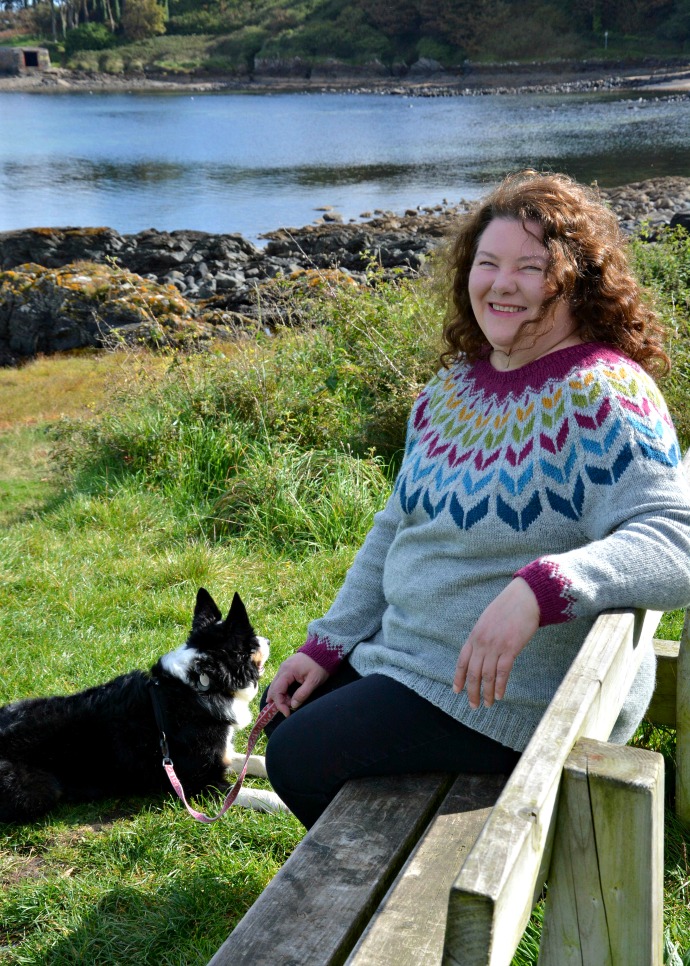 Lots of people like to choose a word for the year. For 2018 I have chosen Mindfulness as my word. I shall be mindful when I take my medication, I shall be mindful and take time to enjoy the fresh air and beautiful views when I am out for my daily walk and I shall be mindful about what I eat. In 2018 I intend to improve my health and energy. I've also started a gratitude journal. It helps remind me, that although these may not be the most flattering photographs ever taken of me, I am grateful to still be here to enjoy this inspirational world with the people I love.
Have you chosen a word for 2018?