I wanted a simple and elegant shawl for wearing as a cosy scarf. I find this style of shawl very comfortable and easy to wear. This is a very easy shawl to knit and great for working on while chatting to friends or watching a movie. Just Knit It shawl is a gorgeous shawl pattern designed by Susan Ashcroft aka Stitchnerd Designs. I really love her wonderful easy to wear designs. I knit her beautiful Lightwaves Shawl in May 2013.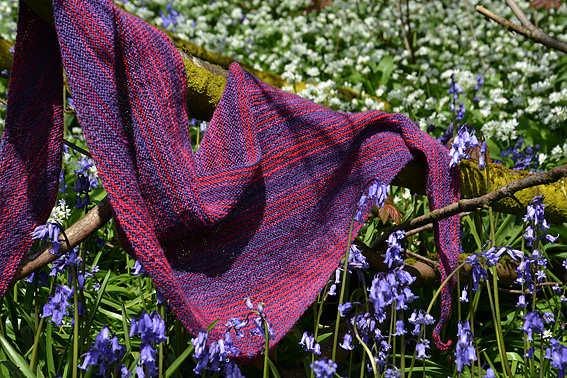 It is a couple of years since we have walked through the bluebells. Spring for the last few years has been unseasonably cold and wet in Belfast. When it is cold and wet, the nettles tend to grow more quickly than the bluebells and often hide them before they are in full bloom.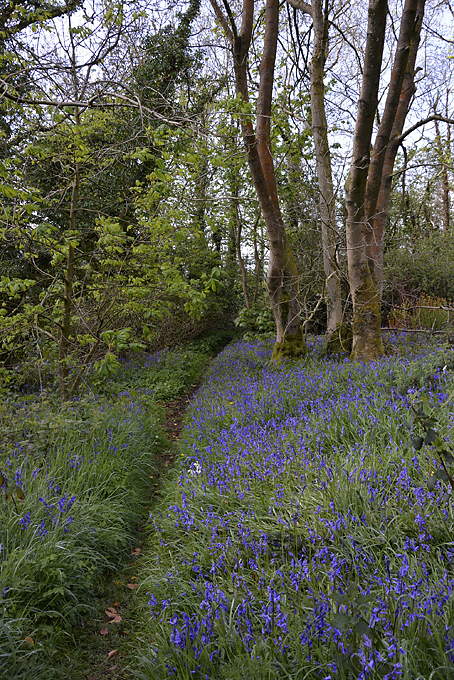 When we were kids, we often went up to the bluebell walk with a picnic for my sister's birthday in early May. But it hasn't been warm enough this year for a picnic. The weather today was very changeable… intermittent sun… cloud… and showers… so it felt more like April than mid May.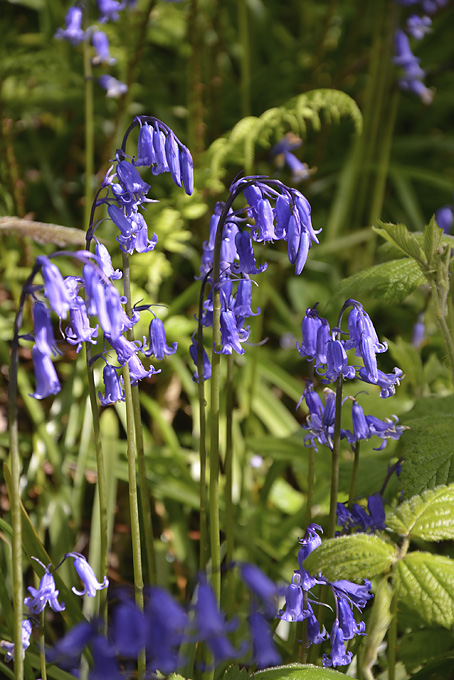 I cast on for this long narrow triangle shaped shawl as I began recuperating from a bug that laid me low earlier in the year.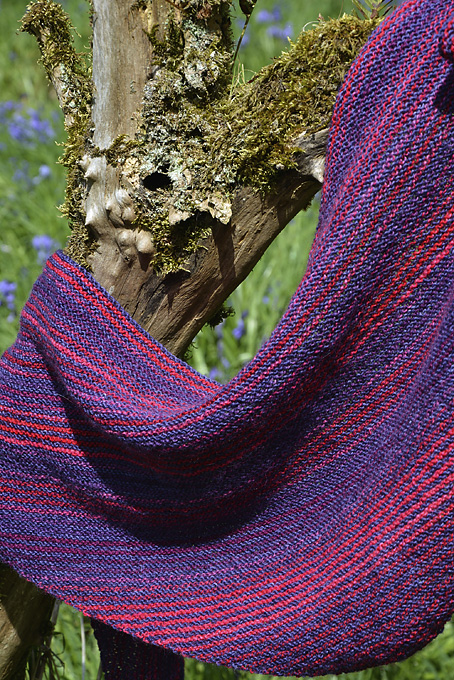 I needed a relaxing project that I could knit without looking at it as I felt dizzy and nauseous every time I looked down. The Just Knit It Shawl was the perfect choice.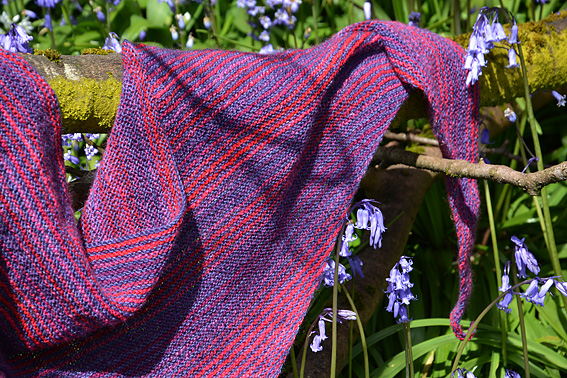 I used one ball of Crazy Zauberball in colour Indian Rose contrasted with a dark purple hand dyed semi-solid Blue Faced Leicester 4ply sock wool. This is a gorgeous richly toned colour combination. One of my favourites. The Hand Dyed BFL 4ply sock yarn is from my vibrant new range. It is a gorgeous 100% superwash and soft bluefaced leicester wool in a stunning selection of saturated colours.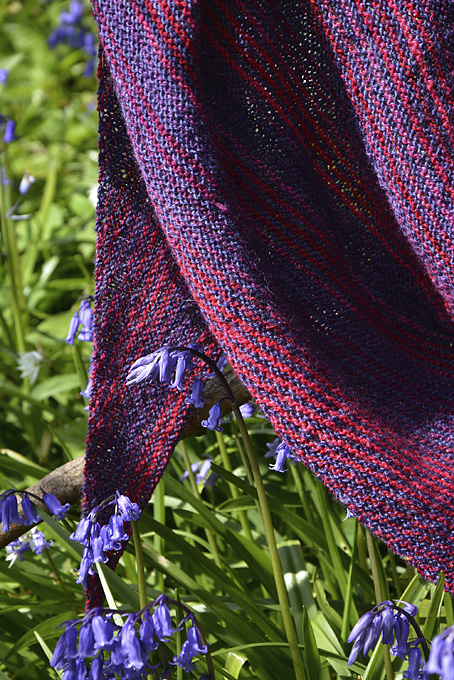 I decided that I wasn't going to knit an edging, so I just kept knitting stripes until I thought I had enough of the main colour to cast off. As ever with a Stitchnerd Design shawl, the pattern was clearly written and easy to follow. You know how it is… you roughly judge whether you've enough yarn to knit one more row and cast off and as the yarn starts to get shorter and shorter… you breathe in and hold your breath (as though that will help eke out another couple of metres)…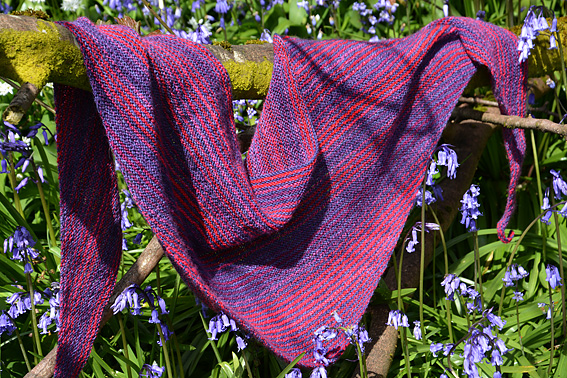 Did I have enough? Not quite… and as I wasn't feeling well at the time… and didn't feel up to unknitting a few rows… I fudged it! I found a dark piece of Crazy Zauberball and used a Russian join to attach it using a  to the main colour. Then I finished off by casting off and sewing in the ends.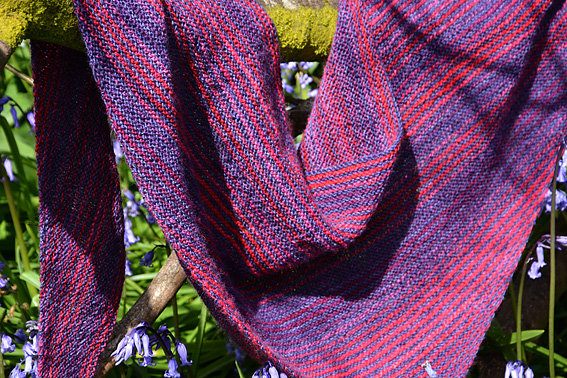 I love how this shawl looks. It is so fabulous. Its a nice sized shawl and looks beautiful on. I'll definitely knit this in a different colour combination at some point. Just Knit It is a lovely very wearable shawl.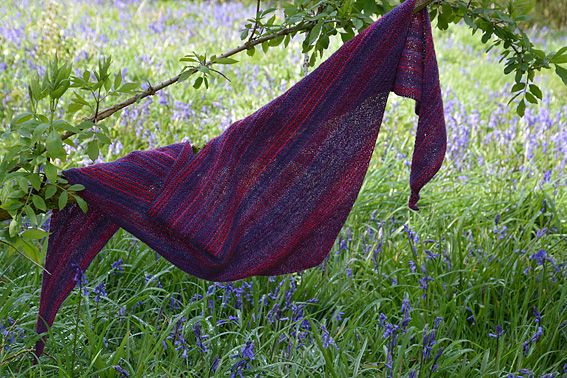 There really is nowhere more beautiful than the Cavehill when the bluebells are out. We had such a wonderful walk wandering along one of the old overgrown paths through the woodland. I love watching out for the odd solitary white bluebell within the blue haze spreading out around us.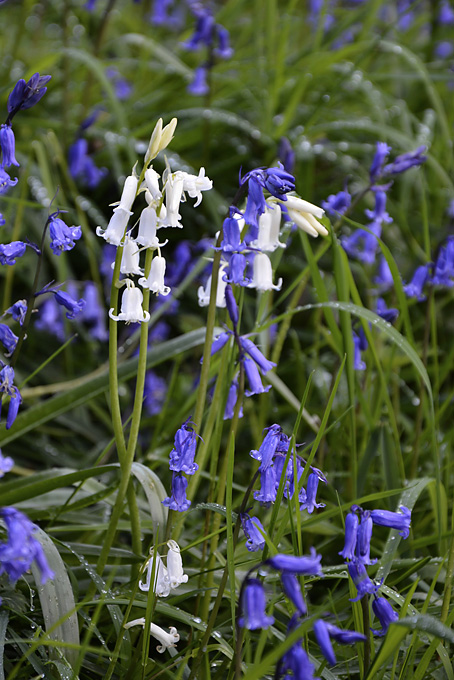 We spread out our coats and sat on them and enjoyed a flask of tea and a biscuit surrounded by a sea of bluebells. Blissful.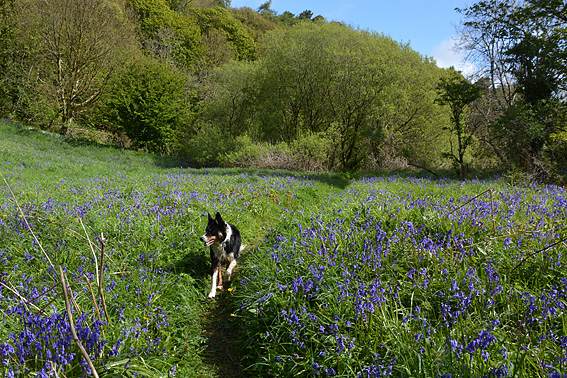 I hope you've had the chance to enjoy the pleasure of a bluebell walk this year. A touch of the magical world around us.