Gosh, on a cold winters night is there anything as nice as toasting your toes in front of the fire with a mug of hot tea and a couple of biscuits… yes, this can be improved by adding a pair of warm hand knit socks onto those toes!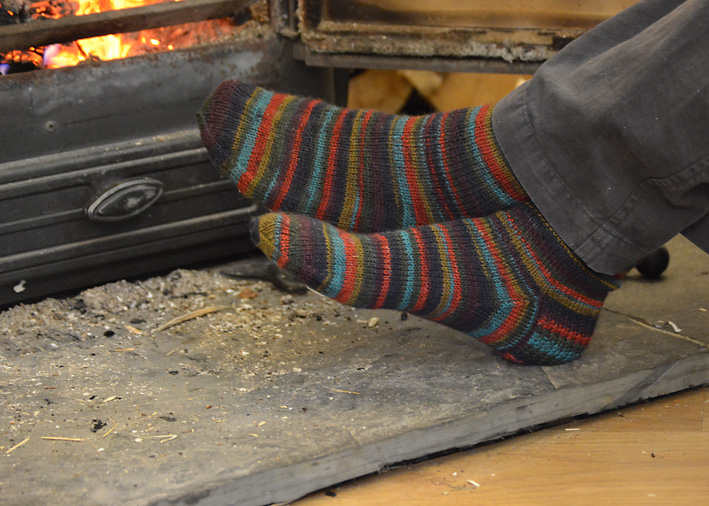 Some sock yarns are just perfect for a pair of men's socks particularly if he prefers socks that are a little more subtle in their colour scheme. One of my favourite sock yarns is Shadow Stripe 3871 from the Regia Kaffe Fassett Design Line. The great thing about Regia sock yarn is that it feels nice to wear but is a machine washable tough hard wearing sock yarn.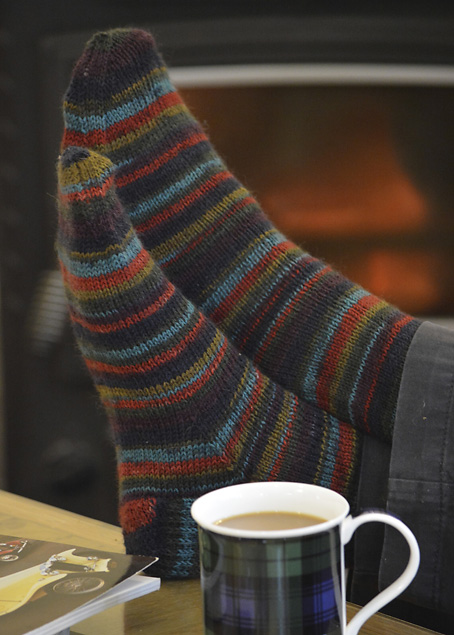 The wonderful thing about hand knitting socks is that you can tweak them so that they fit the person you're knitting them for like a sock should. When I'm knitting socks for Neil, it's best to cast on 60 stitches for his leg (he's tall and slim), but after doing the heel and gusset shaping stop decreasing stitches when there are 64 stitches on the needles. He has broader feet. Having bespoke socks that fit well is one of the joys of hand knitting them. You'll also notice that these socks are fraternal twins as I didn't match the stripe pattern. I know I should have matched them, but when I cast on the second sock, it was late at night and I didn't want to disturb Neil by looking for the first sock. So I just cast on.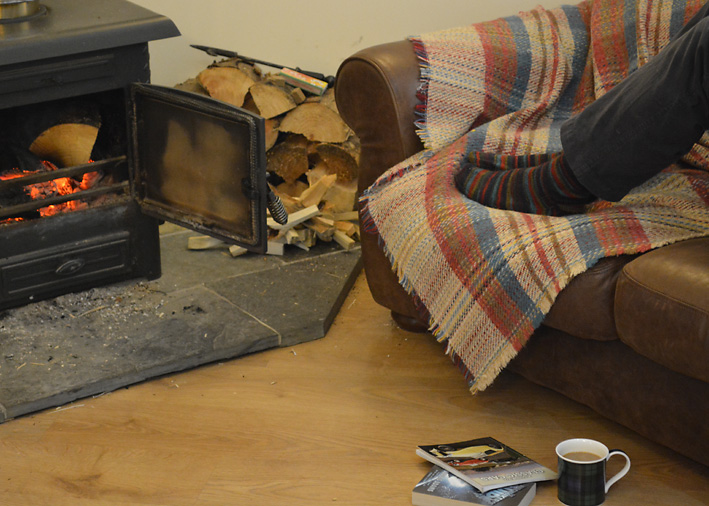 I like trying different ways of knitting socks when I come across them. With this pair of socks, I'd been reading 'A Cuff Above' 23 Knit Designs by Cynthia Guggemos, as I'd decided to cast on the Lucy Anklet Socks as I wanted to knit a pair of lacy cuff socks. As I read the pattern I noticed that she knit the Heel Flap over an uneven number of stitches. This mean't that she slipped a stitch at the start of the row and slipped a stitch at the end. I thought this might be useful when it came to picking up the stitches for the gusset. So I decided to try this on Neil's socks but combined with my usual slip stitch heel.
This isn't a pattern as such but it is what I did for Neil's pair of Kaffe Fassett Shadow Stripe Socks. I used 2 50g balls of the yarn (which can be bought in our yarnshop here). A few abbreviations: dpns – double pointed needles; k – knit; p – purl; ssk – slip, slip, knit; p2tog – purl 2 together; tbl – through back loop. My tension for these socks was 8 stitches and 10 rows per 2.5cm/1″. I used 2.75mm bamboo dpns (set of 5) and a tapestry needle for finishing.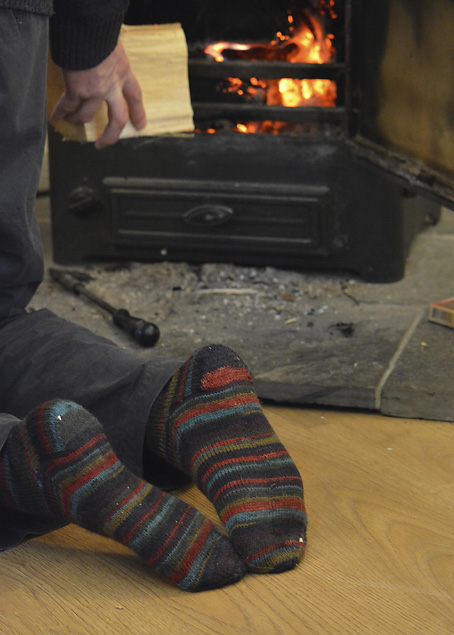 I cast on 60 stitches and joined into the round being careful not to twist the stitches. I used 2.75mm double pointed needles to knit 15 rounds of k1, p1 rib. The leg consisted of 55 rounds of stocking stitch. For me the start and end of a round occurs where the stitches were joined and I like to keep this at the centre back of the leg.
Then I was ready to start the heel flap. When I finished knitting the leg, using needle 4, I continued knitting across needle 1, and then one stitch from needle 2. So I have 31 stitches on this needle for knitting the heel flap. The instep has 29 stitches.
Heel Flap:
Row 1: *slip 1, p1, repeat from * until last stitch, slip 1, turn
Row 2: knit
Repeat Rows 1 and 2, 14 more times. 30 rows total for the heel flap.
Turn Heel:
Row 1: p18, p2tog, p1, turn
Row 2: slip 1, k7, ssk, k1, turn
Row 3: slip 1, p8, p2tog, p1, turn
Row 4: slip 1, k9, ssk, k1, turn
Row 5: slip 1, p10, p2tog, p1, turn
Row 6: slip 1, k11, ssk, k1, turn
Row 7: slip 1, p12, p2tog, p1, turn
Row 8: slip 1, k13, ssk, k1, turn
Row 9: slip 1, p14, p2tog, p1, turn
Row 10: slip 1, k15, ssk, k1, turn
Row 11: slip 1, p16, p2tog, p1, turn
Row 12: knit (19 stitches).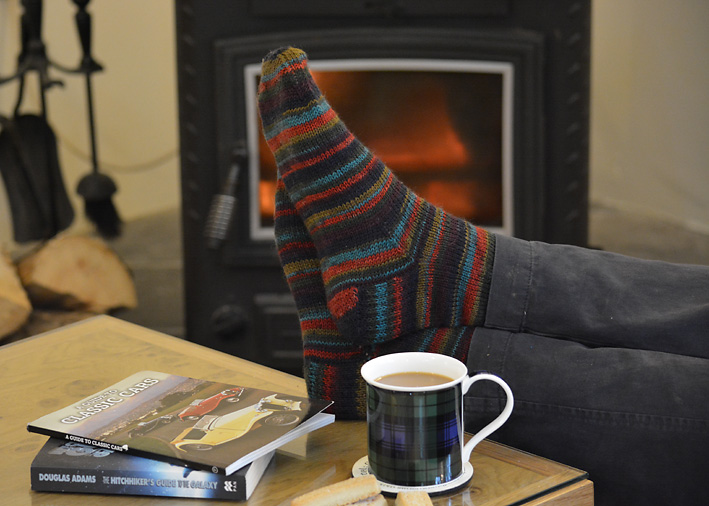 Returning to knitting in the round again. The whole reason for working the heel flap over 31 stitches instead of 30 was to give the slip stitches along each side of the heel flap to make it easier to pick up the stitches for the gusset. I did find this to be the case.
Gusset
Note: There are 15 slip stitches on either side of the heel flap and the extra 2 stitches are picked up at the gap between the heel flap and the instep stitches. There are a few different ways of doing this to prevent the small hole or gap at the top of the heel flap where it joins the foot of the sock. Kate Atherley has a very short video on the Interweave Store where she picks up a couple of stitches at the top of the heel flap into the leg of the sock. A different method is shown in this Youtube video by KatAutumn. Both give a pretty neat finish.
Set up Round: Pick up and knit 17 stitches along the edge of the heel flap.
Knit across the 29 instep stitches.
Pick up and knit 17 stitches along the edge of the heel flap. Then knit across the first 9 stitches of the heel.
This is the starting point for the following rounds.
Before you start the next round, slip the other 10 heel stitches onto needle 1. At this point each needle has a different number of stitches on it. Needle 1 – 27 stitches, Needle 4 – 26 stitches, Needle 2 – 14 stitches and Needle 3 – 15 stitches. Yes, I found this a little confusing at this stage too.
Gusset Shaping
Round 1: k10, (k1 tbl) 17 times, k29, (k1 tbl) 12 times, k9
Round 2: k
Round 3: Needle 1: k to last 3 sts, k2tog, k1; Needles 2 and 3: k; Needle 4: k1, ssk, k to end of needle.
Round 4: k
Repeat rounds 3 and 4 until there are 18 stitches on Needle 1, 14 stitches on Needle 2, 15 stitches on Needle 3, 17 stitches on Needle 4. (64 stitches in total).
Rearrange the stitches so there are 16 stitches on each needle. I slipped 2 stitches form needle 1 onto needle 2 and 1 stitch from needle 4 onto needle 3.
Foot
Knit 44 rounds. (this can be changed depending on the foot length).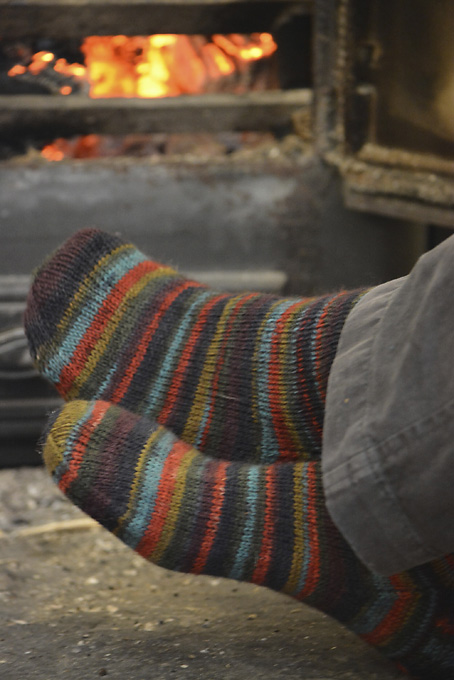 Classic Toe
Round 1: Needles 1 and 3: k to last 3 sts, k2tog, k1; Needles 2 and 4: k1, ssk, k to end of needle.
Round 2: k
Repeat rounds 1 and 2 until there are 4 sts on each needle. (16 stitches).
Making sure that the toe stitches align with the heel, slip the stitches from needle 4 onto needle 1 and the stitches from needle 3 onto needle 2. 8 stitches on each needle.
Finish by weaving in all loose ends. I washed and blocked these socks as they were a gift.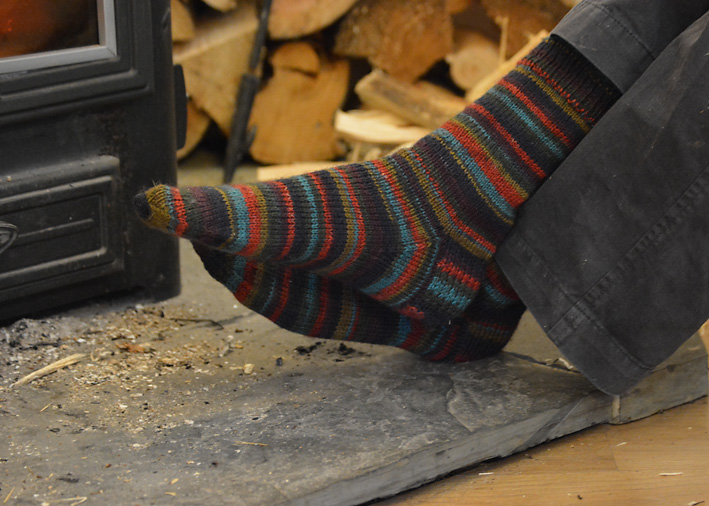 There have been several books published relatively recently that go into a lot of detail with sizing of socks to fit the wearer comfortably. Three of the ones I found particularly interesting and would recommend were 'Sock Architecture' written by Lara Neel, 'Custom Socks: Knit to Fit Your Feet' written by Kate Atherley and 'Big Foot Knits' by Andi Smith.