I was looking for a nice basic Baby Sock pattern to knit as a present for my cousin's baby as we were calling to visit on our way to Co Kerry, and came across this very cute Baby Socks pattern designed by Kate Atherley, while browsing on Ravelry. As Sarah is about 5 months old and it is coming into the summer, I decided to knit the 9-12 months size. She can wear them coming into the Autumn.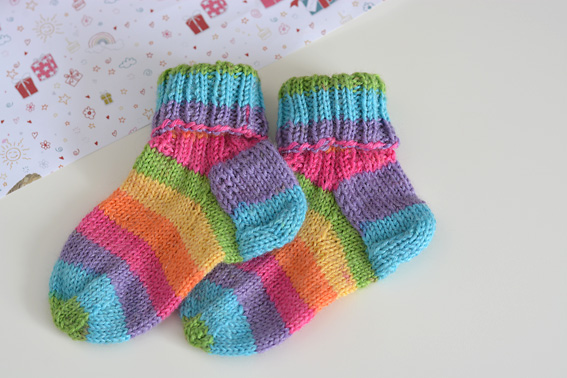 The baby sock pattern is really straight forward and well written. They really are the cutest socks ever! So sweet!
I used some of the sock yarn leftover from knitting my Rum Paradise Socks. The pair of baby socks took less yarn than one of the mitred squares in the Mitred Square Blanket. So it really is a wonderful way of using up some of your leftover sock yarns! Particularly, if you know someone with a new baby.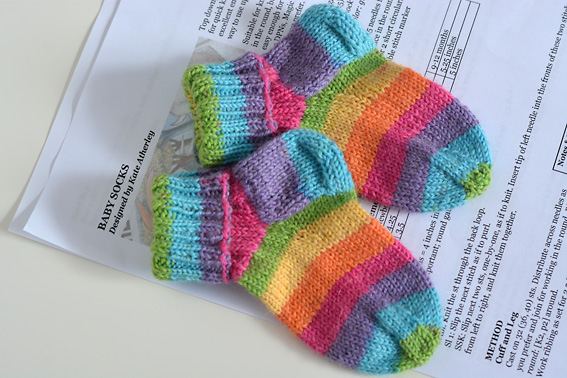 Kate Atherley's Baby Socks pattern has 3 sizes: Newborn, 6 months and 9-12 months. So it really covers all the sizes you might need.
I thought the WYS Cocktail Range in Rum Paradise 822, would be really cute. I love the rainbow stripes for a baby girl, although, I do think they would be cute for a baby boy too. Also, it is handy that they are machine washable at 30 deg Celsius for a new mother. Easy care really is the order of the day for new parents! The WYS sock yarn with the 35% bluefaced leicester feels wonderfully soft.
I would definitely suggest this baby sock pattern if you are thinking of a quick present for a new baby as I was able to knit these in a couple of hours!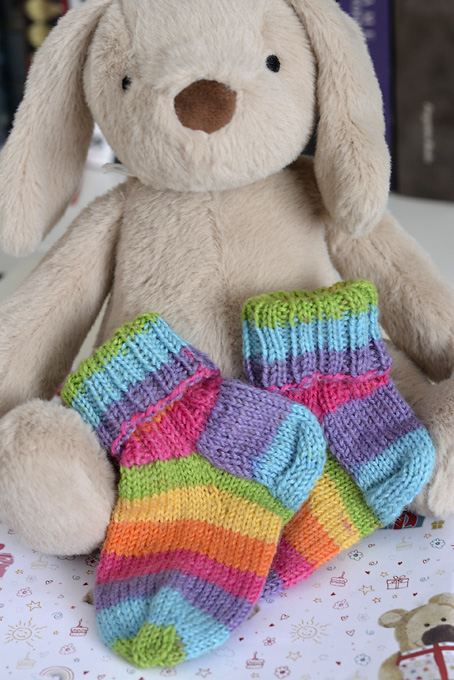 I took the opportunity, of using the socks and the new baby gifts, for photographing for the recent book review, Friday Night Knitting Club Knit Two by Kate Jacobs, before I wrapped them for taking with us.