A review of Knit One, Kill Two, Knitting Mystery Book 1, written by Maggie Sefton. When Kelly Flynn's aunt Helen is murdered, Kelly leaves her job as an accountant in Washington, D.C. and returns to the small town of Fort Connor in North Colorado.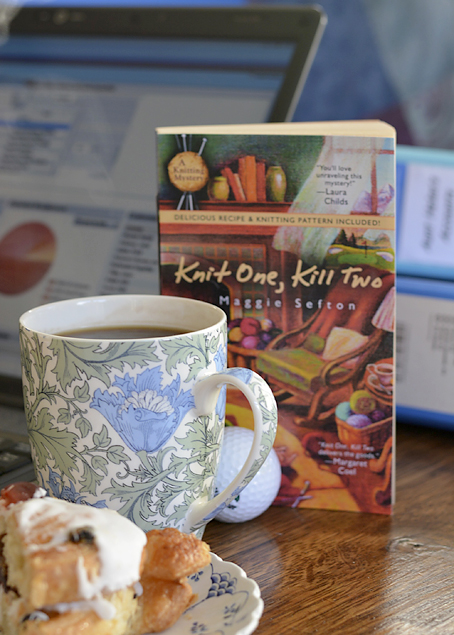 However, what she thinks will take a couple of weeks in April becomes a period of extended  leave working from her aunt's house.
Kelly is soon convinced that her aunt's death is not the result of a burglary gone wrong as the police believe.  She is sure that they have arrested the wrong man.  Then there are the mysteries of the missing $20,000 in cash and family heirloom quilt.  Settling her aunt's affairs is also complicated by a recently arranged restrictive mortgage arrangement.
Kelly is entranced by the small town friendliness of Fort Connor and the thought of going back to her dull and intense life in the city becomes less appealing as she gets to know the locals.  She is reintroduced to softball which she hasn't played for years and she soon realises how much she loves its camaraderie.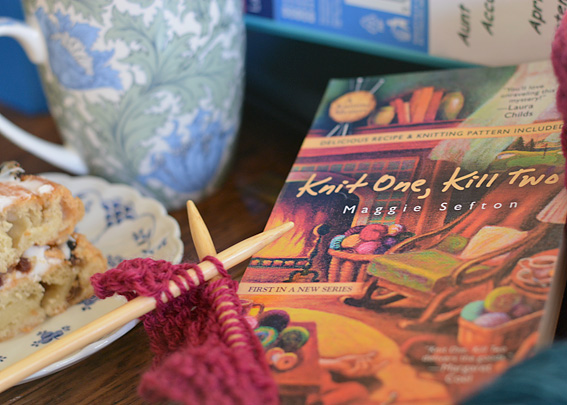 Helen had tried to teach Kelly to knit when she was a child, but Kelly is convinced that she had no talent for the craft.  That changes when she walks into the local re-vamped knitting shop the "House of Lambspun".  She is spellbound.  Her senses are engulfed by the colours of the full skeins of yarn and wool draped over antique displays like languorous rivers.  Azure blues, spring grass greens, raspberry sherbets and all colours of the rainbow begging to be touched.  And when Kelly feels the soft silkiness of the mohair, alpaca, wool and cotton from all around the globe, she can't quite believe that it is yarn.  Before she knows it, Kelly finds that she has become an integral part of the knitting group  and is knitting her very first scarf.
A handsome local architect and builder, Steve, befriends Kelly's Rottweiler,  Carl, when Carl gets into trouble chasing golf balls from the adjacent golf course.  Steve soon moves on to joking and teasing with Kelly. However, Steve reminds Kelly of an old flame, who she had nicknamed "The Slime"; and his teasing and the fact that he is better at softball than her, annoy Kelly no end.  All the same, the other knitting club members soon realise that Steve is actually besotted by Kelly and is just trying to get closer to her.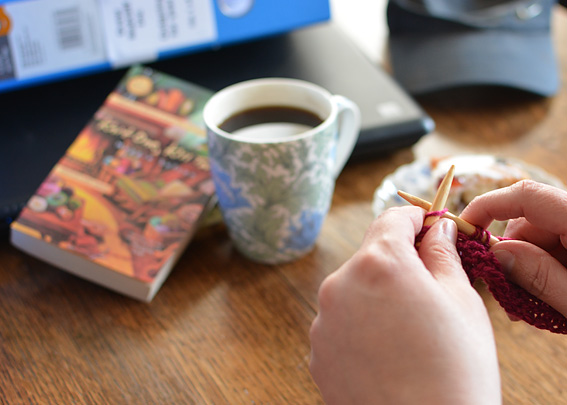 Kelly quickly settles into a way of life working from home and chatting to her new friends Mimi, Lisa, Jennifer, Megan and Lizzie in the knitting shop – with her coffee mug not far away.  However, when Kelly meets a reclusive relative, she is stunned by what she finds out about her aunt's past.
Knit One, Kill Two is the first of Maggie Sefton's Knitting Mysteries series novels based around Kelly and the House of Lambspun knitters.  There are 13 novels to date since this book was published in 2005, so it is proving to be a big hit with fans.  Like Kelly, the author is a recent convert to knitting; she became interested in the craft whilst researching a non-fiction article about knitters in 2003.
I loved the setting for the story.  The yarn shop, with it's busyness, friendliness and yarns from across the globe really appeals to me, as does the rest of the town, with it's cosiness and relaxed pace of life.  The novel is a light relaxed read and has well described characters which are a joy.  It is nicely plotted and keeps you guessing to the end.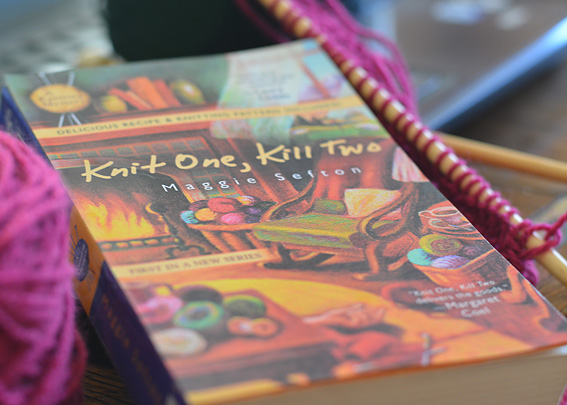 I loved the description of Kelly's frustration as she tried to knit her first few stitches "that was like the labors of Hercules, for Pete's sake.  And that was just one stitch."  I was a bit put off by the humour of the novel at first, as I found the jokes about Jennifer's weight and cinnamon roll addiction a bit too heavy.  But I did warm to the humour later with retired school teacher Lizzie's determination to see what is under a Scottish bagpiper's kilt!
I love a good mystery novel and I love knitting, as you can tell from my site, and Maggie Sefton has combined these two passions in a chatty writing style that is enjoyable to read.