If you love knitting socks, you can't help but to accumulate leftover sock yarn. And if you are anything like me you keep all the leftovers since it is very difficult to throw away yarn that you loved enough to want to buy in the first place. When I started knitting these socks I decided to use lots of different yarns but within  an analogous colour scheme of pinky-purples, purples and blues.  These include a wide range of sock yarns from hand dyed yarns to the lovely printed patterned yarns.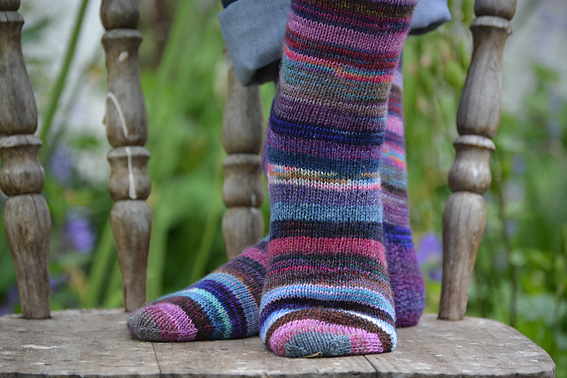 I'll include a cautionary tale at this point!
If you're anything like me your left over sock yarns don't always retain their labels. Mostly, I can remember which yarn is which, but I'd forgotten just how important the nylon content is in sock yarn for the strength of the knitted fabric.
These socks were knit for my sister for Christmas. She loves to wander around on her limestone floor wearing just her socks and no slippers. Unfortunately, one of the stripes turned out to be a very beautiful pale blue superwash merino yarn without nylon in it… the added nylon in sock yarn really does add a little bit of strength to the yarn… This of would not have mattered if the yarn had been a stripe in the leg section but, of course, Sod's Law would mean that this yarn turned out to be the stripe right across the ball of her foot. Yes, you can guess what happened next.
When Pip was visiting a relatively short time later, she brought these socks with her. She took them out of her bag and held them up – with a big hole on each sock in exactly the same place in the same stripe… I was horrified. I mean I've been knitting socks for a long long time and this hasn't happened to any of my socks before – well certainly not within a few weeks…
So I washed the socks by hand (she hadn't washed them in case the holes would get larger), dried them, and then they languished in my to do pile for a few months. What can I say… I prefer knitting new projects than returning to one that I thought of as finished… but I did finally pick these lovely socks up and decide to fix them. I thought about darning the holes but then decided that they would look nicer and be more comfortable if I reknit the socks from the stripe before the holey one.
When you are choosing from your leftover sock yarn stash, if you are in any doubt about a sock yarn not containing a bit of nylon, use it in the cuff or leg section rather than the heel, foot or toe… specially if the socks are a present for someone who likes to pad around wearing their socks without slippers!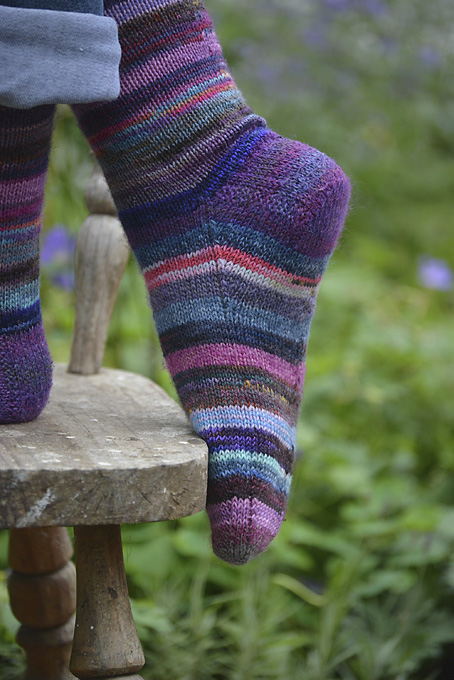 Leftover Sock Yarn Socks
Choosing Yarns
I decided not to be completely random with my choice of leftover sock yarn for knitting these socks. I chose yarns that were within the same colour family. So I chose lots of different sock yarns with different purples and blues in them. Most of the yarns were used only once in each sock but a few were used twice.
Stripes
I thought about having stripes of different widths and mismatching socks but then I felt that I was going to have enough going on in the socks with all the different sock yarns and didn't want the finished socks to look too busy… so I opted for each stripe being 5 rounds. I also used two sets of double pointed needles and knit both socks at the same time. It was the easiest way to keep track of the stripes as I wanted both socks to be as identical as it is possible to be when you are using yarns with some variegation to the patterning.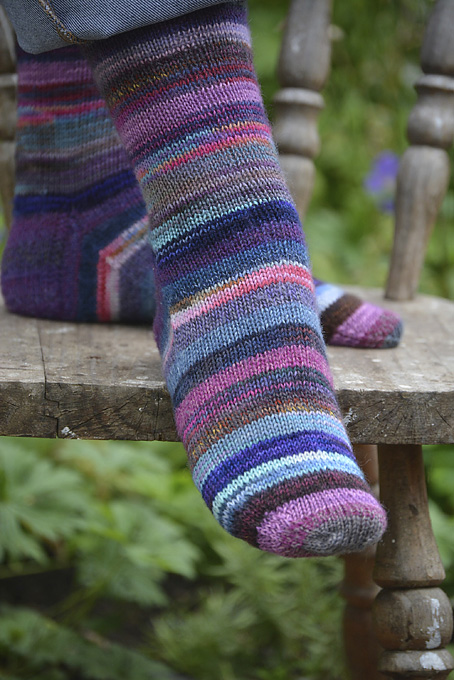 These socks are knit using my favourite basic sock pattern but tweaked slightly to accommodate the stripes.
Yarn
A collection of different leftover sock yarns. There are 30 stripes in the socks so anything up to 30 different sock yarns.
One of them needs to have a larger amount of yarn for knitting a stripe, the heel flap and turning the heel on both socks.
Needles
3.25 mm double pointed needle (dpn) for casting on
2.75 mm (set of 5) dpns for knitting socks
tapestry needle for finishing
Tension
The tension for this sock is 20 rows and 16 stitches / 5cm (2 inch) square in stocking stitch (stockinette). 8 stitches / 2.5cm (1 inch).
Abbreviations
double pointed needle(s) – dpn(s); stitch(es) – st(s); knit – k; purl – p; knit two stitches together – k2tog; yarn over – yo; slip slip knit – ssk; purl two stitches together – p2tog;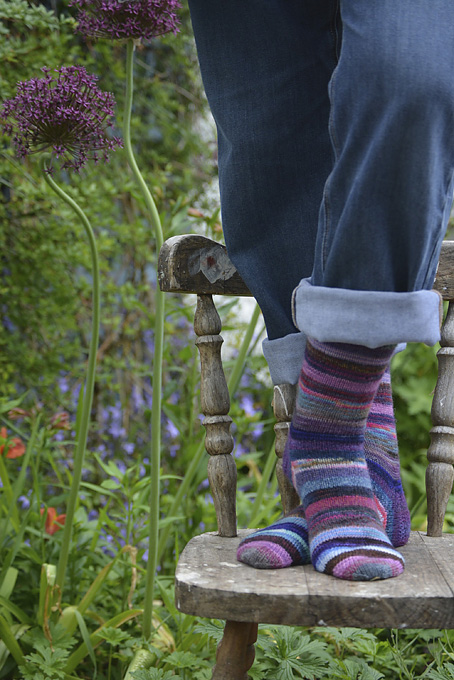 Cuff
Cast on 60 sts using 3.25 mm don using the long tail cast on or a different stretchy cast on.
Join into the round as you rib the first round using 2.75 mm dpns, 15 sts on each needle.
Knit 14 rounds using k1, p1 ribbing.
There are three 5 round stripes in the ribbed cuff. The cast on edge acts as one round of the rib and then I did 4 more rounds to complete the first stripe.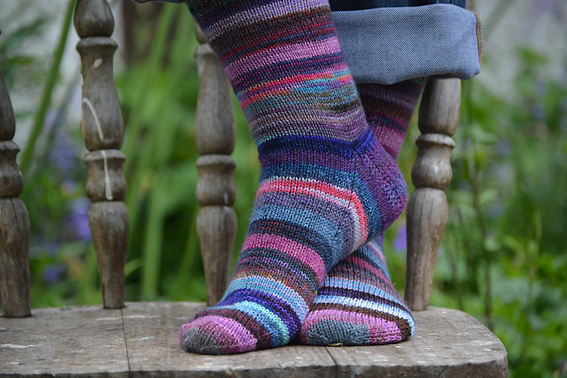 Leg
The leg is knit in stocking stitch so all rounds are knit.
I knit eleven 5 round stripes for the leg.
You can use the jogless jog at the colour changeover if you like a smooth change in the striping.
I knit in the ends of each yarn as I was working the stripes rather than having a lot of ends to sew in when finishing the socks at the end.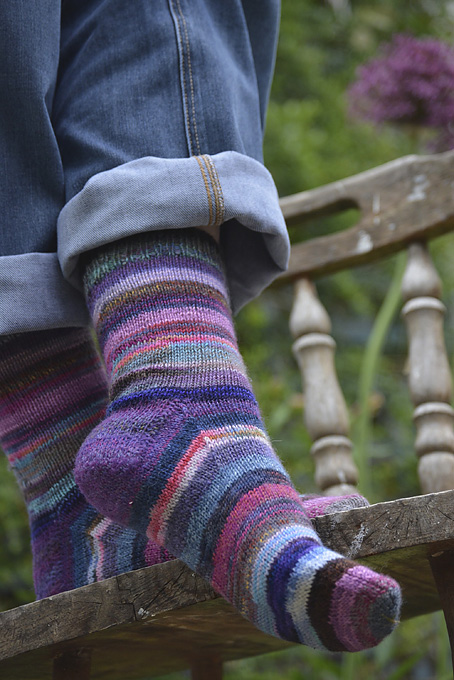 Heel
Heel Flap
After finishing the leg you'll be working the heel flap over half of the total number of stitches, working in rows rather than rounds.
Using the sock yarn that you have the largest amount of, knit across needle 4 and then knit across needle 1, then turn. I used one yarn for the heel flap, turning the heel and the next stripe as I wanted the yarn used for the heel to also feature in a stripe on the front of the sock.
Row 1: k2, *sl 1, p1; rep from * to last 2 sts, k2
Row 2: k
Repeat rows 1 and 2 fourteen times more. A total of 30 rows.
Turn the Heel
Row 1: p17, p2tog, p1, turn.
Row 2: sl 1, k5, ssk, k1, turn.
Row 3: sl 1, p6 (1 stitch remains before the 'gap'), p2tog (combines the stitch before the 'gap' and the stitch after the gap), p1, turn.
Row 4: sl 1, k7, ssk, k1, turn.
Row 5: sl 1, p8, p2tog, p1, turn.
Row 6: sl 1, k9, ssk, k1, turn.
Row 7: sl 1, p10, p2tog, p1, turn.
Row 8: sl 1, k11, ssk, k1, turn.
Row 9: sl 1, p12, p2tog, p1, turn.
Row 10: sl 1, k13, ssk, k1, turn.
Row 11: sl 1, p14, p2tog, p1, turn.
Row 12: k16, ssk, k1. (18 stitches)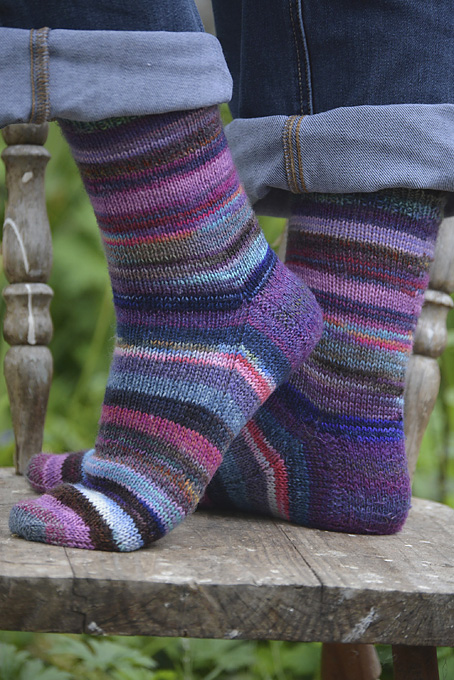 Gusset
Continue knitting using the same yarn, without turning, as you will now be knitting in rounds again.
Pick up and knit 16 stitches along the edge of the heel flap. (Needle 1)
Knit across the 30 instep stitches. (Needles 2 and 3)
Pick up and knit 16 stitches along the edge of the heel flap. Then knit across the first 9 stitches of the heel. (Needle 4)
This is the first round of the next 5 round stripe.
This is also the starting point for the following rounds.
Before you start the next round, slip the next 9 heel stitches onto needle 1. Needles 1 and 4 should have 25 stitches on each. Needles 2 and 3 should have 15 stitches on each.
Gusset Shaping
Round 1: Needle 1: k to last 3 sts, k2tog, k1; Needles 2 and 3: k; Needle 4: k1, ssk, k to end of needle.
Round 2: K
Repeat rounds 1 and 2 until there are 15 stitches on each needle.
These 4 rounds will also complete the first colour stripe.
Continue knitting the gusset. There will be four more 5 round stripes to complete the gusset. Finish the last of these stripes.
Foot
Knit seven 5 round stripes.
Or as many stripes as you need for your foot length.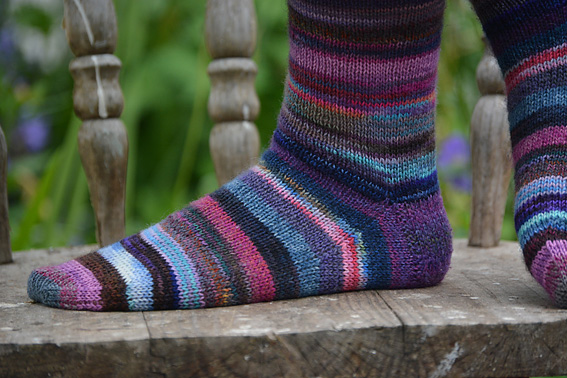 Classic Toe
Round 1: Needles 1 and 3: k to last 3 sts, k2tog, k1; Needles 2 and 4: k1, ssk, k to end of needle.
Round 2: k
Repeat rounds 1 and 2 until there are 4 sts on each needle. (16 stitches).
Work the toe shaping keeping the 5 round colour stripes correct. There are 3 complete stripes on the toe and then a fourth yarn is used to finish the to shaping and to do the grafting.
Making sure that the toe stitches aligns with the heel, slip the stitches from needle 4 onto needle 1 and the stitches from needle 3 onto needle 2. 8 stitches on each needle.
Graft the toe stitches using Kitchener Stitch.
Finishing the Leftover Sock Yarn Socks
Weave in all loose ends. I washed and blocked these socks as I was going to photograph them. For socks knit using hand dyed sock yarn it is worthwhile washing them before wearing them to make sure that any excess dye is removed (particularly if they are a gift). You don't want to find yourself with colourful feet.
Hopefully, Pip will be delighted with her fixed Christmas present even if she has had to wait a while for them to be finished!
The socks are quirky and beautiful! I really want a pair of Leftover Sock Yarn socks for myself now. I really love that every pair will look completely different and utterly unique depending on the colour choices. What a gorgeous way to use up all your oddments of leftover sock yarn!