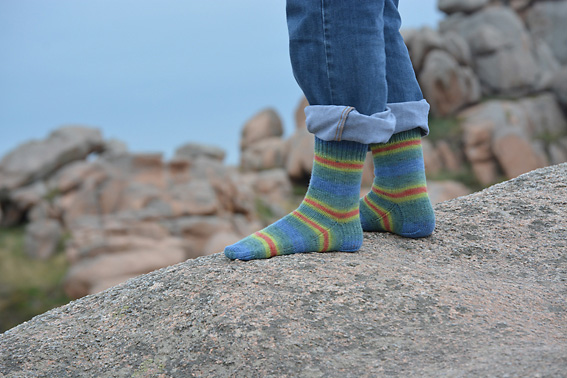 I started knitting the Little Yellow Daisy Socks while we were on holiday in Connemara, Co Galway in June. When the socks were finished and blocked, they ended up in Brittany being photographed on the iconic Pink Granite Coast.
Holiday Sock Knitting: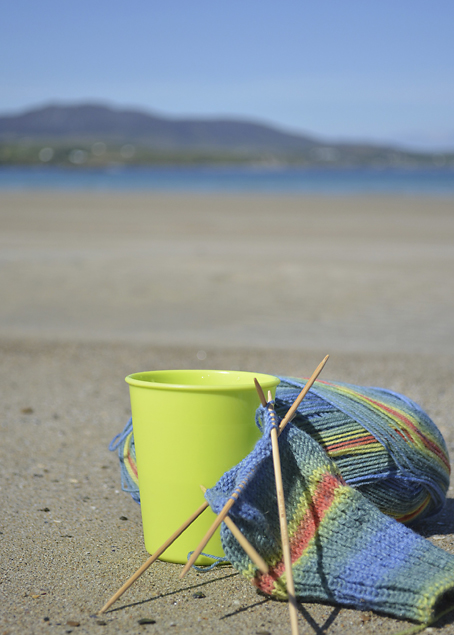 Lettergesh Beach:
I love knitting socks when I'm travelling in the car and Neil is driving. Because I knit socks so often, I can knit and look out at the incredible panoramic views. I was knitting these socks while sitting on Lettergesh Beach, we had a picnic and took the photographs for the Patterns in the Sand book review.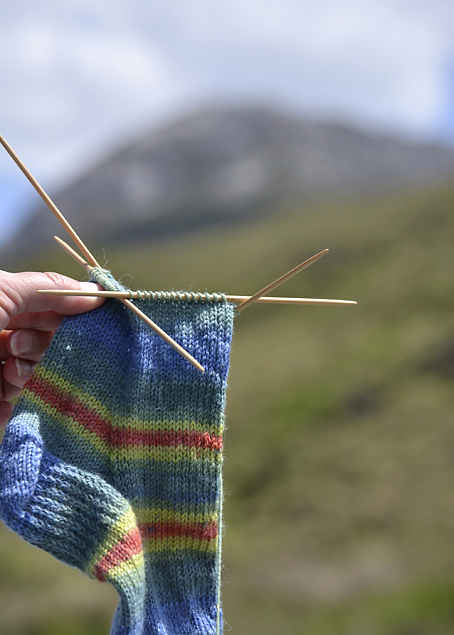 Connemara National Park:
We didn't intend to take such a long walk in the Connemara National Park and certainly not carrying my Midori Traveller's Notebook and knitting amongst other things in my backpack. But I suggested we follow the path through the woodland expecting it to take us towards the carpark only to find ourselves walking up a steep incline and getting closer to the mountain. So the Little Yellow Sock had another photo opportunity.
The Journey Home: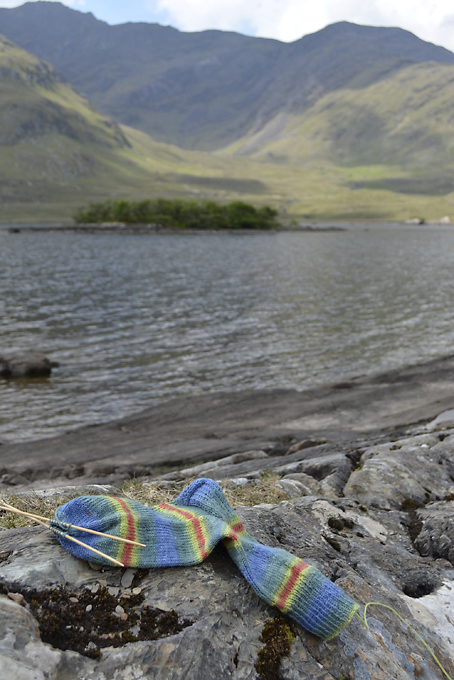 I was knitting the Little Yellow Daisy Socks when we started our return journey to Belfast from Connemara via Co Mayo and Sligo. As we drove past a picture postcard lake, I finished the first sock and we stopped to enjoy a picnic lunch, while I took the opportunity to cast on for the cuff of the second sock. It is great to have a project to knit when you have a very long drive ahead! But what a stunning view.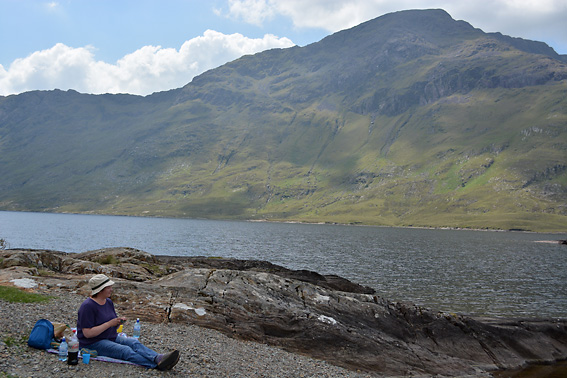 Pink Granite Coast, Brittany:
Once home in Belfast, the second sock got set aside, as often happens with a project that is started on holiday. I finally finished the sock and blocked it in time for going on holiday to Brittany.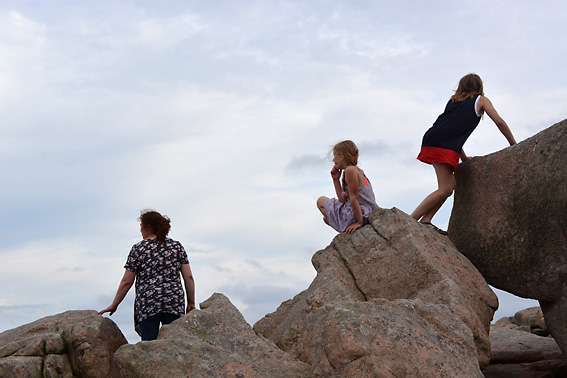 My nieces and I clambered up over the huge pink granite boulders to a lovely viewpoint and then the girls watched with interest while I modelled the Little Yellow Daisy Socks while standing on a large rock. They said it was interesting as they'd never watched a photo shoot before…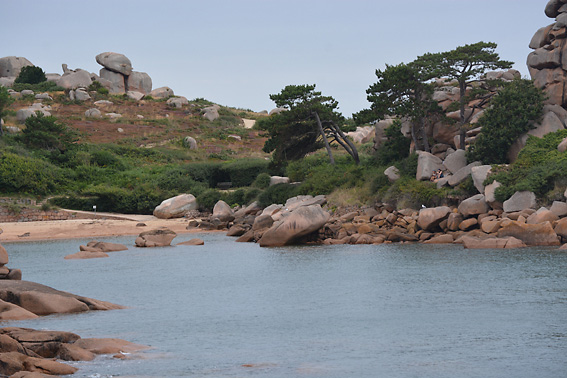 Yes, not only do we go on holiday with projects for me to knit, along with the camera and lenses, we always have a project squirrelled away in my bag everywhere we go, in readiness for the next photo opportunity. This arose when we were walking on the pink granite coast. Such an incredible place.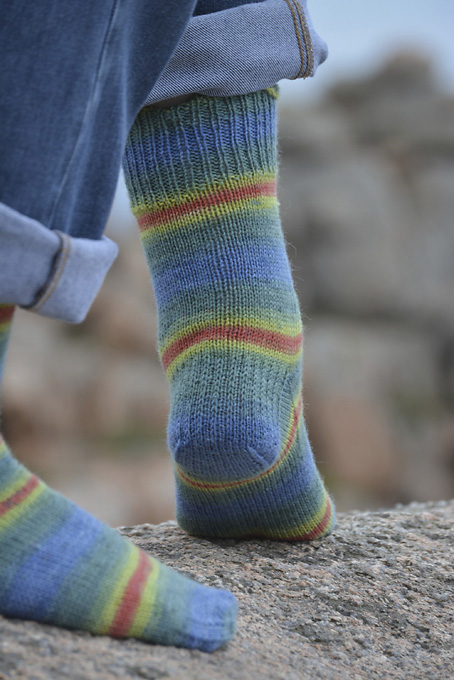 Yarn Used:
I used the Little Yellow Daisy colour 9112 from the Opal Cottage Garden Flowers Sock Yarn collection. This is a pretty yarn although it does have quite a long colour repeat. As usual, I thought quite carefully about how I wanted the stripes to play out in the finished sock.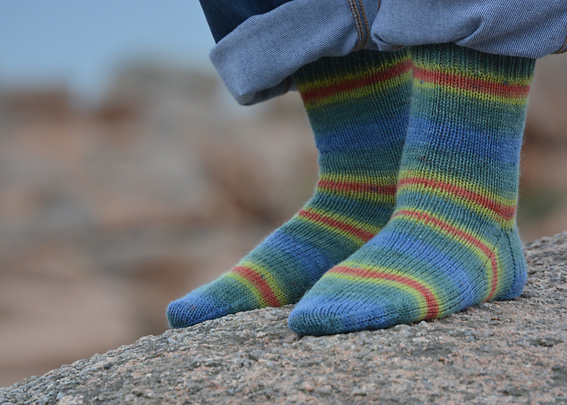 Needles:
3.25 mm double pointed needle (dpn) for casting on
2.75 mm (set of 5) bamboo dpns for knitting socks
tapestry needle for finishing
Tension:
I knit my socks to fit a UK shoe size 5/6 using a tension of 30 sts/42 rounds = 10×10 cm (4″x4″) which works out at 7.5 sts/10.5 rounds = 2.5×2.5cm (1″x1″) when knitting stocking stitch (stockinette stitch) in the round. The circumference of my foot is 21.5cm (8.5″). You don't want your socks to be too loose when you've finished knitting them, so I like a little bit of negative ease. At this point I'm going to talk in inches… sometimes it is just easier… so, 8.5 (foot circumference) x 7.5 (tension) = 63.75 stitches. I like my socks to have about 5% negative ease. So, 63.75 ÷ 100 x 95 = 60.56 stitches. I round this down to 60 stitches for knitting my socks.
Abbreviations:
double pointed needle(s) – dpn(s); stitch(es) – st(s); knit – k; purl – p; knit two stitches together – k2tog; yarn over – yo; slip slip knit – ssk; purl two stitches together – p2tog;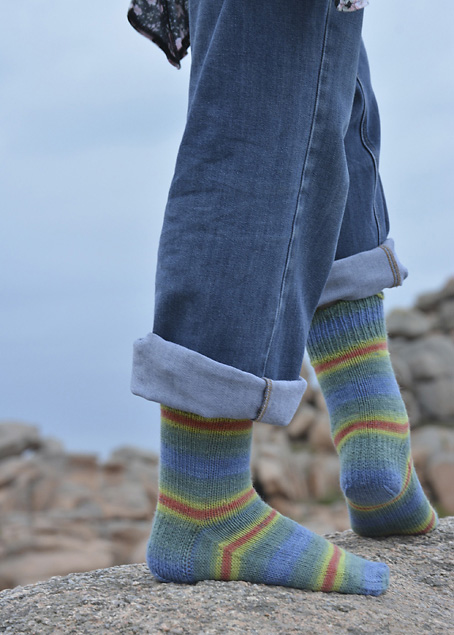 Cuff:
I unravelled yarn until I reached the end of the narrow rusty orange stripe. I measured 66 cm/26″ of the chartreuse after the end of the rusty orange stripe and made a slip knot (this allowed a 12 cm/5″ for darning in at the end). I cast on 60 stitches using the long tail cast on on a 3.25 mm needle and then changed to my 2.75 mm bamboo double pointed needles to work the rib section in the round.
With this sock yarn, I had decided to allow the wide teal/blue stripes to decide how long the cuff and leg sections would be.
So I knit the 1×1 rib until I finished the teal colour and was about to start the chartreuse. For me this was 28 rounds of rib.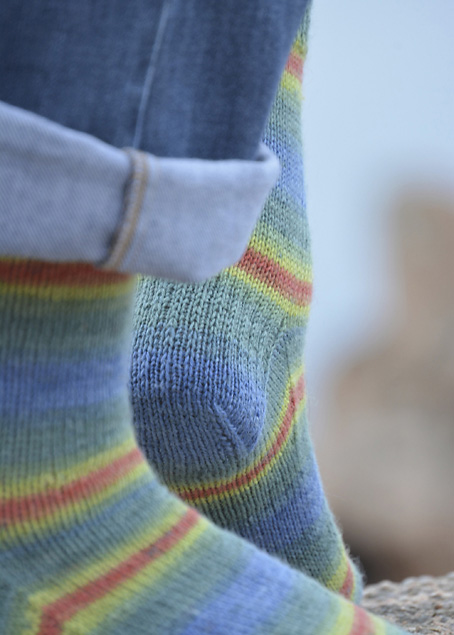 Leg:
I started knitting the leg section from the start of the chartreuse stripe followed by the rusty orange then the chartreuse stripe. Then I knit through a complete repeat of the teal/blue/teal followed by the chartreuse/rusty orange/chartreuse striped section again. Then I knit 2 more rounds of teal after the chartreuse stripe before starting the heel flap. This turned out to be 45 rounds for my sock.
I finished the leg at the Centre Back then knit across the  stitches on needle 1 using needle 4. There are 30 stitches on needle 4 which are used for knitting the heel flap.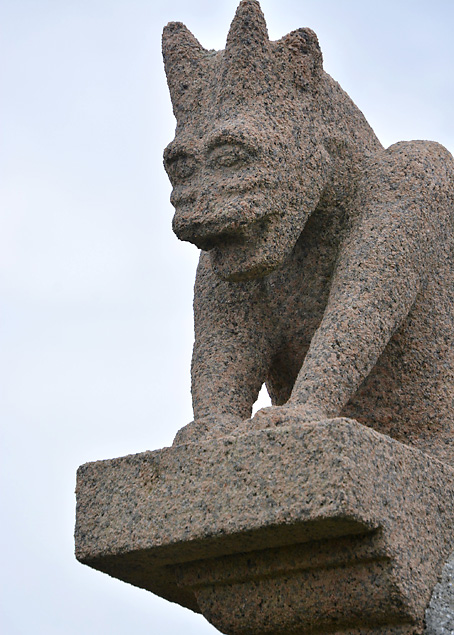 The Heel:
Heel Flap:
After finishing the leg you'll be working the heel flap over half of the total number of stitches, working in rows rather than rounds.
Row 1: *sl 1, p1; rep from * to end.
Row 2: sl 1, knit to end.
Repeat rows 1 and 2 fifteen times more. A total of 32 rows.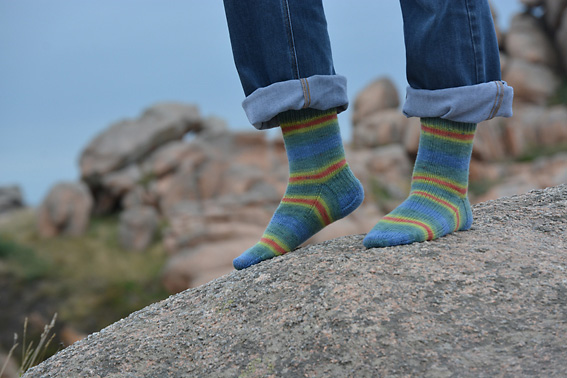 Dutch or Square Heel Turn:
The Dutch or Square Heel Turn has become my "go to" heel particularly on socks that I am knitting while travelling as I don't have to think at all when I'm knitting this heel. There really is virtually no counting to be done!
Set up: p20, p2tog, turn
Row 1: sl 1, k10, ssk, turn
Row 2: sl 1, p10, p2tog, turn
Repeat rows 1 and 2 until 12 stitches are left, ending with row 1.
Gusset:
Continue knitting, without turning, as you will now be knitting in rounds again.
Pick up and knit 18 stitches along the edge of the heel flap. (Needle 1)
Knit across the 30 instep stitches. (Needles 2 and 3)
Pick up and knit 18 stitches along the edge of the heel flap. Then knit across the first 6 stitches of the heel. (Needle 4)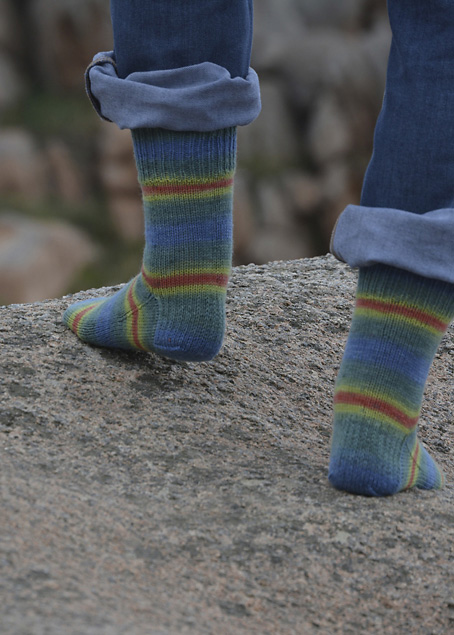 This is the starting point for the following rounds.
Before you start the next round, slip the next 6 heel stitches onto needle 1. Needles 1 and 4 should have 24 stitches on each. Needles 2 and 3 should have 15 stitches on each.
Next round: K6, k18 tbl, k30, k18 tbl, k6
Next: knit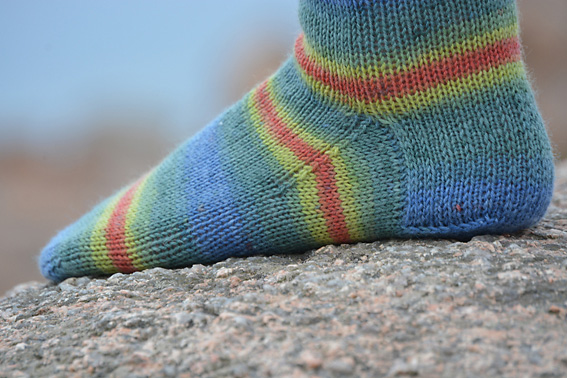 Gusset Shaping:
Round 1: Needle 1: k to last 3 sts, k2tog, k1; Needles 2 and 3: k; Needle 4: k1, ssk, k to end of needle.
Round 2: K
Repeat rounds 1 and 2 until there are 15 stitches on each of the 4 needles. (60 stitches)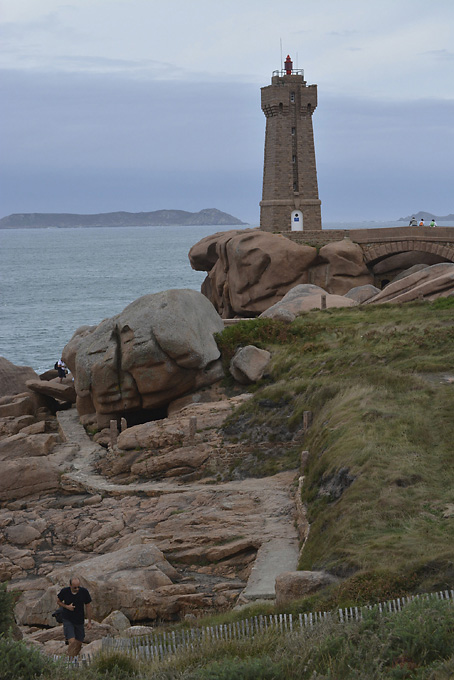 Foot:
Knit 42 rounds or the number of rounds that you need for your foot.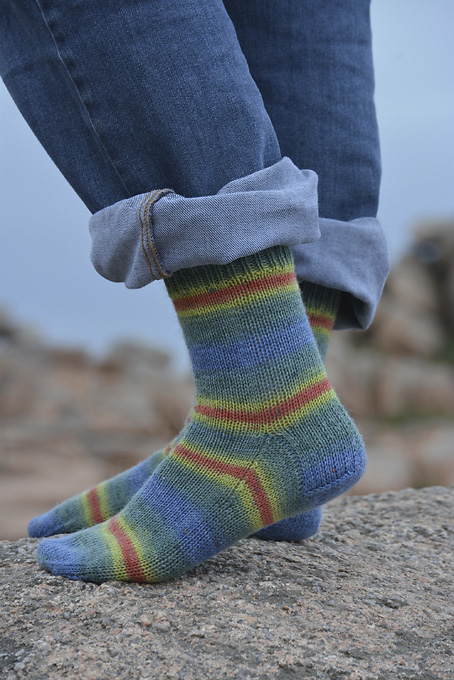 Classic Toe:
Round 1: Needles 1 and 3: k to last 3 sts, k2tog, k1; Needles 2 and 4: k1, ssk, k to end of needle.
Round 2: k
Repeat rounds 1 and 2 until there are 7 sts on each needle. (28 stitches).
Then repeat round 1 until there are 4 sts on each needle. (16 stitches).
Making sure that the toe stitches align with the heel, slip the stitches from needle 4 onto needle 1 and the stitches from needle 3 onto needle 2. 8 stitches on each needle.
Finishing:
Weave in all loose ends. Then I washed and blocked the socks on sock blockers. I just find that it gives the stitches a lovely even finish. It isn't necessary if you are intending putting the socks straight into your sock drawer but it gives them a lovely finish if you are giving the socks away as a gift.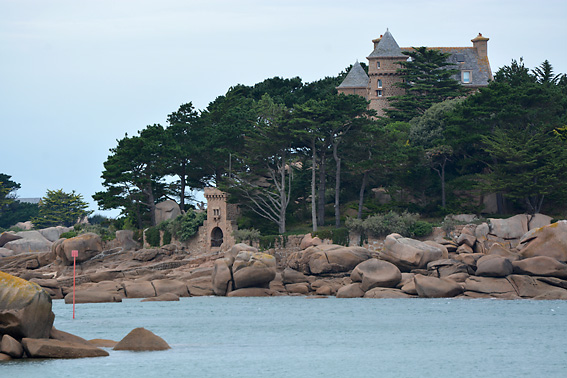 At the mid-point of our walk we arrived at the beach at Ploemel and most of our group went for a swim in the sea. I hadn't brought my swimming costume with me and dogs are not allowed on the beach, so I sat on the wall with Spike (Pip's dog), and looked after all of our belongings and gazed at this extraordinary house which gets cut off by the incoming tide! Isn't it just dreamy?
Have you knit with any of the colours in the Opal Cottage Garden Flowers range or any of the other long repeating striped sock yarns? What did you choose to do regarding the placement of the stripes on your socks?