Last year, I spent a little while looking through my stash of 4 ply and sock yarns, and decided that I needed to use some of the leftovers. With this in mind, I started thinking about different projects for using up this beautiful yarn. I'm really enjoying thinking about and planning all the projects that I want to make using this gorgeous yarn.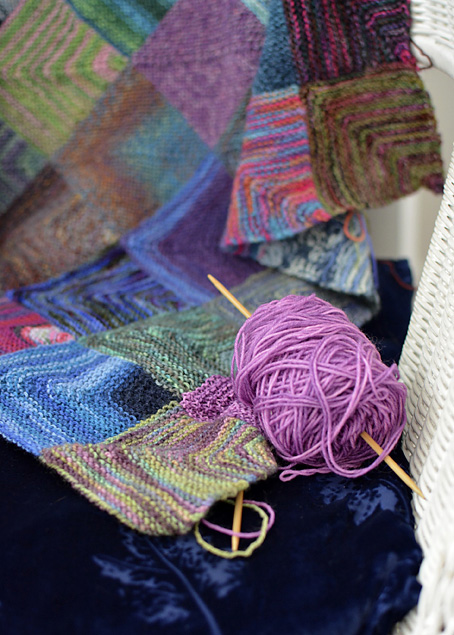 For a very long time I have been knitting using 4ply and sock yarn. When I first started knitting clothes for the Sasha doll girls, boys, toddlers and babies, I began amassing a collection of these yarns in a myriad of colours. I have many part balls and scraps ranging in every colour in the colour wheel. All stored in airtight plastic crates and sorted by colour. In addition, I have boxes of small quantities of scraps from projects that I have finished over the years.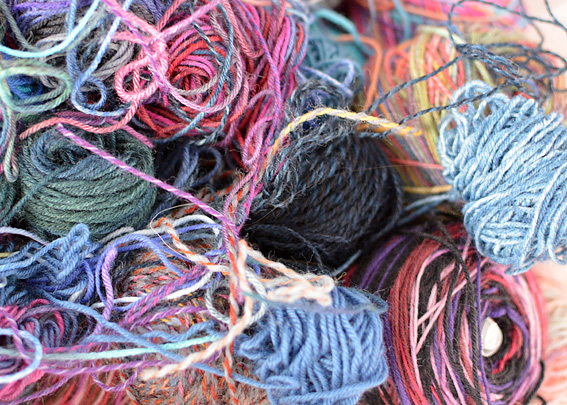 I've never been able to bring myself to throw away yarn, even tiny scraps. I always find that I can find a way to use them. But I do love to keep my colour choices coordinated when I am making a project. I enjoy colour schemes that I can enjoy living with.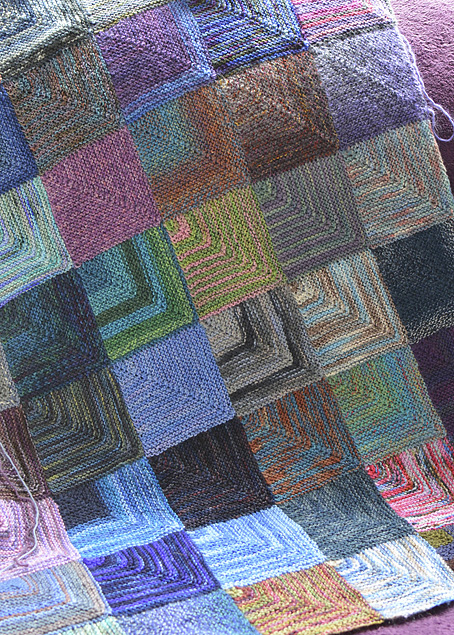 For the mitred square blanket I chose leftover sock yarns that were predominantly on the cool side of the colour wheel. I collected together yarns that were mainly greens, teals, blues, purples, violets but with the addition of touches of pink and rust brown. The pink and rust gives a little a zap to the overall colour scheme.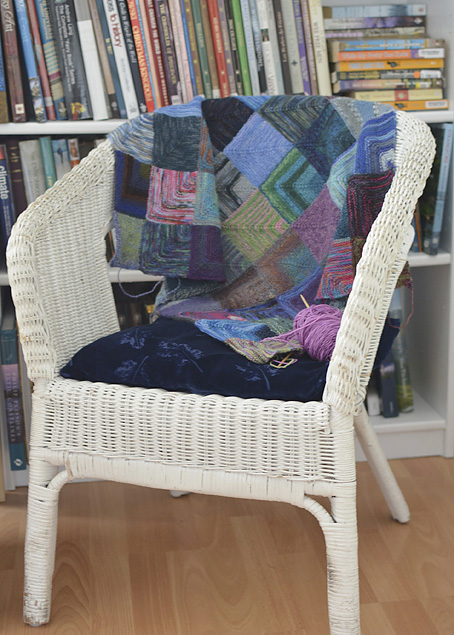 The mitred squares are knit using two 3.25mm Clover Takumi bamboo double pointed needles. Knitting this mitred square blanket has become positively addictive. I find myself reaching for it when I should be doing something else. I love how it is growing in size. The first squares when knit measured 9cm/3 1/2″ but as the blanket grows they stretch a little to measure 9.5cm/3 3/4"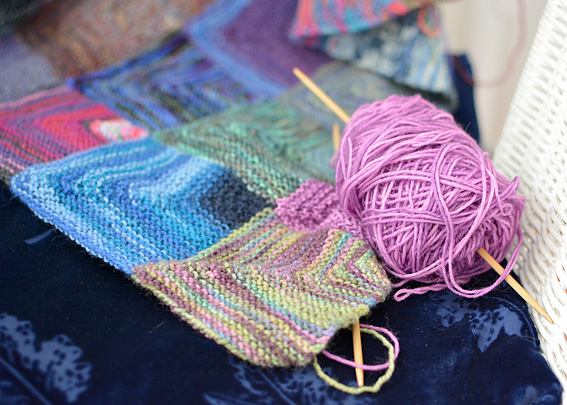 I haven't really decided how big the finished blanket will be but I want to use it as a small lap blanket. I've been wondering also whether to make it a square or a rectangle. At the moment in my mind I am thinking of 12 squares by 12 squares (144 mitred squares) or possible 12 squares by 16 squares (192 mitred squares). I'll probably make the first size and see what I think of it then it is easy to add an additional 4 rows of squares if I want it larger. I've also been wondering whether I should knit a border on the blanket?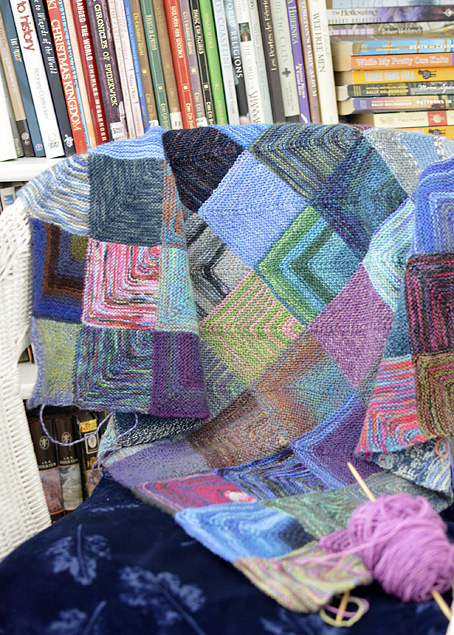 I've reached the stage where I need to decide if I am going to find more of my boxes of sock yarn leftovers and see if I will have enough different sock yarns to use a different yarn for each square or whether to start reusing the yarns I have already used again. So far I've used 60 different sock yarns and the blanket would be beautiful if I reused the yarns another 3 times where possible. For about 10 of the yarns that I used in the first 60 I have none left.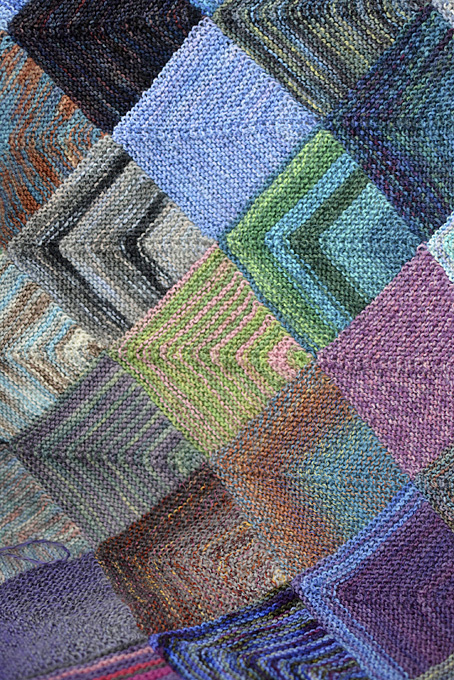 For each square I cast on 48 sts, turn.
Row 1: k24, place marker, k24, turn.
Row 2: knit to 2 sts before marker, k2tog, slip marker, k2tog, knit to end, turn
Row 3: knit
Repeat Rows 2 and 3 until square is finished.
I'm really enjoying doing this. It is such a pleasure to knit. And already, I find myself planning a cover for the old nursing chair that sits in our lounge. At the moment it has a patchwork throw over it. But I think it would look beautiful covered with a knitted cover and with its legs painted white. I've always loved how working on one project often leads to ideas for new projects.