As I had promised to knit my sister Pip a pair of fingerless mittens of her choice. She decided on the very cute Mitt Envy fingerless mittens pattern featuring a beautiful cable panel.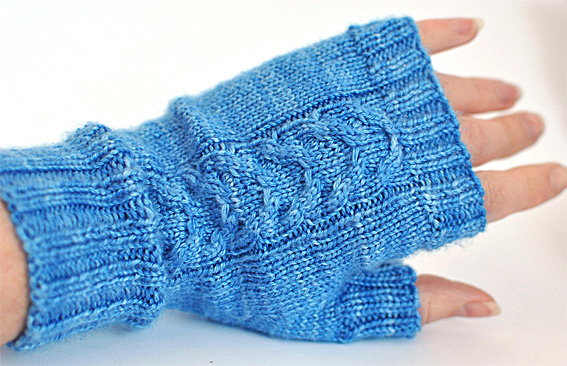 Within a few days Mitt Envy designed by weezalana and a skein of Belle Epoque Silk Sock 50% silk, 50% superwash merino sock yarn in a beautiful clear blue arrived.
Changes I Made To The Pattern
The pattern suggests Koigu Painter's Palette Premium Merino which is a fingering weight /4 ply yarn so it was easy to substitute a different 4 ply sock yarn. A great choice would be KS Merino Silk 4ply or KS Merino 4ply.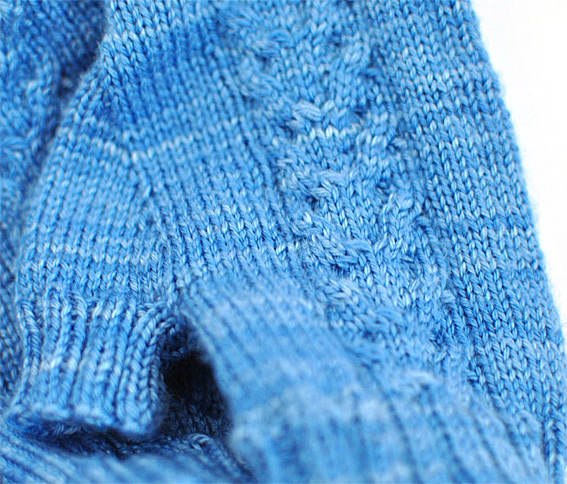 There were a few changes to be made:
After working a small tension square, I chose to use 2.5mm dpns instead of 2.25mm ones.
I was knitting the mitts for my sister Pip and she wanted the mitts to be a little longer on her hands so that when her fingertips were cold she could curl them up inside the mitten.  To achieve this, I added 2 additional repeats of the cable pattern.  I also added an extra couple of rows of k2 p2 ribbing at the top cuff.
The other change I made was in the shaping for the thumb increases.  I increased until there were 25 sts instead of 21 sts and when knitting the thumb I did a couple of decreases for shaping.
Would I Knit Mitt Envy Again?
Absolutely…  I found Mitt Envy to be a well written pattern with clear easy to follow instructions.  As ever, I did tweak the pattern to create the styling that I wanted for the fingerless mittens I was knitting for Pip.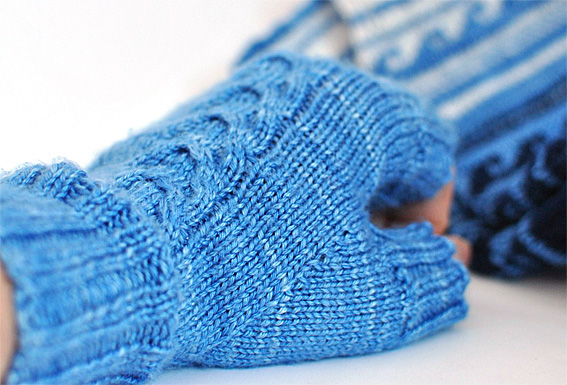 And The Yarn?
Yes, Pip was right when she enthused about this gorgeous yarn as the skein of silk/merino sock yarn was a joy to knit.  It felt lovely, handled well during knitting, and gave excellent definition to the cable… and most importantly the finished Mitt Envy fingerless mittens look beautiful on Pip.