In my yarn stash I had a fabulous skein of Halycon Hand Dyed Yarn that I bought from Flamboyance Yarns last year. Halycon is a luxurious 4 ply blend of 50% silk and 50% merino wool. This skein was in my favourite colour combination of deep purple/plum colour with a contrasting turquoise/teal. I wanted a project that would really do justice to the gorgeous colour and sheen of the yarn.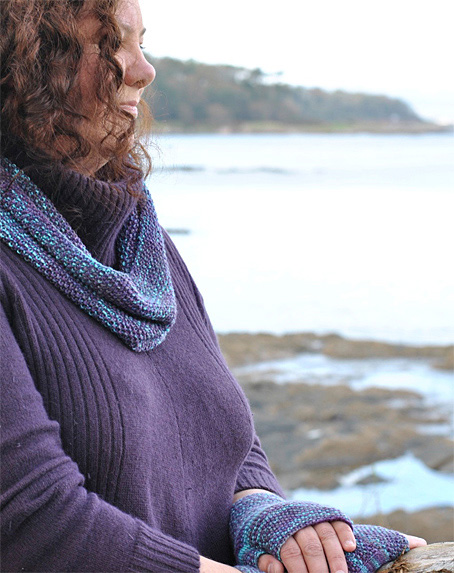 In Spring 2010 Simply Knitting had an attractive infinity moss stitch scarf designed by Emma King and knit using DK Cotton yarn in two different colours. I liked the draped style of this scarf when I saw it in the magazine.
I have two different styles of sweater that I want the moss stitch cowl to look nice with. One is a scoop neck longer length sweater in an aqua colour, but you feel the chill on a cold day so I wanted a longer length cowl that would look lovely with it and keep the back of my neck warm. The other sweater is a deep purple one with a cowl neck and I wanted the moss stitch cowl to drape below the collar.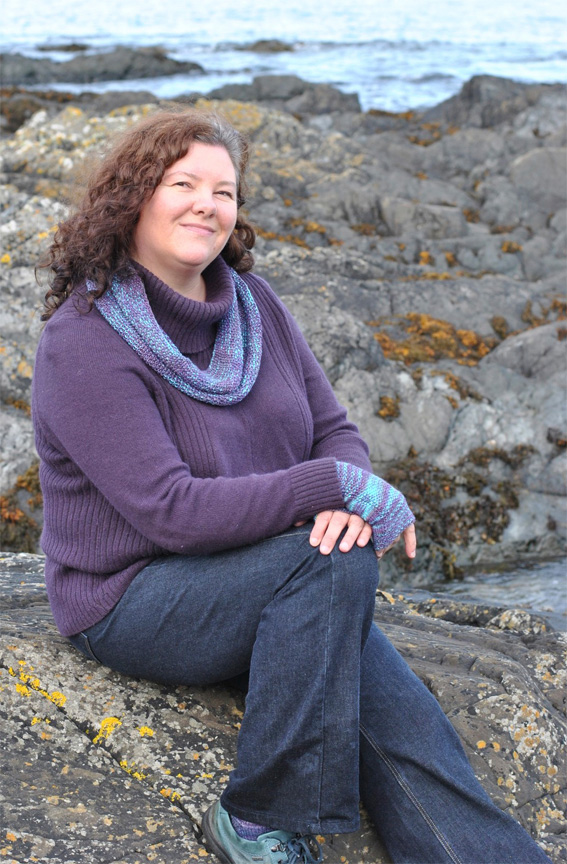 I used a 4mm circular 40 cm bamboo needle and cast on 171 sts. I placed a stitch marker to remind myself where the start of the round was. This pattern will work perfectly with either KS Merino Silk 4ply or KS Merino 4ply.
It was a very relaxing project and nice to work on while watching television or listening to music. Moss Stitch is a simple stitch on round 1: knit 1, purl 1, repeat to the end. Then on round 2: purl 1, knit 1, repeat to the end. Just keep repeating rounds 1 and 2 until the cowl is the width that you want it to be. By casting on an odd number of stitches, there isn't really any need to  check for the end of round 1 as the switch to round 2 occurs naturally.  I continued knitting the cowl until it was approximately 16 cm or 6 1/4 inches in width. Then I cast off loosely (I often use a larger size needle for casting on and casting off as it helps to prevent these being to tight – for casting off I used a 4.5mm double pointed needle. Then it was just a matter of sewing in the ends. I didn't bother with steaming or blocking.
There was plenty of yarn left over from the 100g skein to knit the pair of matching moss stitch fingerless mittens.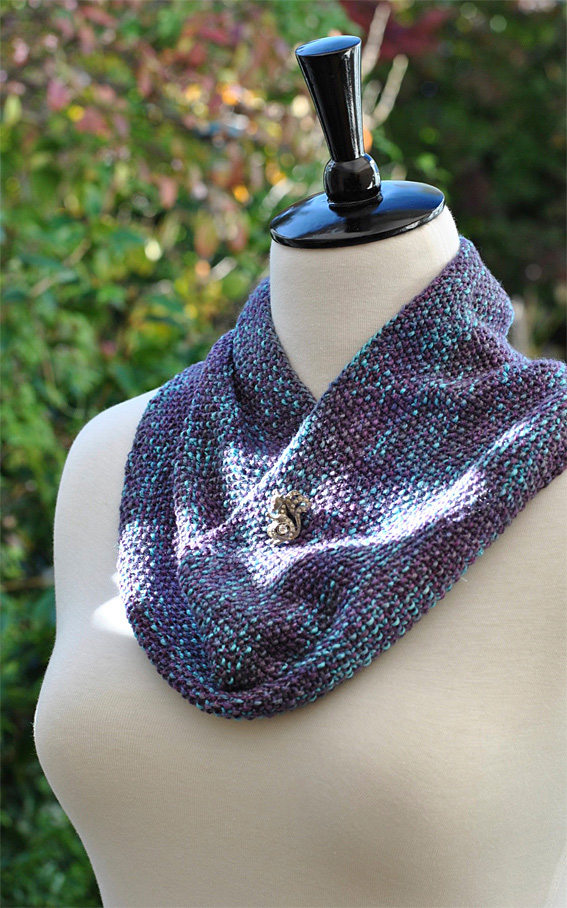 The finished cowl drapes beautifully and is very versatile. It also looks lovely pinned with a brooch when I am wearing my grey coat. I love this delicate squirrel brooch. One of my favourites from my squirrel collection.