What happens when a new Kaffe Fassett book arrives in your house? If you are anything like me everything stops while you look through the new book.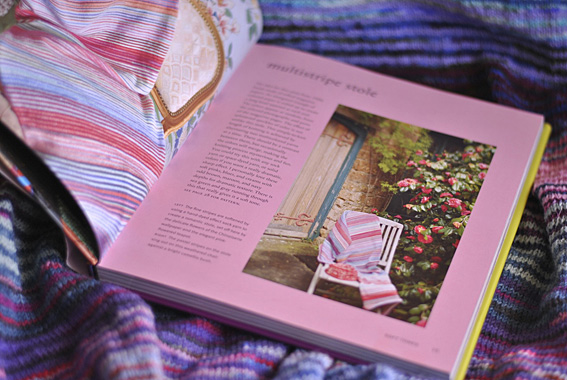 Inspiration Strikes
It's impossible not to be inspired by the beautiful photographs and vibrant colour choices. By page 15 of "Knitting with the Colour Guys" by Kaffe Fassett and Brandon Mably, I was ensnared when I looked at the Multistripe Stole. These guys are masters at styling their knitwear. The knitting becomes a piece of art elegantly draped across a chair.
Rummaging Through the Stash
So much about the Multistripe Stole appealed to me. The beautiful colours reminiscent of a summer garden. I loved that the stole uses 4ply/sock weight yarn making the project a perfect stashbuster. Like many of you I've a large collection of sock yarn and constantly watch out for beautiful projects that use fine yarns. I thought that the Multistripe Stole would be a wonderful project for using some of the sock yarn in my collection.
"SABLE- A common knitting acronym that stands for Stash Acquisition Beyond Life Expectancy." ― Stephanie Pearl-McPhee
A wonderful afternoon passed with my stash, pulling out boxes and setting different balls of yarn out on the ivory rug. Lost in a yarn lovers heaven. I'd fun deciding which colours worked well together and which colours shouldn't appear in the stole.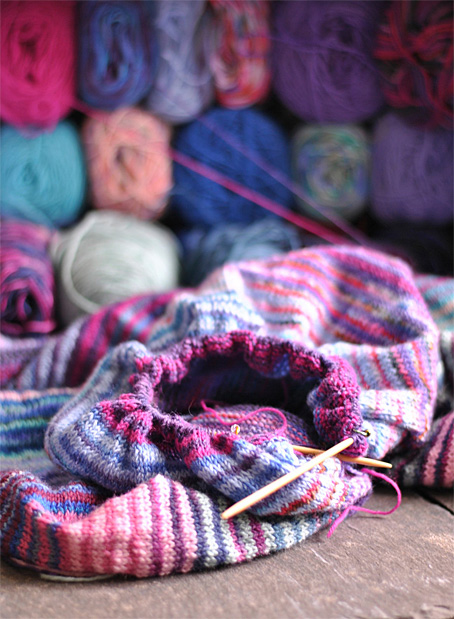 Finally I'd chosen 19 different sock yarns. Staying with the overall Summer Garden colour theme, in my version, a few more turquoise and aqua tones crept in, along with shades of purple and plum and a little less pink.
What is the Value of Time?
Soon I was casting on and knitting a few rows.
After a while, a long while, I couldn't help but notice that progression was slow.
I'm not sure that the subject of 'Time" spent knitting is one that many of us like to consider. But as I normally knit reasonably small projects such as socks with an average stitch count of 10,000 stitches per sock, I find putting this amount of time into knitting a stole a little unnerving.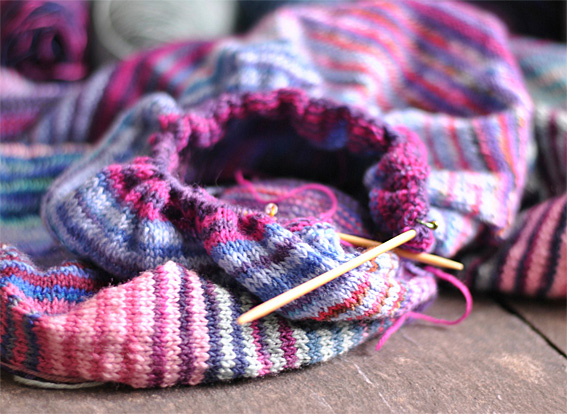 I timed a few rows to find the average amount of time I'm taking to knit one row. It's taking me 10 minutes to knit a row including time detangling yarns before knitting starts. I started watching the first series of Andromeda on Netflix. Don't you agree it's always a good idea to multi-task with these larger projects?
" It is a peculiarity of knitters that they chronically underestimate the amount of time it takes to knit something." ― Stephanie Pearl-McPhee
Being the inquisitive type, 294 rows later – 58,506 stitches knit – and a whopping 49 hours spent knitting – I'm about 1/3 of the way through knitting the Multistripe Stole. How quickly do you knit? Do you knit in the continental style or throwing like I do?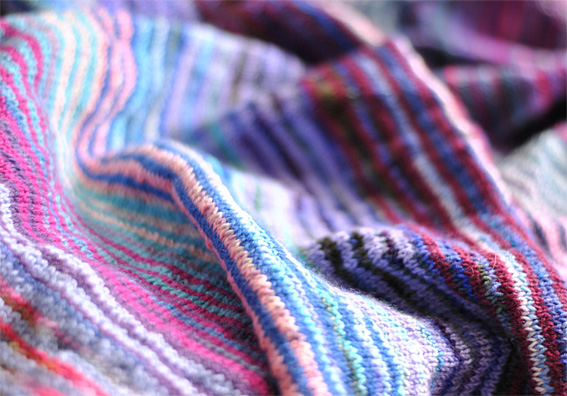 I've also come to the end of the fifth series of Andromeda.
And my mind has started to ponder on other things that I could do with 50 hours.
Knit 6 pairs of socks.
Go for about 50 walks.
Listen to at least 6 audio books.
Read all the Harry Potter novels from start to finish.
Write umpteen blog posts.
Watch a complete DVD boxset (of course I did that with the multitasking).
Weed the garden.
Sand and paint the wrought iron fence and gates.
I'm sure you could think of lots and lots of others.
Looking for the Perfect Shawl Pin
At this point I find myself thinking about the amount of time that will have gone into knitting this stole by the time it is completed. I'm so aware that our time is limited and precious. My time = My life.
So I look at my Multistripe Stole and really hope that I'll enjoy wearing it when it's finished. Even if I just snuggle in front of the television with it draped around my shoulders on a cold winters night.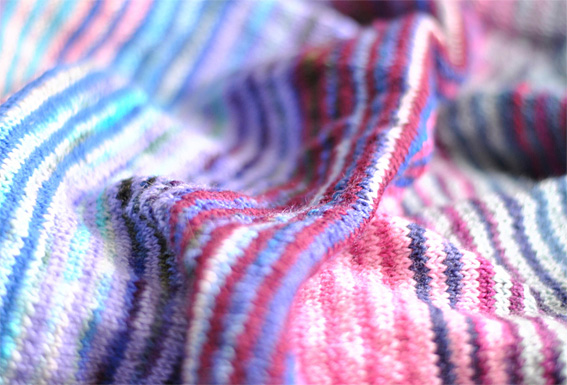 And to keep me motivated, as I knit the stole, I dream about the perfect shawl pin to wear with it. Any suggestions for where to find a lovely shawl pin will be gratefully received. Of course it will need to look good set against multi coloured stripes.
In the meantime, as it is turning into a hot summer, I've set the Multistripe Stole aside. It is just too warm sitting knitting with what feels like a small blanket over my lap. I'd love to hear about your largest knitting projects.
I have recently completed the Multistripe Stole.