Dotted Rays Shawl is designed by Stephen West of WestKnits. I just love Stephen West's gorgeous shawl designs. I've watched his Craftsy class Shawlscapes several times. I've bought several of his patterns although I haven't knit all of them yet. Oh, I do love to have a few patterns on hand that I'm dreaming about casting on!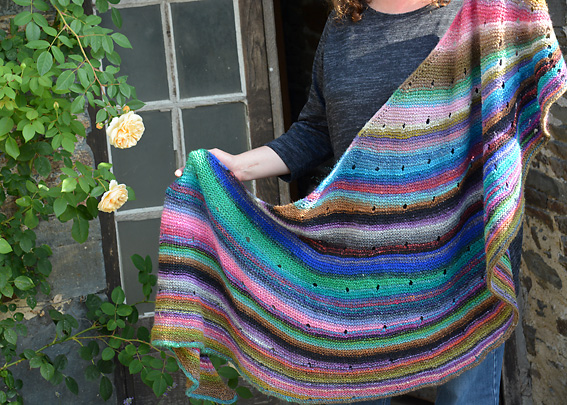 Dotted Rays Shawl is a curved asymmetrical shawl. The garter stitch short row wedges gradually increase in size. While the yarn overs create beautiful rays between the wedges.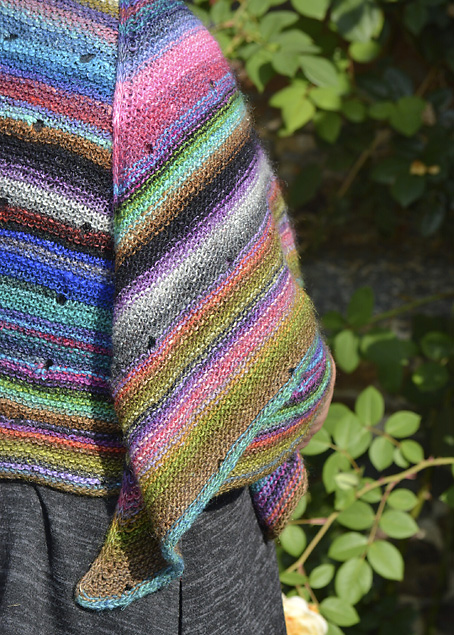 The element I love most about this shawl is the I-cord that is knitted on every edge as you knit the shawl. I adore the feel of the I-cord edge when I'm wearing the shawl. It's just so soft and cosy feeling.
Noro Silk Garden Lite
The pattern has 2 sizes, the smaller size is designed for worsted weight yarn. While the larger shawl is designed to be knit using fingering/4 ply/sock yarn weight yarn. Initially, I thought about knitting the shawl using leftover sock yarn, but whilst rummaging through my stash I opened a box of leftover balls of Noro Silk Garden Lite in assorted colours. Silk Garden Lite knits up as a DK weight yarn.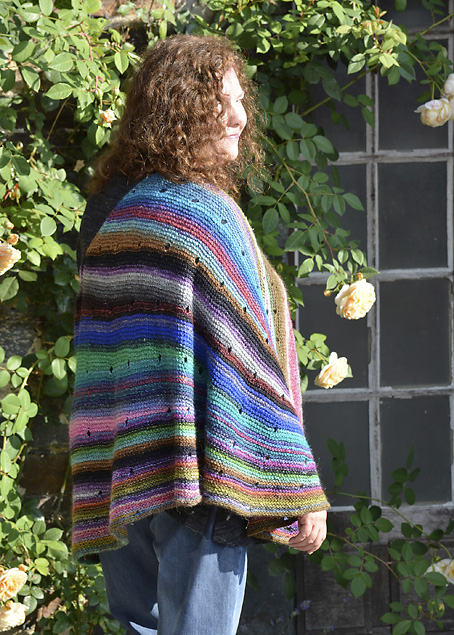 What I love about the Noro Silk Garden Lite yarn is the eclectic range of colours in each variation. The yarn has a rustic feel when you're knitting it and then when the shawl was soaked and blocked it blooms beautifully.
I had 5 leftover balls in different colour ways. I knew this wouldn't be enough so I chose 5 more balls of yarn in colours 2012, 3008, 2051, 2077 and 2073. There were 7 different colour ways in total. I began by deciding the order in which to knit them.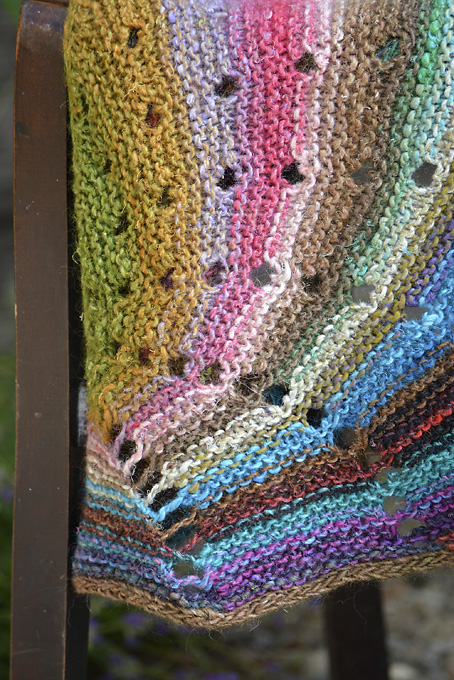 Noro Silk Garden Lite is a luxurious yarn in an irresistible blend of 45% silk, 45% kid mohair and 10% wool. I love the exciting colour combinations and by combining 7 different colour ways my Noro Dotted Rays Shawl reminded me of an Impressionist painting. I used 5 mm circular needles from my interchangeable set with a long cord.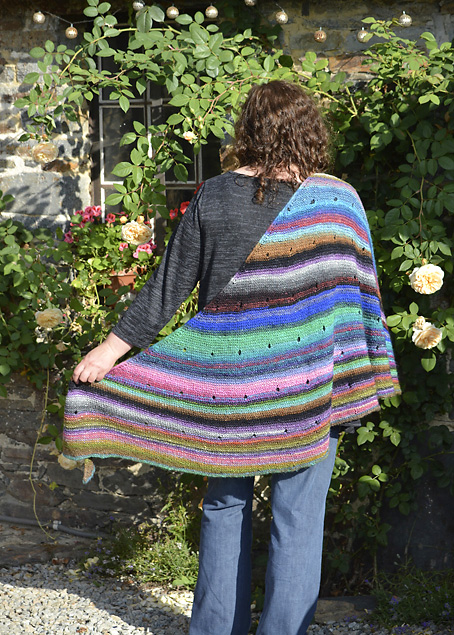 I knit the small size shawl and then continued into the large size. After finishing Row 34 I moved on to the Finishing section.
Blocking and Finishing
I did the minimum of blocking on this shawl. It's quite a heavy shawl and it was a warm day when I finished knitting it and sewed in the ends. I soaked the shawl for 30 minutes and then  spun it in the spin dryer to remove some excess water. Then I carefully pegged it to the line using about 40 clothes pegs. I needed a lot of pegs because I wasn't folding the edge over the line and I expected the pegs to clip the top edge of the shawl. The weight of the shawl stretched it out perfectly.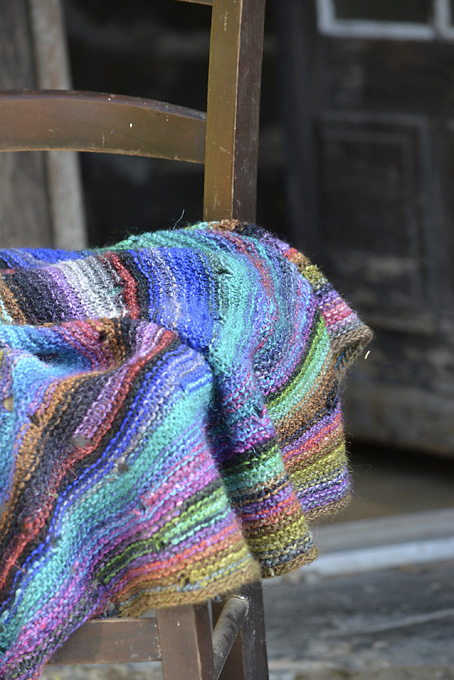 A Breton Setting
I brought the shawl with me when we went to visit my sister Pip and her husband Euros in their amazing home in Brittany. They spent years lovingly renovating their old Breton house into a cosy home and then started work on the attached barn which is now a fabulous Eco Gite. We settled into the Gite for 2 relaxing weeks of very warm weather.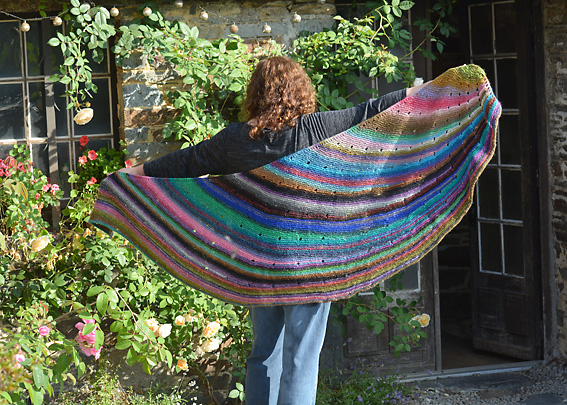 Many happy hours were spent in the courtyard, sitting around the garden table, catching up with news, laughing, chatting and knitting.
My Noro Dotted Rays Shawl looked stunning photographed with the natural slate walls and original wooden door of their Breton house as a backdrop. The pink and yellow climbing David Austin English roses are gorgeous trained up the slate walls.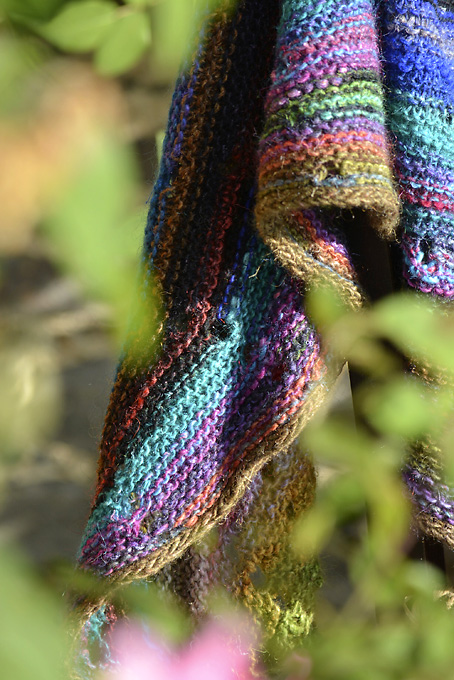 Their home is situated near the canal on the edge of Gouarec, a traditional Breton village.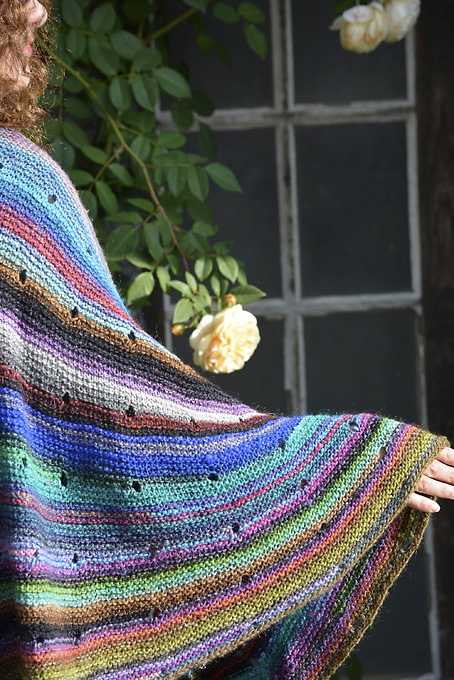 So…
As usual when I'm knitting a Stephen West Shawl I enjoyed every moment spent working on it. His patterns are clearly written and a pleasure to knit! If you haven't knit one yet I'd definitely recommend knitting the Noro Dotted Rays Shawl.
The choice of Noro Silk Garden Lite (a blend of silk, kid mohair and wool) created a luxurious large cosy shawl that was much too warm to actually wear while we were in Brittany. But is perfect now that winter is approaching! Find the Noro Silk Garden Lite yarn in my Yarn Shop here. We are also stocking the wonderful Knit Pro Karbonz and Zing Interchangeable needle sets.