I couldn't resist knitting a hat to wear with the long narrow Noro Scarf. This ribbed hat is an easy pattern to knit.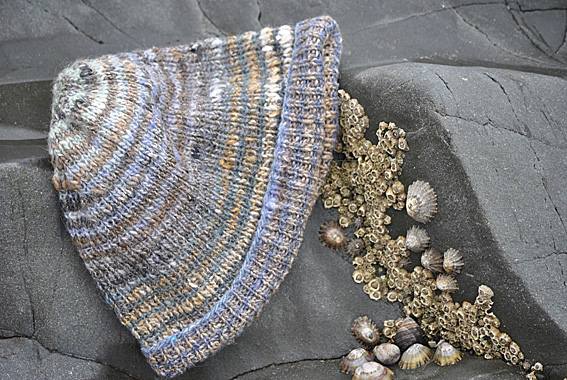 I had plenty of the gorgeous yarn left over from knitting the long Noro Scarf.  Although, I used Noro sock yarn to knit this hat, you could substitute any contrasting sock yarns in your stash making this hat pattern a great stash buster. It would also be fun using up contrasting left over sock yarns from other projects.
Requirements
2 balls of Noro Sock Yarn (Col A and Col B) [I chose to use 1 ball of Noro Kureyon Sock shade 150 (Col A) and 1 ball of Silk Garden Sock Yarn shade 267(Col B)] (These are the remains of the balls left over from knitting the scarf)
4mm 40 cm bamboo circular needle
3.75 mm double pointed needles (dpns)
stitch marker
Abbreviations:
Col A – Colour A; Col B – Colour B; k1 – knit 1 stitch; p1 – purl 1 stitch; p2tog – purl 2 stitches together; k2tog – knit 2 stitches together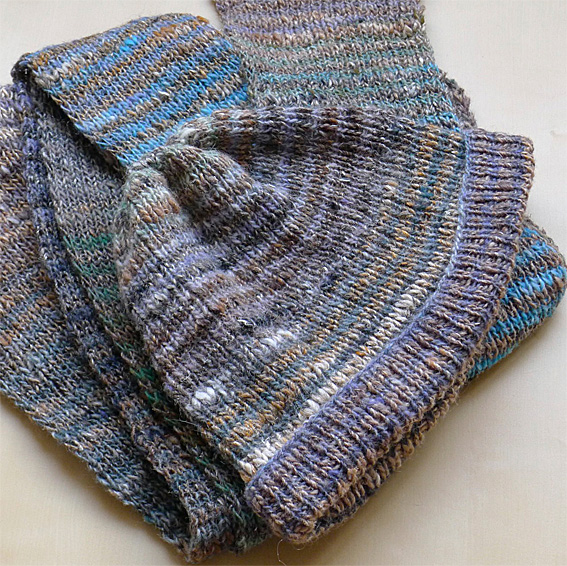 Pattern
Working in k1, p1 rib changing colour every second row.
Round 1 and 2 (Col A):  k1, p1 to end
Round 3 and 4 (Col B):  k1, p1 to end
Instructions
Using 4mm 40 cm circular needle, cast on 120 stitches and join into a round being careful not to twist the stitches.  I placed a stitch marker at the start of the round.
Rounds 1 to 4 set the striped pattern.  Repeat these rounds until the hat measures 25cm /9 1/2inches in length from the cast on edge.
Switch to 3.75 mm dpns as you work the first decrease round.
Decrease Round 1:  *p2tog, k2tog, repeat from * to end.
Next Round:  k
Decrease Round 2:  *k2tog, p2tog, repeat from * to end.
Next Round:  k
Decrease Round 3:  *p2tog, k2tog, repeat from * to end  (15 sts)
Thread the yarn through the remaining stitches and gather firmly.
Sew in all the loose ends.
After the hat is hand washed the Noro yarn turns wonderfully soft and fluffy.
Have fun knitting this free pattern and let me know how you get on.