Ever thought about knitting a long narrow striped scarf?  It's looks wonderful and is easy to wear.  I wanted a long narrow scarf that could be wound around my neck a couple of times on a cold day, to keep me cosy.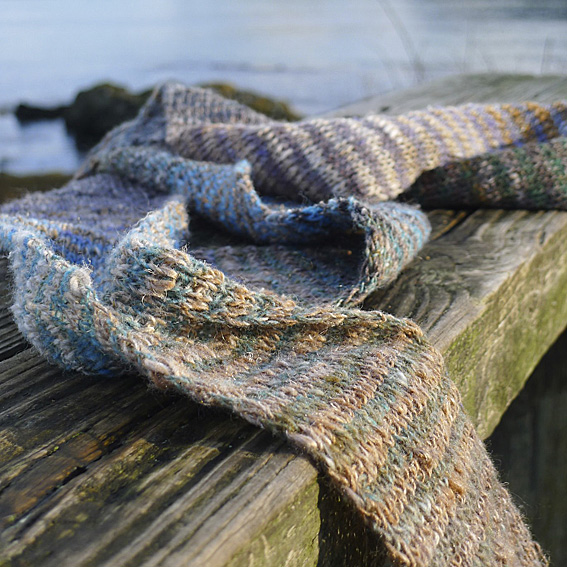 I'm delighted with how the scarf turned out and wear it often when I am out for a walk.  It is a quick and easy knit for a beginner, and perfect for knitting while relaxing in the evening.
Inspiration
I wanted to knit a ribbed scarf that would look lovely with my grey coat.  I was inspired by the colours in a photograph I took as I walked on Cavehill.  Some barbed wire had been attached to a Hawthorn tree.  I loved the muted neutral colours and the deeper shadows cast by the sunlight.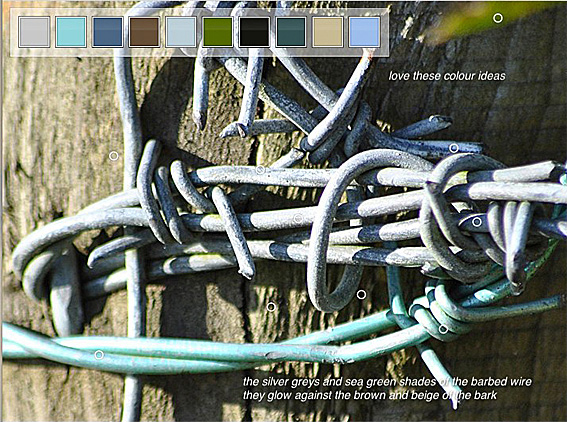 The Chosen Yarn
I noted how beautiful the shades of blue, grey and aqua looked with the browns, beige and green in the photo. I kept these colours in mind as I browsed through my yarn stash and came across two gorgeous Noro yarns that I bought from Sock Yarn Shop a few months ago.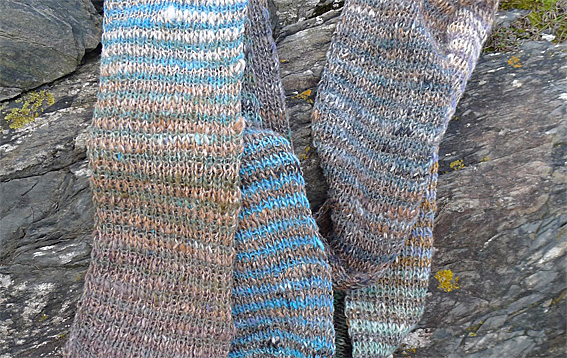 I decided that they would be perfect to achieve the subtle transition of colours and tones in my inspiration photo.  I love the textural effect of this yarn where it can have quite thick slubs followed by finer strands. Once knit into a fabric, the textures even out but still give visual interest to a plain ribbed scarf.
I used a ball of Kureyon Sock Yarn in shade 150 (Col A) and a ball of Silk Garden Sock Yarn in shade 267 (Col B).  The colours were gorgeous together with a subtle movement in colours.  Noro yarns have a very long colour repeat and the patterning is created by the 2 row repeat of Col A and Col B.
Noro Silk Garden Lite would be a wonderful alternative yarn choice.
Requirements
2 balls of Noro Sock Yarn (Col A and Col B) [I chose to use 1 ball of Noro Kureyon Sock shade 150 and 1 ball of Silk Garden Sock Yarn shade 267]
4.5mm needles
Abbreviations:  sts  Stitches; k1  knit 1 stitch; p1  purl 1 stitch; sl1  slip 1 stitch
Note:  I chose not to worry about tension as I didn't mind if the scarf was a little wider or narrower.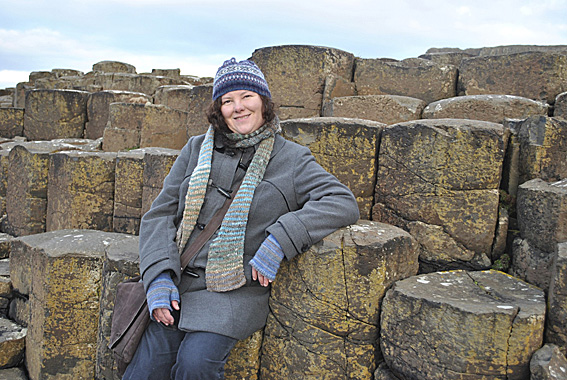 Pattern
Row 1 (Col A):  k1, p1, to end of row
Row 2:  sl1 purlwise, *k1, p1, repeat from * to last st, sl1 purlwise
Row 3 (Col B):  k1, p1, to end of row
Row 4:  sl1 purlwise, *k1, p1, repeat from * to last st, sl1 purlwise
Instructions
Cast on 37 sts  on 4.5mm needles
These 4 rows create the striped pattern.  Repeat them until the scarf is the length that you want.  I chose to finish on a Row 2 so that the ends of the scarf would be from Col A.  Cast off fairly loosely.
During knitting the scarf measured 12.5 cm/5 inches wide.
I knit the scarf until it measured 240 cm/94 inches long.
Sew in loose ends.
When complete, I hand washed and dried my scarf (flat) which made it beautifully soft.
There is no need to block a ribbed scarf as it will stretch the ribbing out of shape.
While I was knitting my scarf I googled striped Noro Scarf (as one does).
Came across the richly coloured scarf version knit by Jared Flood in 2007 using Noro Silk Garden (a heavier weight of yarn than the sock weight ones that I used).
When I had finished knitting my scarf I had enough yarn left to knit a matching hat.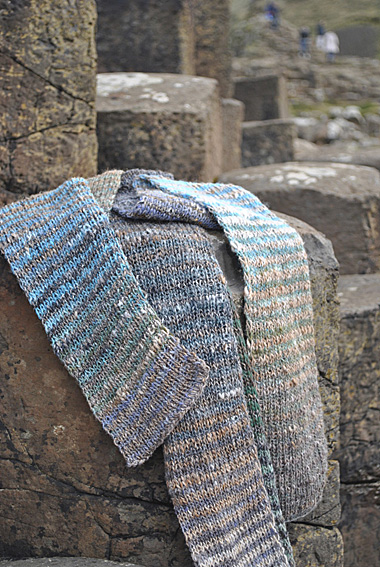 I'd love to see your colour choices for your scarves.