I love giving useful Christmas presents that I know the recipient with enjoy. This is particularly nice when it is a hand knit gift.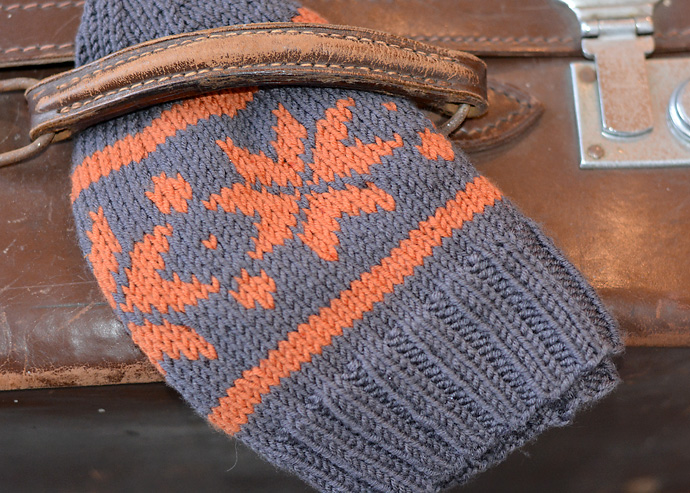 In September when we were visiting my sister and brother-in-law in Britanny, I happened to ask if there was something my brother-in-law would like for Christmas, other than the usual socks.
After a slight pause, he said that he'd love a new hand knit hat. I expected him to ask for a plain beanie and was delighted when he passed over his mobile to show a photo of a beanie he'd found online that had a Norwegian Star Pattern! I really love doing stranded knitting so I was delighted. The stranded Norwegian Star is very similar to the one in the photo but I simplified the hat with an elegant contrasting coloured stripe above and below the star and left out additional fair isle peerie patterns.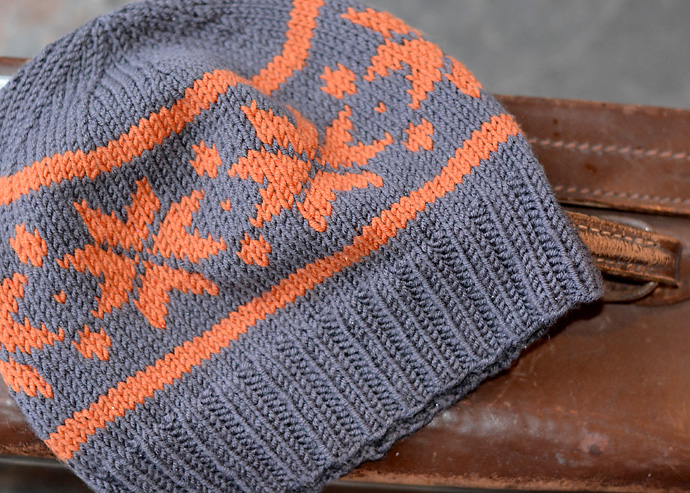 On our return home, and with Autumn fast approaching, I began casting on all my Christmas presents. I'm not monogamous with my knitting, in fact, I'm the opposite. The more projects I have on my needles the better. I like to knit on different projects and always have at least 6 in my work basket at any time. I find it adds interest to my time spent knitting and I love to have a choice of what I feel like working on at any point in time. I like to take my time with my knitting, and don't rush my knitting, as I really love the process of knitting my project.
Colour Choices
When I am choosing colours I always look through my photographs to find some inspiration for colours I think will work beautifully together. I knew that for this hat I only wanted to use two colours together to make sure that this hat would be one my brother-in-law would enjoy reaching for every time he headed down the garden to chop logs for the wood burner. I thought that he'd prefer wearing deep dark colours.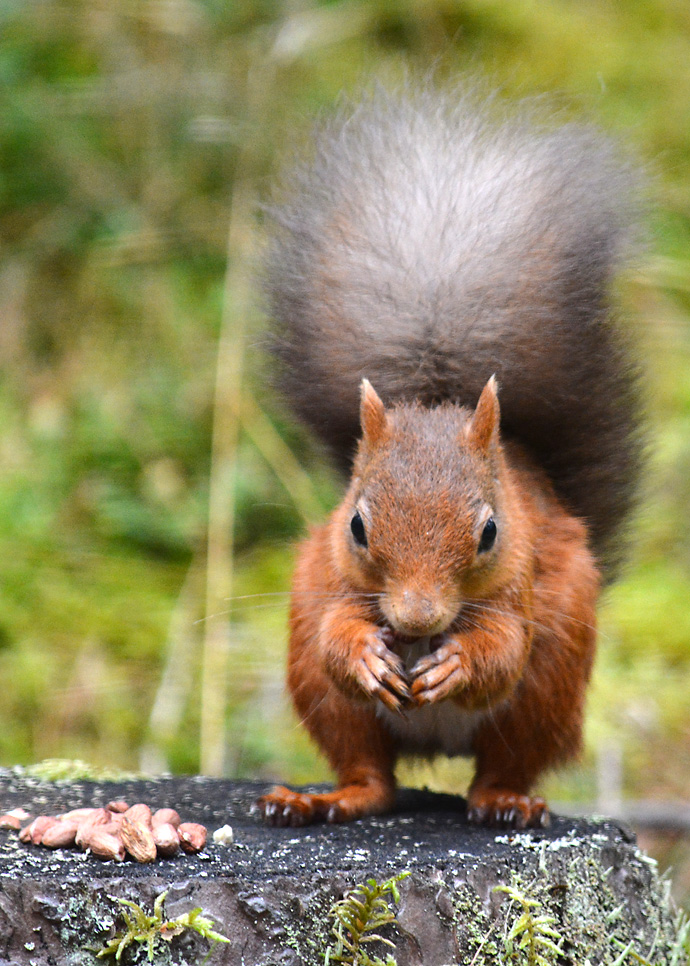 For the Norwegian Star Hat, I decided that if mid grey and terracotta work beautifully for the red squirrel then it would work wonderfully well for a colour combination for a hat!
I chose two colours from the Debbie Bliss Rialto DK range: 23033 Mid grey for the Main Colour contrasting with 23032 Terracotta as the Contrast Colour. Debbie Bliss Rialto DK is a 100% superwash merino wool with a gorgeous lustrous appearance. The Norwegian Star Hat will be easy to wash and care for. I think this is essential when knitting a gift as not everyone wants to hand wash their knitwear.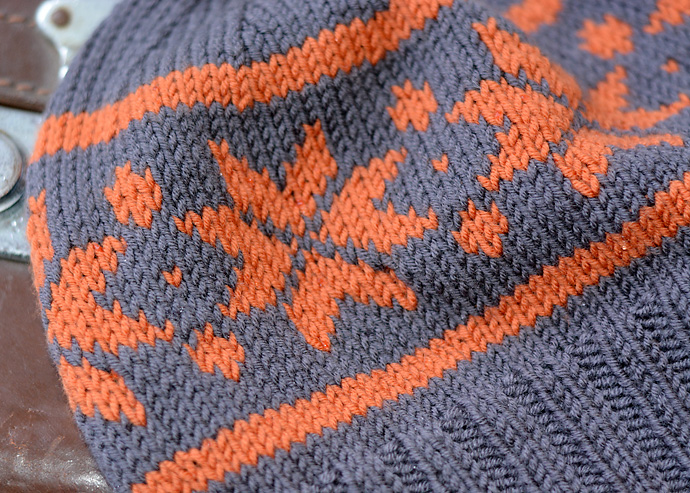 Norwegian Star Hat
This is a great hat pattern for knitting for all the men in your life. Knit using DK weight yarn it knits up quickly.
Yarn:
Needles Etc:
Tension:
My tension knitting in the round measured on stocking stitch after blocking using 4.5 mm bamboo circular needle is 23 sts x 28 rows = 10cm x 10cm (4″ x 4″). I used my contrast colour for knitting the tension swatch otherwise I may not have had enough of the main colour for knitting the hat.
The finished hat has a circumference of 50cm/20″ after blocking and fits a 55cm/22″ head very comfortably. It is nicely stretchy with the k2, p2 ribbed brim.

Brim
Using Main Colour Cast on 100 stitches using the 4.5 mm Clover takumi bamboo circular 40 cm needle. Place a stitch marker at the start of the round to mark the beginning of each round.
K2, p2 rib for 16 rounds (5cm/2″).
Body of Hat
Continuing with the main colour
Round 1: knit 1 round increasing by 2 stitches evenly during this round. (102 stitches)
Round 2 & 3: knit
Round 4-6: change to contrast colour; knit
Round 7: change to main colour; k4, (m1, k17) 5 times, to last 13 stitches, m1, k13 (108 stitches)
Round 8: At the beginning of the round remove the stitch marker then with the tip of the needle pick up the stitch below the first stitch of the round and knit it together with the first stitch. Place the stitch marker. This is now the start of each round. Continue knitting this round.
Round 9: knit
Follow the chart for the next 15 rounds.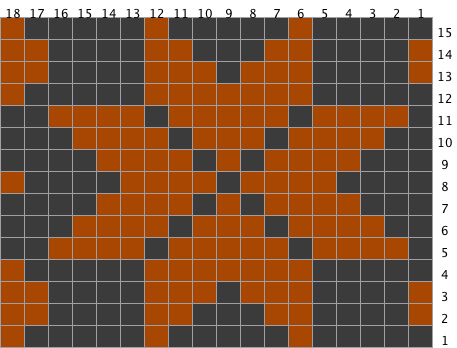 This lovely Norwegian Star pattern is in the excellent Pattern Dictionary 150 Scandinavian Knitting Designs written by Mary Jane Mucklestone.  Any star chart that repeats over 15 rows and 18 stitches could be substituted.
Rounds 25 – 27: using the main colour; knit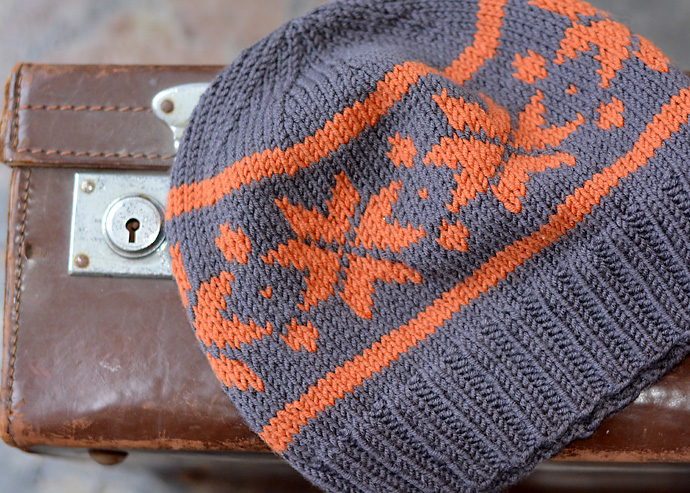 Shaping the Crown
Change to the contrast colour.
Round 1: knit
Round 2: *(k7, k2tog) twice, place stitch marker* repeat from * to * ( you should now have 6 stitch markers, I normally use a distinctive marker to mark the start of the round). Each time you reach a stitch marker slip the marker.
Round 3: knit
Then cut the contrast colour yarn leaving a tail to weave in. Change to the main colour. The rest of the crown will be knit using the main colour.
Round 4: knit
Round 5: (k6, k2tog) 12 times
Rounds 6 & 7: knit
Round 8: (k5, k2tog) 12 times
Rounds 9 & 10: knit
Change to 4.5 mm Clover Takumi Bamboo Double Pointed Needles. Divide the stitches over 3 double pointed needles and use the 4th to knit with.
Round 11: (k4, k2tog) 12 times
Rounds 12 & 13: knit
Round 14: (k3, k2tog) 12 times
Rounds 15 & 16: knit
Round 17: (k2, k2tog) 12 times
Rounds 18 & 19: knit
Round 20: (k1, k2tog) 12 times
Round 21: knit (remove the stitch markers during this round)
Round 22: (k2tog) 12 times
Round 23: knit
Round 24: (k2tog) 6 times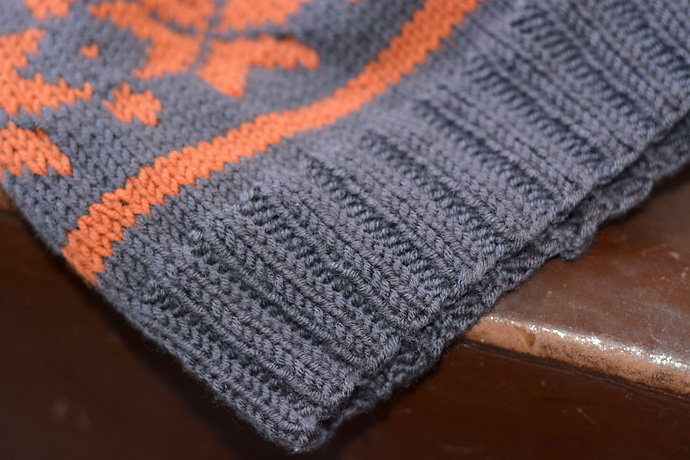 Finishing
Using the tapestry needle gather the 6 stitches tightly, then sew in the yarn end securely.  Sew in all the other yarn ends.
I washed and blocked my hat over a blown up balloon. I blow the balloon up and measure it to make sure that I shall be blocking the hat to the correct size. I prefer to have the balloon about 18-19″ in diameter as I don't want to over stretch the hat. What I'm doing when I block a hat is to even out the knitted stitches and smooth the crown.
Gently pull the hat over the balloon so that the top of the crown is smoothed over the top of the balloon and set the balloon into a small pyrex bowl. Ensure that the ribbing on the brim isn't being stretched out of shape.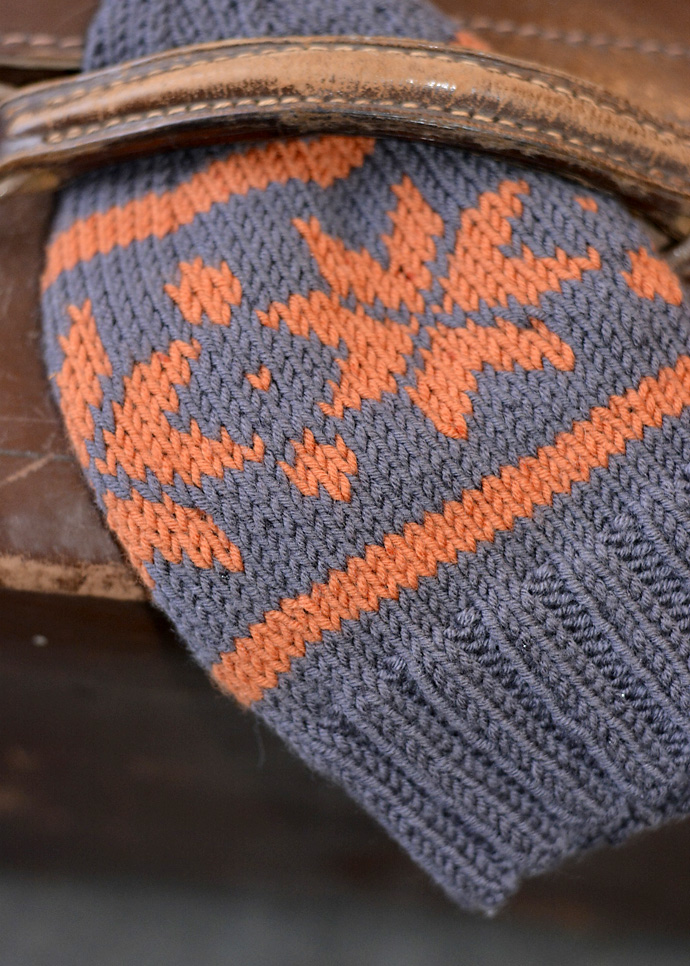 The Norwegian Star Hat has been a very successful project and my brother-in-law wears it most days.
Debbie Bliss Rialto DK can be bought in the Knitting Squirrel's Yarn Shop.