Hand dyed sock yarn is truly beautiful and we've all fallen in love with that perfect skein and brought it home with us. I love to use up all of my left over hand dyed sock yarn. Small quantities of less than 10g are destined to become mitred squares.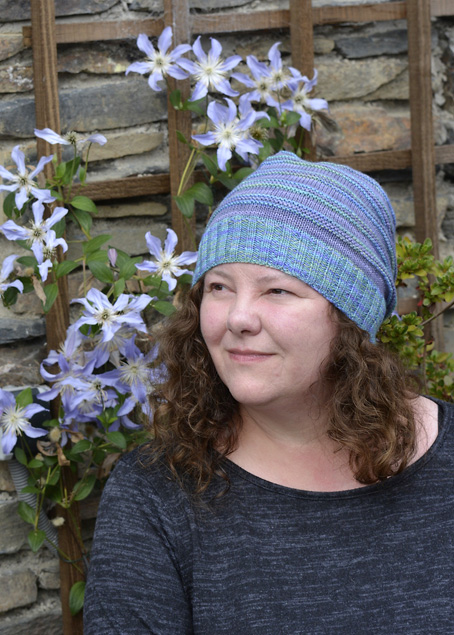 Regular visitors to the Knitting Squirrel will have noticed that I love knitting socks. When I knit a pair of socks for my mum, my sister or myself, I normally have between 30-35g of yarn leftover. This isn't enough for a pair of fingerless mitts as they take about 50g of sock yarn.
I decided that I'd like to combine only 2 different hand dyed sock yarns. I didn't want a lot of contrast between the yarns. Although I wanted some difference in tonal qualities.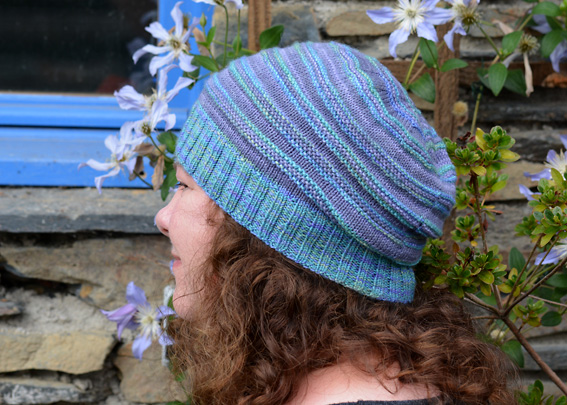 Purple Ripples Hat
I used leftover hand dyed opal sock yarn  in two colours one is a variegated yarn and the other a semi solid tonal yarn.
3.25 mm 40cm/16″ bamboo circular needle
3 mm 40cm/16″ bamboo circular needle
A set of 3.25 mm bamboo double pointed needles
1 stitch marker
Tapestry Needle
My tension knitting in the round measured on stocking stitch after blocking using 3.25 mm bamboo circular needle is 14 sts x 20 rounds = 5 cm x 5 cm (2″ x 2″)
The finished Purple Ripples Hat weighs 51g. I used more of the Main Colour (MC) and less of the Contrast Colour (CC).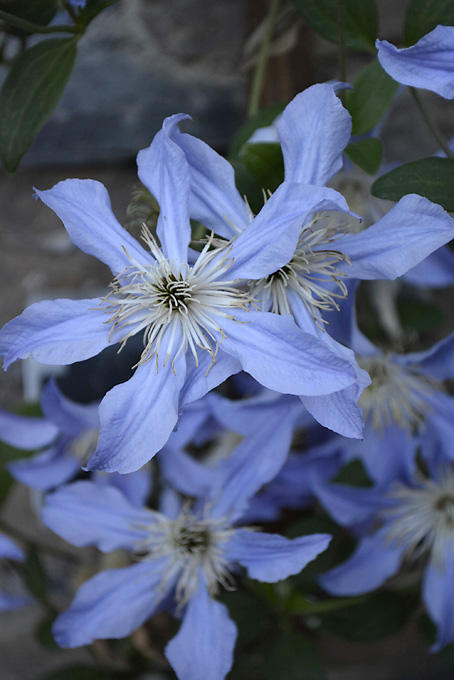 Brim
Using the MC cast on 144 stitches using 3mm 40 cm bamboo circular needles. I like to use a stretchy cast on like the long tail method.
Join into the round being careful not to twist the stitches. Place a stitch marker to mark the beginning/end of each round.
k2, p2 rib for 5.5cm (19 rounds)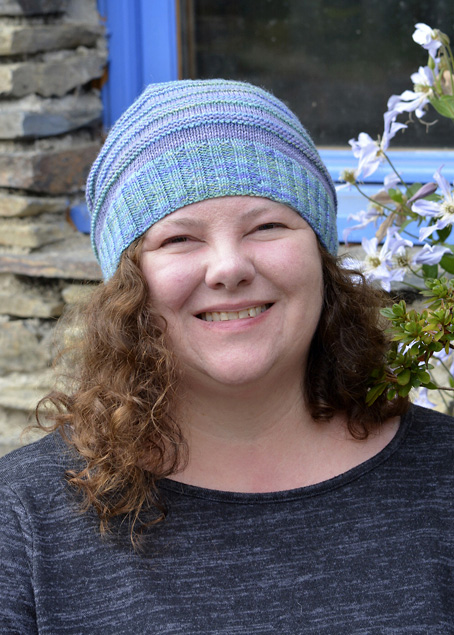 Body of Hat
Change to the 3.25mm 40 cm bamboo circular needle.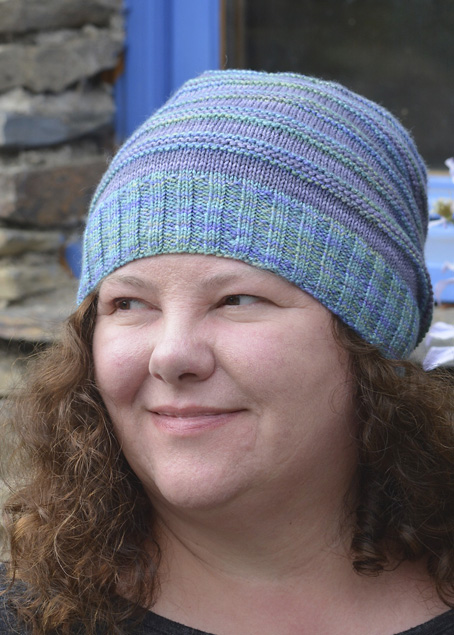 Change to MC Yarn
Round 6: k
Round 7: p
Round 8: k
Round 9: p
Round 10: k
Round 11: p
Repeat Rounds 1-11 four more times.
Then change to CC. Knit 2 rounds
At this stage the body of the Purple Ripples Hat measured 18 cm (7.25″) from the cast on edge of the brim.
If you want the hat to be a little more slouchy you could add an additional repeat of the body pattern.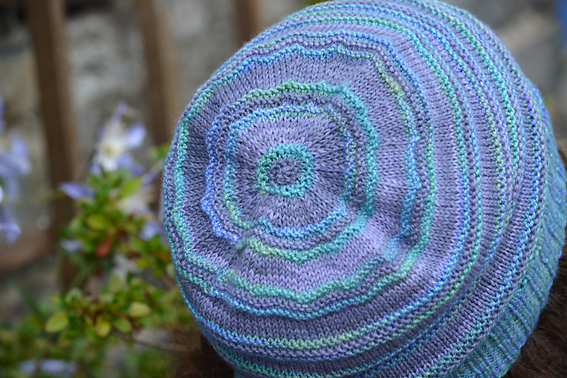 Shaping the Crown
Round 1: (k6, k2tog) 18 times
Round 2: k
Round 3: p
Round 4: (k5, k2tog) 18 times
Round 5: p
Round 6: k
Round 7: (p4, p2tog) 18 times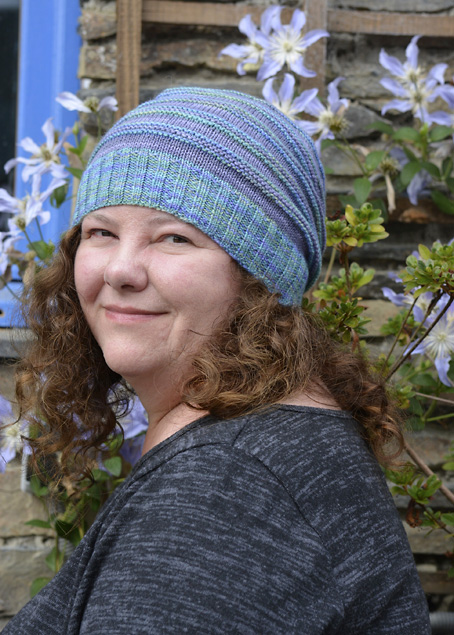 On round 8 I changed to using the 3.25mm double pointed needles and divided the stitches equally over 3 needles.
Round 8: k
Round 9: p
Round 10: (k3, k2tog) 18 times
Round 11: k
Round 12: k
Round 13: (k2, k2tog) 18 times
Round 14: k
Round 15: k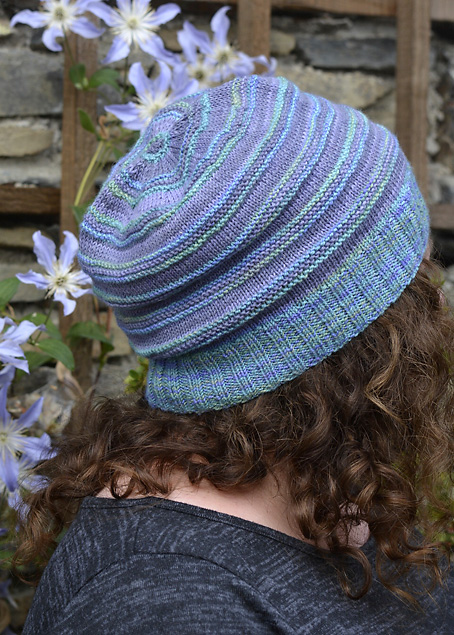 Round 16: (p1, p2tog) 18 times
Round 17: k
Round 18: (p2tog) 18 times
Round 19: k
Round 20: (p2tog) repeat to end of round.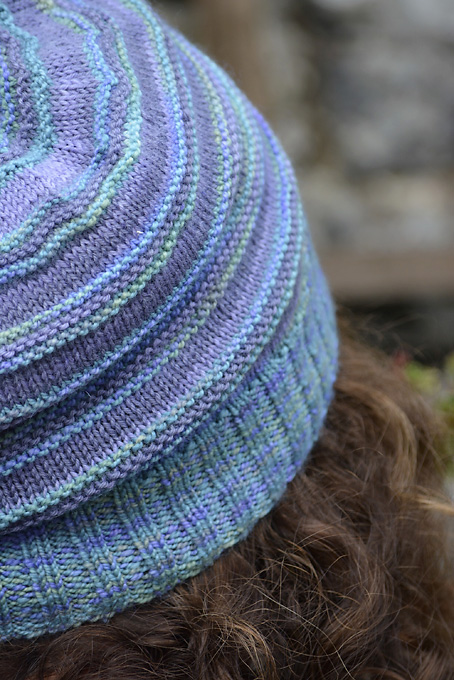 Finishing
Thread the yarn through the remaining stitches and gather tightly. Weave in ends.
Blocking the Purple Ripples Hat
To block the hat I use a balloon blown up to approximately 51 cm (20″) circumference. I set the balloon upright in a small pyrex bowl. I could blow the balloon up a little more but I like to create a smooth crown and shaping to the hat without stretching the rib brim out of shape.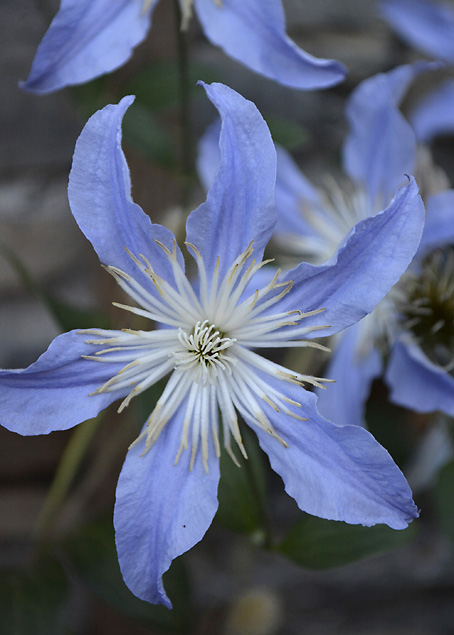 Soak the Purple Ripples Hat in a bowl of warm water with a little wool wash for about 30 minutes. Rinse the hat in clean warm water.
Spin the hat in the spin dryer to remove excess water. Then carefully pull the hat over the balloon and gently smooth out the knitting on the crown over the top of the balloon. Make sure that the ribbed brim isn't stretched out too much to retain the elasticity of the ribbing and also make sure the edge is even.
This hat would be gorgeous with or without a pompom. I opted for no pompom. But if you have enough of the sock yarn left it would be lovely to have a matching pompom.
The Purple Ripples hat is a very pretty hat with a slight slouchiness created by the the garter stitch stripes. This is the perfect pattern choice for using up your leftover sock yarn. What colour will you choose for knitting yours?