So is it worth the effort and the time required to reknit the toe of a hand knit sock?
Should I just accept that the inevitable has happened and a favourite pair of socks has worn out for whatever reason? Because they were a favourite pair of socks they were worn more often. Perhaps the yarn wasn't really appropriate for knitting socks.
Can we really expect our hand knit socks to last forever when nothing else really does?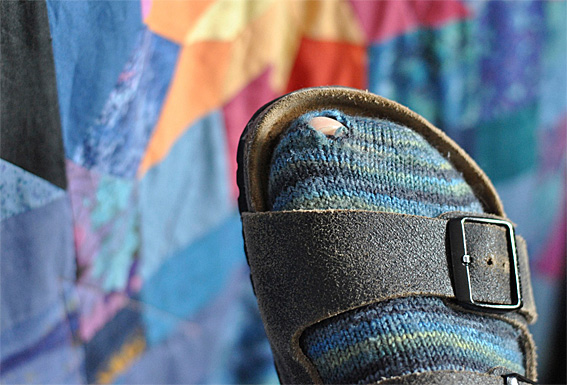 A Hole in the Toe
When the worst happens and a hole appears in the toe of your favourite socks, you've a decision to make.There are several alternatives:
Darn the hole
Reknit the toe
Yarn Harlot's DARN method
For me, the first choice wasn't right for me personally. I have diabetes and any rough areas that might rub against my foot are out of the question. Also, with the position of the hole I couldn't see how I could darn the hole without having excess bulk where I really wouldn't want it.
Option 3 was my standby method of choice. I've quoted it below incase you haven't heard of it.
"I was surprised recently to discover that the majority of sock knitters darn socks the way I do. Considering how many hours of hard work are in a pair of socks, there are not many knitters who would merely throw a pair away because they have a hold in them. Most use my darning technique, which consists of loudly exclaiming DARN and a few other choice expletives before dropping them in the garbage." Stephanie Pearl-McPhee – At Knit's End
So that left me with option 2 – reknit the toe of my damaged sock. We've all read articles which show how easily this can be achieved. So I thought I would be able to do this in an hour or so, the length of time it takes to knit a toe.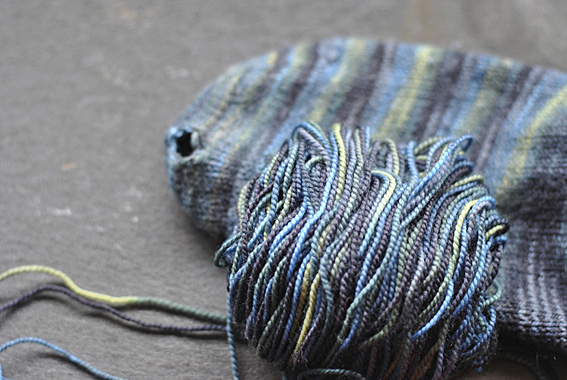 After years of knitting socks this is only the second sock to have a hole at the toe. The first casualty sat around for a while but as I hadn't really liked the colour, I never bothered to reknit the toe. I think there are a few things to consider though before going to this effort.
Is the sock worth fixing or has it just come to the end of its life span?
Have I any of the left over yarn squirrelled away in my yarn stash?
How felted has the sock become? Has it shrunk at all?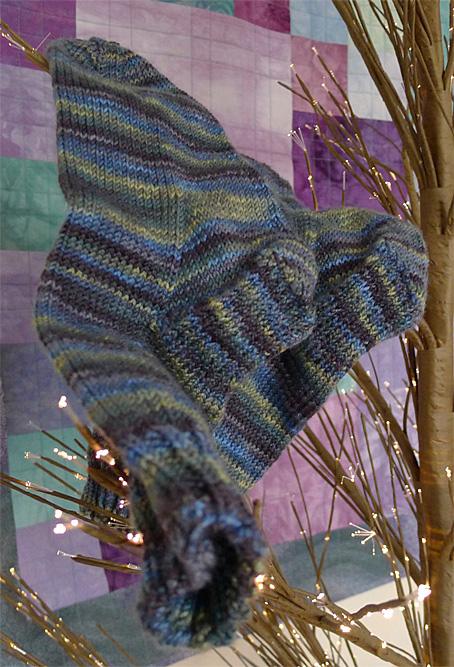 It is sad to see what was once a beautiful new pair of socks hand knit using a gorgeous richly coloured hand dyed sock wool reach this point in time. As this pair of socks was finished a year or so ago and was knit from a lovely hand dyed sock wool called Stormlit. So I decided to try reknitting the toe.
Removing the Damaged Toe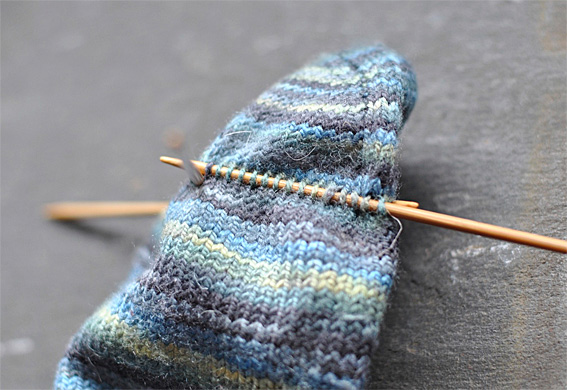 I discovered that unravelling slightly felted wool is not as easy as I expected but it also meant that as I reached the live stitches they didn't just disappear into the knitting.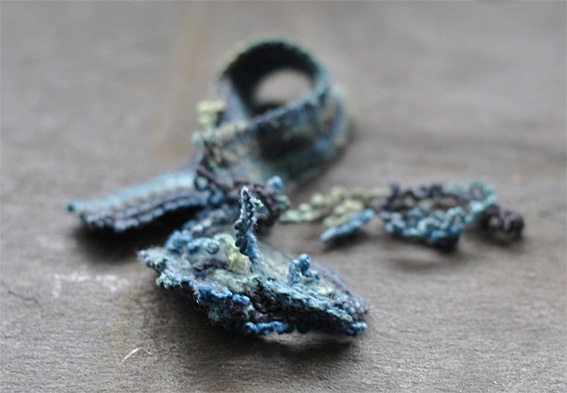 Carefully picking up the stitches and counting them I had 56 stitches and so I needed to unknit another couple of rounds until I found the decreased stitches.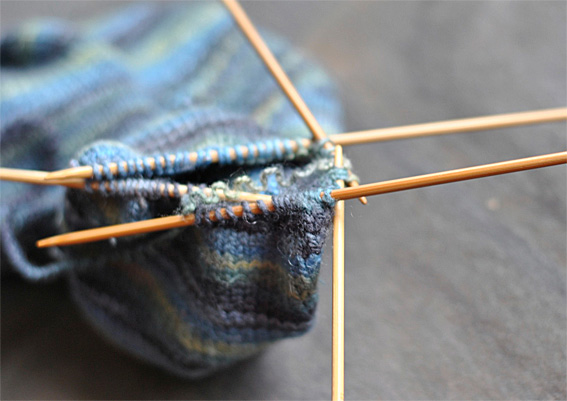 This allowed me to find where the shaping rounds for the toe had begun. It also helped for positioning the needles.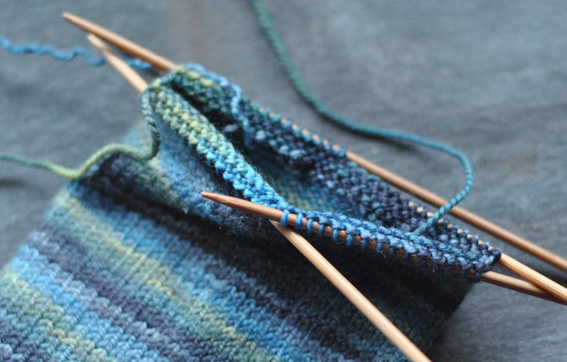 I used a russian join to attach the new yarn. I decided to add three additional rounds to make up for the shrinkage of the wool socks giving a total of 46 rounds from the end of the shaping of the gusset.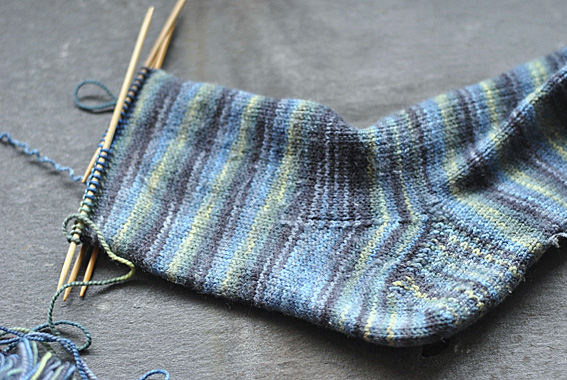 Then start the toe shaping to match the other sock in the pair.
The Replacement Toe
The decrease round: for needles 1 and 3: knit to the last 3 stitches, k2tog, k1; for needles 2 and 4: k1, ssk, knit to the end of the needle.
For the paired decrease toe that I used for knitting Stormlit Socks
Round 1: work decrease round
Rounds 2, 3 and 4: knit
Round 5: work decrease round
Rounds 6 and 7: knit
Repeat rounds 5-7 once more
Round 11: work decrease round
Round 12: knit
Repeat rounds 11 and 12 two more times
Work the decrease round for all remaining rounds until there are 2 stitches remaining on each needle.
Graft the remaining stitches at the tip of the toe.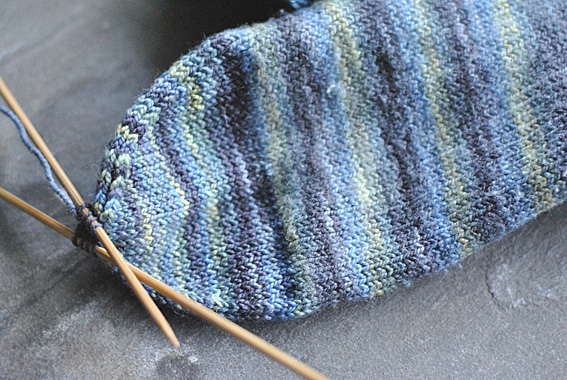 Weave in any loose ends.
For more detailed information on knitting the toe and grafting the remaining stitches visit How to Knit Your First Sock Part 4.
My Experience with Reknitting a Sock Toe
Did I get the opportunity to enjoy wearing my newly 'fixed' socks? Well not really… Sod's Law came to fruition the second time I wore the newly repaired pair of socks…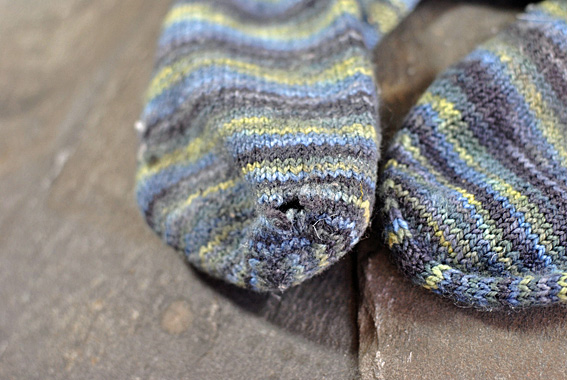 Would I bother doing this again? Or even bother to fix the other sock in this pair? I don't know.  It was fiddly. Annoying. And took a whole afternoon to complete which was irksome. So I had to admit that I have come to the same conclusion as Yarn Harlot.
"I will forgive myself for preferring knitting to darning." Stephanie Pearl-McPhee – At Knit's End