In the Autumn of 2010, I needed a new pair of knitted gloves, as the weather was becoming chilly and at the time I was walking with Gillie and Shane twice a day.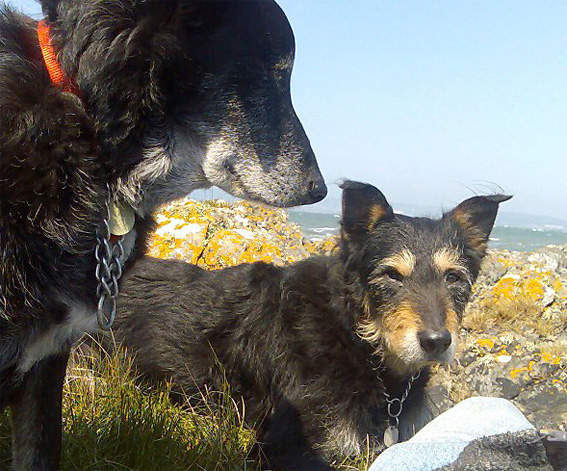 It can be frustrating buying gloves as they seldom fit well. Often, the pinky finger will be too long, while other fingers are too short. I wanted a comfortable basic glove pattern that could be knit reasonably quickly, using 4 ply or sock yarn. At the time most of my yarn stash consisted of lace weight, sock yarn and 4 ply yarns as I did a lot of knitting for Sasha Dolls. My yarn stash has really only expanded to include a selection of DK yarns.
The next decision was to design my own Glove pattern, I started by laying out all my pairs of gloves, knitted, leather, chenille and fleece, on the desk and looking at where they had worn thin or into holes. I also tried them on to think about the comfort of the fit. One of the problems is that so many gloves sold in the shops are 'one size fits all'.
The main issues that I noted:
the fore finger and thumb wears into holes too quickly
the fingers being too long or short
either too loose or too tight around the hand
not long enough at the cuff to keep my wrist warm
or too long at the cuff and don't fit snugly under the cuff of my sweater
boring colours
With these thoughts in mind I began planning my glove pattern. I chose a beautiful skein of Araucania Ranco Multi from the Sock Yarn Shop. It is a lovely kettle dyed sock yarn in 75% Merino wool and 25% nylon for strength. I'm thinking that if the nylon content in sock yarn is good for lengthening the life of your hand knit socks and prevent holes being created by friction of the shoe rubbing. As I was still a dog walker in 2010, I had the problem of my gloves being worn thin where the dog leads caused friction. I was sure the nylon content of the sock yarn would help to make my gloves stronger and longer lasting.
I began by drawing around my hand on a piece of paper then taking measurements of my hand and writing them down on the sketch:
from my wrist to the start of shaping for the thumb
from wrist to start of fingers
length of fingers and thumb
around my hand
across my palm
distance between thumb and start of forefinger
After knitting a swatch using the Araucania yarn so I would know my gauge, I cast on 60 stitches on 2.75mm double pointed needles and knit 20 rounds of knit 2, purl 2 rib. Then I changed to stocking stitch (knitting all the rounds).
I decided that if I was going to the effort of knitting a pair of gloves for myself, that they would fit comfortably.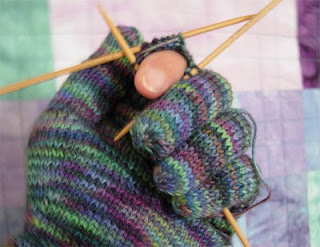 The photos are of the left hand as I knit the glove. Then I needed to think about the reversal of the pattern to knit the right hand. For comfort I wanted the gloves to have a left hand and a right hand glove and to have gusset shaping for the thumb.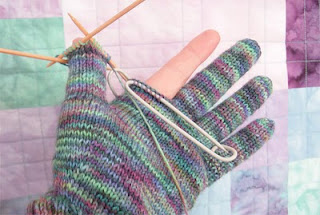 I intended writing the pattern at the time while all my notes were fresh in my mind, but time moved on, and with a growing interest in photography, I found myself needing several pairs of fingerless mittens instead. So the glove pattern was put onto the back burner.
Now two and a half years on, after an enormous amount of wear, my Araucania Gloves are starting to look a little faded. But they are still very warm, have not worn thin anywhere or developed any holes. The knitted fabric is a good as ever, although there are a few pills on the surface. On very cold days, I just add a pair of fingerless mittens over the top of the gloves and it keeps my hands very cosy.
I have decided to put knitting a new pair onto my wish list for the early Autumn and will write the pattern before then.
The patchwork wall hanging is one that I made about 10 years ago. I hand dyed the cotton poplin and used colours that I love in blue, purple, teal, sea grass and magenta. The border is a printed fabric.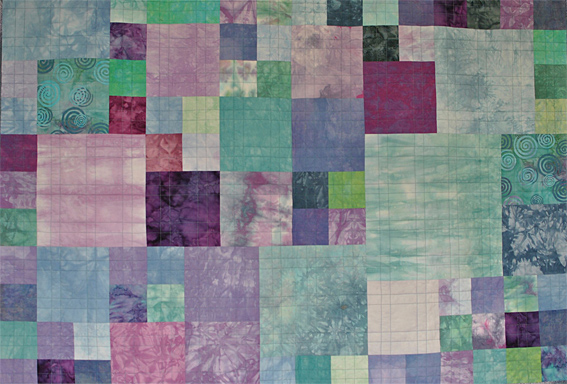 I find these colours easy to live with, many of my patchwork projects are in this colour scheme, as are my favourite Sasha Doll Collections that I have made for Sasha Doll Style, and my own hand knits as well.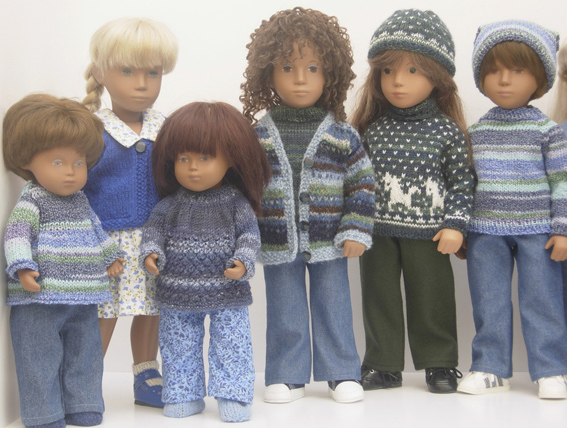 I think most people have a colour range that is a firm favourite for working with. The photograph above shows a selection of the outfits from my Winter Frost Collection that I made a couple of years ago.