When I read about The Shetland Hap Shawl with Gudrun Johnston, the new Craftsy Class, I just knew that I had found the Shetland Hap Shawl that I wanted to knit. Her pattern for Hansel the half version of the Hap Shawl really appealed to me…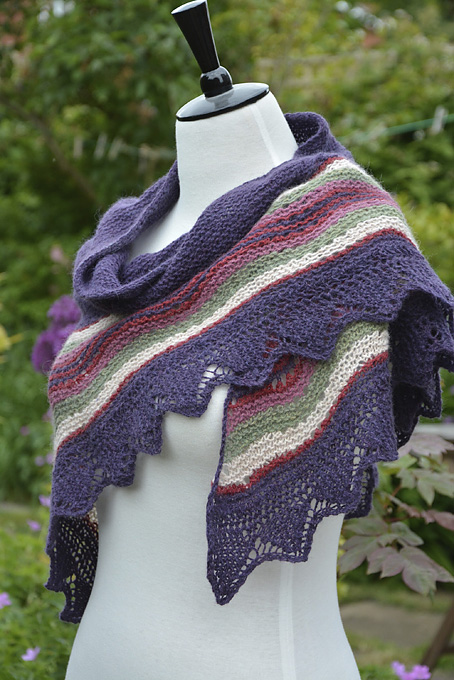 Knitting the Shetland Hap Shawl had been on my wish list for a long time and I'd looked at a few different options. I loved the colour choices used by Kate Davies for the Northmavine Hap when I saw it in her book The Colours of Shetland and have it tagged with a post it note… I also adored the 3/4 Hap Shawl designed by Veera Välimäki. But in the end it was Gudrun's Shetland Hap Shawl that had me casting on.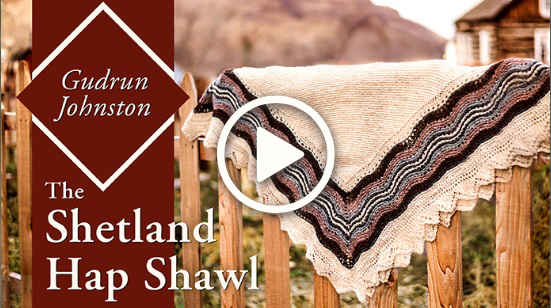 I just knew that I would wear the half version much more than the full Hap Shawl. I loved that it was a traditional style of Shetland Hap Shawl. We're going on holiday to Shetland later in the year and I thought this shawl would be lovely to wear while we're travelling around Shetland.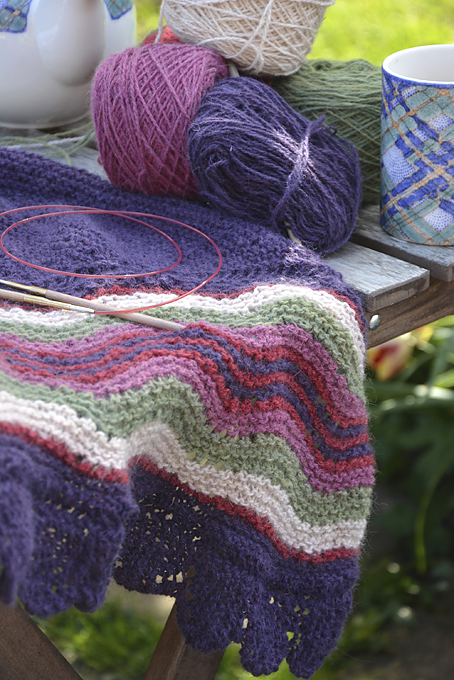 Gudrun Johnston (who was born on Shetland) is a pleasure to listen to. The lessons are well planned and she explains and shows every stage clearly using many samples. I watched Lesson 7 The Half-Hap Shawl first and then I went back to the first lesson and watched all of the lessons from the beginning while I was knitting my shawl.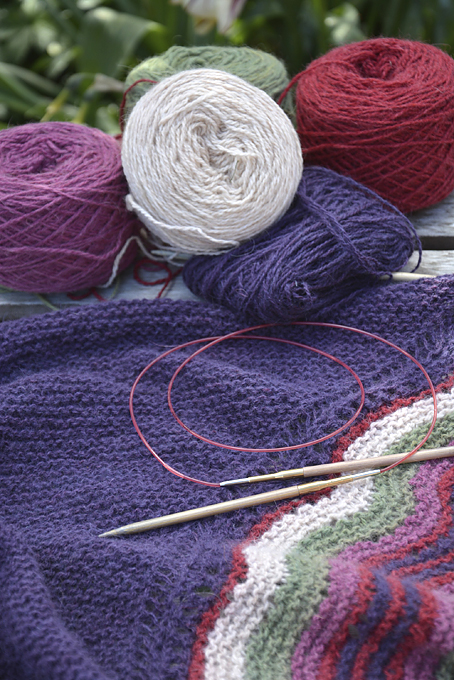 Although the J&S Shetland Heritage seemed like the obvious yarn choice for knitting this shawl, I decided to use the Shilasdair Luxury 4ply yarn to knit my shawl as I've been watching out for the perfect project for this beautiful yarn. For the main colour I used Blaeberry. There are 4 contrasting colours and I chose Rowan Berry (CC1), Fleece Cloud (CC2), Juniper (CC3) and Hawthorn (CC4). The vibrant colours look gorgeous together. I only used 2 skeins of Blaeberry and a lot less than 1 skein of each of the other colours.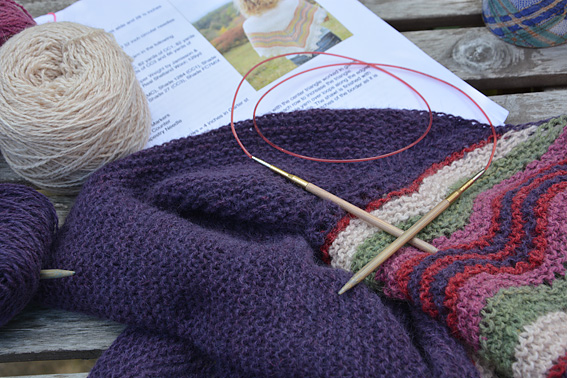 It is unusual for me to knit a pattern and not have it covered with notations and tweaks where I did something slightly different. When I was knitting this pattern, I didn't change anything. I used the 5 mm needles as specified. The Shilasdair luxury 4ply is a very beautiful and soft yarn – 10% cashmere, 10% baby camel, 40% angora and 40% merino lambswool.
I am so used to knitting with sock yarn where there is a nylon content for added strength, and I'm quite a tight knitter, so I was slightly shocked when my yarn broke when I was knitting the old shale border. So I had to really make myself loosen up as I was knitting. This was also in my mind when I was blocking my shawl. I used pins on my mat and didn't pull the shawl too forcefully!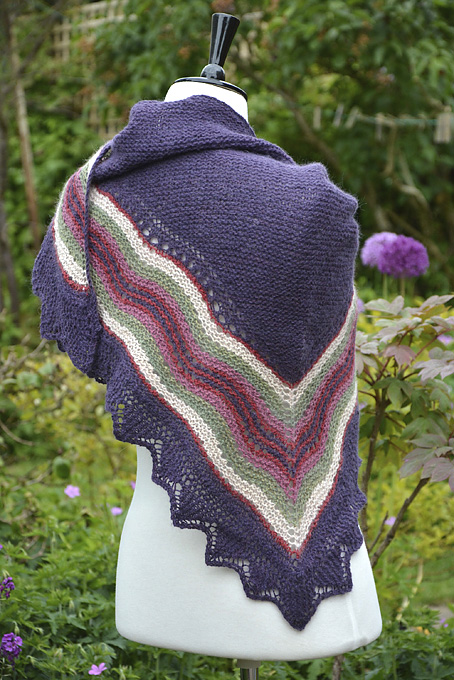 The shawl consists of 3 parts – the first section is a centre triangle knit using the main colour which grows by 1 stitch on each row. When I had knit to the widest part of the triangle all of the live stitches where placed on some waste yarn and left until the end. This felt a bit weird and I have to say I left very long tails to make sure no stitches were going to escape. But really… there was no chance of this happening.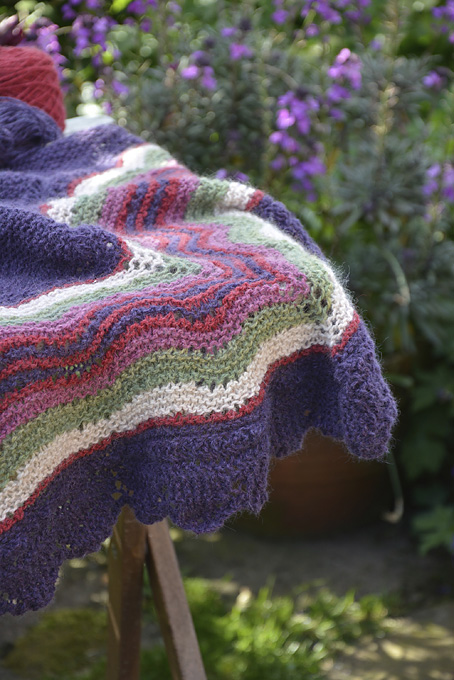 The second section is a border in Old Shale (Feather and Fan) lace pattern. This is where the contrast colours where used.
The third section, was the lace edging which was knit using the main colour.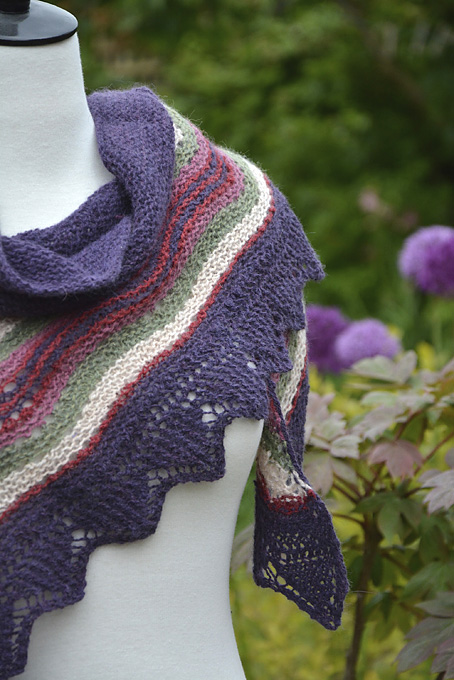 One thing that really struck me when I wore this shawl for the first time was just how lovely the stretchy cast off edge is. It is comfortable and soft against my skin and finishes off the shawl perfectly.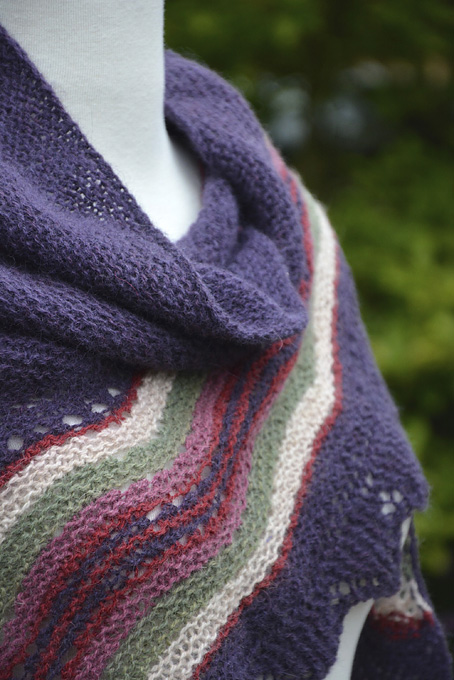 What can I say about this pattern? Gudrun Johnston has written a wonderful pattern that is easy to follow. Just follow her instructions as they are written and you won't go wrong. The pattern is a perfect choice for a beginner but has enough going on to interest a more advanced knitter.
The class is wonderful. I really enjoyed listening to Gudrun and it was very helpful being able to see how to do each step. With most of the classes I watch, I'm interested in the technique rather than knitting one of the specific projects. I suppose the biggest accolade I can say for this class is that I actually knit the project, finished it and love it. And I adore my finished Shetland Hap Shawl. I love my colour choices and this luxurious yarn. The finished shawl is light and airy as well as warm and cosy and I can't wait to wear it while I am on holiday!