When we visited Shetland I knew that I'd want to bring home a few wool related souvenirs. But I'm sure that is on the top of every knitter's wish list when they are going to the home of Shetland sheep and Shetland wool… Especially if they love doing any fair isle or colour work knitting.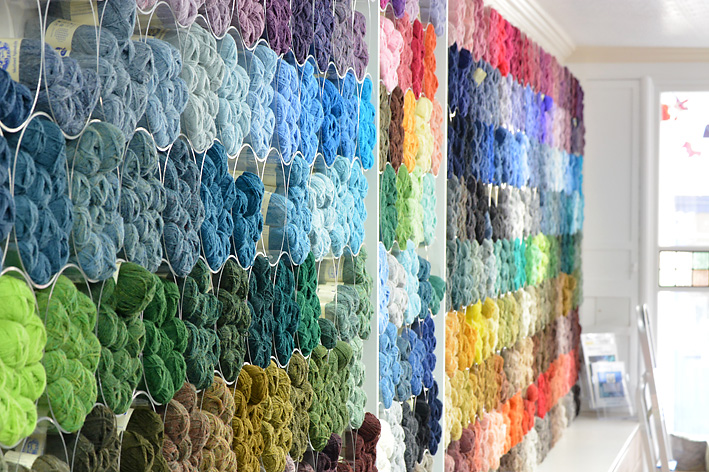 So please join me on my week of Shopping on Shetland…
On Monday…
We enjoyed walking through Lerwick along Commercial Street. Lerwick is an old town with narrow streets and steep narrow alley ways, paths and old stone buildings with lots of interesting shops.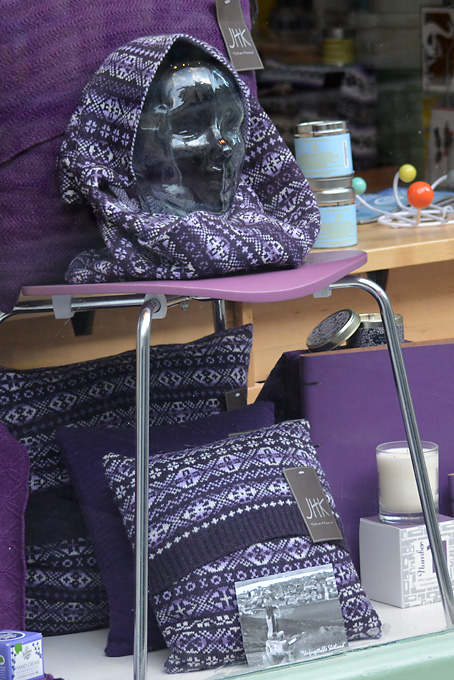 We visited Ninian and I particularly loved their beautiful cushions and home furnishing pieces. They had added a wonderfully modern twist to traditional fair isle knitwear. Da Old Peerie Shop where I chose postcards of Shetland ponies wearing fair isle cardigans for posting home.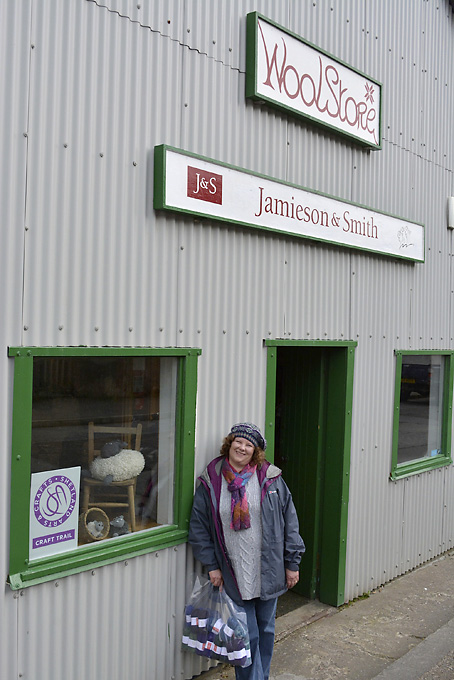 We visited the Jamieson & Smith shop. It was a long walk through Lerwick to North Road where it is situated. I adored walking around the shop choosing yarn colours. I knew that I wanted to buy a couple of balls of each of the colours that I chose as I wanted some larger quantities of yarn for using as the main colour in a few new projects that I am planning. I wanted deep colours that would look gorgeous with my already large collection of Shetland wool colours.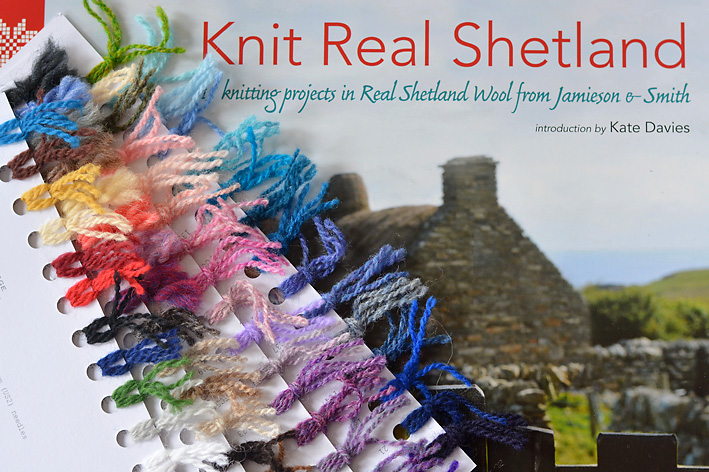 It was a pleasure seeing all the wonderful colours together. Walls of colour. Beautifully knitted samples. Pieces from the 'Knit Real Shetland' book (which I couldn't resist and treated myself to), and lovely items designed by Kate Davies. It is so nice to be able to look at the actual knitted items and see the little details that, no matter how brilliant the photography is, you can never see the texture, feel the soft fuzziness of the knitting, the stitches… Knitting is such a tactile activity. Shetland wool feels particularly soft and beautiful when the yarn blooms after it has been blocked.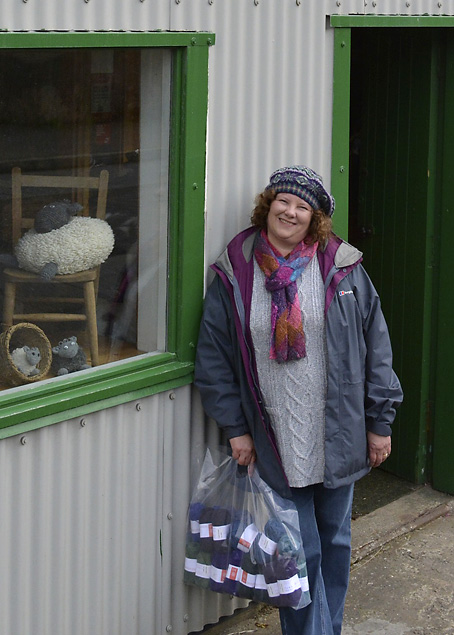 The staff were very busy online and putting together mail orders. As Shetland Wool Week 2015 starts later this month, I'm sure there are always a lot of finishing touches to be put in place.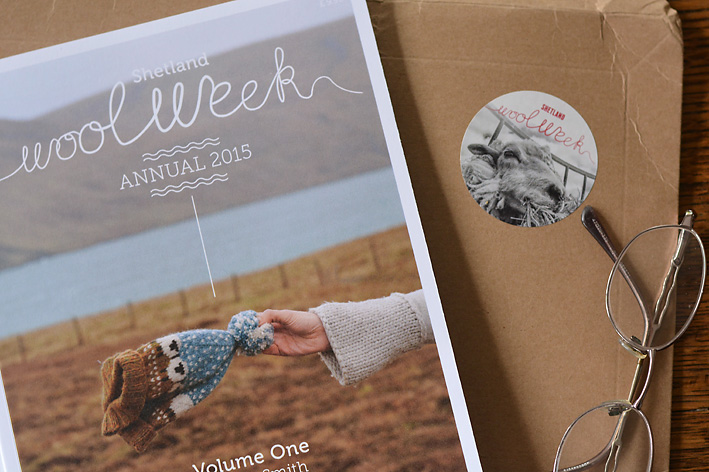 Jamieson & Smith are wool brokers, who buy and grade the wool from over 700 small crofters on Shetland, and the fleeces are then sent to Yorkshire where they are dyed and spun into the gorgeous Shetland Wool that I love to knit with.
On Tuesday…
On Tuesday morning I was back in Jamieson & Smith's shop. We'd returned to Lerwick because I was looking for a birthday card and anniversary card for Neil.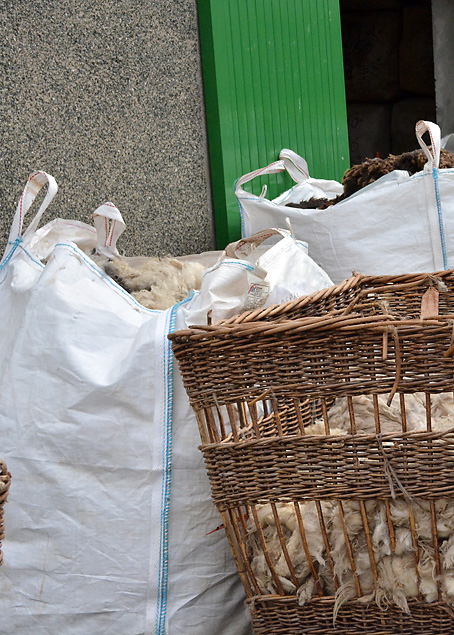 A quick visit to the J&S Shop was in order as I wanted a set of the naturally coloured undyed Shetland Sheep wool. It came in 9 amazing colours and I bought a couple of balls of each. I'm not quite sure what I want to use it for yet. But I've got many ideas running around in my head after our visits to the museums and our wonderful day trips.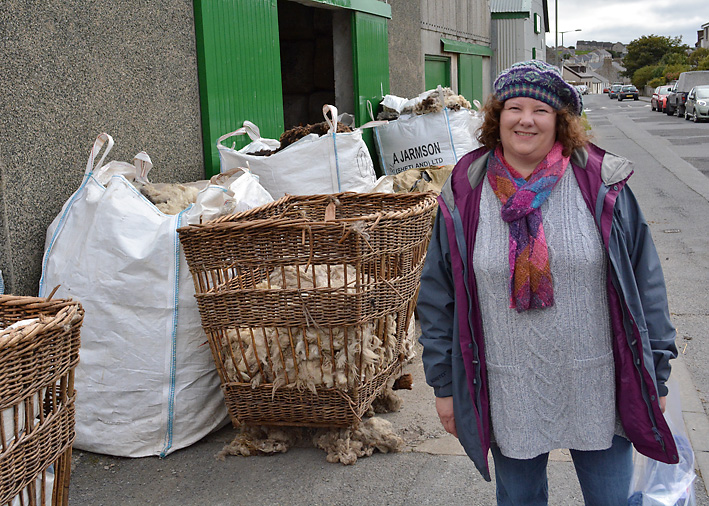 I was in and out of the shop in a blink as Neil was waiting in the car and we were soon on our way to Scalloway Castle.
On Friday…
On Friday, we decided to visit Sandness on the West Mainland. I was hoping to visit Jamieson's Spinning Mill.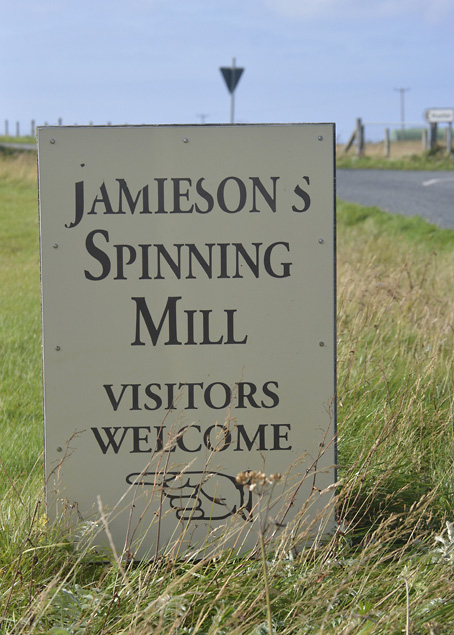 When we arrived after a long and scenic drive, the shop was closed (it was about lunchtime), so we went down to the beach and then for a walk to Huxter Clack Mills. The old mills were wonderful and I'll definitely be telling you about them in another post. After a wonderfully peaceful time sitting looking out to sea, we decided to try Jamieson's again. The shop was open and it was an utter delight.
Wonderful fair isle sweaters, vests, hoodies, scarves and woven blankets as well as a wall of glorious balls of wool in every possible colour. It was an utter delight. Neil took a few photos while I was like a kid in a sweet shop.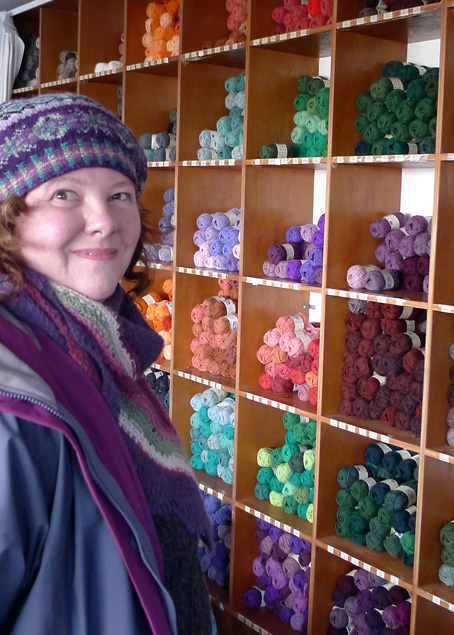 The girl at Jamieson's was very friendly and chatty. When we said we'd just been to Huxter Clack Mills she asked if we'd seen the otters! No such luck for us, but she'd seen one scampering across their car park a couple of weeks before!
I bought some of the traditional Shetland colours from Jamieson's – Shetland black, Shaela, Sholmit, Natural White, Mooskit, and Mogit. They were out of stock for Eesit and Moorit which I thought I'd order on my return home to Belfast. I think I was strongly influenced by the Shetland landscape that we were seeing all around us when I was choosing my colours of Shetland wool.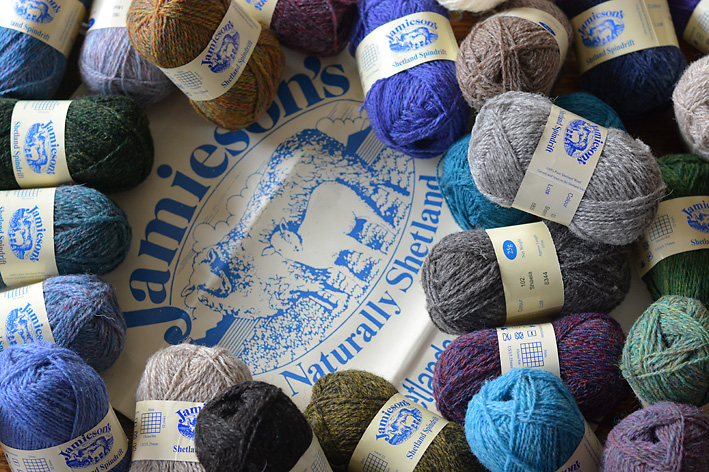 "Jamieson's Spinning, Shetland's only commercial woollen mill. This unique mill, built in Sandness, completes all the stages of yarn production under one roof. This includes grading, scouring and dyeing fleece before colour blending, carding, spinning, twisting and balling to produce their 100% pure Shetland yarn." Jamieson's of Shetland, Spindrift Shadecard
As I admired my newly acquired Shetland wool, I mused on how we would pack the yarn into the car.
On Saturday…
Today is our last day on Shetland. Tomorrow evening we will be taking the Northlink ferry to Aberdeen. I set out some of the yarn I've bought on the armchair at Wildrig.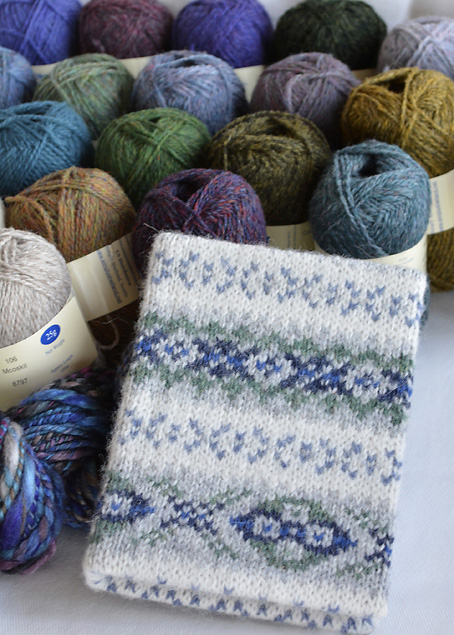 I noticed that the colours I'd chosen seemed so representative of the colours of Shetland. I love the Shetland Sheep. I so enjoyed trying to see them grazing on the hillsides where they seemed to be almost a part of the landscape. As it was our anniversary, we decided to have a more relaxed day, staying closer to Wildrig.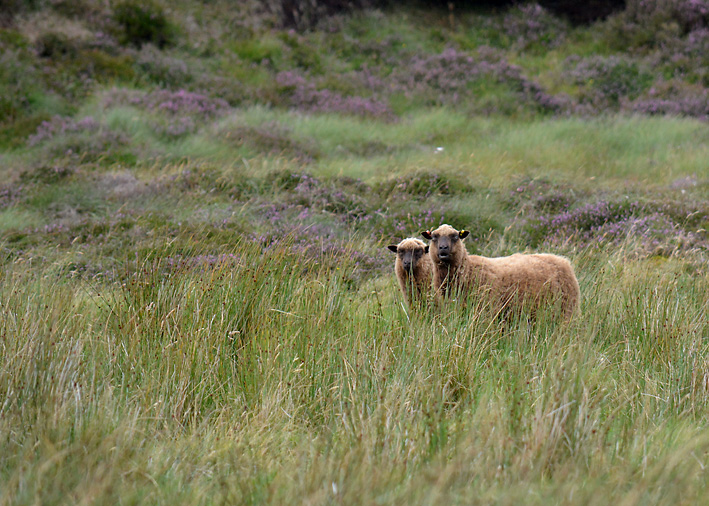 So we visited Hoswick and enjoyed a visit to Nielanell Knitwear Shop. It is a veritable Aladdin's Cave of interesting rocks and fossils, her inspiration and her workspace, as well as displays of her beautiful modern knitwear. I couldn't resist a skein of her hand dyed, hand spun, shetland wool – a little woolly work of art.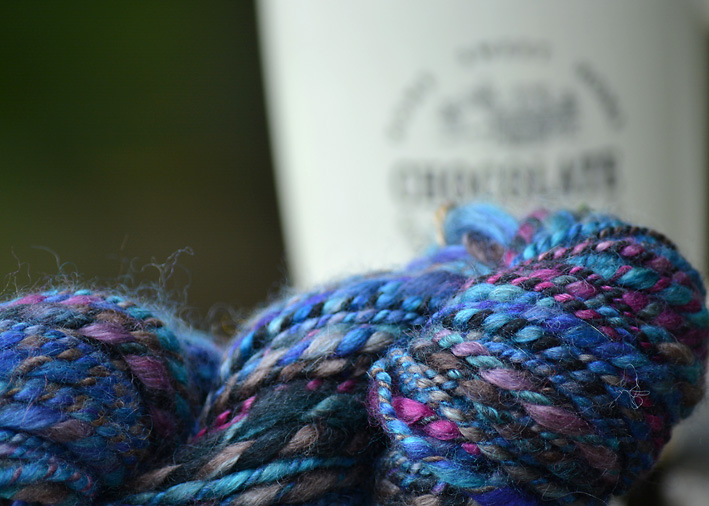 From her shop we walked over to the Hoswick Visitor Centre which houses an amazing collection of old radios as well as wonderful knitwear. There was also a fascinating community history of whaling in the area.
From Hoswick we returned to Lerwick. Being fans of the Shetland series, we wanted to visit the older end of the town.
"The picturesque south end of Commercial Street has lodberries, a hotel and houses built into the sea, although when number 10 was built, in 1730, it was the only house on the sea side of the street. The Queens Hotel (1860) incorporates Yates' and Hay's lodberries and the house called 'The Lodberrie', near Bain's Beach, is probably the most photographed in Shetland." http://www.shetlandvisitor.com/lerwick
As my finished Scatness Tam was ready to be photographed, we thought this would be the perfect setting.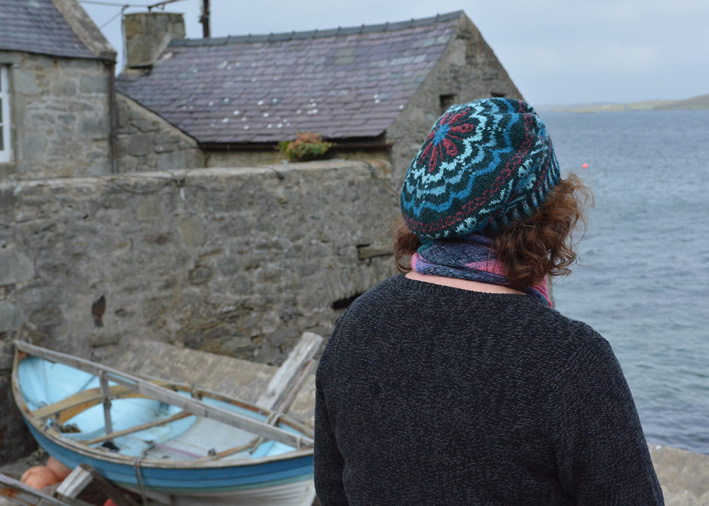 I loved this part of Lerwick. I went into the Spider's Web and my senses were overwhelmed by the sea of stunning hand knit fair isle knitwear that greeted me. As well as the fair isle sweaters, tams, scarves and gloves were exquisite cobweb shawls, lace scarves and traditional shetland haps.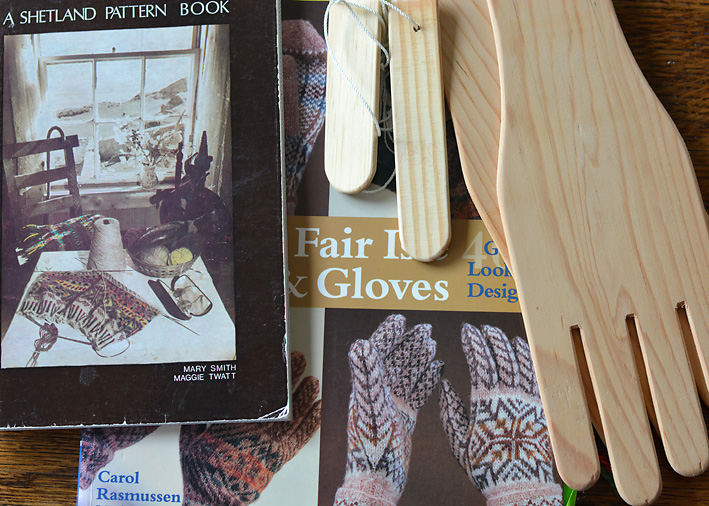 I was delighted to find a set of glove blockers in the Spider's Web and had to dash out to find Neil to retrieve my purse which was safely in his backpack. He was busy taking photographs further down the street.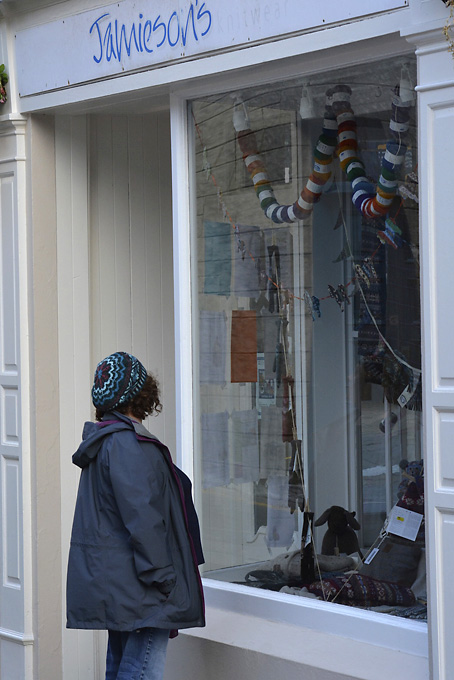 As I wandered back along Commercial Street towards Market Cross, I came to the Jamieson's shop in Lerwick. Of course, I couldn't resist going in. Who would have thought that such a modest shop front could hide such a treasure trove of Shetland Wool.

The staff in the shop were wonderfully warm, friendly and welcoming!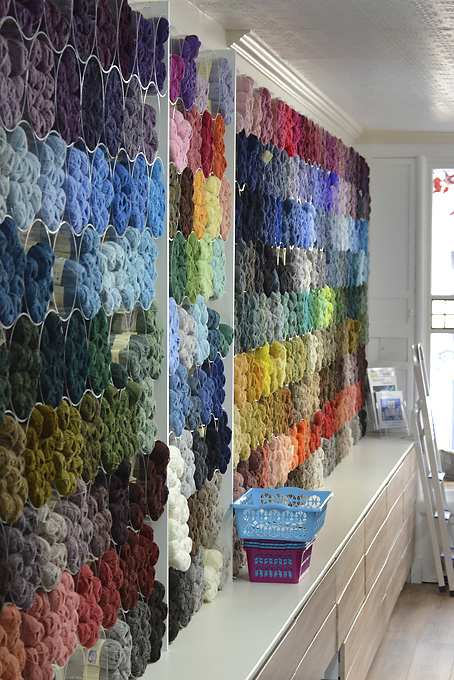 Magical. That is the best descriptive word for this shop. The wall of shetland yarn was like an impressionist painting. The shop was full of exquisite fair isle knitwear.
And sitting in the window were button back Burra Bears. Oh yes! These are just the bees knees of bears!! I just fell in love these little fellows.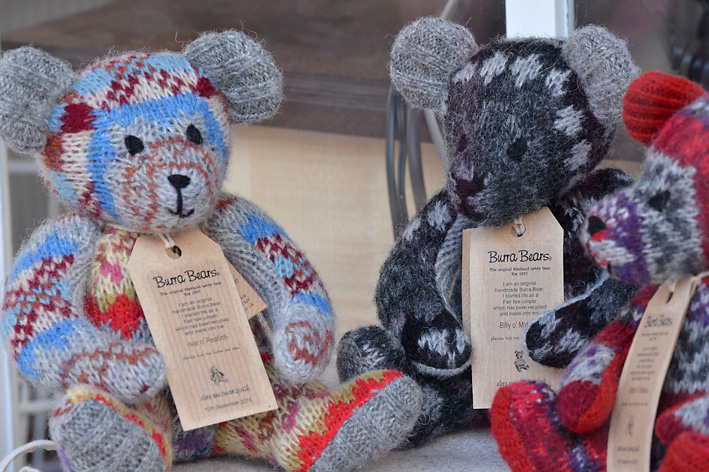 So I came away from my holiday and my time spent Shopping on Shetland with a new appreciation of how these very talented knitters combine colours to create the most amazing items of fair isle knitting. The Shetland knitters use the beautiful range of Shetland wool colours as a painter will use his palette to create extraordinary pieces of work in both the traditional knitwear but also building upon their skills and knowledge to create modern versions of the traditional fair isle. I came away with so many ideas for projects and things I'd like to try knitting for myself using the beautiful shetland wool that I bought. But I particularly remember their inspirational use of colour.